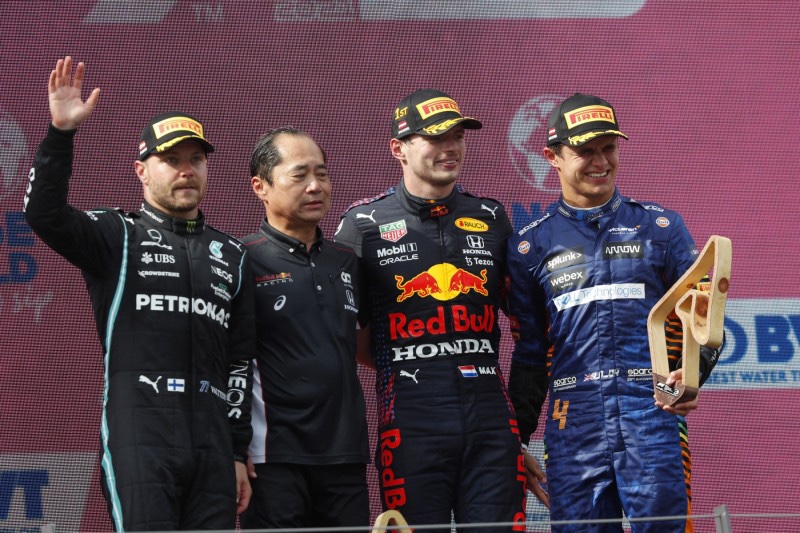 image courtesy of Pirelli Motorsports
Round two in Austria set up to be the sequel that was better than the original. After a great qualifying session yesterday, the start seemed unpredictable and could spice up the championship fight. Drama is never far though as before the race Russell begun to report problems with the rear of the Williams, fans hoping that it wouldn't be a repeat of last week.
As they lined up after the formation lap, Norris and Verstappen were pointed at each other, ready for battle. The lights went out and both got a good start, but Verstappen had a better second phase, moving in front of the McLaren before turn 1. Everyone got away cleanly, with Hamilton pressuring Perez for the entire lap but Perez coping well. The safety car deployed at the end of the first lap hampered anyone looking for a move. Esteban Ocon had been squeezed by Giovinazzi and Schumacher into turn 1, causing damage to his front suspension and eventually stopping on track.
At the safety car restart Verstappen backed everyone up until he got onto the main straight. Norris was caught out and Perez put him under pressure, with the Mercedes closely following behind. At turn 4 Perez tried to pass on the outside of Norris but ended up on the gravel at the exit. Sparking the beginning of what appeared to be a busy day at the office for the stewards, Norris was eventually handed a 5 second penalty for the incident.
By lap 15 Verstappen had pulled out a 6 second gap and had all but checked out at the front. Events continued for Norris though because he was managing to hold off advances from the 7 time world champion. Doing a great job of handling the pressure, Norris made it difficult for Hamilton who was beginning to suffer from being behind him. However, on lap 20 Hamilton managed to make a move that stuck, Norris knowing that strategically it wasn't worth a huge battle over. Hamilton came over the radio to say that "Norris is such a great driver" recognising the job he is doing and making every Norris fan a bit emotional.
Further down the order on lap 18, action was happening all over the track. Perez, who had now dropped due to his turn 4 incident, was battling Leclerc who had DRS into turn 4, but Perez managed to out break him, keeping his place. Only for Leclerc to do a switch back on the exit and with better traction made the move stick. Ricciardo was also looked more comfortable with the McLaren and made a great move into turn 3 on Vettel.
Norris and Bottas were the first to pit of the front runners. Bottas managing to jump Norris because he had to serve his 5 second penalty. Once Hamilton and Verstappen pitted that looked it for the first 2 podium positions, Verstappen had a 13 second gap which Hamilton knew he wouldn't be able to make up.
Meanwhile, after the stops the battle for P6 got interesting, Gasly, Ricciardo, Perez and Leclerc were fight but the main battle in the group between Perez and Leclerc was reaching boiling point. At turn 4 Leclerc tried a move down the outside of Perez, produce an almost exact same result as the Norris, Perez incident on lap 1. It took a total of 46 seconds for the stewards to go from investigating to giving Perez a 5 second penalty. Just 2 laps later however, neither driver had learned but this time the battle continued to turn 6, where it looked as if Perez had forced Leclerc onto the gravel again. Another p5 second penalty was awarded to Perez, added 10 seconds onto his time at the end of the race. Credit to the stewards because they were at least consistent with the penalties today.
Not featured much in the race, Hamilton began to struggle on the hard tyres just 15 laps after the pit stops and picked up some damage around lap 36 coming out of turn 10. This meant Bottas was allowed to close the gap. There was radio silence from Mercedes as they decided if they would let them race but eventually the call was made to let them race, then a team order for the drivers to switch came through and the deal was done in turn 1 of lap 55. Norris, who had been chasing down the pair of them, capitalised on the struggling Hamilton and overtook him just 1 lap later to see himself into the podium positions.
With just 10 laps to go Russell was still in P10 but Alonso had closed him down and the battle in continued for the last points positions. Fans most likely willing Alonso to stay behind with Russell doing an excellent job at defending under the pressure so that he could finally get a point for the Williams. However, today was not that day because with just 3 laps to go Russell was passed by Alonso.
The final 2 laps were full of drama. Sainz made a late move on Ricciardo to finish P5 for Ferrari once Perez's penalties were added, important for the McLaren – Ferrari constructor's battle. Raikkonen on lap 71 looked at a move on Russell but had to back out at turn 4, meaning Vettel saw an opportunity to gain a position, however in a bizarre mistake for Raikkonen, he appeared to turn in on Vettel causing both to crash into the gravel.
Whilst the incident between Raikkonen and Vettel was happening, Verstappen crossed the line for his 15th win. A dominant performance from lights out meant the win was never in doubt for him. Bottas finished P2 and Norris finished in P3 with driver of the day after putting in a fantastic performance, further showing his great from in 2021. Mercedes didn't really appear to affect the race much and couldn't answer the performance of Verstappen in Austria. However, with upgrades reported to be coming to Silverstone and a home crowd for Hamilton, could this see a change in fortune for Mercedes?
Info graphics courtesy of Pirelli motorsports