For the second time in seven days, Penske driver Josef Newgarden missed out on his first IndyCar win of 2021, which looked all-but-certain with two laps to go.
Having led 53 out of 55 laps from pole position, it was a cruel turn of fate that would see his Penske tumble down out of contention with a technical problem on the final restart.
Alex Palou, who chased down Newgarden the entire race, was rewarded with his second win of the season with an audacious move around the outside of Turn One. As a result, Palou takes the overall lead in the drivers' championship from rival O'Ward.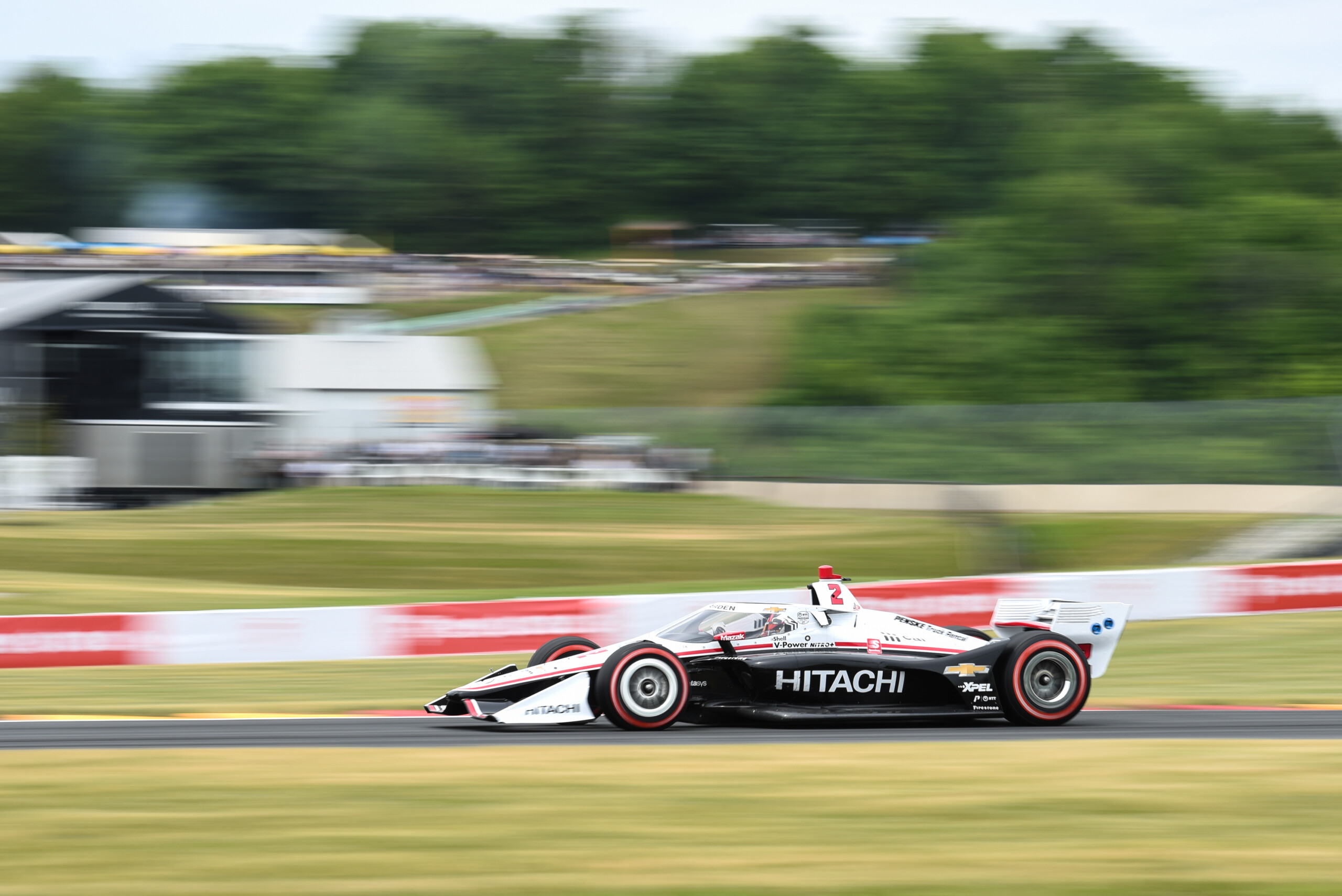 The start of the race began with Newgarden leading into Turn One. Meyer Shank Racing's Jack Harvey made an incredible start to take second place from the second row on the grid. It seemed, for a brief moment, that Harvey would take the lead with a look around the outside of Newgarden at Turn One, but backed out.
The first round of pit stops took place around laps 11-15, with Chip Ganassi's Scott Dixon, who started 13th, staying out the longest. At the front, it was normal service resumed as Newgarden continued to lead.
That was, until lap 23 when Marcus Ericsson spun out of the race at Turn Three, bringing out the first caution. Almost the entire field took the opportunity to make their second routine stop under yellows.
Only two drivers chose not to pit, IndyCar debutant Kevin Magnussen, who replaced Felix Rosenqvist at Arrow McLaren SP this weekend. The other driver who chose not to pit was Rahal Letterman Lanigan Takuma Sato. Both drivers started 21st and 20th respectively.
On the second restart, Magnussen cycled to the front of the field and led an IndyCar field for the first time in his career. The Dane spent a few laps in front until Sato took the lead down at Turn Five. Shortly afterward, Magnussen headed for the pits but would eventually see his race end in dissapointment. The Arrow McLaren pulled off the track at Turn Seven with a reported loss of power.
This triggered the next phase under cautions. Five drivers initially stayed out (Chilton, Sato, Askew, Harvey, and Daly), but were forced to refuel transferring the lead back to Newgarden. With three laps to go, a spin by Ed Jones brought out the final caution at Turn 12.
On the final restart, Newgarden accelerated confidently towards Turn One with Alex Palou giving chase. However, the American driver suddenly lost drive, leaving him helpless against the fast-charging Spaniard.
Colton Herta finished second, battling with an unruly Andretti car with high tyre degradation. He reported vibrations for large parts of the race but managed to finish ahead of Will Power, who was in imperious form all day.
Scott Dixon had an excellent day to finish in fourth. He started 13th and made some brilliant on-track moves before undercutting the field on the final pitstop cycle.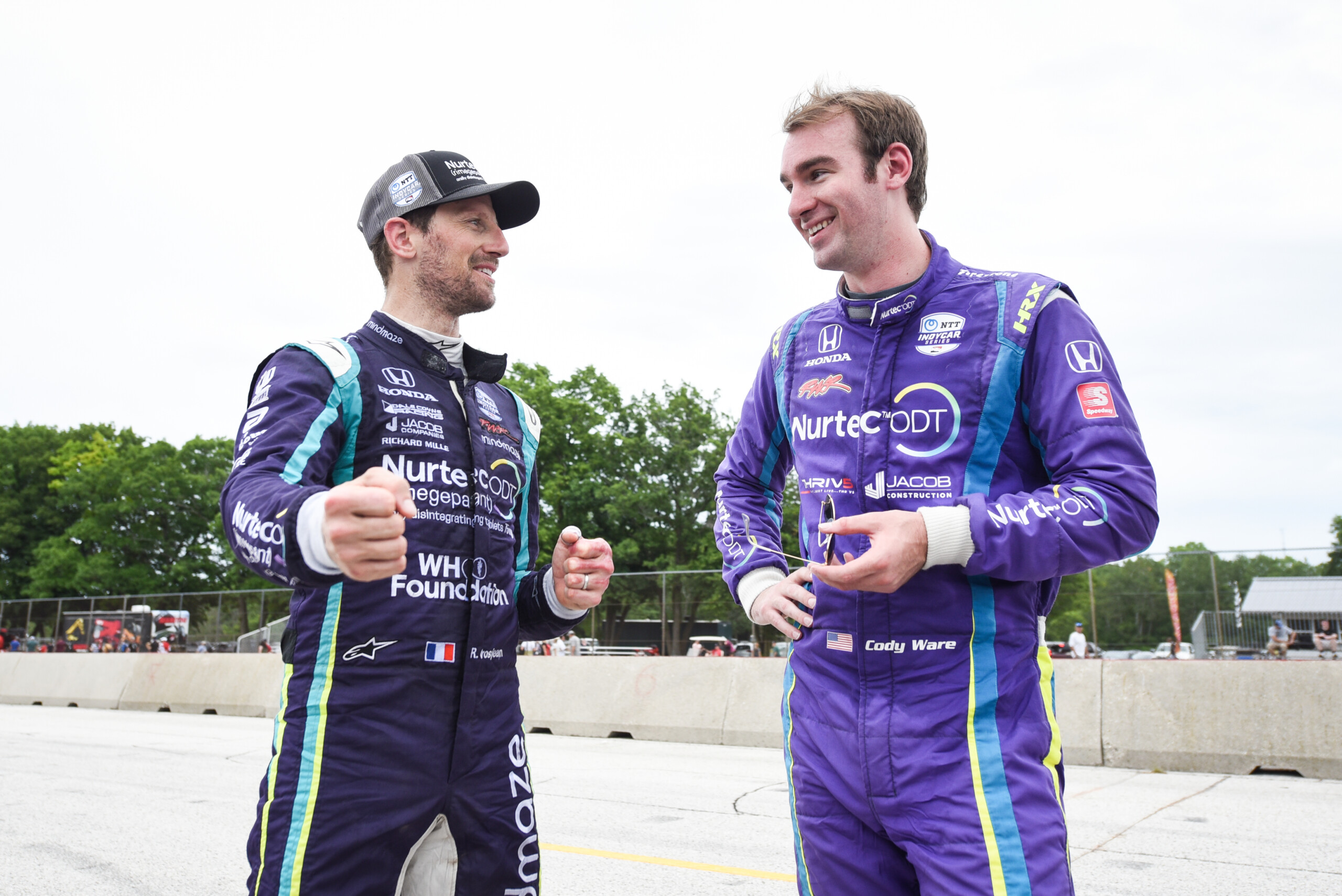 Dayle Coyne Racing's Romain Grosjean was the other standout performer, finishing in the top five for the second time in his IndyCar career. He pulled off some magnificent overtakes, and would have finished on the podium had he not been disadvantaged by the first cautionary period. His moves on both Alexander Rossi and Graham Rahal into Turn Five was incredibly impressive, and further underlines his competitiveness in the series.
Marcus Ericsson finished in sixth, doing extremely well to recover from a caution-causing spin to ensure Ganassi had three cars in the top six.
Alexander Rossi had a solid race to finish seventh ahead of Takuma Sato, who made some big late-race moves after a bold strategy call gave him much fresher tyres for the final stint.
Patricio O'Ward came into this race championship leader but leaves with a 28-point deficit to Palou. He struggled with fuel-saving and could not match the pace of those on similar strategies. After starting on hard tyres, he stopped with the soft tyre runners early on. He would be eventually overtaken by Sato on the final lap to finish ninth.
Max Chilton rounded out the top ten to give Carlin their best result for a long time, benefitting from the same bold strategy as Sato.
Oliver Askew stood in for Rinus VeeKay in the Ed Carpenter Racing outfit. He would eventually finish 12th after being one of those who had to refuel under green with thee laps to go.
NASCAR regular Cody Ware delivered an impressive debut performance to finish 19th, just behind sixth-place starter Simon Pagenaud.
We now have a two-week break before IndyCar returns to Mid-Ohio on July 4th.