It's been less than two weeks since Helio Castroneves joined the exclusive club only a few drivers share, that being a four-time Indianapolis 500 winner. But the 2021 IndyCar season continues on as the series graces the famous Belle Isle street circuit for the Chevrolet Detroit Grand Prix.
This *double-header* weekend will be the seventh and eighth race of the year, and with six different winners from as many races, we may see another driver step up to the mark alongside those who have already triumphed this season.  Can Will Power rescue what has been a torrid season? Will Josef Newgarden take his first win of the season to stamp his authority on the championship? Anything seems possible after some incredibly tumultuous and unpredictable races.
After the double points on offer at the 500′, IndyCar sophomore Alex Palou comes into this weekend as championship leader, thanks to a well-fought second-place.  He has a comfortable 36 point lead over teammate Scott Dixon, who is separated by one point over third-place McLaren SP driver Patricio O'Ward.
Unfortunately for Palou, he will receive a six-place grid penalty for the first of the two races over the double-header due to an unregulated engine change that occurred prior to the Indianapolis 500. The highest Palou can start on Saturday is seventh.
Last time-out winner, Helio Castroneves, will not be taking part in this weekend's action as the Meyer Shank Racing outfit returns to just the single entry with Britain's Jack Harvey who will be hoping for an end to his recent run of bad luck.
The races at Belle Isle Park are generally considered unpredictable. Several winners have found their way to Victory Lane, even during the years Formula 1 raced at the circuit. Michele Alboreto managed to snatch victory in his largely uncompetitive Tyrrell Ford in 1983.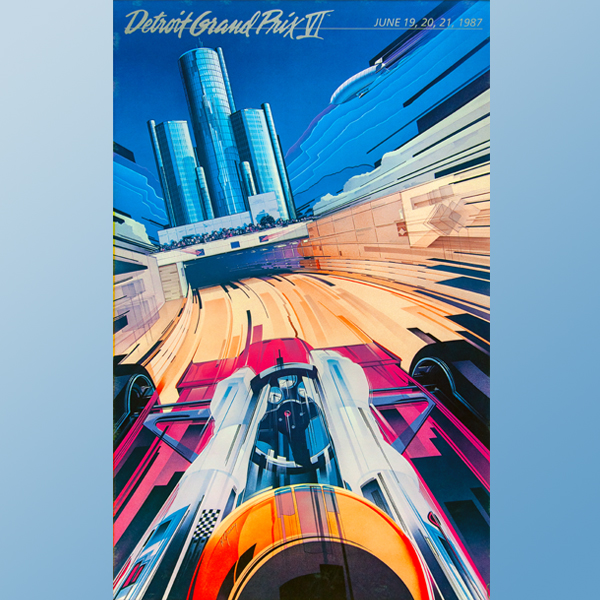 The first Formula 1 race was held in 1982 but eventually moved on before 1989. The consequential gap was filled by what was known then as CART (later known as Champ Car/IndyCar). Despite a gap between '02-'06, 09-'11, and '20, the streets of Detroit have seen 30 races take place.
Both Scott Dixon and Helio Castroneves hold the record for most wins at the Detroit Circuit (3) with Graham Rahal, Will Power, and Sebastien Bourdais tied in second (2).
Charlie Kimball and Juan Pablo Montoya, who both raced at the Indianapolis 500 will not be in action at all this weekend, and probably for the rest of the year. Santino Ferrucci gets a return to the Rahal Letterman Lanigan team after an impressive sixth place last time out.
Moreover, Tony Kanaan takes a step back from Chip Ganassi relinquishing his drive back to Jimmie Johnson. Romain Grosjean also returns in the Dayle Coyne with Rick Ware Racing entry, replacing Pietro Fittipaldi.
Conor Daly will, of course, take over from Ed Carpenter in the Ed Carpenter Racing outfit while Sage Karam and his Indianapolis 500 *only* entry, Dreyer and Reinbold Racing team, also miss out. It is quite strange that many of the drivers who did well at the famous 500-mile race will not be present at the following event.
All the usual suspects are hotly tipped to give a strong account of themselves this weekend. The young superstars: Palou, VeeKay, Herta, and O'Ward all seem to be delivering week-in, week-out. The Dutchman, in particular, will be disappointed to miss out on a stronger result at the 500′ and will be one to watch out for.
Can Grosjean replicate his stunning performance earlier this year at the GMR Grand Prix of Indianapolis? The Swiss-Frenchman seems to have taken extremely well to the street courses qualifying consistently well across the season.  In fact, the Formula 1 veteran has expressed interest in competing at ovals in the not-too-distant future, an indicator that we may well see him competing in IndyCar for a number of years.
Simon Pagenaud sits in fourth in the driver standings and the highest-ranked Penske. He has flown largely under-the-radar with his numerous and consistent top-ten finishes. He has experience at the top step of the podium in Detroit and could continue his impressive form. 
However, Scott Dixon will be a man-on-a-mission after a disappointing showing at Indy. The man has three Detroit wins and usually bounces back strongly after such a setback. Interestingly, Chevrolet got the better of Honda at the last street circuit, but narrowly trail Honda in the manufacturer's championship.
It's anyone's guess as to who will come out on top this weekend!
You can watch IndyCar live this weekend on Sky Sports F1 – with ad-breaks filled with UK commentary from Tom Gaynor.  The schedule is as follows:
Saturday 12th June, Race 1, Qualifying: 4:00pm (BST), Race: 7:00pm (BST)
Sunday 13th June, Race 2. Qualifying: 2:00pm (BST), Race: 5:00pm (BST)