On a day in which Formula One was looking forward to the final day of testing and the anticipated start of the season, we were instead hit with the mourning of Formula One legend Murray Walker. The former F1 commentator and "voice of F1" passed way on Saturday, tainting what was to be an exciting day of F1 action.
On track though, it was back to business. The first half of the session was largely dominated by low fuel, quick-paced runs, before the teams began to switch their focus to long-run pace. The swelteringly hot conditions were not conducive to running the soft tyres, prompting the majority of the runners to use the medium and hard compound tyres.
It was Sergio Perez, with 48 laps, who topped the timing sheets at the end of the session with a 1:30.1. He took the lead from Charles Leclerc, before lowering the lap time after bolting on a fresh set of softs.
In a largely uneventful three hours, a big back-end loss for George Russel and some skittish front and back-end moments for Mick Schumacher proved the most entertainment for the morning. Red Bull meanwhile, with Mexican Sergio Perez in the car, looked far more swift to get onto the leaders' pace than they have in previous years, with Perez exchanging fastest lap times with Ferrari's Charles Leclerc with just over 90 minutes gone. The Monegasque driver set impressively consistent lap times, chartering 80 in total by the end of the morning session.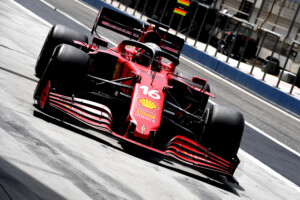 Valtteri Bottas and Lance Stroll were the first drivers of the session to surpass the race distance 57 laps, with the Finnish Mercedes driver completing the champions' most laps in any session so far this test. It was as much progress as it was an indictment of what has been a surprisingly difficult three days for Mercedes. Bottas and Stroll set 86 and 80 laps respectively.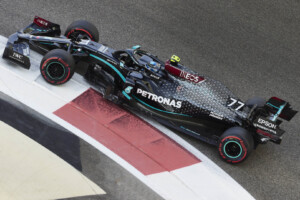 But it was Kimi Raikkonen, who set a brilliant 91 laps, who topped the lap counter, in spite of a ninth place finish by the end of the running. He spent the morning focusing on long run pace, along with Aston Martin's Lance Stroll, who was 10th.
Classification:
Sergio Perez (RB) 1:30.1872
Charles Leclerc (FER) +0.299
Lando Norris (McL) +0.474
Pierre Gasly (AT) +0.641
Esteban Ocon (ALP) +1.123
Mick Schumacher (HAAS) +1.866
Valtteri Bottas (MER) +2.219
George Russell (WIL) +2.544
Kimi Raikkonen (AR) +5.087
Lance Stroll (AM) +5.913