The news that Murray Walker had died aged 97 was as heart-breaking as it was sudden, but he was a man who lived a long, excellent life – and he spent it entertaining and inspiring generations.
The more you look at the fallout from Murray's passing, the more you realise that it was not just British fans that treasured the voice of Formula One, but the death of such a lovely human being is being mourned by motorsport fans around the world.
Murray was the voice of some of the most amazing moments in the history of Formula One and motorcycle racing; he even provided his emotive and unmistakable voice to the British Touring Car Championship too.
Honestly though, so much adulation and collective sentiment for a perpetual hero of Formula One cannot be summed up by one person in an article. Murray produced some infamous quotes, provided notoriously emotional soundtracks to some of the most incredible moments in motorsport, and touched the lives of many, so we thought we should include some thoughts from all of us here at the PitCrew Online.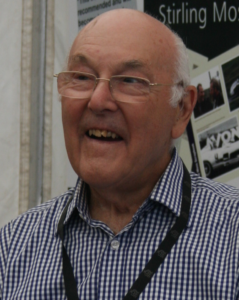 For me, Murray Walker was, and always will be, the voice of Formula 1. I grew up listening to Murray and loved the way he could convey the excitement of F1 and his absolute passion for the sport. My fondest memory is of Damon Hill crossing the finishing line and winning the championship when he says he has a lump in his throat making you realise he had known Damon as a man and boy and obviously knew Damon's father, Graham. – Karen
"I watched, F1 in the 80s, wanted to be a racing driver, then i choose more boring things, anyhoo. James and Murray guided me through F1, with James's hate of slow back markers, and Murray's enthusiastic and over optimistic 'comms'. Oh and he had the curse all right, Australia'86 will stick in many peoples' heads. Talking of heads. I'm sure Damon and Nigel, have forgiven him many moons ago.
"Oh and he had the commentator's curse all right"  – Taras
RIP Murray.
My favourite moment was the 1998 Belgian GP at spa when Murray commentated on the biggest accident in F1 history on lap one, he showed genuine shock and concern for the drivers involved. He nearly jumped out of his chair when Michael Schumacher rear-ended David Coulthard in the rain, then saw Damon Hill and Ralph Schumacher secure the Jordan team's first ever win and one-two in one of the most exciting and unforgettable races ever. Murray was not just a commentator he was a real F1 fan and that is why so many people loved him, he was captivating to listen to and embodied the essence and excitement of racing. – Mandy
Murray Walker is synonymous with Formula One. In fact, he IS Formula One. He was always more than just a commentator: He was the friendly voice that encouraged you into the sport, he was the passionate fan that infected you with his enthusiasm and he was an orator capable of wonderful storytelling. He was a man that simply wanted to share his love for motorsport with the rest of the world, and we thank him for that. We will miss you Murray. – Adam Wheeler
Mine and many others' first voice of F1. The only voice of F1 for some. Murray Walker was a treasure to me, to Formula One and to Great Britain as a whole. An imperfect genius behind the microphone, and we'll never see his like again. – Jack Prentice
As a small boy mum used to sit me down in front of the TV whenever Murray was on, it was the only way to keep me still and quiet, he's literally responsible for my life's greatest passion!
Thanks for all the amazing memories and for giving me a love of motorsports that is such a big part of my life. – Simon Tassie
RIP, Murray
My Murray Walker Memories
When I think of Murray Walker, I don't just think of Formula One, but also British Rally Cross and the British Touring Car Championship. He was THE motorsport commentator, and his style was utterly unique! I discovered motorsport in my late teens, and by the end of 1991 was following the WRC, BTCC and Formula One. Murray was commentating on the BTCC and Formula One for the BBC and this meant that you would hear Murray's commentary throughout the year as the races came and went.
He retired from commentating during the 2001 Formula One season, but remained a much-loved man, and would pop up from time to time with great interviews with the drivers and other characters from the motorsport community.
As we've seen, he will be massively missed by everyone. My thoughts are with his family and friends – Thank you for sharing him with us. – Warren Nel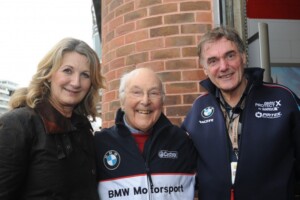 Growing up in South Africa, Murray was the voice to an F1 world that we could only see on television. He made me feel connected to this world that was so far away (as a child I felt that way) and is the reason my love of F1 grew. He was and will always be the voice of the greatest sport ever and the voice I always hear in my head at lights out. – Rhea Morar
Murray was the best of us. His child-like enthusiasm was infectious; it resonated with us all. It was Murray who said that those who can do and those can talk about it, which is true to all of us who contribute to the PitCrew Online. Murray laid the foundations so we could run, and we are all eternally grateful. Murray's unrivaled passion for racing has driven every single one of us. Thank you for everything Murray – Luca Munro
As a kid growing up my parents bought me a VHS – Murray's Magic Moments. I watched it again and again, enthralled by his infectious commentary over some of F1's most iconic moments. So much so that I know quote them verbatim when I see them on TV. Murray Walker was more than just a commentator, he was a fan first and foremost, and brought that passion to millions around the world. He's an icon and a pillar of motorsport. His BTCC commentary is also hugely popular and something I love watching again and again. Sleep tight Murray, a gentleman and in a world of egos, his humble nature and passionate commentary will live on. "And now I've got to stop, cause I've got a lump in my throat." – Aaron Irwin
Murray was the voice of F1 across the world not only the UK; he was just a legend in motorsport. The word legend at times is used too frequently, but I grew up listening to his iconic voice and murrayisms like 'Go Go Go!' He, in my view, should be immortalised at Silverstone on the national circuit as he was there when it all began! His legacy will continue to inspire all; he was truly unparalleled in knowledge and how to put it through the microphone. – Chris Lord
Murray brought races to life with his enigma and his pure passion for racing. He has inspired and will continue to inspire generations in motorsport and broadcasting. We will miss you, Murray.