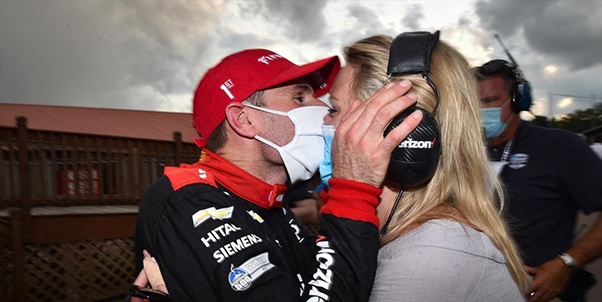 image courtesy of IndyCar
Will Power dominates at Mid-Ohio to take his first win of the 2020 IndyCar season and his maiden win at Mid-Ohio. The Australian was barely troubled leading from lights out to chequered flag at a circuit that he has finished in the top five in eight out of his previous eleven outings.
Following the race, Power was elated saying:
"That's probably the first race in 10 years that I've just gone hard. I just said, 'Screw this, let's just go hard and use my raw pace and see what happens.' We won the race, it was a great strategy. … It's great to tick off Mid-Ohio."
This will be a welcome positive in a season that has been blighted with unreliability, bad pit stops and other calamities which have made this a season to forget for the one time series champion. Additionally, it was a great day for Penske who finished both first and second with Josef Newgarden.
Rain threatened the race with five laps to go, but in typical motorsport fashion stayed clear until after the chequered flag.
Newgarden's second place is important in terms of the championship, cutting the deficit to Scott Dixon to 75 points. Certainly not an insurmountable target with just under five races to go.
Someone who enjoyed a fantastic day was Andretti's Alexander Rossi was able to hold off Rahal Letterman's Graham Rahal in the closing stages. Earlier in the race, the ex-Formula One driver decided to try the overcut-on competitors Ryan Hunter-Reay and Graham Rahal. Rossi was putting in some blistering in laps using his 'push to pass' off the corners to gain as much lap time as possible. When he eventually came into the pits, he was released back out behind Ryan Hunter-Reay, albeit much closer than before.
Following a close fight between both teammates Rossi got on the radio to get Hunter-Reay to move aside as the likes of Felix Rosenqvist closed in. The team eventually caved in and allowed Rossi to eventually overtake Rahal to claim third position. The last ten laps were a tense fight between Rahal and Rossi in which the latter came out victorious.
Ryan Hunter-Reay would eventually finish in fifth, ahead of Chip Ganassi driver Felix Rosenqvist who found much more pace on a road course which he is used to. Felix was the highest placed Ganassi car at Mid-Ohio, a magnificent achievement for the young-super star.
Jack Harvey continued a super run of form finishing in seventh position, his fourth top ten of the season. The British driver pitted early, attempting the undercut on many of his fellow competitors to claim my self-prescribed title of: 'best of the rest'
Colton Herta had a dramatic race of epic proportions finishing in eight place. Starting outside the top ten, the young-gun opted to start on sticker black tyres, attempting to go longer into the race. However, it wasn't as simple as it turned out. A battle ensued with the likes of Santino Ferrucci, Rinus VeeKay and Marco Andretti. Herta made his way past VeeKay in the hunt for fellow countryman, Santino. After a slow pit stop, caused after Colton had to put on the brakes during Alexander Rossi's stop, the time lost put him out into a scrap with championship leader Scott Dixon. The next stage of the race involved a titanic fight between these two which Herta won with a gutsy move down the inside. Pitting late on the final pit stop cycle would hand him his fully deserved final classification.
Ed Carpenter Racing duo Rinus VeeKay and Conor Daly rounded out the top ten in magnificent style. Perhaps the greatest moment of the race was VeeKay's audacious move on Dalton Kellet and Colton Herta, the Dutchman caught them both napping and passed them with an exhilarating move around the outside. Rinus was once again the highest place rookie, extending his position in the standings as 'Rookie of the Year'.
Outside the top ten it was a miserable day for championship contenders Scott Dixon and Patricio O'Ward who bravely fought their way back to eleventh and twelfth respectively. Both enjoyed some incredible wheel to wheel battles, trying to claw back some of the advantage Newgarden had gained. O'Ward will be disappointed not to capitalise on Dixon's poor qualifying, now 79 points behind. Even more worrying will be his deficit to second place Josef Newgarden (33 points).
Further ramifications for the championship include Will Power moving up into fourth position in the standings on 76 points, three behind the McLaren SP driver.
To our delight, IndyCar goes again for the second race of the double-header tomorrow.
Official Classification
1st – Will Power
2nd – Josef Newgarden
3rd – Alexander Rossi
4th – Graham Rahal
5th – Ryan Hunter-Reay
6th – Felix Rosenqvist
7th – Jack Harvey
8th – Rinus VeeKay
9th – Colton Herta
10th – Scott Dixon
11th – Pato O'Ward
12th – Alex Palou
13th – Conor Daly
14th – Santino Ferrucci
15th – Marcus Ericsson
16th – Max Chilton
17th – Takuma Sato
18th – Simon Pagenaud
19th – Oliver Askew
20th – Zach Veach
21st – Charlie Kimball
22nd – Dalton Kellett
23rd – Marco Andretti