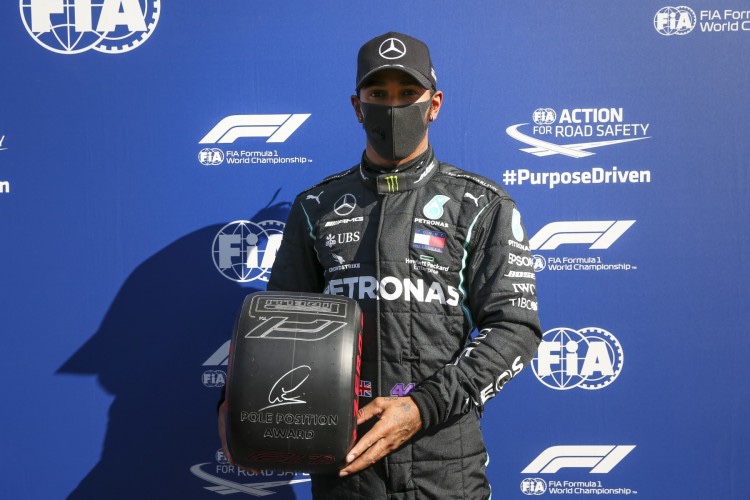 image courtesy of Pirelli Motorsports
Lewis Hamilton took his 95th career pole beating teammate Bottas in a close fight at the inaugural Tuscan Grand prix qualifying. It was a pretty anti-climactic second Q3 run as it was expected that both the Mercedes would go head to head since Bottas was leading the free practice sessions and seemed to be in the zone.
It was all for nothing towards the end of Q3 when Esteban Ocon in the Renault made a mistake in the first sector which sent him spinning onto the grass. The yellow flags that followed meant that the drivers on flying laps had to lift and this brought an end to Q3 except for Hamilton, Verstappen and Leclerc. The only winner out of these three drivers has to be Charles Leclerc after the Monegasque driver put in a lap good enough to secure him 5th since both the Racing Point drivers behind him could not get a lap in.
The third row presents an all RedBull line up after Albon finally got his qualifying act right this season lining him up at 4th next to his teammate Verstappen at 3rd. The practice sessions indicated that one of the two Redbulls might be in with a shot at pole position but as Q3 unfolded, it was not to be the case.
Leclerc after qualifying at 5th alongside Stroll instead of Perez thanks to a one place grid drop for the Mexican driver for an incident in yesterday's free practice. Perez now starts at 7th next to Ricciardo at 8th who was one of the drivers who couldn't get in a second lap because of yellow flags in sector 1. Carlos Sainz was the only McLaren in Q3 who will be starting 9th next to Ocon which rounds off the top 10.
Lando Norris missed out Q3 for the first time this season as his best lap in Q2 only put him up to P11. A contrasting weekend awaits the British team after such a high in Monza. It was a difficult qualifying session for the Monza hero Pierre Gasly after he failed to get out Q1 and qualified 16th, four places behind his teammate Danil Kvyat, who has out-qualified Gasly only for the second time this season despite making a mistake in Q2.
While 5th place in qualifying might not seem like a bad result for Ferrari at their landmark grand prix, it was not all good for them as Vettel could only qualify 14th behind Kimi Raikkonen in 13th. The German driver even seemed surprised on the radio to be out of Q1 which quite sums up the kind of season that the team from Maranello are having.
Both the Haas cars will line up with Grosjean at 15th and Magnussen at 20th for their engine suppliers' 1000th GP. George Russell has maintained his 100% qualifying record vs his teammate which now stands at 30-0 and will see him start at 18th ahead of his teammate Latifi at 19th. The English driver had quite a big moment in Q1 after he ran on to the gravel but yet somehow spectacularly managed to keep his car on the track and finished ahead of his teammate. Giovinazzi will line up in his Alfa Romeo at 17th finishing the grid.
With Mugello seeming like a track where overtaking might be scarce, track position is set to be key ahead of the race tomorrow. Ferrari would have hoped to be in a much better position for their landmark race but it is Mercedes, who look set to take the maximum points from the event. Max Verstappen at 3rd will be ever hungry to split the Mercedes at the start, which has been a virtue of the 2020 season so far.