Sophia Flörsch has what promises to be an exciting season ahead of her. The German racer is making the step up to FIA Formula 3 with Campos Racing, as well as entering several races in the European Le Mans series, including the 24h of Le Mans. She'll be part of an all-female line-up, sharing the car with Katherine Legge and Tatiana Calderon. We asked Sophia her views on the season ahead, as well as talking budgets and her aims for the future.
Alison Finlay: An exciting year ahead for you Sophia, with an all-female Le Mans entry and Formula 3. What are you most looking forward to this season?
Sophia Flörsch: I'm looking forward to each single race I am able to do to be honest. There is no difference for me between a FIA Formula 3 race or an ELMS race. For me it was really important to be racing FIA F3 this year. The F3 car is great and all 30 drivers are one of the best in junior formula classes. The complete starting grid is very close together. It will be a great season with a lot of learning and fighting for me. Each race weekend has something special. It's always on F1 weekends which is something new to me. The tracks are great and some are even new to me, like Bahrain or Sochi, for example. As the Red Bull Ring is one of my favourite tracks, I am looking forward to that one in particular. The atmosphere in Austria is one of the best. On the other hand I am going to do ELMS in an LMP2 with Richard Mille Racing and 24h of LE MANS! It will be a new and different challenge for me as it's endurance racing but it's going to be great. Of course Le Mans will be amazing. I am really thankful to be able to race there this year. That's definitely a dream come true. 100 million TV viewers worldwide – wow. This one week will for sure be one which I will never forget.
AF: You've tweeted recently about the costs of the junior series. Can you describe the barrier this creates for young drivers?
SF: Well, I think everyone knows that motorsport is really expensive. Even in F1 you see teams having different budgets performing differently just because they do not have the same possibilities. That's pretty much the same in junior classes. If you are lucky, and your parents can afford the yearly budgets between 1-2m, without any problems, and even pay for you to go testing or keep racing during the winter period, then that's amazing. You are a privileged driver because of more and better testing and possibilities. But if your family is not able to afford it, you need people to believe in you and support you. Already when you start with F4 people spend up to 800k per year. That's a big bunch of money. The higher you get, the more expensive it gets. F2 is more than 2m a year, F3 in a top team more than 1.3 to 1.5m. The most expensive cockpit I heard this year is 1.9m – don't know if it's true. The [team's] experience, their race engineers and so on – the better it is, the more expensive it is. So there is a reason why parents are paying the highest price. The struggle is that not having the money you need to perform well [means having] to find people to give you money to race. But to perform well you should be able to go testing as much as the others, or at least drive in a team where you can do good races just because the car is quick enough. But for that you need money… so it's kind of a circle which you need to try to get out of by having good races, fighting, showing people that it really is your dream and that they are the ones making it possible to live my dream and achieve my goal.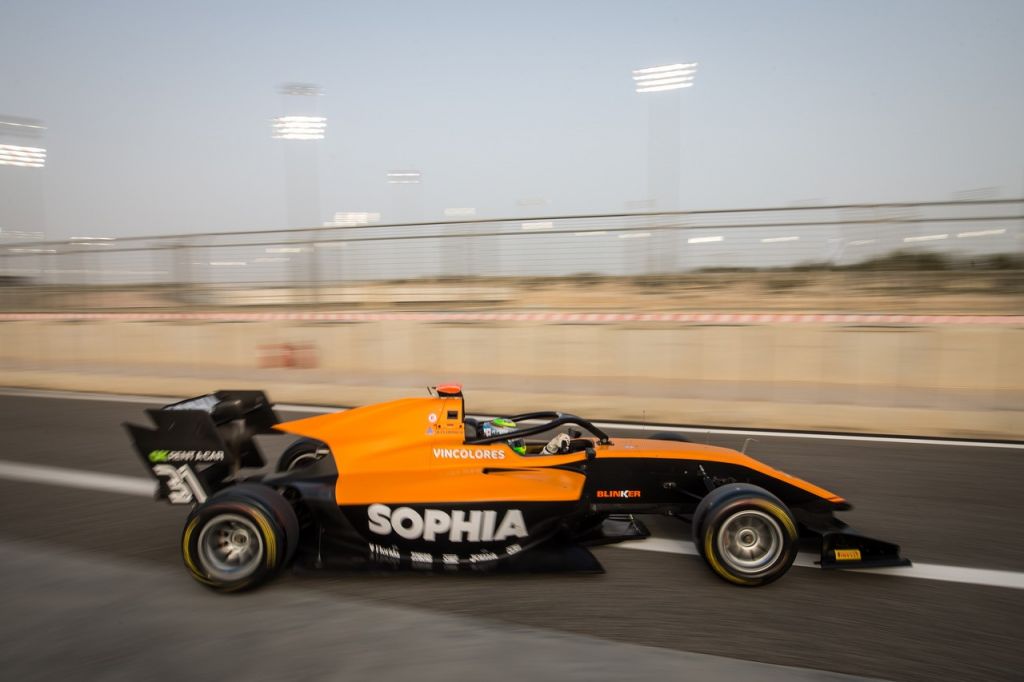 AF: How are you preparing for the 24 hours of Le Mans? And how exciting is it to be part of an all-female entry?
SF: Well, we are racing the ELMS as well which will be two race weekends before Le Mans already. It's just going to be 4h races but of course that's already going to help to get a feeling for endurance racing. I will for sure do a lot of simulator preparation to get into the rhythm and focus on long stints. Watching videos and some 24h races from the years before to learn. A lot of contact with the team and the other two women. It's an huge honour to be racing 24h of Le Mans and also with an all women line up is super cool. We want to perform – that's our goal to 100%! To get the possibility thanks to Richard Mille and FIA Women In Motorsport is amazing and we will make the best out of it. Of course in an endurance race everything can happen and there are more things you have to take in account, but the luck will be on our side.
AF: Are you happy with your performance in the F3 test? What are your aims for the season?
SF: I am only happy when I am winning a race or I am P1. That's 100% sure. But to be realistic it was the first time for me back in a formula car again since Macau 2019. Not a single test day during the winter season. No experience on new tyres. And to understand the Pirelli tyres is really important. In those three test days at Bahrain my main goal was to develop myself, work together with the team and get in a rhythm with the car again. I think I ticked those boxes in Bahrain. In testing you never know where you really stand because everyone is doing different tyre strategies and everyone tries different stuff. Free practice and quali will be the sessions when we really realise where we are. As it's my first season in F3 and as I did not prepare during the winter in F3 there are no high expectations. This season will be a year for me to learn, to get used to the car, to enjoy, to get better as a race driver and to have good races. If I am ending the season with Top 10 finishes and also well performing [well in] quali then I think it should be a good starting point on which to build up for 2021.
AF: What does the future hold beyond 2020 for you, and is it dependent on performance this year?
SF: The plan is to do FIA F3 again in 2021, and after that, two years of FIA F2 with strong partners and an equal backing would be great. That's how my next years should look. I want to sit in a race car as much as possible. When I make it to be highest class of formula racing, either F1 or maybe than Formula E, I want to be a proper racing driver who has had enough preparation and years in the junior classes. Of course performance is always important. I want to show that I am the quickest. In motorsport this key factor does not just depend on talent. Money and the budget you have for every single season is probably even more important as I mentioned before. To be able to go testing during the winter, or maybe even do another series during the winter, and to race with a leading top team, you need money. That's what I need to be able to perform and to reach my next goals