Race One : What a fantastic start to the season, the top 3 riding past the chequered in a photo finish end to the race were Toprak Razgatlioglu (Pata Yamaha WorldSBK Official Team) through in first place; Alex Lowes (Kawasaki Racing Team WorldSBK) in second and Scott Redding (ARUBA.IT Racing – Ducati) in third.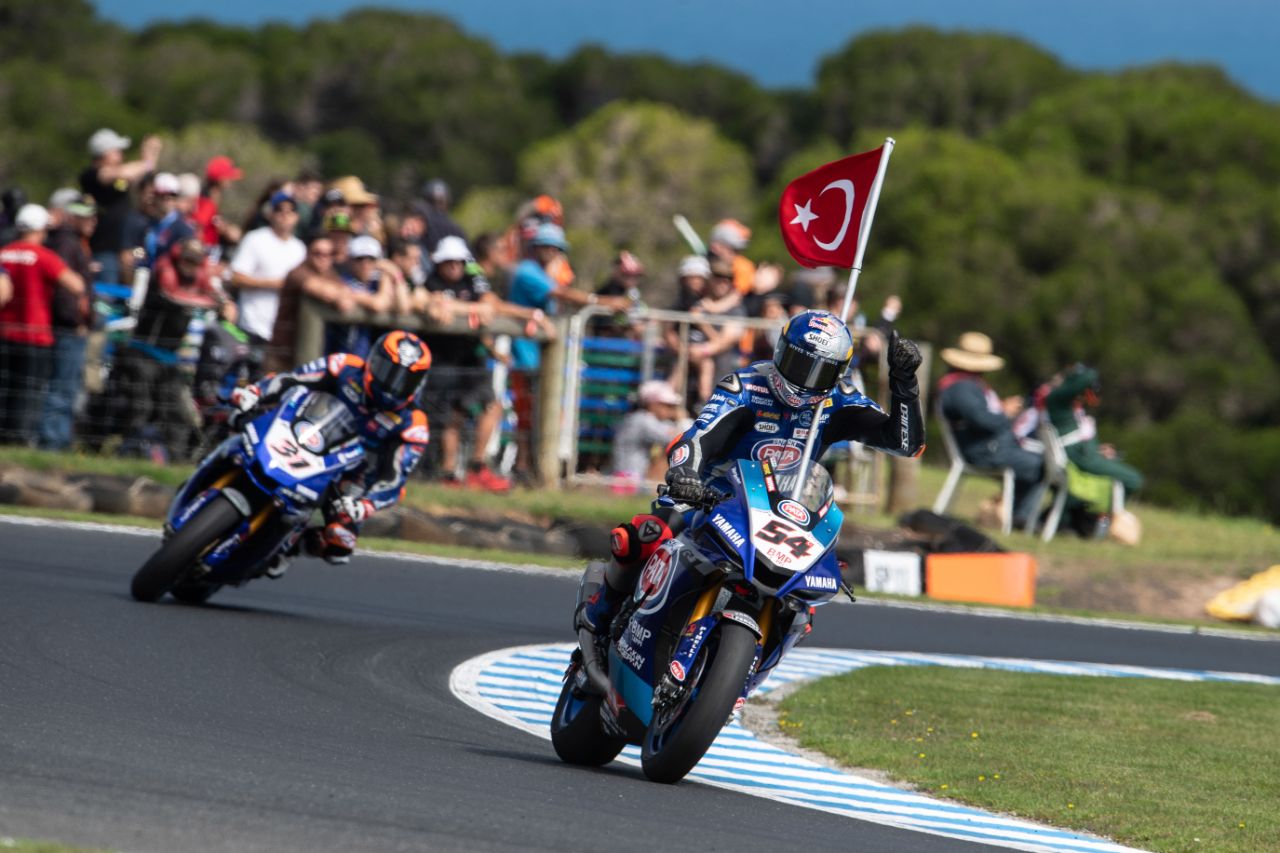 The starting grid looked like this:
Row 1 : Sykes : Redding : Rea
Row 2: Razgatlioglu : Haslam : van der Mark
Row 3 : Baz : Lowes : Cortese
Row 4 : Fores : Scheib : Caricasulo
Row 5 : Laverty : Rinaldi : Bautista
Row 6 : Davies : Gerloff : Takahashi
Rea got off to a good start but whilst still on lap 1 he soon made contact with Sykes and went off into the gravel but managed to keep the bike upright and re-joined the track in last place with Sykes now in the lead followed by Redding and van der Mark.
On lap 3 Baz ran wide and went down to 11th place and the following lap saw Rea and Caricasulo make contact at turn 4, both riders managing to keep the bikes upright but then turn 8, we saw Rea going round the outside of Rinaldi where he lost it and ended up in the gravel and ending his race. Rea got caught under the bike briefly and ended up with a burnt leg but otherwise he was okay.
Lap 10 saw Fores come off at turn 2, the second Kawasaki out of the race and Lap 11 saw Redding move ahead of van der Mark followed by Sykes but Sykes then drops back to 4th as he is overtaken by Razgatlioglu taking him up to 3rd.
On lap 12 we saw Haslam pass Sykes pushing him down into 6th now – Sykes was on a different back tyre to the rest of those around him so maybe that was the reason for him dropping back.
Redding ran wide on lap 14 leading to him being passed by Razgatlioglu, van der Mark and then Razgatlioglu went down the inside of his teammate to take him to the front of the grid. Lap 15 sees Haslam go up into 4th position but by lap 17 he was back down into 5th again.
It's edge of the seat stuff now as lap 17 saw Razgatliolu and by van der Mark swapping 1st and 2nd places a couple of times with Lowes now up into 3rd place. Laps 18 and 19 became a 3 way battle with Razgatliolu, van der Mark and Lowes all swapping  places numerous times.
The final lap sees van der Mark get pushed down into 4th with Redding passing him and then out of the last corner there is a final dash to the finish with Razgatlioglu, Lowes and Redding pretty much neck and neck going towards the chequered flag with Razgatlioglu pipping the other two to the post making it the closest podium of the century!
The last time Yamaha won the first race of the season was in 1989 so a fabulous victory for the Pata Yamaha WorldSBK Official Team and of course Razgatlioglu.
An absolutely brilliant nail biting start to the season. Race 2 tomorrow is going to be exciting ….
The top six following WorldSBK Race 1:
1. Toprak Razgatlioglu (Pata Yamaha WorldSBK Official Team)
2. Alex Lowes (Kawasaki Racing Team WorldSBK)
3. Scott Redding (ARUBA.IT Racing – Ducati)
4. Michael van der Mark (PATA YAMAHA WORLDSBK OFFICIAL TEAM)
5. Leon Haslam (Team HRC)
6. Alvaro Bautosta (Team HRC)
Race Two
The starting grid looked like this:
Row 1 : Rea : Razgatlioglu : Redding
Row 2: Lowes : van der Mark : Sykes
Row 3 : Baz : Haslam : Rinaldi
Row 4 : Cortese : Fores : Scheib
Row 5 : Caricasulo : Bautista : Davies
Row 6 : Takahashi
Non Starters due to injuries in the 10 lap sprint race earlier this morning are Gerloff, Laverty and Camier.
A clean start is had by all to the start of the Race 2, van der Mark has a great start and manages to overtake round the outside and come from 5th to 1st but lap two sees Rea take the lead back. Contact is made between Haslam and Rinaldi in turn 10 sending both riders into the gravel, Haslam manages to rejoin in last place but Rinaldi is not so lucky.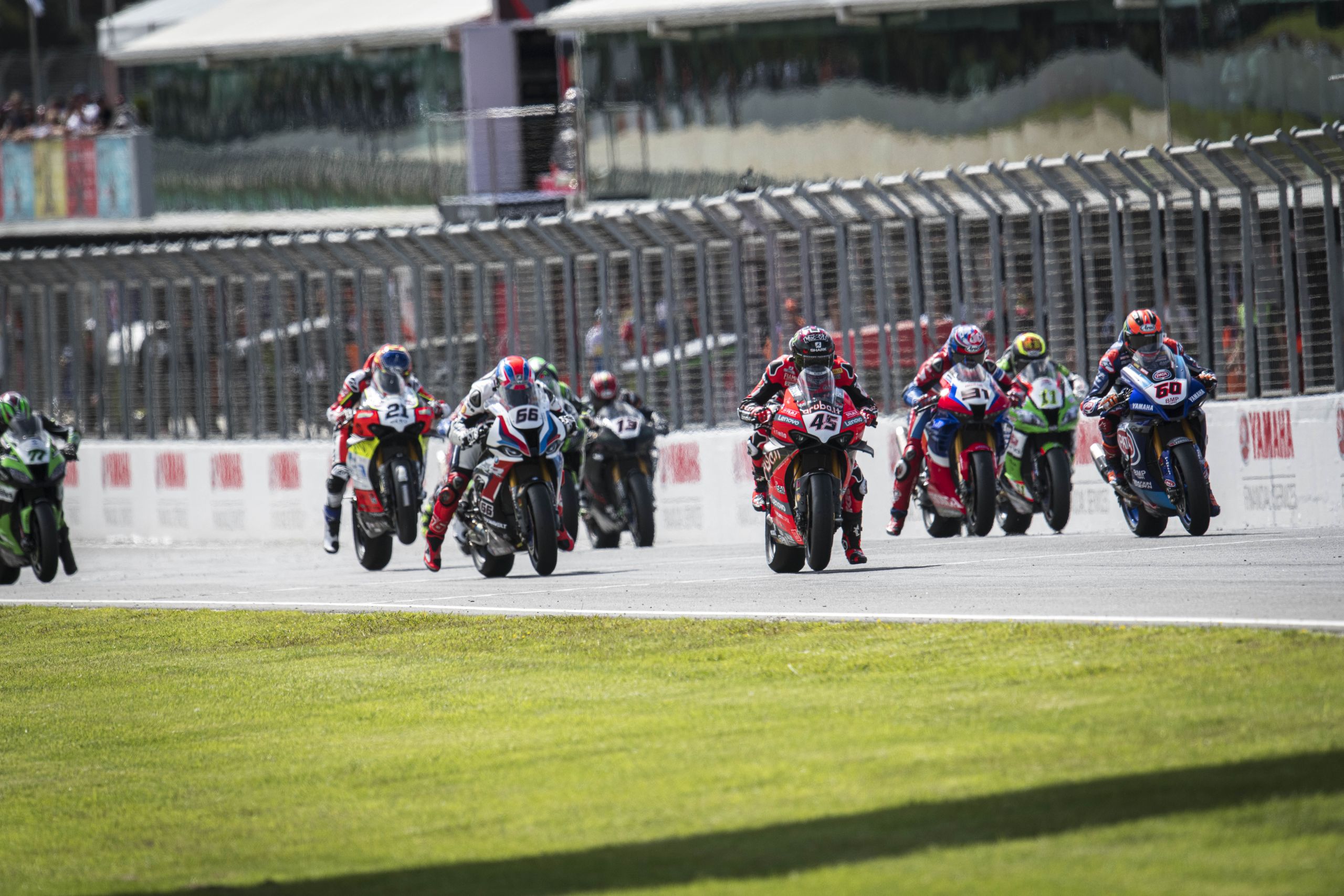 Lap 3 sees 1.6 seconds covering the top 10 riders. Redding goes up the inside of Lowes to take 3rd place and Fores made contact with Sykes on lap 4 but kept the bike going. Lap 5 we see Redding passing Razgatlioglu quickly followed by Lowes pushing the Turkish rider down to 5th.
By lap 8 Baz takes second position from taken van der Mark only to lose it again on the next lap but then makes a bold move and passes van der Mark and Rea to take the lead Rea. Further back Lowes makes contact with Razgatlioglu causing him to go wide and rejoin the pack in 8th. Takahashi's bike broke down on lap 11 together with the GRT Yamaha bike of Caricasulo.
The next few laps we see Rea and Baz swapping positions, all very clean riding and great overtaking.
Lap 14 Lowes comes from 4th and takes van der Mark and Baz to go into 2nd position, further round the track Baz had a wobble but managed to collect it and amazingly keep his position!
Laps 15, 16 and 17 sees some fantastic racing with Lowes and Rea swapping places with van der Mark joining in too ending with Lowes ahead, Rea second followed by van der Mark. On lap 18 Baz loses it again and goes off into the dirt but manages to keep it going but mechanical problems with the bike of Razgatlioglu means the rider retires on this lap.
The last few laps and the racing is getting even more exciting (if that were possible) where we have Lowes taking the lead from Rea, Rea going wide and van der Mark coming past. Rea nearly loses the bike at this point but manages to hang on to it and re-takes 2nd place quickly followed by Redding pushing van der Mark down into 4th!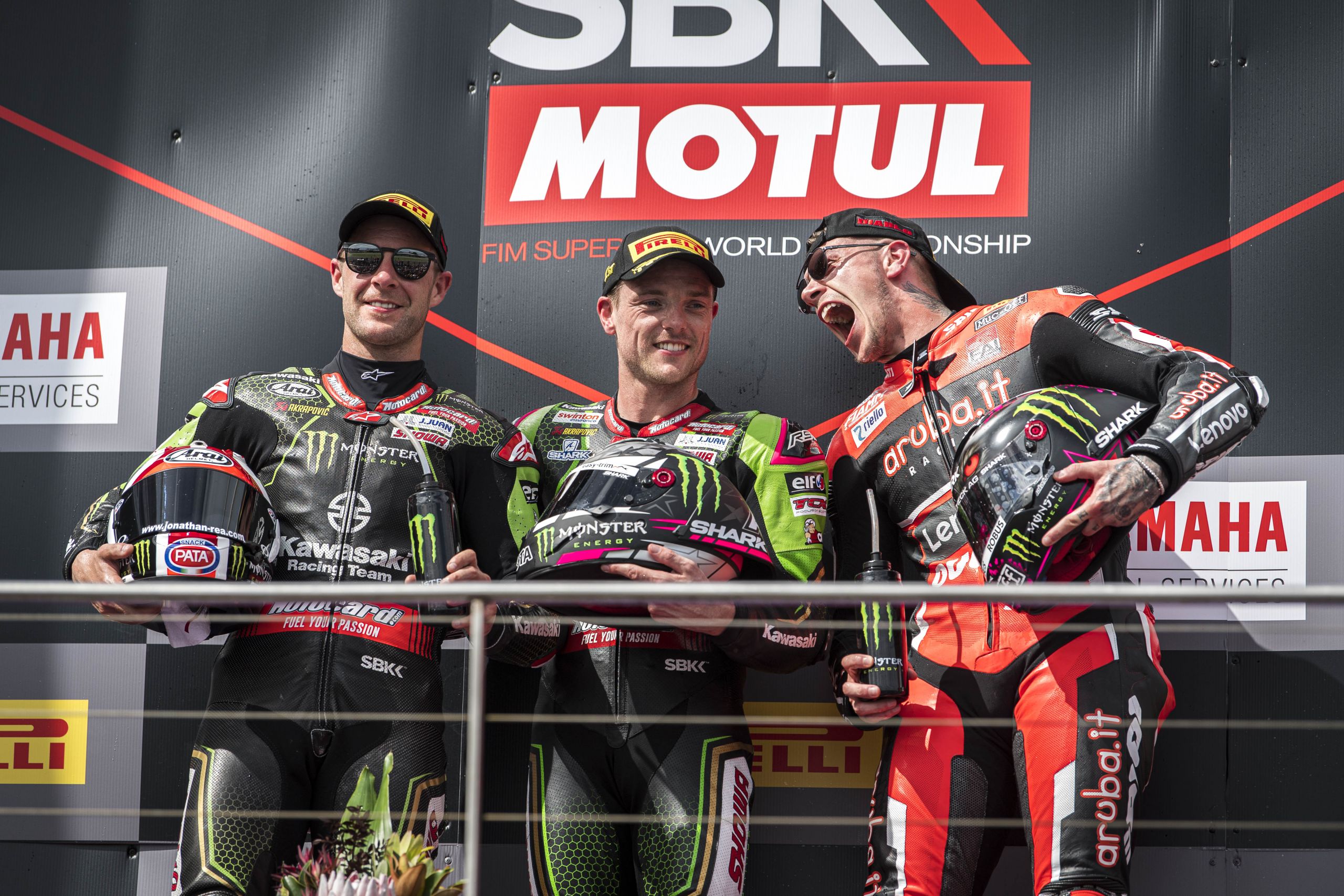 The last lap and I'm on the edge of my seat as Rea is having a look to try and get past Lowes and as they come out of the last corner on the run up to the chequered flag, Rea gives it everything but Lowes just managed to stay ahead and take the win.
Wow! What a fantastic race. Great riding all weekend from all the riders. Qatar in a couple of weeks time is going to be fantastic.
The top six following WorldSBK Race 2:
1. Alex Lowes (Kawasaki Racing Team WorldSBK)
2. Jonathan Rea (Kawasaki Racing Team WorldSBK)
3. Scott Redding (ARUBA.IT Racing – Ducati)
4. Michael van der Mark (PATA YAMAHA WORLDSBK OFFICIAL TEAM)
5. Chaz Davies (ARUBA.IT Racing – Ducati)
6. Alvaro Bautista (HRC Team)
Driver's / Team Standings so far:
WSBK Standings

Pos
Rider
Points
Pos
Team
Points
1
Lowes
51
1
Kawasaki
57
2
Redding
39
2
Yamaha
47
3
Razgatlioglu
34
3
Ducat
39
4
Rea
32
4
Honda
23
5
van der Mark
31
5
BMW
17
6
Bautista
20
7
Baz
20
8
Davies
19
9
Haslam
17
10
Sykes
17
11
Scheib
10
12
Cortese
10
13
Rinaldi
7
14
Fores
5
15
Laverty
5
16
Caricasulo
4
17
Gerloff
2
Takahashi