Emotions ran high on Sunday when Tatsuki Suzuki (SIC 58 Squadra Corse) won his first Moto3 Grand Prix at the Misano World Circuit Marco Simoncelli.
The day before, Suzuki had taken his first ever World Championship pole position, which he converted to a holeshot on Sunday. Although Tony Arbolino (VNE Snipers) led the opening lap, only three of the following twenty-two laps were not led by Suzuki, those outliers being led by Jaume Masia (WWR).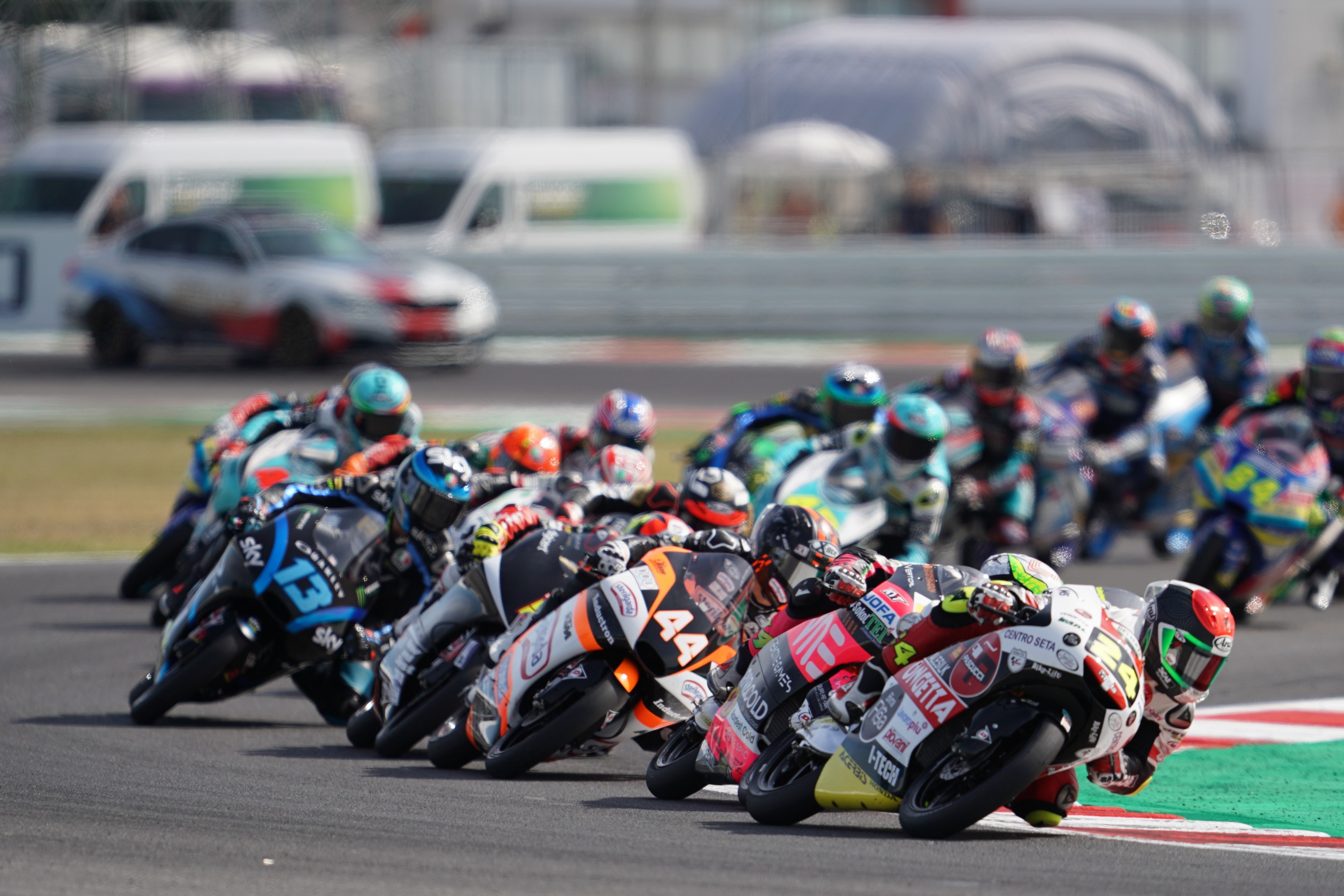 It was a hectic race, with many crashes and splits in the pack. Groups were severed and reconnected, and there was much fighting in both the leading group and the chasing pack, leading to a fragmented race with, thanks to the incredibly low grip of the Misano track, a significantly reduced field.
There were only sixteen finishers – only Deniz Oncu, filling in for brother Can Oncu at Red Bull KTM Ajo, finished but didn't score points after he was forced off track early on in the race at turn ten. Four riders went down on the first lap: Kaito Toba (Honda Team Asia) had contact with Darryn Binder (CIP Green Power) in turn one. Toba crashed and took Makar Yurchenko (BOE Skull Rider Mugen Race) with him. Later in the opening tour, Ayumu Sasaki (Petronas Sprinta Racing) crashed on the entry to turn eight after contact with another rider, and on the exit of the same corner Sergio Garcia (Estrella Galicia 0,0) high-sided and was fortunate to not be hit by other riders.
Two laps later Garcia's Estrella Galicia 0,0 teammate, Alonso Lopez, crashed out, then Niccolo Antonelli (SIC 58 Squadra Corse) high-sided on the exit of turn five leaving Celestino Vietti (SKY Racing Team VR46) nowhere to go, and five corners later Tom Booth-Amos (CIP Green Power) crashed out, after making up several places on the first lap, and broke his collarbone in the process. Albert Arenas (Sama Qatar Angel Nieto Team) also crashed out on lap three, two laps before mechanical troubles forced Aron Canet (Sterilgarda Max Racing Team) to retire, which was important for the championship. The attrition rate of the first half of the race was monumental, but the final rider to go down before the halfway point was Darryn Binder who crashed out with fifteen laps to go. Only wildcard Meikon Kawakami (Fundacion Andreas Perez 77), Kazuki Masaki (BOE Skull Rider Mugen Race) and Ai Ogura (Honda Team Asia) went down in the second half.
The crash which took out Ogura was an important one, taking place on the final lap. Andrea Migno (WWR) was looking inside the Japanese in turn eight, but adjusted to avoid Tony Arbolino in front and crashed, taking Ogura with him. John McPhee (Petronas Sprinta Racing) was able to capitalise on this and move up to third, which he turned into second place at turn twelve, and almost to the lead in turn fourteen but for some excellent defensive riding by Suzuki into the Carro hairpin.
It was a fabulously emotional win for Suzuki and the SIC 58 Squadra Corse, who have backed Suzuki for a while, since the circuit bares the name of the inspiration of the team, Marco Simoncelli. Tatsuki Suzuki finally achieved his goal of taking Paolo to the podium and he did it in perhaps the most perfect place.
The positions gained by McPhee in the final lap brought him his third podium of the season and almost his second win of 2019, whilst for Tony Abolino, third place brought important points for the championship.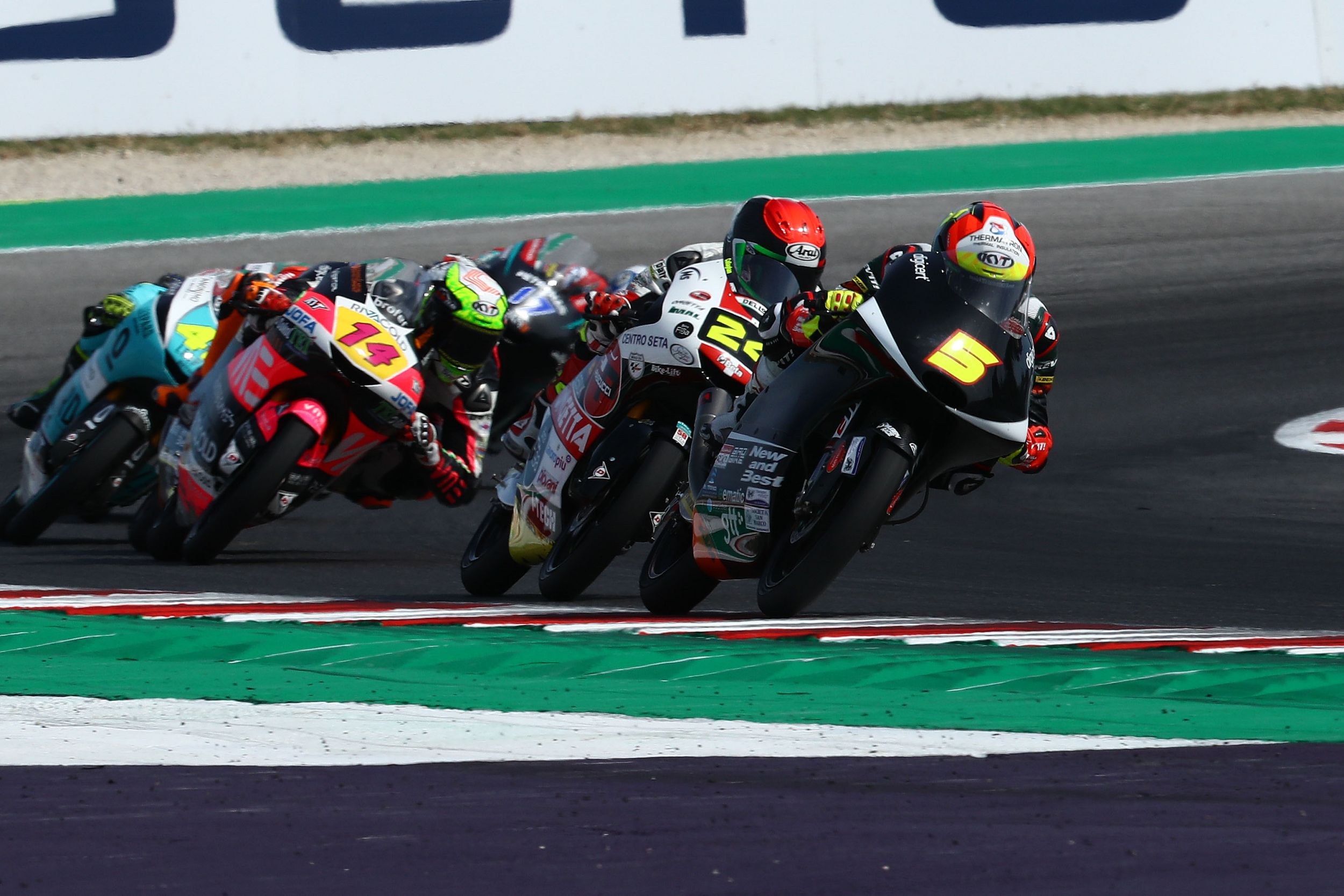 Jaume Masia put some hard moves in throughout the race and was rewarded with fourth place, although the Spaniard is still without a podium since the Italian Grand Prix in May. Dennis Foggia (SKY Racing Team VR46) inherited fifth place as a result of the last lap carnage in turn eight, leading the chasing pack home ahead of Gabriel Rodrigo (Kommerling Gresini Moto3) who was sixth on his debut, and Marcos Ramirez (Leopard Racing) in seventh.
Lorenzo Dalla Porta (Leopard Racing) exceeded track limits one to many times and dropped from fourth to eighth as a result of a three-second time penalty added after the race, which helped Aron Canet significantly as his mechanical retirement prevented him from scoring. Despite Canet's misfortune in Silverstone and Misano, the gap at the top of the championship is still less than one race win in the favour of Dalla Porta, who is twenty-two points ahead of the #44, whilst Arbolino's consistency is bringing him into play, just thirty-points adrift now.
Rounding out the top ten in Misano were Filip Salac (Redox PruestelGP) in ninth and Raul Fernandez (Sama Qatar Angel Nieto Team) in tenth.
Stefano Nepa (Reale Avintia Arizona 77) was eleventh ahead of Jakub Kornfeil (Redox PruestelGP) and Migno who remounted for thirteenth after his last-lap fall. Riccardo Rossi (Kommerling Gresini Moto3) was fourteenth for his first World Championship points in his home race; whilst Elia Bartolini (SKY Junior Team VR46) took the final point on his Grand Prix debut.
Featured Image courtesy of Hondanews.eu