Round twelve of the 2019 Moto2 World Championship took place in Silverstone, as Augusto Fernandez (Flexbox HP 40) took his second career GP win.
Alex Marquez (EG 0,0 Marc VDS) made the holeshot from pole position, with Jorge Navarro (Campetella Speed Up) in tow. The Spanish pair were significantly faster in the early stages of the race, pulling away by almost two seconds.
Things changed, though, when Marquez crashed on lap six, leaving Navarro alone at the front. Brad Binder (Red Bull KTM Ajo), behind, started to reel in the Speed Up rider, bringing Augusto Fernandez with him. Seven laps after Marquez crashed and Binder took second from Remy Gardner (ONEXOX TKKR SAG Team), the South African hit the front.
Binder held the lead for three laps, before Navarro was able to respond. Having had some time to regroup, Navarro was able to pull a small gap for himself when he returned to the front, but Fernandez' pace on the penultimate lap when he passed Binder put him in position to pass his compatriot for the lead on the final lap.
Fernandez made his move in the second part of the Vale chicane, a strange move and certainly an unexpected one on the part of Navarro, who was unable to respond before the finish.
The race was a tyre management exercise, and Fernandez was the best at it. Normally, Speed Up look after the tyres well, but despite Fernandez' aggressive style and slightly harsher Kalex frame, he was able to find more grip in the final stages than his rivals, and his second Grand Prix win arrived as a result.
Jorge Navarro has had few better chances to win a Moto2 race, but he was unable to take this one. It seemed that Marquez' crash unsettled the #9, and perhaps the reasonably significant lead that he inherited as a result played on his mind. Either way, it was a decent result to end a strong weekend from the Spaniard, who moved to joint-second in the championship on points, along with Fernandez and Tom Luthi (Dynavolt Intact GP) – the three of them thirty-five points behind Marquez.
Third place for Brad Binder was extremely impressive. He failed to make Q2 directly on Saturday and was clearly riding at the very limit of the bike for the whole race. When Remy Gardner passed him on the penultimate lap, there was a good response from Binder. The South African made his move on Gardner for third as Navarro tried to make his move for the lead on Fernandez, in Brooklands, but while Navarro was unable to make his move stick, Binder was able to pull the KTM down to the apex and prevent a counter-attack from Gardner. It was a well-deserved rostrum for the 2016 Moto3 champion.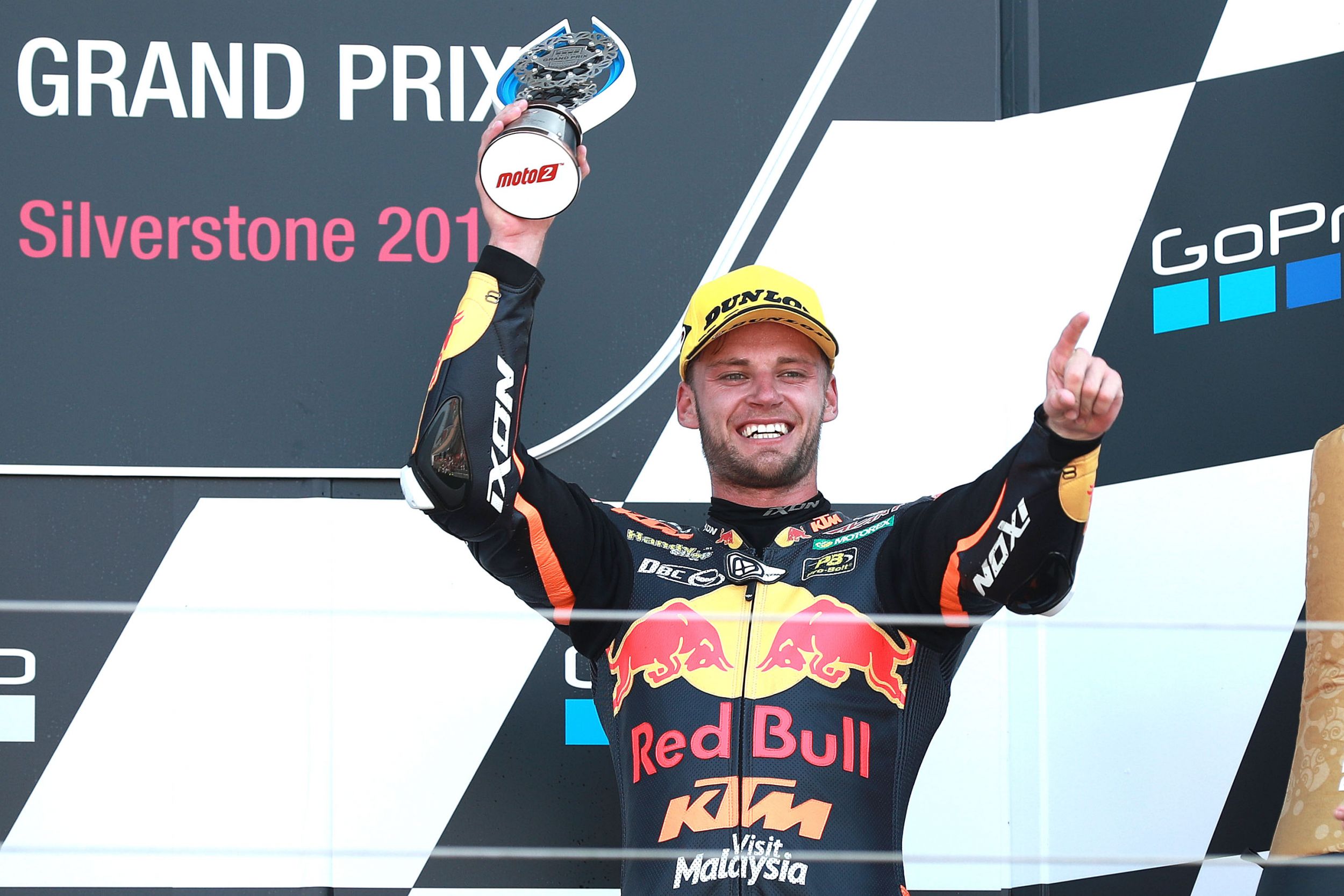 Whilst Gardner missed out on the podium, the British GP represented a return to form for the Australian who went slightly off the boil after Jerez, where he was involved in the turn one crash, and the rear tyre changed. Tetsuta Nagashima made sure of a double ONEXOX TKKR SAG Team top five in Silverstone with fifth.
Sixth place went to Fabio Di Giannantonio (Campetella Speed Up), who was ahead of Lorenzo Baldassarri (Flexbox HP 40) after the Italian came from eighteenth on the grid. Eighth was Tom Luthi, who will have been disappointed to fail to make significant in-roads into Marquez' championship lead, instead slipping into a battle for second with Fernandez and Navarro. Luca Marini (SKY Racing Team VR46) finished ninth ahead of Xavi Vierge (EG 0,0 Marc VDS) who completed the top ten.
Iker Lecuona (American Racing) was eleventh ahead of fellow KTM rider Jorge Martin (Red Bull KTM Ajo), Mattia Pasini (Tasca Racing Scuderia Moto2), Marcel Schrotter (Dynavolt Intact GP) and Andrea Locatelli (Italtrans Racing Team) who took the final point.
Somkiat Chantra (IDEMITSU Honda Team Asia) was sixteenth, ahead of Stefano Manzi (MV Agusta Idealavoro Forward), Dominique Aegerter (MV Agusta Idealavoro Forward), Marco Bezzecchi (Red Bull KTM Tech 3) and Nicolo Bulega (SKY Racing Team VR46) who completed the top twenty.
Twenty-first went to Bo Bendsneyder (NTS RW Racing GP) who was ahead of Joe Roberts (American Racing), Jake Dixon (Sama Qatar Angel Nieto Team), Philipp Oettl (Red Bull KTM Tech 3), Steven Odendaal (NTS RW Racing GP), Lukas Tulovic (Kiefer Racing), Xavi Cardelus (Sama Qatar Angel Nieto Team) and Teppei Nagoe (IDEMITSU Honda Team Asia) who finished last in his third race replacing Dimas Ekky.
After Marquez dropped out, Bradley Smith's replacement ride for Khairul Idham Pawi at Petronas Sprinta Racing was the next to come to an early end, before Sam Lowes (Federal Oil Gresini Moto2) crashed out on the final lap.