The sun had been beating down on the Circuit de Barcelona-Catalunya for six hours by the time the Moto2 race started. The track temperature was excessive and the grip was low, so tyre management would be crucial.
The holeshot went to Tom Luthi (Dynavolt Intact GP) from pole sitter Augusto Fernandez (Flexbox HP 40) and Sam Lowes (Federal Oil Gresini Moto2).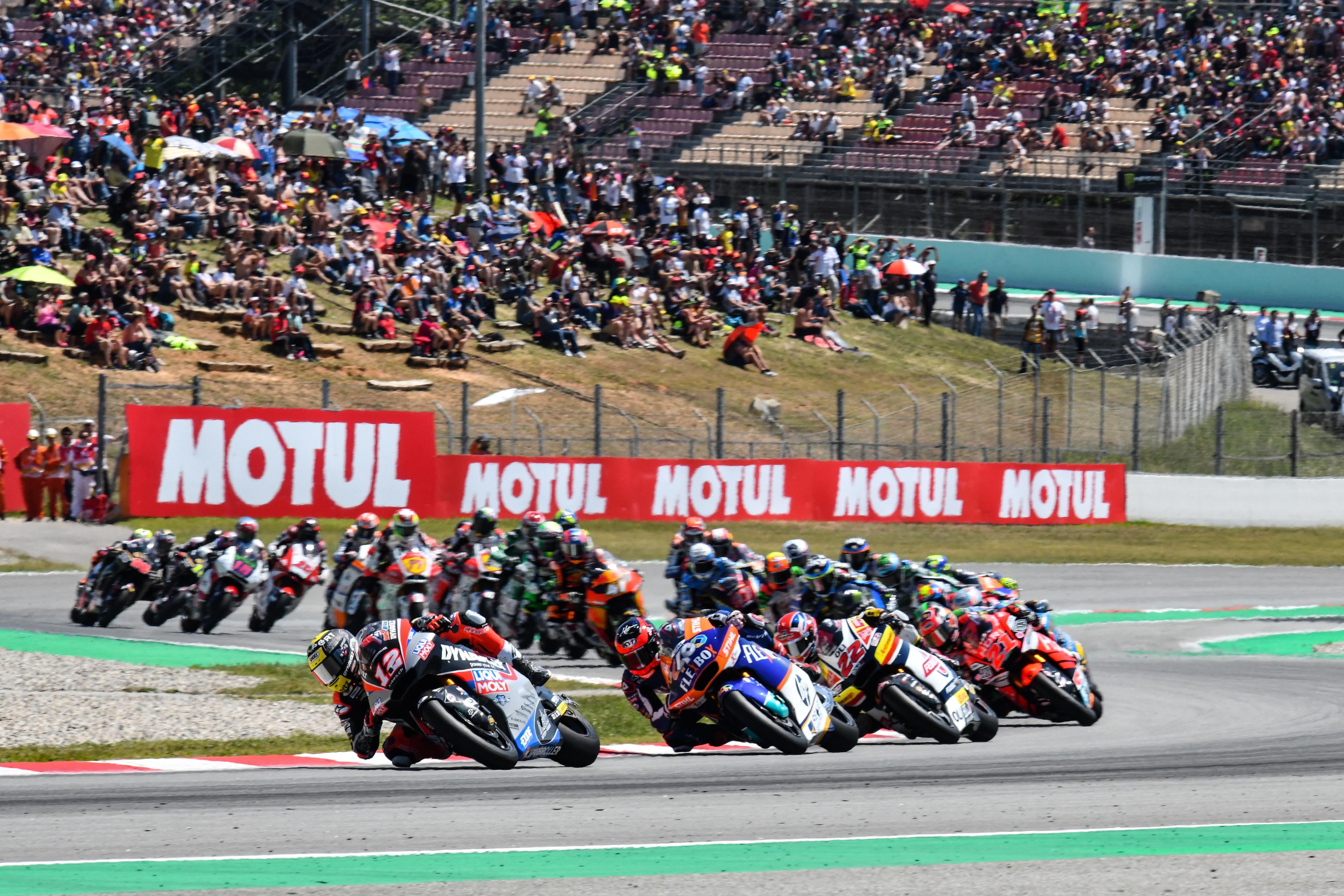 Things were going bad for championship leader Lorenzo Baldssarri (Flexbox HP 40), who was wide in turn four and then clipped Remy Gardner (ONEXOX TKKR SAG Team) who went down as a result.
But at the front at the end of the first lap, Luthi and Fernandez were pulling away from Lowes behind, who was under pressure from Fabio Di Giannantonio (HDR Heidrun Speed Up), Alex Marquez (EG 0,0 Marc VDS), Enea Bastianini (Italtrans Racing Team) and Jorge Navarro (HDR Heidrun Speed Up).
Soon, Marquez and Di Giannantonio were able to pass Lowes, which was especially important for Marquez who had his sights set on his third consecutive victory.
As soon as Marquez had some clear track for a lap, he was able to be the fastest rider on the track, and he began closing down the leading two.
Meanwhile, Bastianini had been able to pass Lowes. With Di Giannantonio being pulled along by Marquez, it was important for Bastianini to jump onto the back of his compatriot's Speed Up before Marquez dragged him away.
A small mistake from Tom Luthi in turn ten with eighteen laps to go, allowed Fernandez a chance at the lead. The Spaniard didn't need asking twice, and he moved ahead. This was a much needed move for Fernandez, with Marquez and the two Italians of Di Giannantonio and Bastianini closing behind.
Fernandez, though, was unable to make a break from Luthi, who re-passed the Spaniard a lap after he hit the front. Marquez was now on the back of the leading pair, with Di Giannantonio not too far away. Bastianini, on the other hand, had been dropped by the front four and had Jorge Navarro for close company.
As the leaders hit fifteen laps to go, Lorenzo Baldassarri crashed at turn ten. He was unable to re-join, and the Italian waved goodbye to the championship lead he had held since Qatar.
Seconds later, Marquez was past Fernandez on the pit straight, as Luthi dropped the hammer. One lap later, Jorge Navarro passed Bastianini for fifth, as his teammate, Di Giannantonio, was pressuring Fernandez for third place.
Di Giannantonio made the move on Fernandez at turn one with thirteen laps to go, which was an important one to make for the Italian, with the Speed Up's tendency to look after the tyres. However, at turn ten on the next lap it was all over for Di Giannantonio, as he crashed out of what was turning into a strong ride for the rookie.
Out front, though, it was still Luthi leading from Marquez. With Baldassarri out, this was not just the battle for the lead of the race, but also for the lead of the championship. As they entered the final ten laps, Marquez was starting to apply more pressure to the Swiss rider. One lap later, the Spaniard was through, and looked to have more pace.
Simultaneously, Navarro passed Fernandez for third, although it seemed that would be as far as he could get, such was the gap to Luthi in second.
With six laps to go, Marquez started to stretch his advantage. A moment for Luthi in turn ten six laps from the flag was a sign for the Swiss that his front tyre was giving up on him.
For the final five laps, it was plain sailing for Marquez, who had a comfortable run to the flag to claim his third win of the season, and to move into the front of the championship. Three dominant wins in a row will have Marquez' rivals worried, and this championship could soon start getting out of reach of the others should Marquez continue this form.
Behind Marquez, though, things were heating up in the final three laps, as Navarro was closing in on Luthi for second place. The Spaniard was not fast enough, though, and Luthi maintained second ahead of Navarro. It was not a bad race for the Swiss, but he will know that to take the fight to Marquez he needs to make a step, because the gap Marquez has in race pace is too much.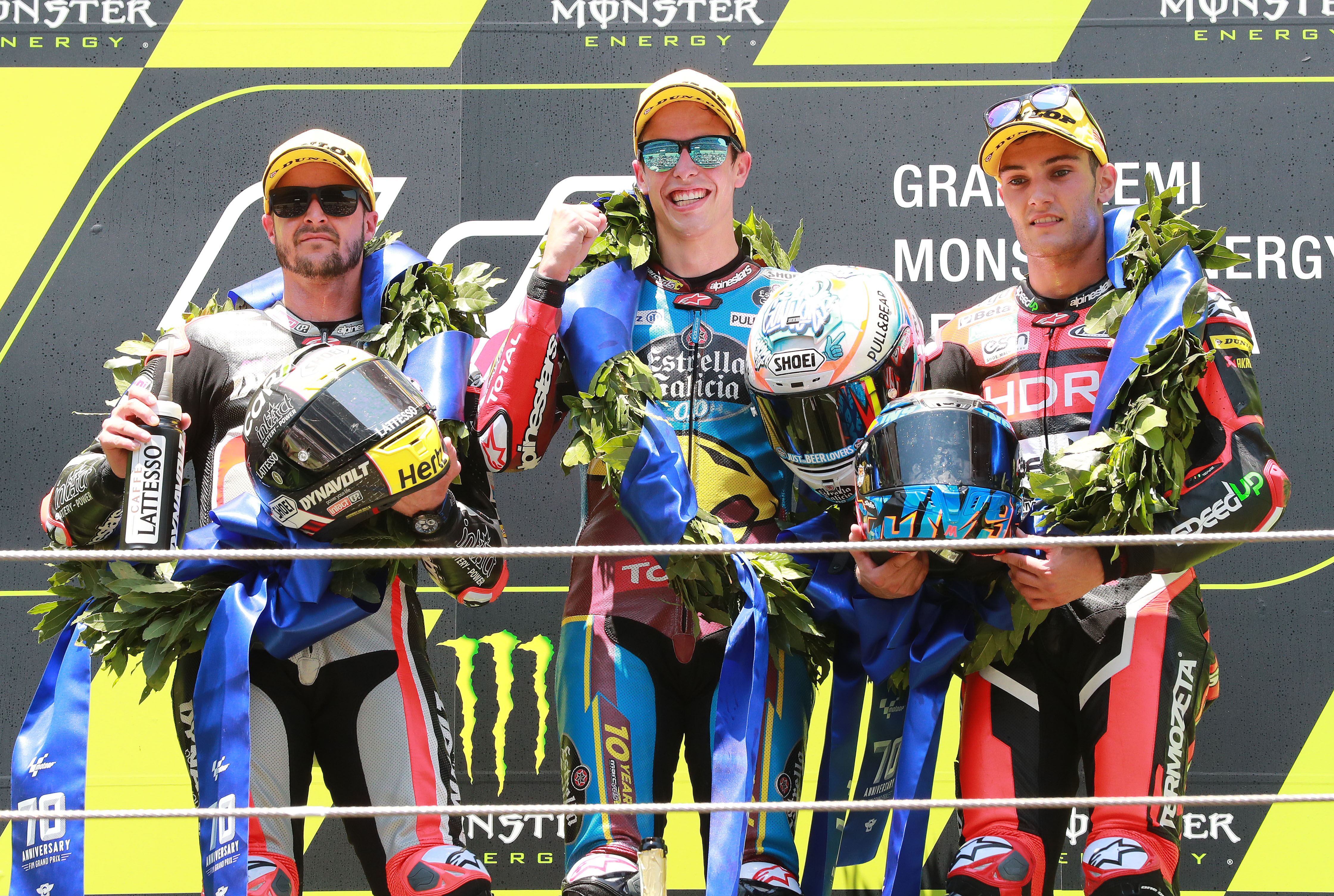 Navarro made a welcome return to the podium in his home race after missing it in Mugello. With third place – Navarro's fourth rostrum in five races – the Spaniard moves ahead of Baldassarri in the standings and into third.
Fourth place went to the pole sitter, Augusto Fernandez, who dropped back after a strong start, whilst the top five was rounded out by Bastianini, who once more took the top rookie spot and equalled his best 2019 result of fifth place.
A tough battle behind Bastianini went on in the final stages of the race, one which Luca Marini (Sky Racing Team VR46) came out on top of for sixth place, ahead of Marcel Schrotter (Dynavolt Intact GP) and Xavi Vierge (EG 0,0 Marc VDS). Sam Lowes took ninth spot, whilst Tetsuta Nagashima (ONEXOX TKKR SAG Team) completed the top ten.
Eleventh place went to Brad Binder (Red Bull KTM Ajo) who was the top KTM, twenty seconds off the lead. Andrea Locatelli (Italtrans Racing Team) was twelfth, ahead of Nicolo Bulega (Sky Racing Team VR46), Simone Corsi (Tasca Racing Scuderia Moto2) and Jorge Martin (Red Bull KTM Ajo) who completed the points.
Dominique Aegerter (MV Agusta Idealavoro Forward) finished sixteenth, ahead of Somkiat Chantra (IDEMITSU Honda Team Asia), Bo Bendsneyder (NTS RW Racing GP), Jonas Folger (Petronas Sprinta Racing) and Joe Roberts (American Racing) who completed the top twenty.
Dimas Ekky (IDEMITSU Honda Team Asia) was twenty-first, ahead of Steven Odendaal (NTS RW Racing GP), Marco Bezzecchi (Red Bull KTM Tech3), Lukas Tulovic (Kiefer Racing) and Xavi Cardelus (Sama Qatar Angel Nieto Team) who was the twenty-fifth and last finisher.
The aforementioned Remy Gardner was the first rider to retire, on lap one after the incident with Baldassarri. Iker Lecuona (American Racing) was the next rider to drop out, as he retired down pit lane with twenty laps to go. Baldassarri then crashed out four laps later, before Di Giannantonio crashed. Stefano Manzi (MV Agusta Idealavoro) crashed out with six to go, before Jake Dixon (Sama Qatar Angel Nieto Team) fell on the final lap.
Featured Image courtesy of David Goldman/Marc VDS