The Moto3 race in Mugello is always spectacular, the long straight meaning the group rarely gets an opportunity to split thanks to the slipstream. The 2019 edition was no exception to these trends.
The group was large from the start, with twenty or more bikes, but the group split slightly in the middle of the race, with the top ten fighting for first. Eventually, the group merges again, but not before one or two riders had identified themselves as the favourites entering the final stages.
Tony Arbolino (VNE Snipers) set pole position on Saturday by over six tenths, and had looked strong in the race despite falling back in the middle; whilst Tatsuki Suzuki (Sic58 Squadra Corse) had fought through from a poor grid position after getting his flying lap cancelled in Q2, and was seemingly able to pull away through most of the lap before the slipstream brought everyone back together. Similarly, although arguably to a larger extent than Suzuki, Lorenzo Dalla Porta (Leopard Racing) seemed to have an advantage in the more technical part of the lap, especially from Casanova to Scarperia. On several occasions, Dalla Porta was able to make a significant gap throughout the lap, but on no occasion was that gap large enough to defend him from the slipstreaming behind, and he was swamped by the pack time and time again.
A divebomb from Jaume Masia (Bester Capital Dubai) at San Donato on the final lap sent him temporarily into the lead, but it also sent both himself and Dalla Porta wide, allowing Arbolino and almost Dennis Foggia (Sky Racing Team VR46) up the inside of the pair of them.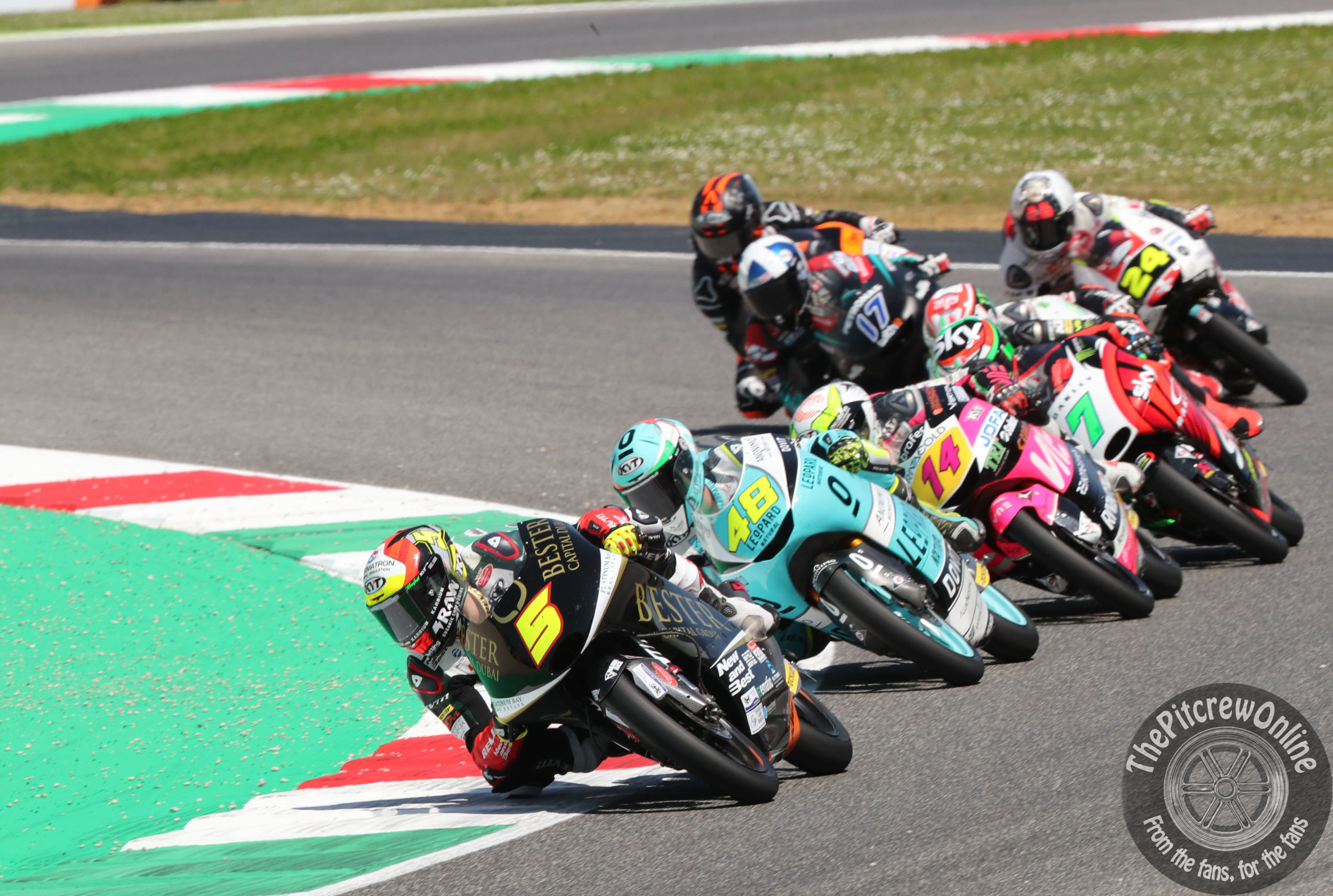 Arbolino led to turn two at Luco, where Masia put another strong move, this time on the #14 to reclaim the lead, whilst Dalla Porta secured third place from Foggia and Niccolo Antonelli (Sic58 Squadra Corse) took fifth place from John McPhee (Petronas SRT) who was now contending with Suzuki, whilst Aron Canet (Sterilgarda Max Racing Team) was sat at the back of the group.
Whilst passing Foggia for third in Luco, Dalla Porta carried good enough speed to put him on the inside of Arbolino in Poggio Seccho, claiming third as the group headed for Materassi.
It took the Tuscan until Corentaio to be able to claim the lead from Masia, but the Honda had looked to have a speed advantage on the KTM throughout the race, so it seemed the #48 was safe. This safety was jeopardised by Arbolino's move on Masia in Bucine, the final corner, and the #14 was able to slipstream past Dalla Porta to the line to win his first Grand Prix, at his home Grand Prix, by 0.029 seconds. Arbolino's first win has been coming for a while, so for him to finally achieve it now could be an important moment for the future of his career. It will be interesting to see now how Arbolino's season goes from here, whether he will push on and take many more podiums and wins and fight for the championship now that the pressure of trying to win his first GP is lifted.
Dalla Porta was not too disappointed after the finish to forget the similarity between his second place in Mugello and the one he took in Qatar at round one, and he noted it to Simon Crafar in the parc ferme interview. After returning the podium in Le Mans, Dalla Porta has now taken his third podium of the season, moving him to just three points behind the championship leader, Aron Canet who finished seventh in Italy. The championship momentum is again moving the way of the Leopard rider.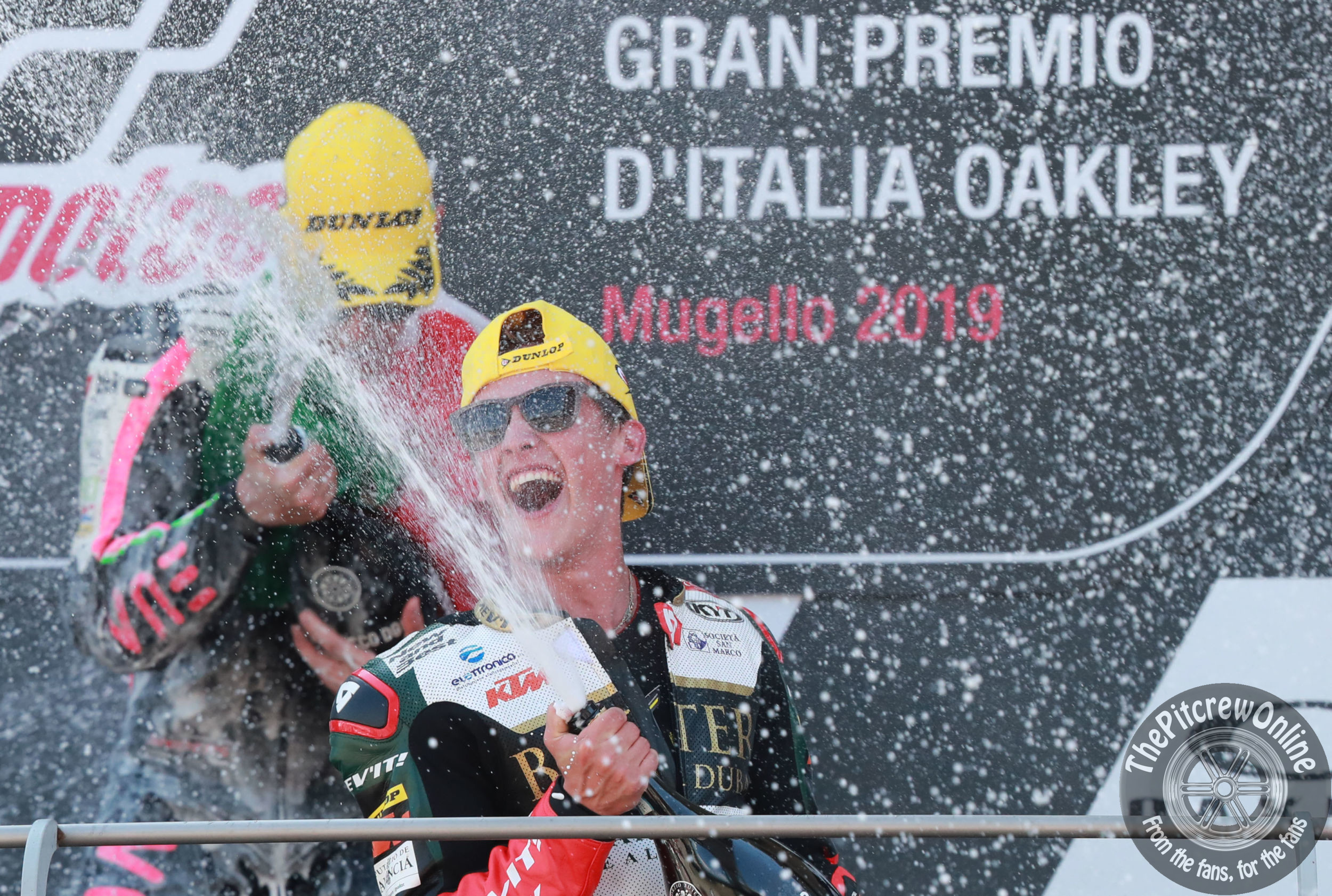 Jaume Masia returned to the podium after missing the top three since Austin where he was second. After COTA, Masia was level with Canet atop the standings, but leaving Mugello, despite his podium, the Spaniard is eighteen points behind his compatriot. However, that gap is not impossible to overcome, and the season is still very long.
Missing the podium in his home race by a whole 0.078 seconds was Niccolo Antonelli who, like teammate Suzuki, had to fight through from a lowly grid position after his flying lap was cancelled in Q2. Fourth for Antonelli leaves him thirteen points behind Canet as the series heads to Barcelona for round seven.
Dennis Foggia rounded out the top five after a strong race for the #7, of which the entirety was spent in the front group. John McPhee had a poor qualifying, but a good start, although he was not able to repeat his Le Mans win and finally finished sixth, ahead of the aforementioned Aron Canet, whilst Tatsuki Suzuki was at the back of the front group in eighth, a whole 0.595 seconds off the win.
One second back of Suzuki was Celestino Vietti (Sky Racing Team VR46), the rookie continuing his 100% points record in 2019, with five of those six rides being inside the top ten. Darryn Binder (CIP Green Power) spent some time in the front of the race, but ultimately rounded out the top ten.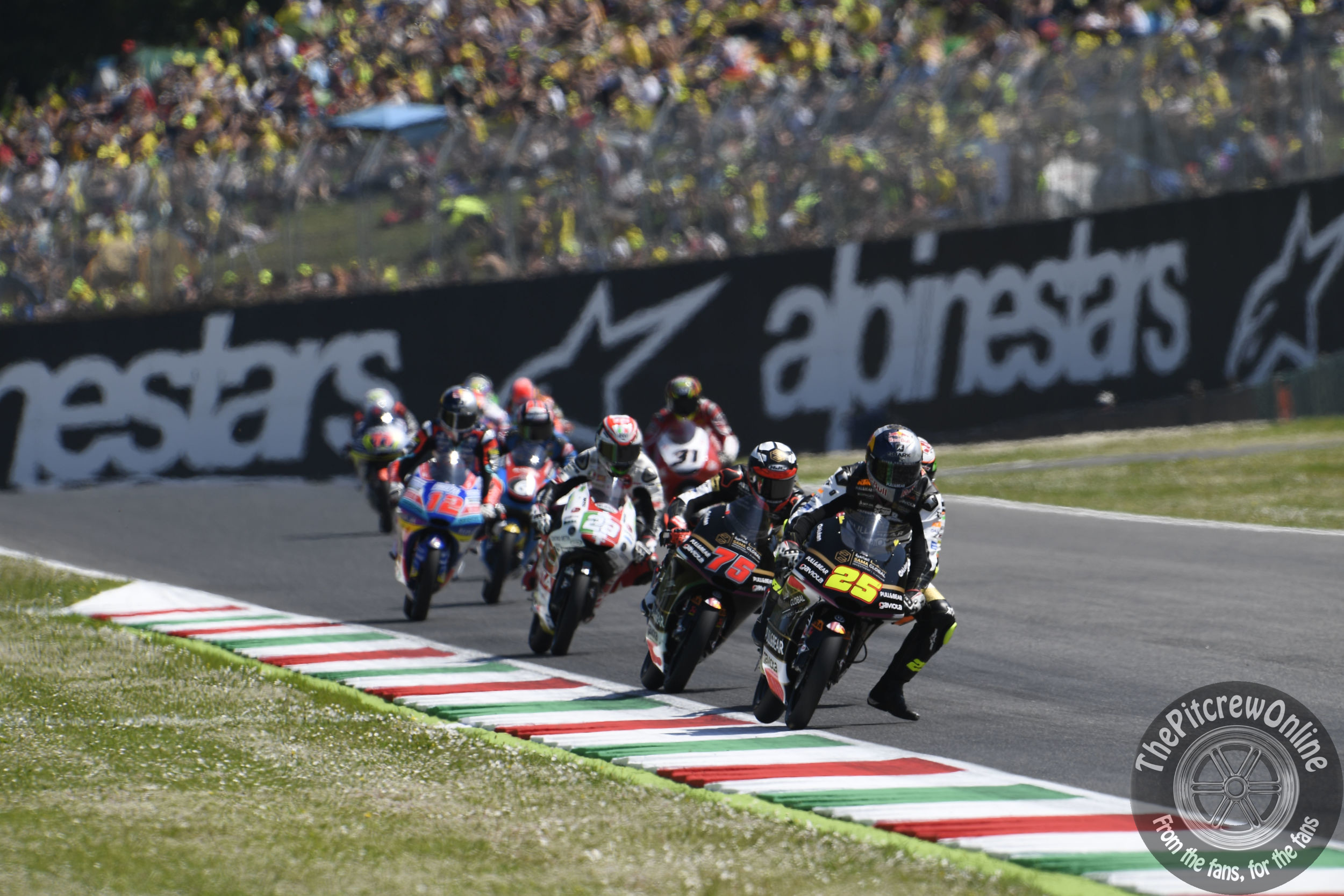 Raul Fernandez (Sama Qatar Angel Nieto Team) finished eleventh on his first visit to Mugello, ahead of Albert Arenas (Sama Qatar Angel Nieto Team), Sergio Garcia (Estrella Galicia 0,0), Jakub Kornfeil (Redox PruestelGP) and Makar Yurchenko (BOE Skull Rider Mugen Race) who completed the points finishers.
Ai Ogura's replacement at Honda Team Asia, Gerry Salim, finished sixteenth, less than one tenth off the final point on his GP debut, and ahead of Estrella Galicia 0,0 wildcard Ryusei Yamanaka, as well as reigning Red Bull Rookies Cup champion Can Oncu (Red Bull KTM Ajo), Vicente Perez (Reale Avintia Arizona 77), Filip Salac (Redox PruestelGP) and Riccardo Rossi (Kommerling Gresini Moto3) who was the twenty-first and final finisher in his first home Grand Prix.
Kazuki Masaki (BOE Skull Rider Mugen Race) was the first rider to retire, before Gabriel Rodrigo (Kommerling Gresini Moto3) fell at Materassi one lap later. Wildcard Kevin Zannoni (RGR TM Official Team) was the next to fall five laps later, as well as Alonso Lopez (Estrella Galicia 0,0). Next it was the turn of Tom Booth-Amos (CIP Green Power) to crash out, before Marcos Ramirez (Leopard Racing) fell for the second race in succession. Romano Fenati (VNE Snipers) then came together with Andrea Migno (Bester Capital Dubai) at Bucine with five to go, before Kaito Toba (Honda Team Asia) high sided on the exit of Poggio Seccho with four laps to go having been passed by Darryn Binder. The crash of Toba left Ayumu Sasaki (Petronas SRT) nowhere to go, and he went down as he hit his compatriot's abandoned Honda.