Simon Pagenaud stunned the field to win his first Indy 500, having already taken pole for the race and the Indianapolis GP win. He becomes the first driver to ever do that sweep of May, after Will Power came close last year. Pagenaud held off 2016 Indy 500 champion Alexander Rossi in a thrilling duel during the last ten laps.
The Frenchman started from pole and dominated the race in a way that we are just not used to seeing at the Indy 500. He led 116 laps, nearly 100 more than anyone else, though it was not all plain sailing. All the Chevrolets were struggling with fuel mileage and none more so than Pagenaud, who had the added disadvantage of being out front in clean air with no one to work with.
If it wasn't for the fourth and final caution which turned into a red flag, the end of the race could've been a very different story fuel-wise. If and buts aside, Pagenaud ran a near faultless race to win his first Indy 500 and Penske's 18th, writing himself into the history books and taking the championship lead with it. Perhaps his only mistake of the day was stopping his car on the yard of bricks after the race, rather than the more traditional Victory Circle… but he didn't seem to mind!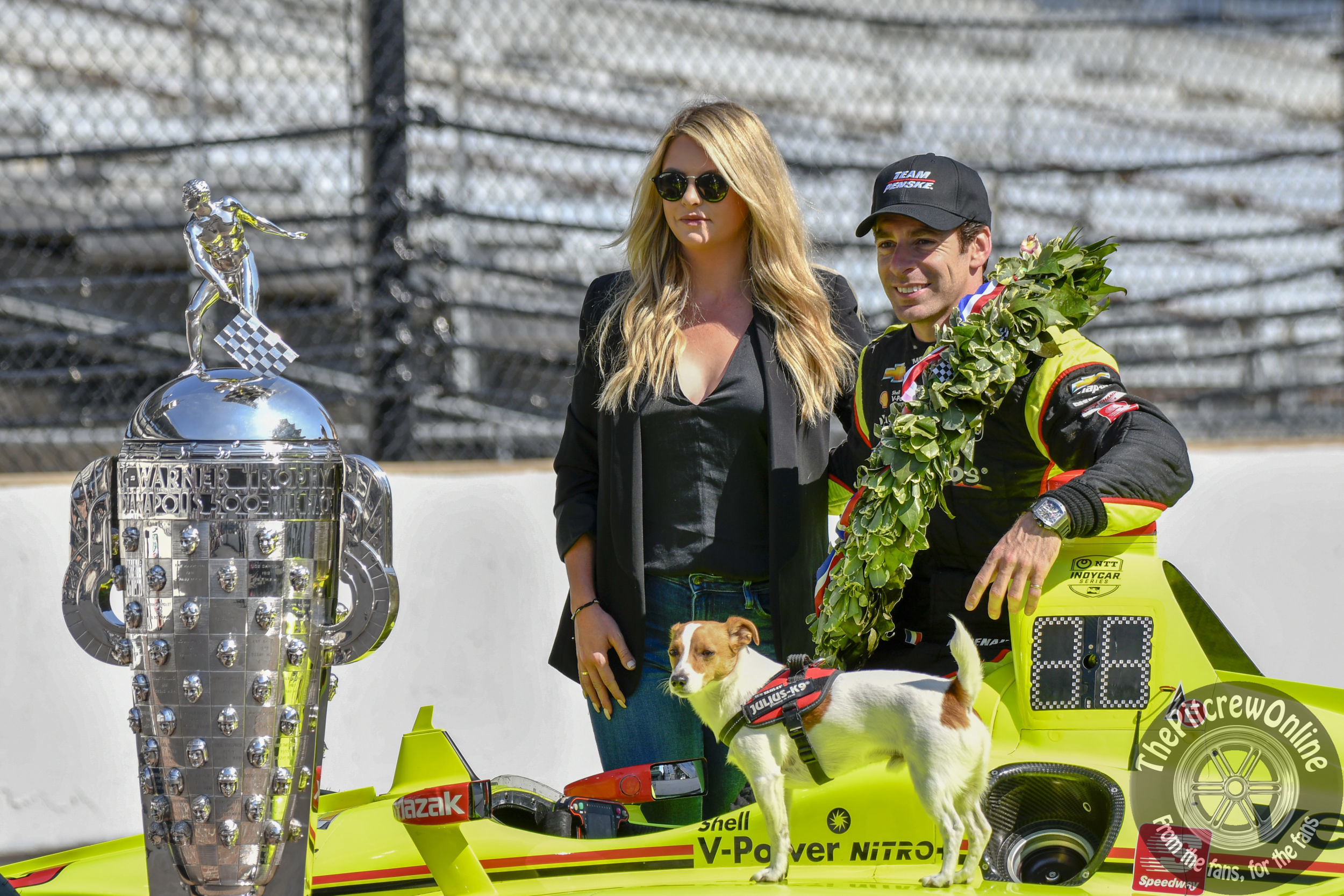 Chasing Pagenaud all the way to the flag was Rossi, who was going after his second 500 win. Early on in the race the #27 had a small problem with the fuel in his pit stop but it only cost him a second or two, so no one thought much of it at the time. However, when it came to the penultimate stops, that problem became something more major with Rossi losing a significant amount of time, making him a very angry driver.
Once the race was restarted after the third caution, Rossi was on a mission passing whoever he liked, wherever he liked and soon caught up to the leaders. He pushed Pagenaud very hard in the final laps with the leading driver always heavily defending the inside line but, despite Rossi's best efforts, Pagenaud squeezed pass on Lap 199 and held onto the lead for long enough to cross the line victorious. He was visibly disappointed by the result saying, "nothing else matters here but winning, today will suck for a while.".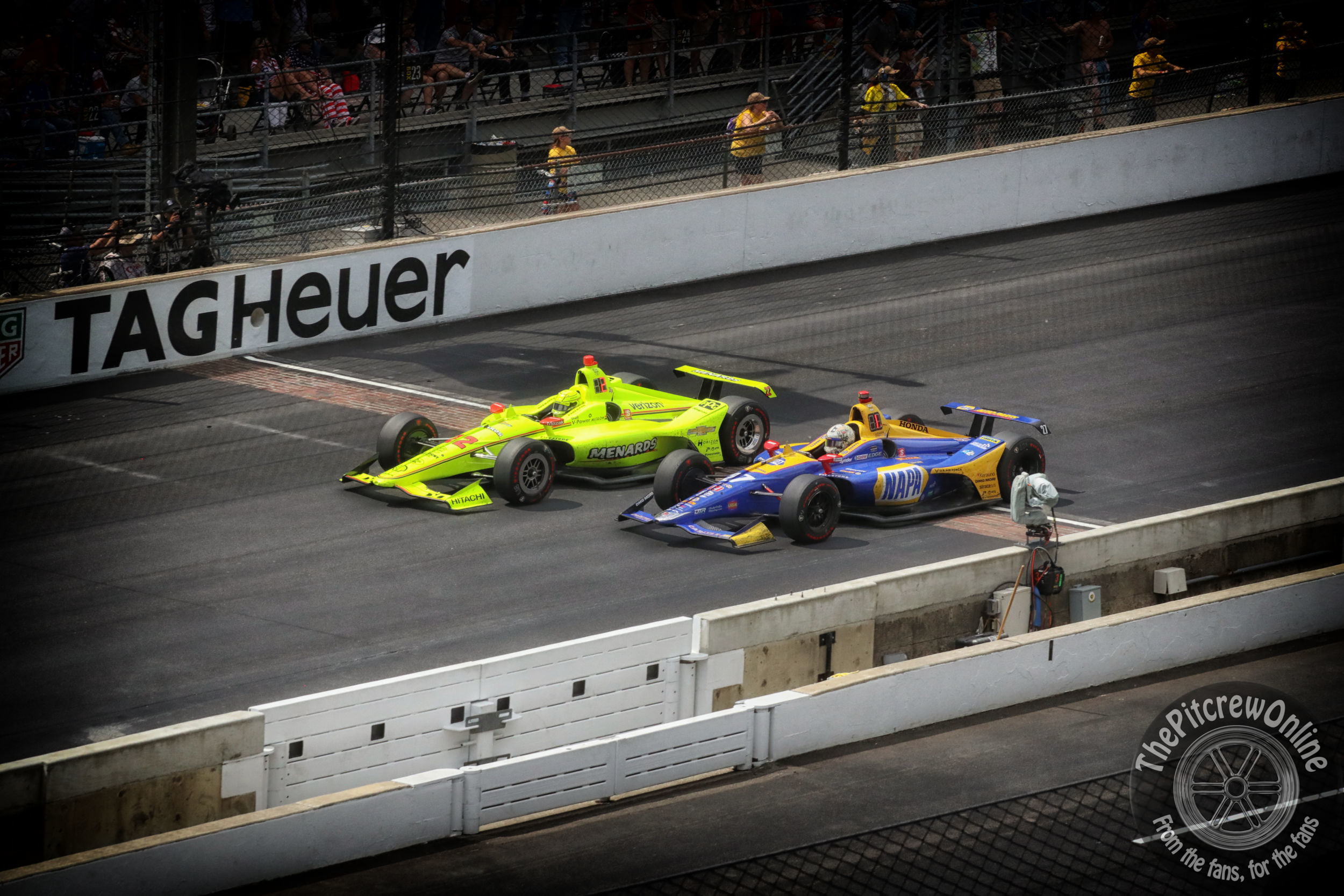 In amongst all that drama, the third-place finisher was nearly forgotten, but 2017 Indy 500 champion Takuma Sato gave the other two a run for their money in the final laps, only dropping back slightly at the very end. The #30 briefly led at two points during the race, though never really had the pace of fellow Honda-runner Rossi. Still, a more than respectable result moves him up to fourth in the championship.
Sebastien Bourdais was one driver who had been comfortably within the lead group until his race came, quite literally, crashing down on Lap 176 when he came together with Graham Rahal and caused the biggest wreck of the day. In taking each other out, the pair created a secondary wreck where drivers behind crashed while reacting to what was going on ahead. Felix Rosenqvist and Zach Veach's races were ended while Charlie Kimball, Sage Karam and Scott Dixon all managed to carry on.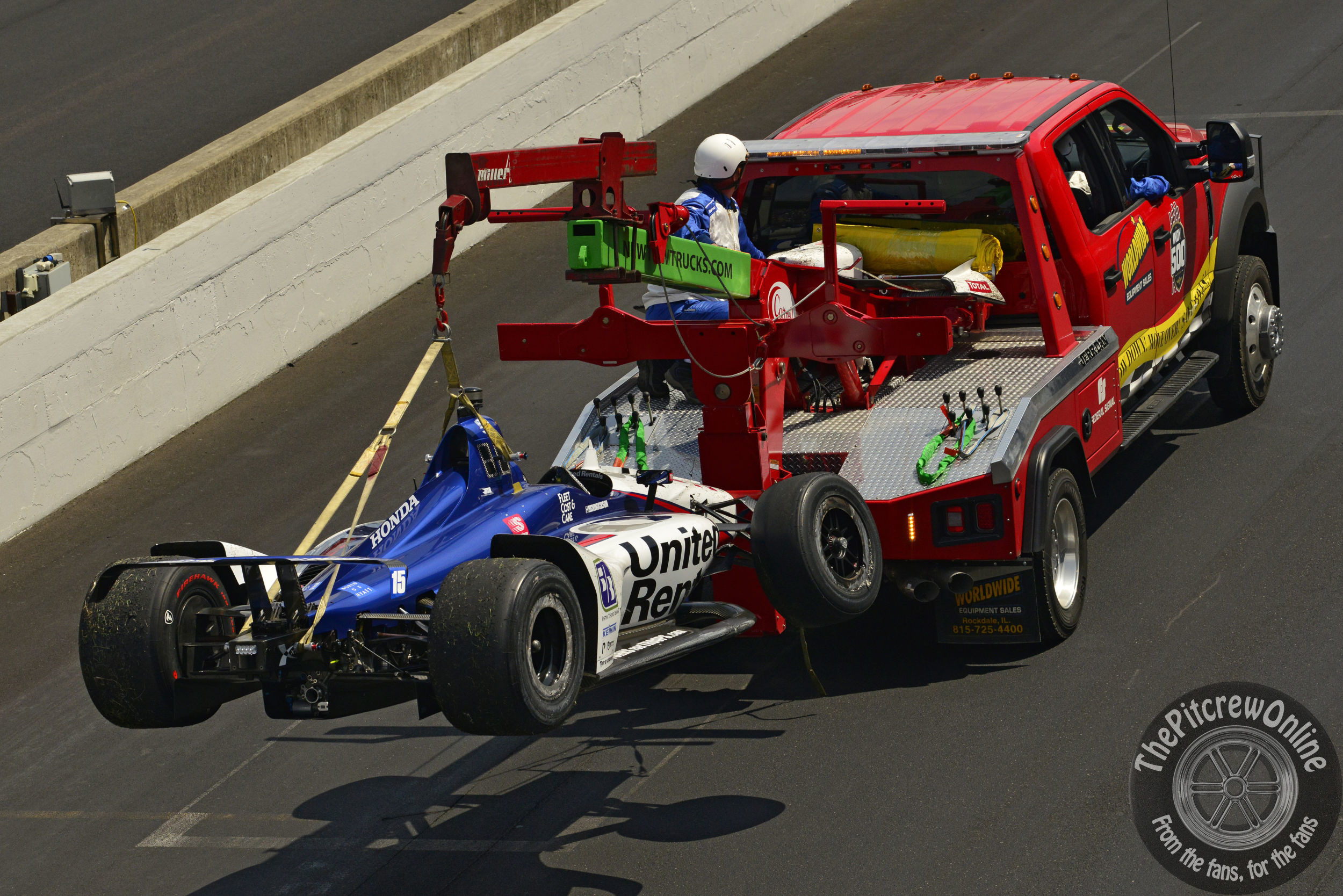 There were some remarkable near misses to come out of that wreck with rookie Ferrucci coming off best. The #19 dived onto the grass to avoid his teammate Bourdais and the others in the wreck and, where many drivers would've backed off, Ferrucci floored it and gained a handful of places. He eventually finished as top rookie in seventh-place, two places better than Robert Wickens managed in his debut Indy 500 last year.
Hinchcliffe also avoided disaster in that Lap 176 wreck, though that wasn't the only time he avoided something that could've been a whole lot worse. After missing out on the race last year, Hinchcliffe's nightmare nearly repeated itself again this year however, he scrapped into the race by qualifying 32nd. From there, he could only go forwards, threading the needle through that wreck and finishing in a very respectable 11th place.
Schmidt Peterson Motorsports teammate Marcus Ericsson was less fortunate. He had been running as best rookie until he lost control on pit entry on Lap 138, causing a caution and putting himself two laps down. This year was always going to be a learning experience for the ex-F1 driver, and he proved just that.
That rounds out what was an action-packed Indy 500 with more going on than could ever possibly be mentioning all at once! IndyCar are back in action in just a few days for the Duel in Detroit double-header so watch out for that.
Full Race Results:
Simon Pagenaud
Alexander Rossi
Takuma Sato
Josef Newgarden
Will Power
Ed Carpenter
Santino Ferrucci (R)
Ryan Hunter-Reay
Tony Kanaan
Conor Daly
James Hinchcliffe
James Davison
Ed Jones
Spencer Pigot
Matheus Leist
Pippa Mann
Scott Dixon
Helio Castroneves
Sage Karam
JR Hildebrand
Jack Harvey
Oriol Servia
Marcus Ericsson (R)
Jordan King (R)
Charlie Kimball
Marco Andretti
Non-finishers:
Graham Rahal
Felix Rosenqvist (R)
Zach Veach
Sebastien Bourdais
Kyle Kaiser (R)
Ben Hanley (R)
Colton Herta (R)
Championship Top 5:
Simon Pagenaud
Josef Newgarden
Alexander Rossi
Takuma Sato
Scott Dixon
Featured Image Credit: Chris Owens/IndyCar