Clement Novalak was miffed at a drop-off in pace that saw his second-fastest lap over six tenths of a second away from his Race One pole lap.
The second fastest lap of a driver is important in British F3 this season as it sets your grid position for the final race of the weekend on Sunday afternoon.
Carlin driver Novalak will start Race Three in fifth, after taking pole positon for Race One.
"Either there was a massive peak on my tyres or the track got a lot, lot worse throughout that session so we weren't able to get a great second lap.
"I think my pole lap wasn't anything incredible to be honest and it's a shame the track fell away so quickly so I couldn't get a second lap done."
The British driver felt that the track was considerably different from Friday testing as a result of Snetterton's wind-sensitive nature.
"The track changed massively from yesterday in that there was no wind today compared to yesterday, all in all despite the second lap I am pretty happy with the job I did.
"Starting fifth, I've put a lot of work on myself for Race Three but it is all to play for and it's a lot easier to overtake than at Oulton so if we have the pace in the race then we can grab a couple of positions in the race. It could be fun on Sunday."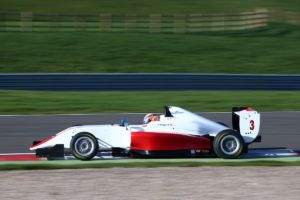 Second on the grid Johnathan Hoggard was more upbeat, with the man from Lincolnshire starting pole for Race Three by virtue of his second-best lap being faster than anyone else's.
"With my fastest sectors I would have pushed for pole position in Race One so it's slightly disappointing for myself not being able to do that, but I am still on the front row for Race One, there's Race Two and I'm pole for Race Three so it's still very good.
"There are long straights here, you can get a good slipstream here if you're close enough but it's still difficult to pass because there are a lot of fast corners, but there are a lot more possibilities than at Oulton Park."
Hoggard, who wants better consistency from his season with British F4, has a plan for this weekend at Snetterton.
"It is all about being consistent with your points scoring, getting the good results in Race One and Three and picking up places in Race Two without getting into trouble because of the points for overtaking."
IMAGES: JAKOB EBREY