Here's the story of how the first ever round of the WRC in Chile panned out.
Friday's action would be the longest day. The start list looked like this- Neuville, Ogier, Tänak, Meeke, Evans, Mikkelsen, Latvala, Lappi, Loeb, Suninen.
First on the road would be a challenge for Thierry and Nicolas, but they were ready for it. First up, was SS 1 – El Pinar 1 (17,11 km). First stage was very foggy, and we saw that Kris and Jari-Matti shared the first stage win. Elfyn Evans was right there as well, showing that there are certain drivers that excel in such conditions! Esapekka Lappi went wide after the water splash and lost time having to reverse his car, so he could continue. Championship leader Thierry had a good stage, only losing 3.6 seconds to the fastest time, despite opening the road.
The second stage, SS 2 – El Puma 1 (30,72 km) was interrupted for safety reasons when Thierry was driving through. Once sorted, Ott Tanak powered through fastest, taking the lead as well. Ogier also moved up the leaderboard into second place. Our previous top three were now in third (Kris), fourth (Latvala) and fifth (Elfyn). Further back, Loeb was also on the move, passing Andreas for sixth.
More fog in SS 3 – Espigado 1 (22,26 km), the final stage of the morning loop saw Thierry take an impressive stage win, from Jari-Matti and Ott. The Estonian's lead over Ogier increased as well to six seconds between them. Thierry's great pace, plus the nominal time given to him after stage two, meant he was now in third place overall. Latvala also passed Meeke- the Finn was finding some good form.
After service, SS 4 – El Puma 2 (30,72 km) was once again won by Ott, who was now really in the groove. Loeb was his closest challenger, but was still nearly ten seconds slower! Thierry suffered in this one, seventeen seconds slower and fell behind Jari-Matti who moved into third overall.
SS 5 – Espigado 2 (22,26 km) saw some leaderboard changes, just not at the top, as Ott continued to dominate with another stage victory and increased his lead over Ogier by almost six seconds. Loeb on the other hand was finding some pace out there going second fastest and passing Elfyn for fifth place. Meanwhile, Teemu with co-driver Marko was making his moves as well, passing Andreas into eighth place.
Final stage of the day then, SS 6 – Concepcion – Bicentenario (2,20 km) and Loeb was fastest from Thierry and Kris. The only change in the leaderboard was Andreas getting back eighth place. Ott held a 22 second lead over Ogier.
STANDINGS AFTER DAY 1
Tänak / Järveoja (Toyota Yaris WRC) 1:24:12.8
Ogier / Ingrassia (Citroën C3 WRC) +22.4
Latvala / Anttila (Toyota Yaris WRC) +28.8
Neuville / Gilsoul (Hyundai i20 WRC) +29.5
Meeke / Marshall (Toyota Yaris WRC) + 46.5
Loeb / Elena (Hyundai i20 WRC) +48.7
Evans / Martin (Ford Fiesta WRC) +1:01.4
Mikkelsen / Jaeger (Hyundai i20 WRC) +2:08.1
Suninen / Salminen (Ford Fiesta WRC) +2:09.1
Lappi / Ferm (Citroën C3 WRC) +2:18.3
Here's the drivers views after the day's action.
Toyota Gazoo Racing WRT
Ott Tänak (1st)
"It was very challenging this morning driving these stages for the first time, but we had a really good afternoon. The engineers did a good job over lunchtime: they managed to fine-tune the setup a bit and I got a good feeling back and I had the confidence again that I need. Everything on the car is just working. The roads here are demanding, but they're really nice when you get to know them a bit. This afternoon my pace-notes were a lot better than in the morning and I could start to enjoy it. Tomorrow the roads look to be faster, and usually that's quite good for our car."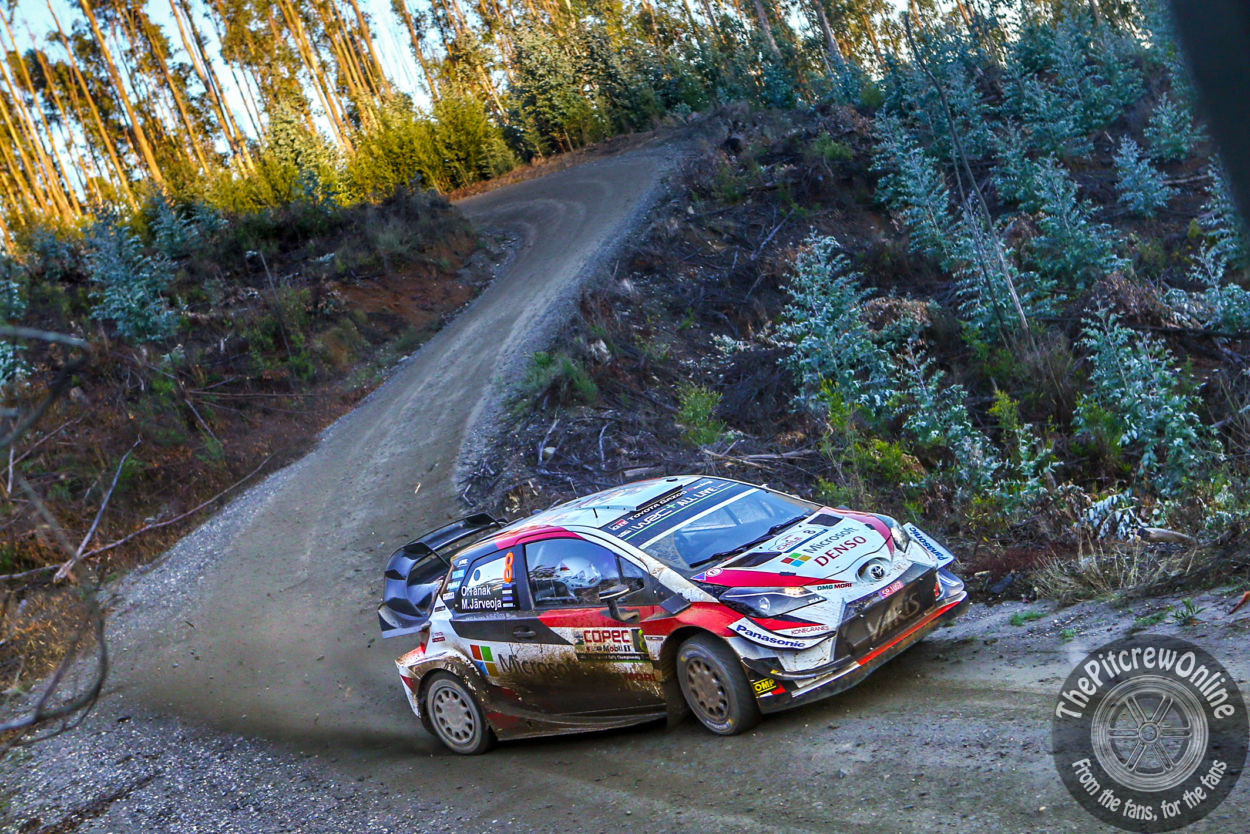 Jari-Matti Latvala (3rd)
"I've really enjoyed the first day of Rally Chile. The morning started well, and then the second stage was really difficult: the wide roads were a bit like in Finland, but the grip was nothing like as good. In SS3 we got back into the rhythm, the feeling was good, and it was going really well this afternoon. I did have a spin towards the end of SS5, and I was very annoyed with myself for that. Tomorrow's stages are more flowing and wider. I'm looking forward to them, and I'll try and keep up the speed that we had this afternoon"
Kris Meeke (5th)
"We started well this morning with the fastest time on the first stage, but I struggled on the next two to get a rhythm and some confidence. Today's stages were recced in the fog and maybe I just struggled a bit more than others with that – I just couldn't trust the road. It was getting better and better in the afternoon though and I felt a bit more confident. I was still missing a bit of commitment, but we'll continue to push. With the team in first, third and fifth we can see that the car is performing well here. Hopefully I can find a bit more of a rhythm in the morning."
Citroën Total WRT
Sébastien Ogier (2nd)
"It was a tricky first leg, so I'm pleased to have completed it without making any significant mistakes and having given it everything I have. It was difficult to match Ott's pace this afternoon, but we'll be back fighting tomorrow. The stages will be quicker, so I hope that will suit us a bit more. In any case, I'm pleased with the improvements made to my C3 WRC in the short timeframe available after Argentina."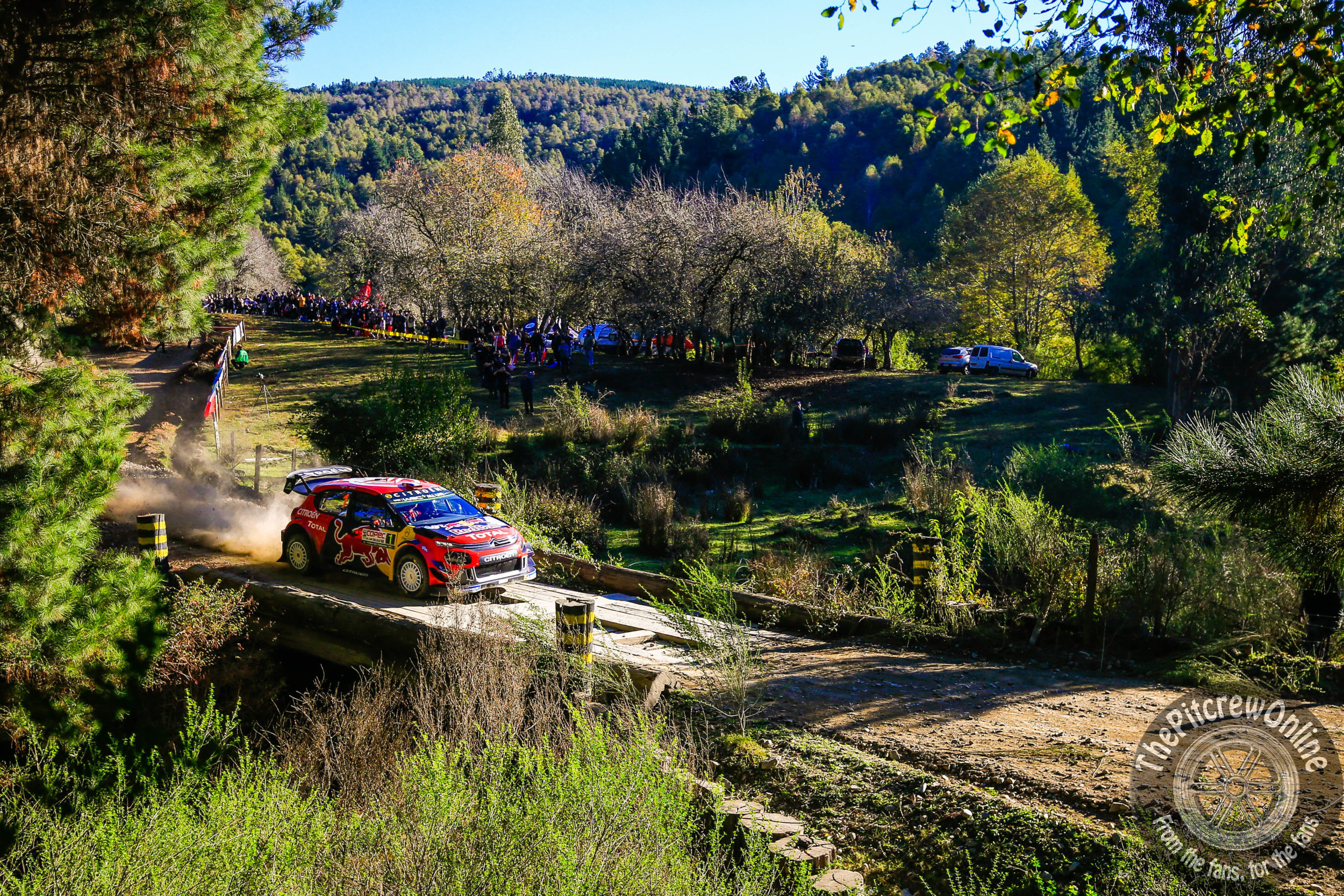 Esapekka Lappi (10th)
"Obviously, I was hoping for more from today's opening leg, but it was a really complicated day for many of us. My pace and my confidence in the car were better in the afternoon, though."
Hyundai Motorsport
Thierry Neuville (4th)
"It has been a tough and demanding first day here in Chile, as we discover brand new stages. The morning loop went quite well overall. Our pace notes were made when we had foggy conditions so it was difficult at times. It was fast with crests and blind corners. You have to push here because otherwise you lose a lot of time. Unfortunately, there was a lot of cleaning this afternoon. I really tried but I had a lot of wheel spin."
Seb Loeb (6th)
"The stages here in Chile have been interesting, very technical and far from easy. They have been incredibly fast in some sections, and particularly the Espigado stage. It has been important to find a good rhythm, but the demands of the routes have made that a challenge. I was able to push harder this afternoon, as the conditions were more favourable. I felt more comfortable and had a good feeling with the car."
Andreas Mikkelsen (8th)
"It has been a tricky day. The opening stage started well and we were on the pace. In SS2, we hit a big rock in the middle of the road. After that, I really struggled with the confidence. We made some changes at lunchtime service to address the lack of stability. Initially, in the afternoon, I felt that we were heading in the right direction but in SS5, I lost the rear of the car and almost rolled. We need a fresh start tomorrow."
M-Sport WRT
Elfyn Evans (7th)
"We had a pretty good run through most of the stages, but it just didn't quite click with the rhythm on the second one this afternoon [SS5]. We recced that stage in the fog so we were expecting to lose a bit, but it was obviously really disappointing to give away as much as we did. The stages are a bit wider and a bit more flowing tomorrow. We're not going to have the best road position, but we'll give it our all and see what we can do."
Teemu Suninen (9th)
"It's good to get all the kilometres and get the experience for the future, but I didn't come here to fight for eighth place and it would have been nice to have had a bit more pace. We just need to do a good job tomorrow, try to improve, and try to be faster than those around us with a similar road position."
Saturday
Onto day two then and with six stages totalling 121km, what would we see happen? The start list looked like this – Lappi, Mikkelsen, Suninen, Evans, Loeb, Meeke, Neuville, Latvala, Ogier, Tänak.
First stage then, SS 7 – Rio Lia 1 (20,90 km) and with a reasonable start position Thierry set the pace quite high, passing Latvala and moving into third overall. Kris Meeke rolled his car, but not so badly that he was out, with the worst of the damage being to the windscreen and he completed the stage but fell out of the top eleven. At the front, Ott once more increased his lead over Ogier, the gap now almost 28 seconds. The closest battle in the top ten was between Loeb and Evans, who lay in fifth and sixth places, with just a little under nine seconds separating them.
Next up, SS 8 – Maria Las Cruces 1 (23,09 km) and Kris removed his windscreen from his car in the control zone as it was starting to come away from the shell. There would be consequences for this at the end of the rally. Most of the top ten made it through fine, but Thierry rolled his car after hitting a bank, the car rolling around seven times before it came to rest on its side. It was a violent crash and the stage was red flagged at that point. Thierry and Nicolas escaped with bruises and scratches and both were taken to hospital to be checked over. Loeb won the stage from Latvala and Tanak, with Kris going well despite no windscreen!
Into SS 9 – Pelun 1 (16,59 km) then, and Ott just pipped Loeb for the stage win, just two tenths of a second between them! Top three overall was now Ott, Ogier and Latvala. Evans was now seeing the gap between him and Loeb grow. Kris was looking forward to service and getting a new windscreen as well as his car getting some good repairs.
SS 10 – Rio Lia 2 (20,90 km) after service saw Ogier close the gap to Ott, taking four and a half seconds out of the Estonians lead, but not enough to make him worry. Loeb was now closing on Latvala for third place though, with just eight seconds between them.
SS 11 – Maria Las Cruces 2 (23,09 km) saw some fog in places, but it didn't hinder Ott who took yet another stage victory. Loeb took more time from Latvala as well, just three seconds now between them.
Last stage of the day then, SS 12 – Pelun 2 (16,59 km) saw yet more fog and as a result, Elfyn was second fastest in the stage. We also saw the demise of Latvala who had hit a rock in the stage, damaging the car. He would go no further. The fog was almost like heavy rain. Everyone moved up one place as a result.
STANDINGS AFTER DAY 2
Tänak / Järveoja (Toyota Yaris WRC) 2:41:05.5
Ogier / Ingrassia (Citroën C3 WRC) +30.3
Loeb / Elena (Hyundai i20 WRC) +35.4
Evans / Martin (Ford Fiesta WRC) +1:06.3
Suninen / Salminen (Ford Fiesta WRC) +3:03.0
Lappi / Ferm (Citroën C3 WRC) +3:13.3
Mikkelsen / Jaeger (Hyundai i20 WRC) +3:43.4
Rovanperä / Halttunen (Skoda Fabia R5) +6:33.2
Østberg / Eriksen (Citroën C3 R5) +7:09.3
Meeke / Marshall (Toyota Yaris WRC) + 7:21.9
Let's hear from the drivers.
Toyota Gazoo Racing WRT
Ott Tänak (1st)
"It's been a tough day and in these kinds of changing conditions it's very difficult to control anything. We saw today that anything can happen. I tried to be in a good rhythm but the last stage was particularly tricky, with the rain, fog and hard tyres on. But we managed to make it through with no issues, and we have a good gap to the others going into tomorrow. We just need to focus on managing the first three stages well, and hopefully we could get a couple of points on the Power Stage too to help our championship situation."
Kris Meeke (10th)
"Not far into the first stage this morning there was a junction right and then immediately a long slow left. My notes weren't correct and I ran wide and touched the bank. It was a slow-speed incident but we finished on our roof, so we lost a lot of time getting back on four wheels. The car was driving fine but we had to remove the windscreen, so at speed it was difficult to hear the pace-notes and difficult to breathe too. Given that, the times weren't so bad. The afternoon was OK; we're just trying to score some points now for the team."
Jari-Matti Latvala (13th)
"It was an eventful morning: in the first stage we had to drive behind Kris for a bit after his incident, but we were given the time back so it wasn't a problem. Then in the third stage of the loop my tyres were already very worn, but we were still right in the fight for second place. In the afternoon, the stages didn't seem to be suiting my setup so well: I didn't have the same good feeling I had yesterday. On the final stage, I hit a rock in a ditch and damaged the front-left, and the driveshaft was broken so we couldn't continue. It's really disappointing after a strong weekend up to this point, but we won't give up."
Citroën Total WRT
Sébastien Ogier (2nd)
"I hoped for more this morning, but the second loop went better. This was mainly due to the substantial changes made during the mid-leg service, although the grip was also naturally better too. We were a bit unlucky on the final stage with the fog and rain, which cost us about ten seconds. Tomorrow's stages look like being difficult as well, with the narrowest test of the weekend and lots of loose gravel on the Power Stage."
Esapekka Lappi (6th)
"I'm pleased that my confidence behind the wheel improved as we completed more kilometres, and with the adjustments made to the set-up of my C3 WRC. The afternoon loop went better than the morning, and I'm beginning to enjoy it a bit more. I hope we can keep it up tomorrow, without taking any unnecessary risks. Keep it clean and tidy, and remain consistent."
Hyundai Motorsport
Seb Loeb (3rd)
"We have had a very good day, I would say. The last stage was tricky because there was a lot of fog at the beginning. I had to stay concentrated. We have had a great feeling from the i20 Coupe WRC on the stages today, which has allowed us to get a good rhythm and to find the pace that we need to fight near the front. I feel that I'm starting to understand how to drive the car and to find the confidence to get the times we need. Our goal remains to get as many points as possible for the team."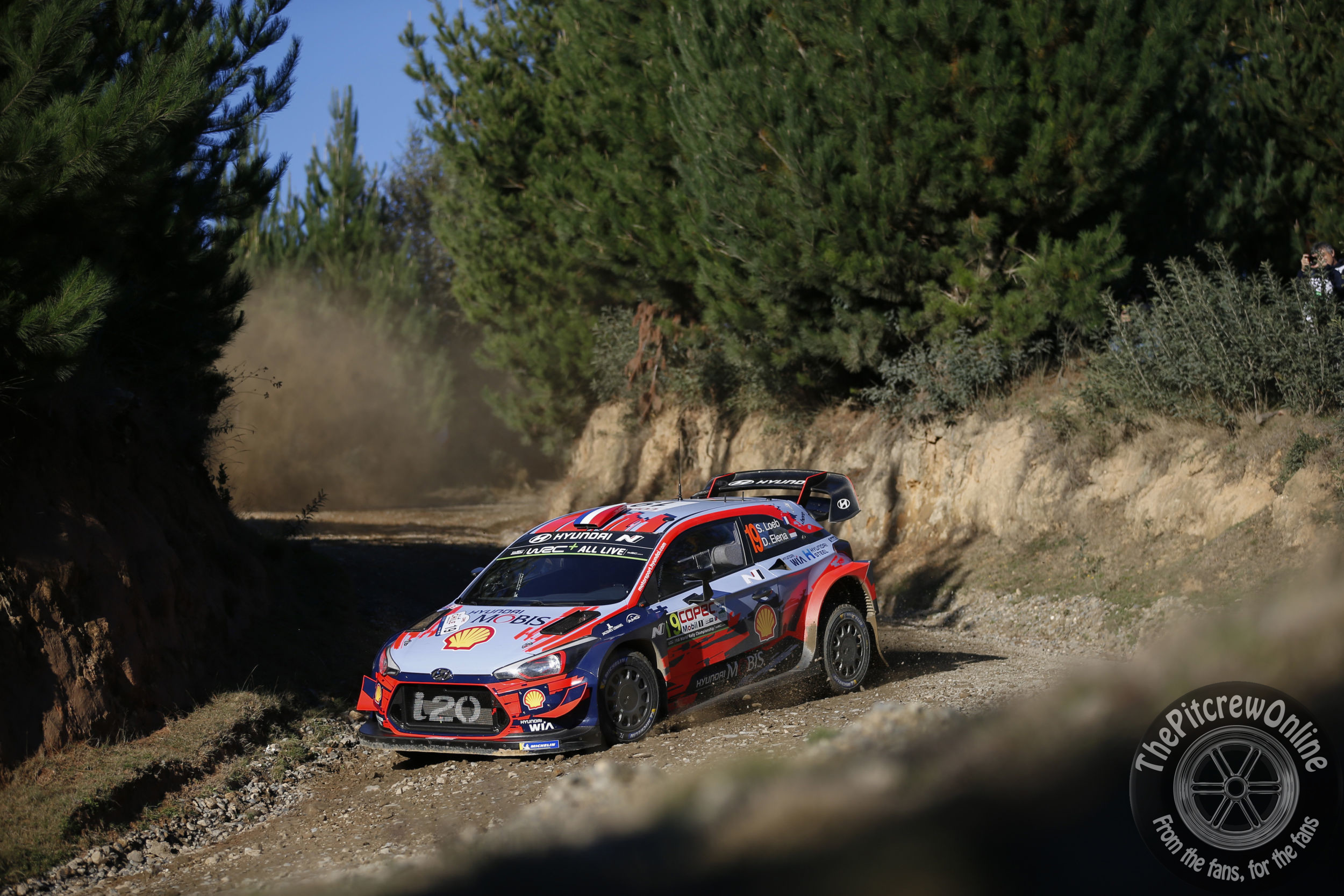 Andreas Mikkelsen (7th)
"We started the morning loop just taking it very carefully as we were discovering the new routes and didn't want to take any risks. We tried to maintain our concentration and stay safe at the same time. It was better this afternoon; I had a good feeling with the car and we stepped up the pace a little bit. I had good fun driving the car in the second pass."
M-Sport WRT
Elfyn Evans (4th)
"It's not been a bad day by all means and it's good to be in fourth place at the end of the day. We've been pushing pretty hard, but there are still some areas where we're struggling to find the ultimate confidence in the car; in the high-speed sections I just don't have the stability that I'm used to. The stages are tighter and more twisty tomorrow, but the gaps are pretty big now and I don't think we'll have an opportunity to do anything on pace alone. But we'll keep pushing and see what happens."
Teemu Suninen (5th)
"It was a more enjoyable day today – we had better pace and were able to set some good times. We're now in fifth place, but Esapekka [Lappi] will be keeping the pressure on tomorrow. I just need to focus on myself and my driving and do the best job I can."
Sunday
With four stages remaining and a total of nearly sixty kilometres, what else would happen? Our start list looked like this – Latvala, Bertelli, Meeke, Mikkelsen, Lappi, Suninen, Evans, Loeb, Ogier, Tänak.
SS 13 – Bio Bio 1 (12,52 km) was won by Kris, with his teammate Jari-Matti just four tenths slower. The battle was now on for second place between Loeb and Ogier! The nine-time champion wanted second place from Ogier and after that stage, the gap was just one second!
SS 14 – Lircay (18,06 km) saw Ogier hit back, giving himself some breathing space over Loeb with the gap now increased to five seconds. Ott's lead was now 24 seconds over the two Frenchman. Kris was making his way backup though, moving into ninth place.
SS 15 – San Nicolàs (15,28 km) saw Loeb win from Ogier as their battle continued, but the gap remained quite large after Ogier was only seven tenths slower.
The final stage then, SS 16 – Bio Bio 2 Power Stage (12,52 km) and Ott took the stage victory from Ogier, Latvala, Loeb and Meeke. Teemu and Elfyn were a little over one second slower than Kris sixth and seventh fastest, just missing out on powerstage points.
FINAL STANDINGS
Tänak / Järveoja (Toyota Yaris WRC) 3:15:53.8
Ogier / Ingrassia (Citroën C3 WRC) +23.1
Loeb / Elena (Hyundai i20 WRC) +30.2
Evans / Martin (Ford Fiesta WRC) +1:36.7
Suninen / Salminen (Ford Fiesta WRC) +3:15.6
Lappi / Ferm (Citroën C3 WRC) +3:45.4
Mikkelsen / Jaeger (Hyundai i20 WRC) +4:39.0
Rovanperä / Halttunen (Skoda Fabia R5) + 7:52.5
Østberg / Eriksen (Citroën C3 R5) +8:16.1
Meeke / Marshall (Toyota Yaris WRC) + 7:33.4
Let's hear from the drivers.
Toyota Gazoo Racing WRT
Ott Tänak (1st)
"It's great to take this victory here on the first time in Chile. It was a very demanding event and it required a lot of focus to not make any mistakes. Today wasn't easy: With the two Sebastien's pushing hard behind, the gap was not so big. We had to keep going and we collected maximum points from the Power Stage. We have had some disappointing setbacks in the last couple of events and to fight back like this with a perfect weekend is very positive. It was really important, especially for the team, to keep the motivation high and keep pushing, and these kinds of results definitely do that. Now we are looking forward: We are back in the fight."
Kris Meeke (10th)
"Today was nice. We had to catch a couple of cars in front of us to take eighth place. In the Power Stage I think the road cleaned a bit for the guys running at the back but we did what we could. It was a struggle from the recce and through day one, and I made a mistake at the start of day two. Still, we took some points for the team and it's great to see Ott take the victory. I'm just desperate to have a clean rally now, as we have the speed to fight for the podium on every event."
Jari-Matti Latvala (11th)
"After the mistake last evening, we needed to look forward and see what we can take from the final day and the Power Stage. I had a good feeling on the first run over the stage and we were second quickest. After that we relaxed over the next two stages and saved our tyres for the Power Stage, where we had a very good run. I think it was cleaning and drying out a little bit behind us and in that sense I'm really happy to be third quickest. It's been a hard event but the most important thing is that the car is performing really well and I was able to be on the pace."
Citroën Total WRT
Sébastien Ogier (2nd)
"This podium further confirms our very good start to the season. We have been very consistent and the points are good for the championship. It wasn't an easy weekend, however, even though things moved in the right direction after Saturday's mid-leg service. We got the best out of the C3 WRC once again. We now need to develop the car even more so that we can be more competitive in low-grip situations."
Esapekka Lappi (6th)
"We had a difficult start, but we managed to make progress bit by bit. We also managed to improve the set-up of the C3 WRC with the team and our pace started to be pretty decent today. I really hope that we can keep going forward like this in our forthcoming tests. In any case, it ended up being a positive weekend in terms of my confidence."
Hyundai Motorsport
Seb Loeb (3rd)
"Rally Chile has been a difficult but enjoyable and productive event from my point of view. It's been a long time since I've felt so comfortable inside a car that I can be in the game. The Hyundai i20 Coupe WRC has given me that feeling and it shows we are heading in the right direction. There was no chance to catch Ogier in the Power Stage; I was happy to be battling with him but the gap was too big today. We've scored some important points for the team, and I am pleased to be able to support their defence of the championship title."
Andreas Mikkelsen (7th)
"This rally has been a real disappointment after the high that we had in Argentina. I am sure we can pinpoint the error back to the recce. We took very aggressive pace notes, and following a few small moments, I was never truly able to trust the notes as much as we need to. In the end we were in a bit of no man's land, so we took a cautious approach and focused on making improvements for the future. We look forward to the next rally."
M-Sport
Elfyn Evans (4th)
"It's been a difficult rally and there were some places where we struggled for sure. But overall, it hasn't been too bad. We managed to stay out of trouble and had some pretty good pace on Saturday. But we just weren't 100 percent confident and couldn't find the last little pieces we needed to fight for the podium. With some big gaps ahead and behind it was all about bringing the car safely home today, and fourth place is definitely a good end to a difficult rally."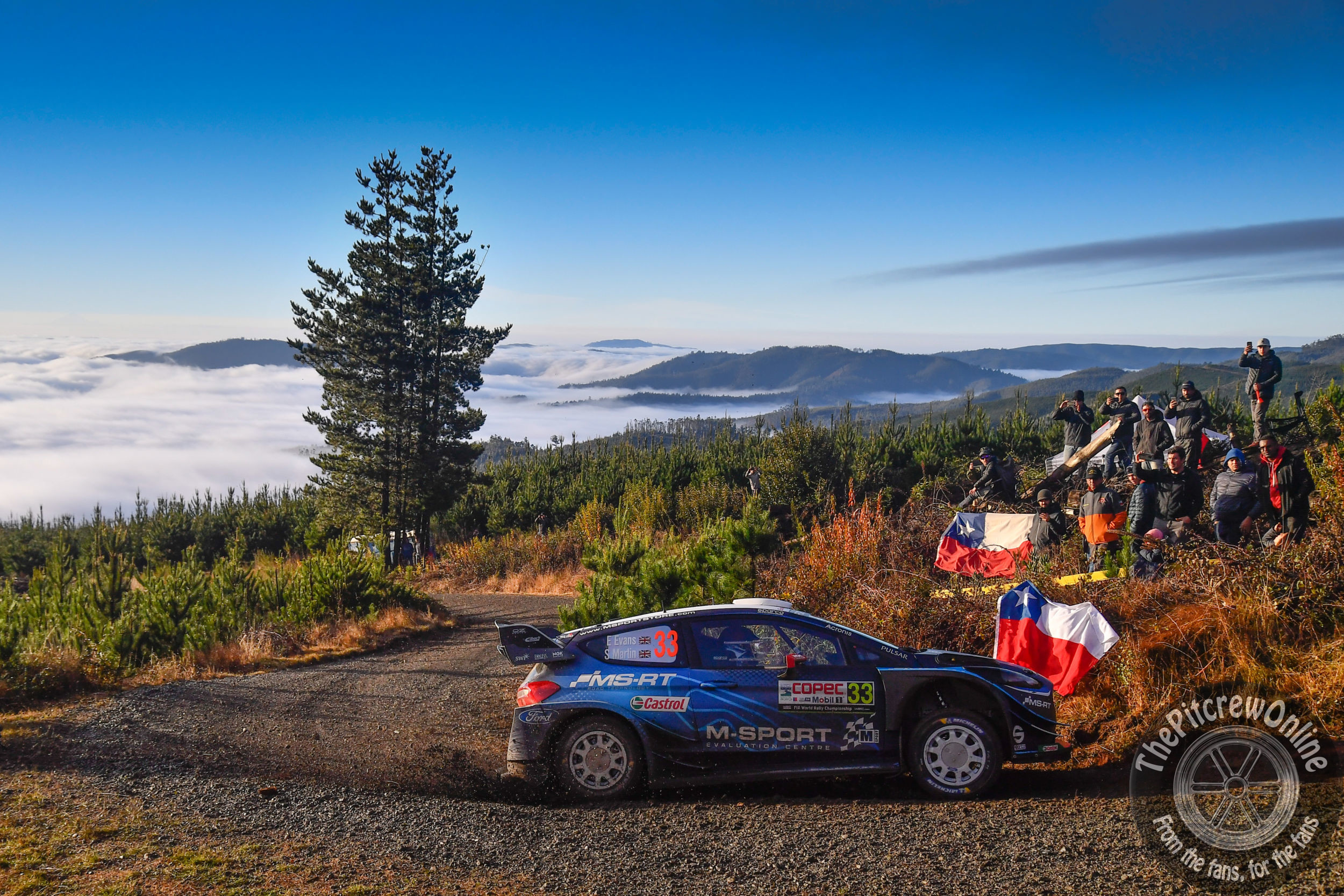 Teemu Suninen (5th)
"It has been a difficult rally, but we have improved a lot. I was struggling a bit with the rhythm in the beginning and didn't have the confidence to push the limits. But it got better and better as the weekend went on and we were able to set some really good times today. I think fifth place is a good result at the end of a difficult weekend."
Summary
Ott had won the rally and powerstage to take maximum points, with Ogier and Loeb in second and third. A talking point which emerged today (Monday) was the decision to give Kris Meeke and Seb Marshall a penalty of a minute for removing their windscreen in the control area at the start of stage eight on Saturday morning. They were told they should have done it on the road section. Now, I can understand if they broke a rule, then that's fair enough, but to give a large penalty like that, when there was already a large timeloss because of the roll and also having to complete the two morning stages as well without a windscreen seems harsh to me. Plus, we had to wait till after the event to find out about this anyway, for something that happened at the start of day two.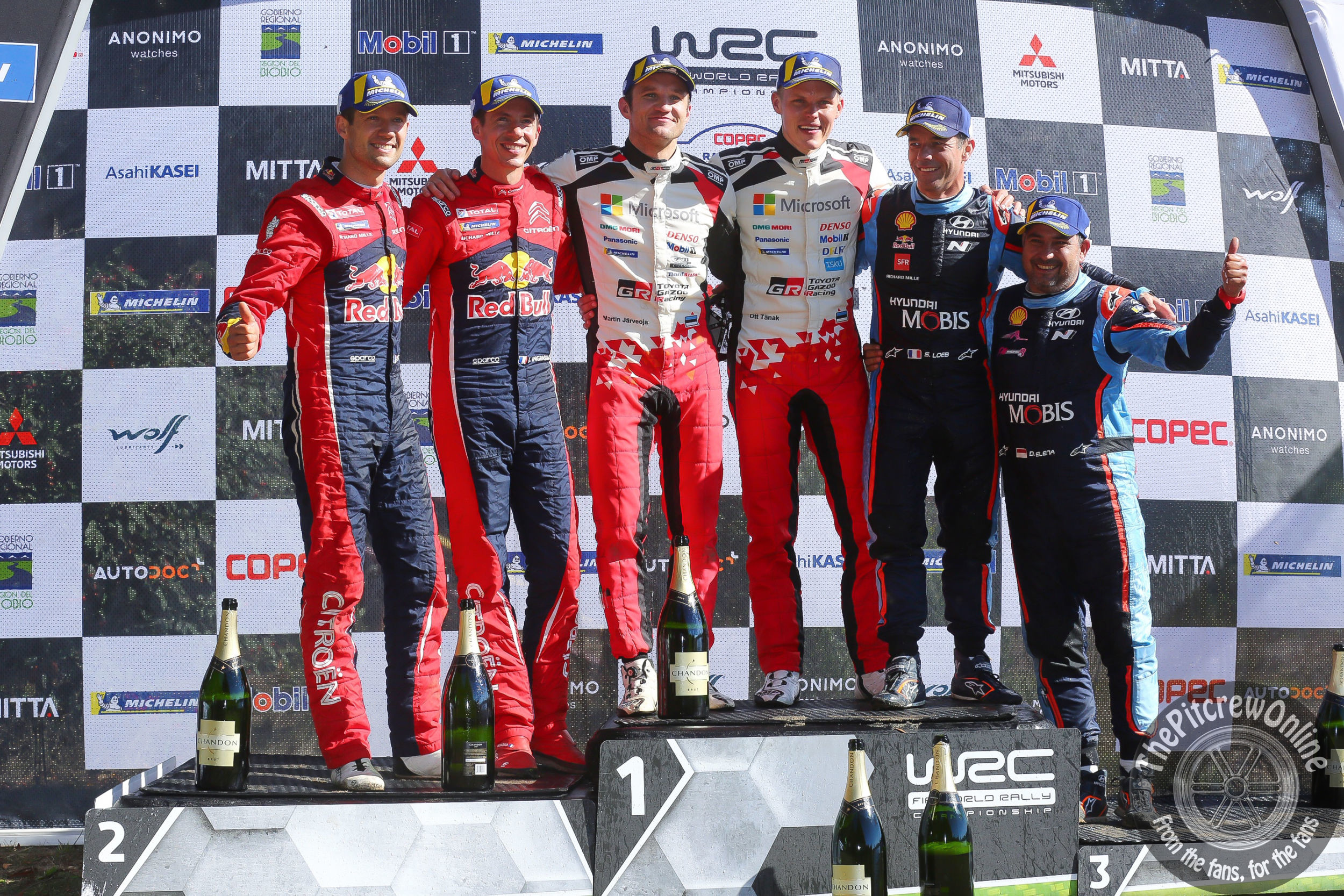 Anyway, let's talk about Thierry and Nicolas' accident. It was a big one, and it goes to show the level that these drivers are pushing. It was good to see the spectators not getting caught up in it as well, showing that the organiser had really done a good job with the positioning of the places to spectate and the marshals making sure that people where they should be.
Now this championship is shaping up to be a big rivalry between Ogier, Tanak and Neuville. Six podiums for Seb Ogier sees him at the top of the championship, with Ott Tanak moving into second place now and Thierry Neuville in third.
The next round of the championship is on the weekend of the 30th of May to the 2nd of June in Portugal.
DRIVERS' WORLD CHAMPIONSHIP
Sébastien Ogier – 122 points
Ott Tänak – 112 points
Thierry Neuville – 110 points
Kris Meeke – 56 points
Elfyn Evans – 55 points
Sébastien Loeb – 39 points
Andreas Mikkelsen – 36 points
Esapekka Lappi – 34 points
Jari-Matti Latvala – 32 points
Teemu Suninen – 30 points
MANUFACTURERS' WORLD CHAMPIONSHIP
Hyundai WRT – 178 points
Toyota Gazoo Racing – 149 points
Citroën Total WRT – 143 points
M-Sport Ford WRT – 100 points