The fastest lap of race one and therefore race two pole position went to Tommy Bridewell (Oxford Racing) at the second round of the 2019 British Superbike Championship.
As in race one, the race took place in the sun, and as in race one, there were problems at the start. Peter Hickman's Smiths Racing BMW S1000RR fell foul of the tyre pressure rule, so was wheeled into pit lane before the warm up lap and had to start from the back of the grid.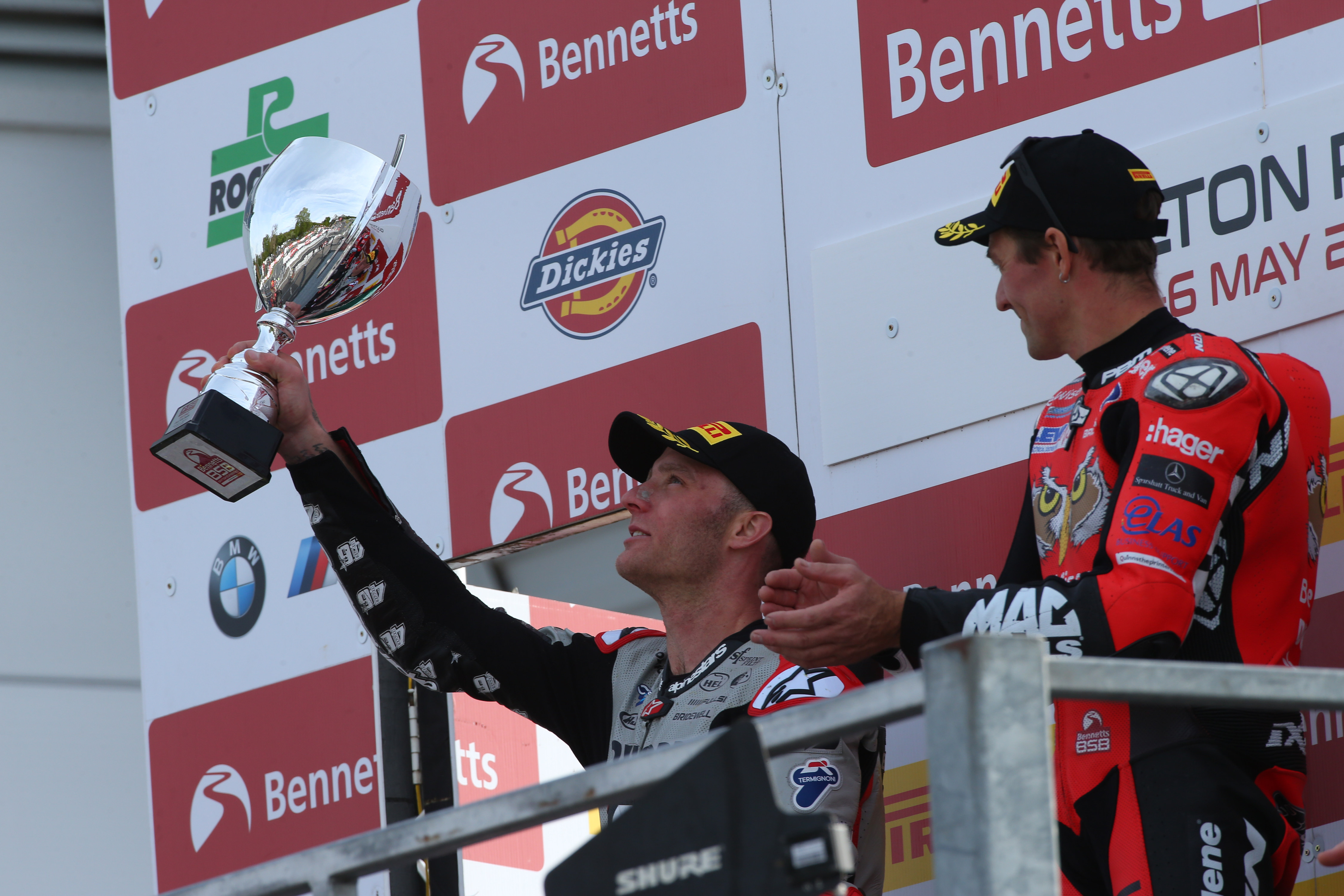 At the front of the grid, Bridewell did not make the start he needed, and it was Josh Brookes (Be Wiser Ducati) who took the holeshot for the second race of the day, this time followed into turn one by fellow Aussie and the man who replaced him in the McAMS Yamaha squad for 2019, Jason O'Halloran. This did not last long, however, as Bridewell made his move on O'Halloran into turn three on the opening lap.
The similarities to race one did not end before the start of the second race, as the two Panigale V4Rs of Brookes and Bridewell stretched away from the rest of the field, as the only man who could get near their pace – Danny Buchan (FS-3 Racing) – was fighting through the pack after an average start.
As Buchan was moving forwards, Jason O'Halloran was moving backwards, losing out to Christian Iddon (Tyco BMW Motorrad) early on, and then to Buchan as well on lap four. On the same lap, O'Halloran lost six tenths to Scott Redding (Be Wiser Ducati), who in turn had Tarran Mackenzie (McAMS Yamaha) – who had made a much better start than in race one where he fell to seventeenth – or company.
Further back, Hickman was charging through, and by the start of lap six he was up inside the points. At the same point, the start of lap six, Scott Redding made a pretty late lunge on O'Halloran – who was by now clearly struggling compared to the first race – in Old Hall, and took fifth place from the Australian.
At Druids on lap seven, Buchan was able to pass Iddon for third. There was a gap of around two seconds between the Ducati of Bridewell in second back to Buchan's Kawasaki.
By lap eleven, Brookes was creeping away from Bridewell, hundredth by hundredth. This would set the tone for the second half of the race, a race which Brookes would win by 2.686 seconds to take the double. It was noted by Brookes before the weekend that, realistically, his championship started in Oulton Park due to his misfortune in Silverstone and, in that case, it was the perfect start to his championship.
Bridewell sealed his second podium of the weekend and of the season to go 2-2 in Oulton Park, and to be joint points leader as he leaves Cheshire.
Buchan took third to make the race two podium identical to the one of the first race.
Scott Redding took fourth, ahead of Tarran Mackenzie who had a much better second race and leaves Oulton Park as the championship leader on race wins after a fifth in race two.
Christian Iddon got a finish under his belt in the second race and a top six at that, ahead of a no-doubt-disappointed Jason O'Halloran who missed a lot of pace compared to race one in the second outing and finished seventh.
Eighth went to Keith Farmer (Tyco BMW Motorrad) who was quite close to O'Halloran towards the end but was unable to put a move on the Yamaha rider, although his return to BSB thus far has been a positive one.
The weekend was less positive for Honda Racing, although their #18 rider Andrew Irwin was able to take a top ten in race two, ahead of Ryan Vickers (RAF Regular and Reserves Kawasaki) who once again impressed by rounding out the top ten.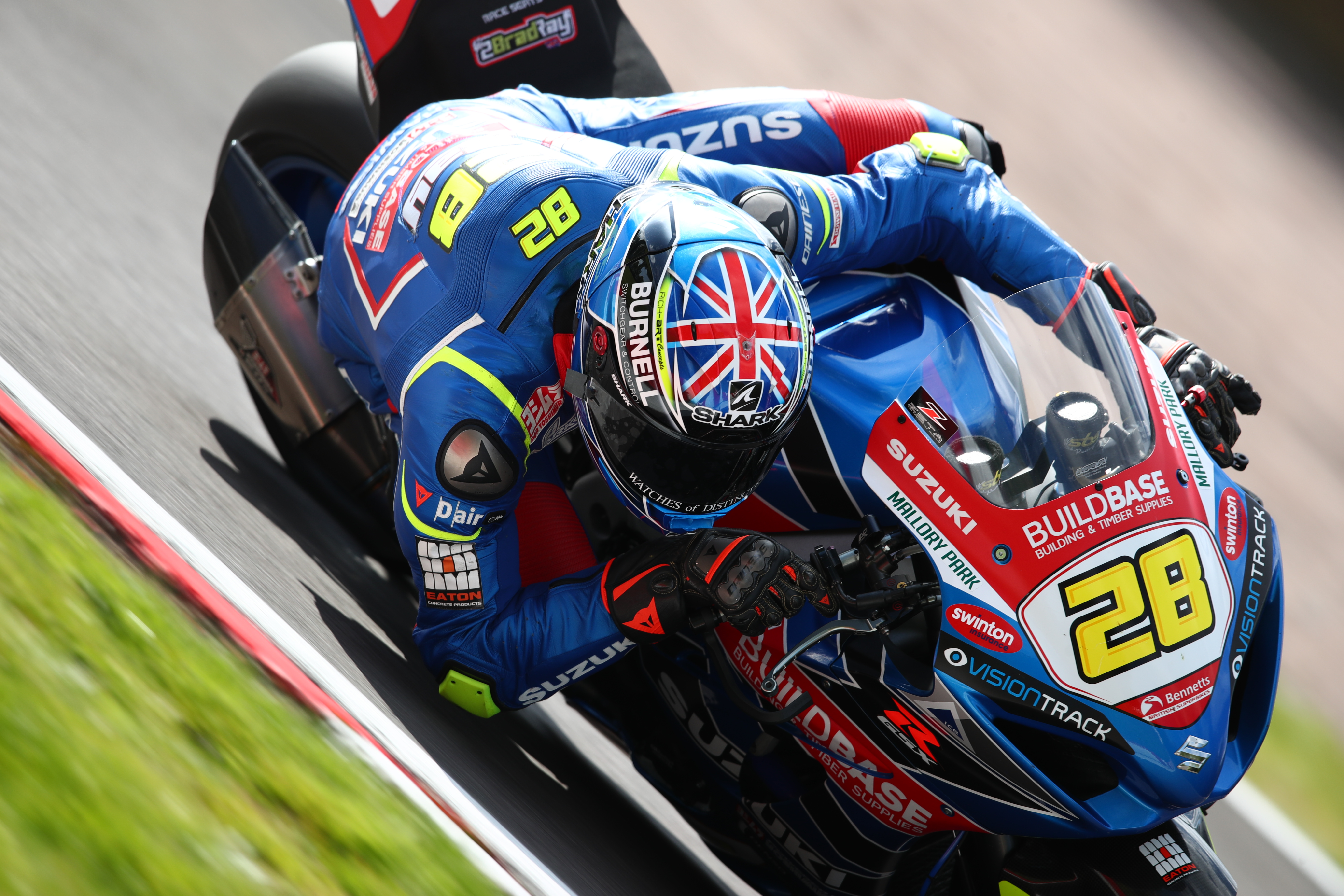 After starting last, Peter Hickman was able to recover to eleventh, ahead of Brad Ray (Buildbase Suzuki), Dan Linfoot (Santander Salt TAG Racing), Luke Mossey (OMG Racing) and Josh Elliott (OMG Racing) who completed the points.
There were only three retirements in race two, as Shaun Winfield (Santander Salt TAG Racing) crashed out, whilst Dean Hipwell (CDH Racing) and James Ellison (Smiths Racing) retired down pit lane.