On the first day back at school for British F3 teams, there was more thrilling action as the season finally got underway.
Kaylen Frederick took the first pole position of the season on Saturday morning before a difficult race saw him slip out of contention, while Clement Novolak and Ayrton Simmons benefited to finish first and second in Race One.
Frederick: For sure, I'm delighted. We've done a lot of testing leading up to here and that shows with a 1-2 starting position this weekend.
Definitely, Carlin's presence in the United States was something to think about but the main reason was because I wanted to come and race in a European series because everything here is quite intense so I can develop myself as a driver a little more and see what I can do. It may be that I go back to the USA with this relationship.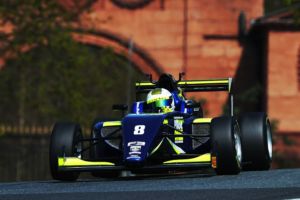 When you're in a championship with a team like Carlin you know you're getting a good car so establishing a relationship with this team  because they run in so many different series. It seems to be quite a competitive series, drivers that do well in this series tend to go quite far in their careers.
I talked to Colton (Herta, IndyCar race winner) and Cameron Dawson as they've been here before, they all said it was a good move and it's proving so.
Novolak:  It was difficult behind the Safety Car because it was out for such a long time so it was difficult to keep the tyres warm, that means it's easier to make mistakes. But the restart was good and there's nothing much else to say there.
The experience we got last year in this championship helped, but only doing three or four races out of eight was probably at a disadvantage in terms of championship and wins etc, because we had good pace last year.
For Race Two, it's going to be largely done on the first lap because it is very narrow and therefore it's going to be very difficult to overtake, we've got to get a good start and keep my nose clean and maybe pick off a couple of guys. I
t's a track where you can overtake, but there's a lot less spots to pick people off, it's not like a Silverstone where you've got a lot of long straights so it's going to be on the brakes, but you've got to be following closely which is a challenge.
Simmons: I got off to a really good start, overtook Frederick on the restart and from there it was a really straightforward race. In the Safety Car period I was just trying to keep my cool, keep my tyres up to temperature and try and anticipate the Safety Car coming in, after that you just keep an eye on the leader and go flat out when you need to.
For sure, we want to make up as many places as we can. It is tough to overtake here but I made up a place already, so hopefully we can pick up pieces in Race Two.