If I may initiate this piece with a song reference, honours are bestowed to this one, plucked straight from Eminem's six-barrel lyrical blitz 'Lose Yourself'. 'Yo! His palms are sweaty, knees weak, arms are heavy'. It speaks of one being pelted at from all corners by the tribulations of life, while maintaining an outward show of calmness. What better example, then, than a fallen sportsman.
At one point or another during 2018, Valtteri Bottas may have stared into the abyss of his bathroom mirror, opened out his fingers and checked for any trickling beads of moisture. He may have felt out the strength of his joints with reflex tests. He may even have found his arms screaming out for contact with the ground, as though the distress of his on-track results were taking on a physical form.
2018 was Valtteri's annus horribilis. What started out as a championship fluttering around the reach of his grasp, derailed and morphed into a warped nightmare. His trademark stoicism was being sapped away with each botched race weekend, and the Finn even admitted the tyre blowout which denied him a crucial victory in Baku left him 'crying like a baby'.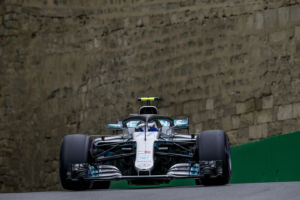 I like to think of this as his Mika Hakkinen moment, and not just for his and Hakkinen's shared nationality. Harking back to 1999, the king of flying Finns faced his own emotional nadir – after spinning out of the lead in Monza, Hakkinen both blew ten points into the wind and folded under the mind games of the Scuderia's tifosi. Away from their taunts, he wept under the trees lining the track.
If you're familiar with the tale of F1 1999, you'll know that Hakkinen's mistake did not cost him the championship. He admits that while the pain of never winning an Italian GP still rests in his mind, he was never going to be desolate under the trees for long. Bottas' tears in Baku dried much the same, but his internal hurting lasted for the season and brought into question just whether he was able to channel that same energy Hakkinen generated for himself.
So, with the winter months behind him, Bottas likely came into Melbourne praying a new chapter would be penned, rather than a grim continuation of what had gone before. Not that he outwardly seemed it – there was now a surprising arrow to his bow: bite. Armed with a gruff beard and a sharp tongue, the champions' element of disdain with the circus of whispers around them were acquired by Bottas like a platformers' item box.
Throughout the weekend, Albert Park's white lines could have buckled under the strain of confining Bottas, the Finn busy proving to the globe that he does have the winner's uncompromising instinct, as a matter of fact. Even when high Mercedes brass suggested over the radio that he place the shackles back on and resist the push for fastest lap, they were welcomed with the unexpected hand grenade – no. Not this time.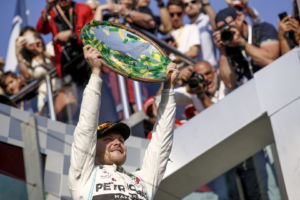 Albert Park's indoor parking spot welcomed its winner first, as is usual. A silver front nose told a story we'd seen many a time over the hybrid era, but this time a white and red helmet didn't complete the set. It was white, blue and carbon. And to whom that may concern, the man underneath it has words for you. Unsavoury ones. The Hakkinen moment and the understated power of his sisu mindset gave this race's victor the second wind that could quell media scaremongers and seat poachers alike over the season.
With Australia 2019 now stored in the archives, we can admit there were outside factors that helped Bottas' day of days. Lewis Hamilton was at the helm of a wounded machine, but even so, with a start so fierce and race management on-point, it's hard to see past a Finn win. To me, at least, it wasn't the margin of victory that tells the story here. It's the way it all unfolded.
Bottas wasn't holding on for dear life, protecting his right to be part of the elite like Russia, his first win. No murmurs over his conduct, as there were in Austria. Even his Abu Dhabi triumph, under the circumstances of a dead-rubber season's end. No, this was the breakthrough. His palms were dry like the sahara. His knees were manning the sweet orchestra in the footwell, and his arms were weighted with the delicacy of porcelain. He was no longer wrestling with the tears, nor his rhythm behind the wheel.
Will it last? We wait to see, but the strength he has acquired can last for the rest of his career. This second wind truly feels like it could be season long, if the gods of racing roll the dice of fate favourably. And so he now ventures off to Bahrain, with a thirst for vengeance. For what feels like the longest time, I won't be concerned for him when he gets there.
[Featured image: Paul Ripke]