The 2019 Moto3 World Championship gets underway this weekend at the Losail International Circuit in Qatar.
Since the inauguration of Moto3 in 2012, the Qatar round of the World Championship has been won five times by Honda riders, including the last four years. In fact, the only rider to have won in Qatar on this year's Moto3 grid is Niccolo Antonelli (Sic58 Squadra Corse), who both won Qatar on a Honda back in 2016 and is riding a Honda this year.
Honda have had a lot of work to do over the winter to make up the ground they lost last year to KTM in the horsepower department. The KTMs last year had a particular habit of steaming past Hondas on the straights, especially after the French Grand Prix at round five and particularly in the hands of championship contender Marco Bezzecchi for PruestelGP. Reports from the riders would suggest that this work has been successful, John McPhee (Petronas SRT) commenting in Jerez that it is possible to use the low-down power of the Honda now to power out of a corner if you didn't carry the corner speed.
Despite their 2018 speed deficit, Jorge Martin (with Gresini) ensured, that the Moto3 World Championship will be Honda's to defend in 2019. As well as having made some progress with the bike over the winter, Honda have also got a very strong rider roster.
Lorenzo Dalla Porta (Leopard Racing) perhaps comes into this season as the championship favourite, after a strong and consistent 2018 which also featured his debut win at home – sort of – in Misano. Dalla Porta remains with the Leopard team for this year, and also stays aboard a Honda, and a strong preseason could mark him out as a favourite among favourites.
It will not be easy for Dalla Porta in 2019, he will have a lot of competition, and possibly primarily in the shape of Romano Fenati (Snipers Team). After a disgraced 2018, Fenati managed to get himself a ride back at the squad that fired him after Misano last year. Keen for redemption after last year, Fenati has wintered very quickly, ending the Qatar test last week two tenths clear of the field, lapping largely on his own. It seems Fenati has no intention to make his current stay in Moto3 as long as his last, and is by far the favourite for this weekend's victory.
But Moto3 is never that simple and, even Dalla Porta aside, there will plenty of opposition from Fenati to overcome, starting with his own teammate, Tony Arbolino (Snipers Team), who was second fastest at the Qatar test last weekend and is coming off the back of an inconsistent 2018. Perhaps remaining in the same team for consecutive seasons will be a help for Arbolino, and after throwing away a chance at a first ever GP win last year in Valencia, the Italian will be keen to put that right at the first opportunity.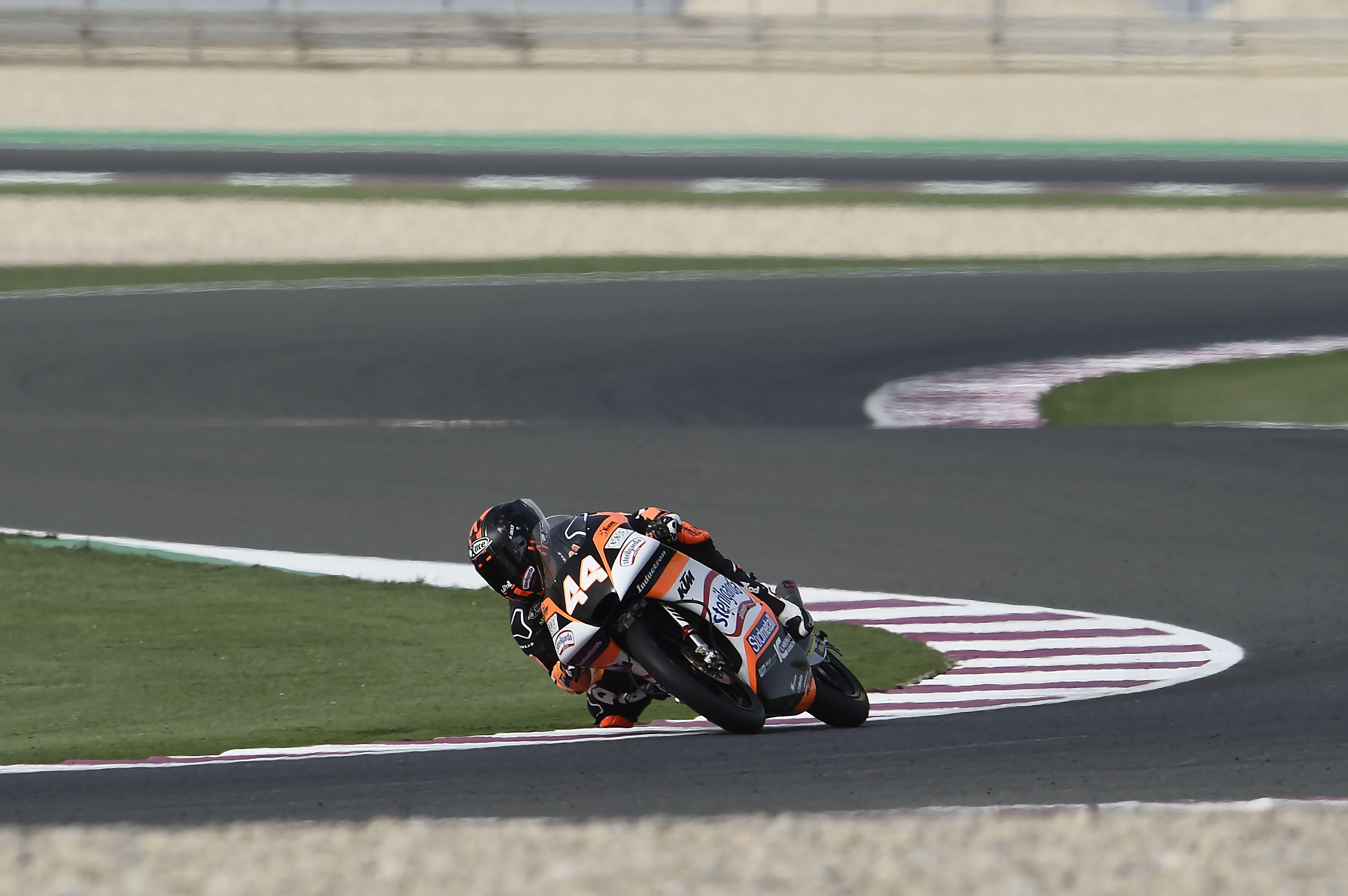 The main KTM challenge this year looks as though it will be coming from Sterilgarda Max Racing Team's Aron Canet, who moves away from Honda and Emilio Alzamora after a number of years in that camp. Canet has been impressive throughout the winter – not spectacularly fast, but enough for consideration. Canet finished second in Qatar last season, but is without a win since 2017. Now into his fourth season in the Moto3 World Championship, it is time for Canet to make his mark.
Of course, the speed of Canet – riding for Max Biaggi's team – will have come much to the annoyance of the Sky Racing Team VR46. Valentino Rossi and Max Biaggi, of course, shared a famous rivalry in the early-to-mid-2000s, and that rivalry will in some ways be reignited this year with both of them in the Moto3 World Championship as team owners. Rossi's Sky VR46 squad has been winless since it picked up KTM's only win of 2017 with Andrea Migno in Mugello, and coming into this season would have been hoping for Dennis Foggia to be fighting for wins regularly and to make a charge for the title. In testing, however, Foggia has not shown that pace, and it looks like it is going to take a fairly large turnaround in fortunes for Rossi's squad to end that winless run this season, and especially this weekend.
Featured Image courtesy of Gold and Goose/KTM