It's that time of the year – no, we're not talking about the climate: no, this is about that special time when the garages are open, the engines are growling and racing tracks are once again put to good use.
But even earlier than this week, we had a few shakedown tests. The prequel to the pre-season, if you will. And two teams decided to treat us to some special liveries to mark the occasion – Red Bull and Alfa Romeo both ran unique testing liveries, masking their cars' intricacies while offering the fans a welcome shot of variety.
But with them both joining the long line of testing liveries, can they be considered to be up there with the best of them? We'll be ranking our top ten favourite test liveries, from eras far gone to the present day.
10 – Renault, 2002 pre-season testing
When we think back to Renault's F1 beginnings, the original turbo era comes to mind. Alain Prost, unreliability, and yellow, white and black liveries were the main elements of Renault's roots.
To celebrate their finally outright owning an F1 team for the first time since then the French manufacturer paid homage to their old-style liveries (no black though). Basic yet sleek, it would eventually be spruced up with dashes of blue.
9 – BAR, 2006 Friday running
Alright, so this one isn't actually pre-season testing. But this unique 555 livery (part of British American Tobacco, team owners) replacing the usual Lucky Strike branding was a splendid sight to see.
It was used for Friday practice running, when third cars were permitted to be used by certain teams – Anthony Davidson was running the car in these colours at the inaugural Chinese Grand Prix.
8 – Red Bull, 2015 pre-season testing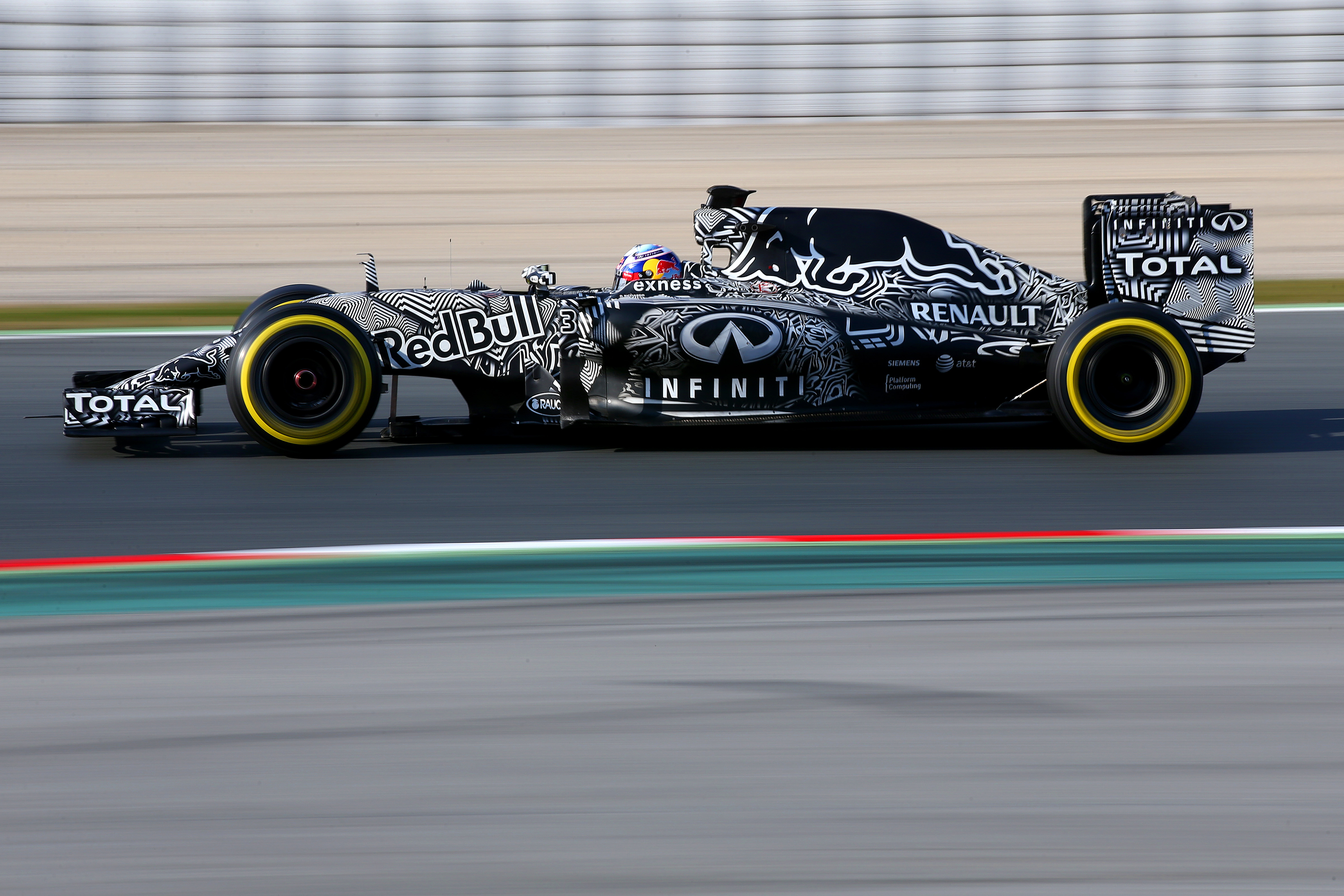 Red Bull are no strangers to this 'unique livery' thing – they've done it four times now, and that's excluding the one-off liveries they've tried out for size in races (the stunning Wings For Life designs in particular).
This black-and-white camo livery for 2015 was never going to be used full-time, as it was intended to hide important aspects of the car away from prying eyes. Not that it was all that useful, at least in this case; Red Bull came fourth in the 2015 standings.
7 – Spyker, 2007 pre-season testing
Spyker's one-season stint in F1 may not have been bright, but their originally intended test livery certainly was. The strongest of orange tones, the Spyker in anything nearing sunny weather ended up looking red – not the result Spyker wanted.
The faux-Ferrari paint job was thrown to the scrapheap, in favour of a lighter shade of orange that would perfectly showcase the team's Dutch flair. Fun Fact: they once led a race, Markus Winkelhock in the 2007 European Grand Prix.
6 – Williams, 2014 pre-season testing
Williams, for the last five years, have adorned a striking white Martini livery. It's easy to forget that the Grove outfit's adopted colour is actually blue – last seen on 2014's barnstorming FW36.
The Martini deal was still to be negotiated when 2014 testing commenced, and so Williams ran this simple yet fetching dark blue design, signalling a back to basics approach that propelled the team back to the top of the grid. If they'll ever get there again, we'll have to see…
5 – Alfa Romeo, 2019 shakedown
One of the two unique new designs we saw break this week, Alfa Romeo Racing's hearts and clovers paint scheme was a reference to both Valentine's Day and the team's historic emblem.
The Hinwil-based team, finally ditching the iconic Sauber name for 2019, are hoping to make progress on their promising 2018 campaign. With a radical new design, maybe those hearts adorning it in the shakedown with foreshadow a lovely season ahead.
4 – McLaren, 2005 pre-season testing
McLaren brought back the iconic papaya colour schemes back full-time in 2017, but for many years the paint job was only used for test outings, like their 2005 title contender, MP4-20.
The striking presence the bright papaya gave was a stark contrast to the usual chrome and black McLaren were so synonymous for running in the Mercedes era, and it was always a refreshing sight.
3 – Red Bull, 2019 shakedown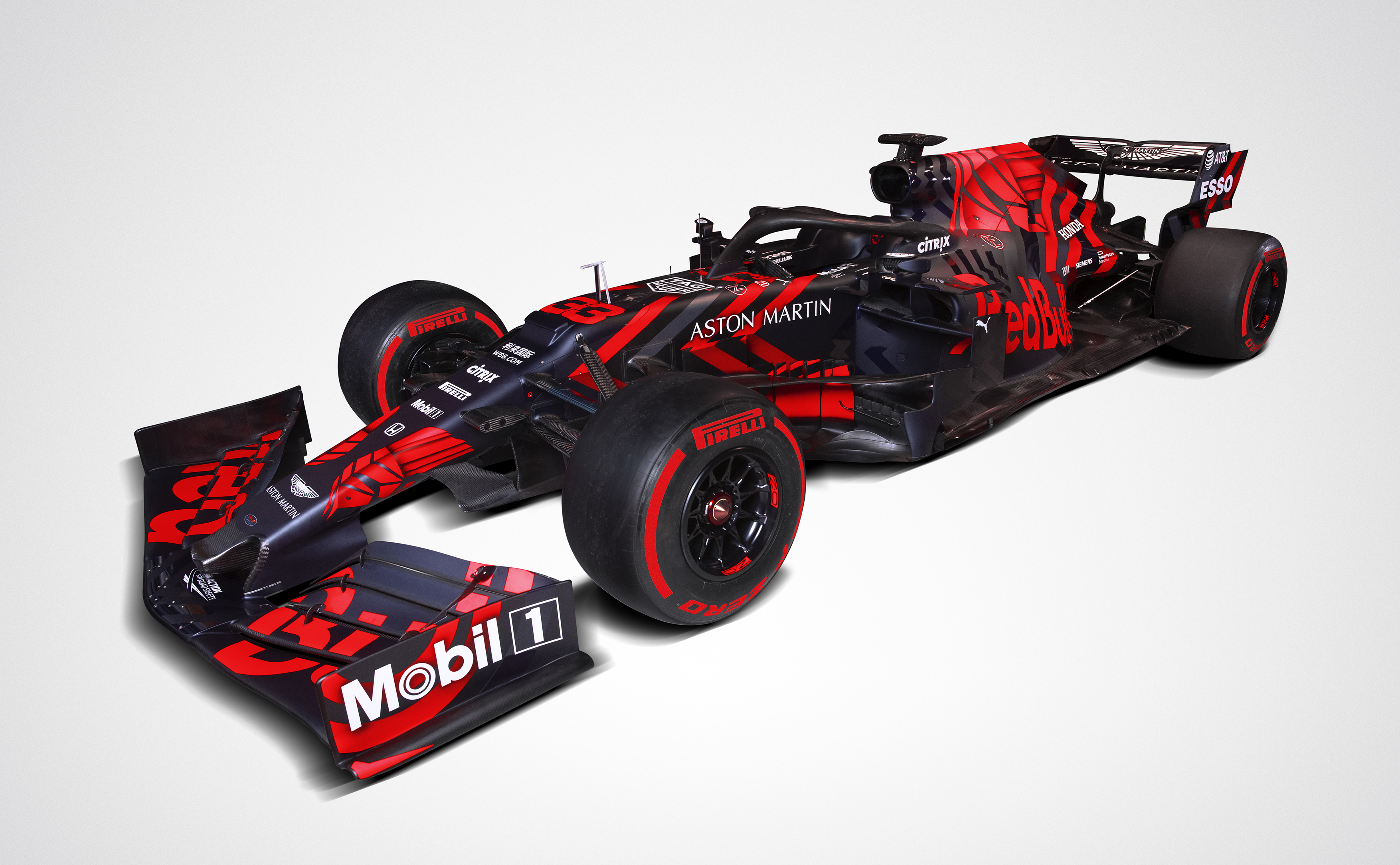 Red Bull, as stated earlier, are no newbies to trying out a unique testing livery. This year's such example centered around a striking red and dark blue combo, with everything made up of camo-esque lines designed to throw off prying eyes.
It marked the dawn of the Honda era, with Red Bull breaking away from previous suppliers Renault after a 12-year partnership. Can the Japanese manufacturer bounce back from their pain with McLaren, and create a winning combo with Red Bull?
2 – Renault, 2016 pre-season testing
The 2016 pre-season marked the third time Renaut would outright own its own F1 team (funnily enough, they re-purchased the team they sold to Genii Capital in 2010). And as such, they went back to basics with their livery.
2002's homage missed out the black; 2016's test livery was almost nothing but. There were yellow accents, but otherwise it was a smooth black paint job. When it came to actually racing the thing, Renault simply inverted the black and yellow colours.
1 – Red Bull, 2018 shakedown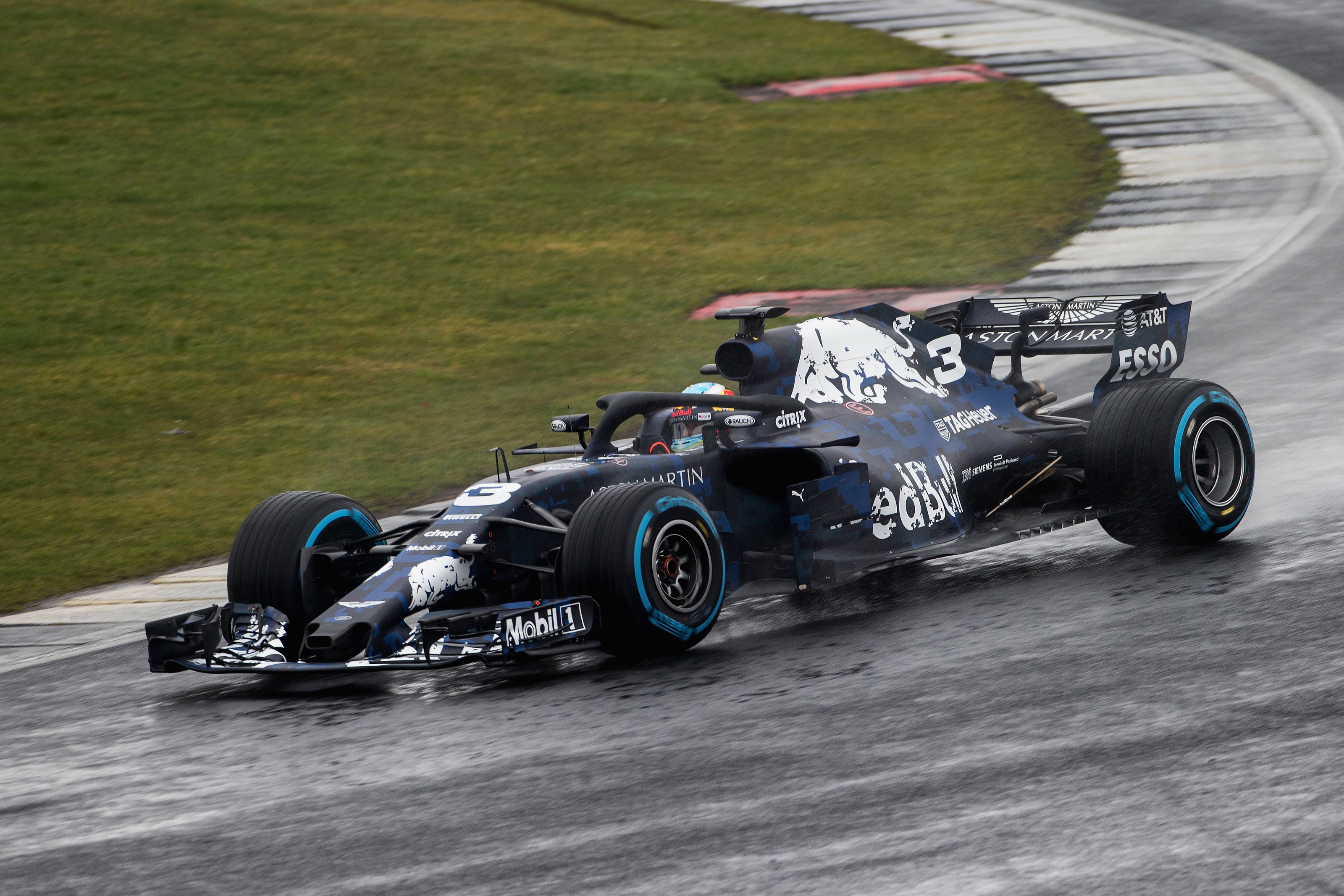 Finding a top pick for this list was a hard one – the simplicity of the 2016 Renault, and the novelty of this year's Red Bull were tempting, but it's their design from last year that wins out.
The digital camo, designed in blue and grey, looks both menacing and stylish. It also compliments the car, helping to hide the halo while accentuating the main features of the body. It's just a shame it was only used for one day…
Featured image courtesy of Getty images / RedBull Content Pool