The 57th running of the Rolex 24 at Daytona is nearly upon us with a bumper 47-car entry list, packed full of talent, notable names and a fair few previous winners. In fact, 51 previous winners will grace the track during the 24-hour race, with 27 of the 47 entries having at least one ex-winner in their line-up, meaning that this could be one of the most hotly contended Rolex 24s ever.
Some of the statistics on the drivers are pretty incredible; along with the 51 previous winners, the grid includes 40 IMSA champions, 33 Le Mans winners, 5 IndyCar champions, 4 Indy 500 winners, 3 F1 race winners, 2 NASCAR race winners and one F1 champion.
The Daytona name is still most prominently associated with the world-famous oval, but the in-field track is just as challenging and has seen its fair share of drama over the decades. There will be a first for the 2019 running of the race though; for the first time, French tyre manufacturer Michelin will be the exclusive provider with all four classes running on the same rubber. 2019 will be the first year of the multi-year deal between IMSA and Michelin that was first announced back in 2017.
IMSA will see four classes battling for victory in 2019, two in prototypes and two in GT cars.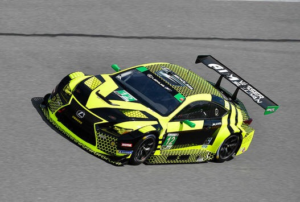 Daytona Prototype international (DPi) is the leading class with eleven entries from eight factory-supported teams including the likes of Mustang, Penske, Wayne Taylor Racing (WTR), Juncos and Mazda who will all be vying for overall victory. There are four rival engine manufacturers in DPi: Cadillac, Acura, Nissan and Mazda.
This class includes the team for which nearly all the hype has been about in the lead up to the race; the #10 WTR entry with 2016 IMSA Prototype Challenge winner Renger Van Der Zande, 2017 Rolex 24 winner Jordan Taylor, ex-F1 driver Kamui Kobayashi and a certain two-time F1 world champion by the name of Fernando Alonso. This is the team that is expected to take the overall win, purely based on the driver line up. However, all the other DPi teams will be trying their very hardest to ensure that this does not happen and it's their car in victory lane instead… but an Alonso win wouldn't exactly be bad publicity for IMSA.
Trying to stop the Rolex 24 becoming the 24 hours of Alonso are current IndyCar drivers Alexander Rossi and Simon Pagenaud along with Juan Pablo Montoya, Helio Castroneves, Felipe Nasr and Rubens Barrichello, amongst many other notable names. Both Penske line ups are looking very strong with fast, experienced and, most importantly, reliable drivers in both cars. Montoya, Dane Cameron and Pagenaud make up the #6 Penske and Ricky Taylor, Castroneves and Rossi are in the #7 with their sights set on the podium, if not the win.
One team that could stand in the way of both WTR and Penske is Mazda, who were the fastest at the 'ROAR Before the 24' pre-event. Of their two cars, it was the #55 that was the fastest with 2017 LMP2 Le Mans winner Oliver Jarvis at the wheel. Jarvis is joined by experienced Mazda campaigner Tristan Nunez, two-time Le Mans winner Timo Bernhard and 2017 DTM champion Rene Rast.
Le Mans Prototype 2 (LMP2) is the second fastest class however, it is somewhat down on numbers this year with only four cars from three teams – DragonSpeed (two entries), Performance Tech Motorsports and PR1 Mathiasen Motorsports. Fastest of the four at ROAR was the #52 PR1 Mathiasen Motorsports at the hands of ex-GP3 driver Gabriel Aubry.
The two DragonSpeed entries were second and third in class at ROAR, but they are the favourites for the event due to DragonSpeed's pedigree. Their drivers include ex-F1 driver Pastor Maldonado, ex-IndyCar driver Sebastian Saavedra, DragonSpeed WEC LMP1 driver Ben Hanley and 2016 WEC LMP2 champion Nicolas Lapierre.
GT Le Mans (GTLM) is the top class for GT cars at the Rolex 24, and there are some pretty notable drivers and teams competing in it. Corvette, BMW, Ferrari, Ford and Porsche all have entries in the nine-car grid with each entering two cars, except for Ferrari who have got just the one.
Corvette topped ROAR with their #3 entry, driven by 2018 GTLM champions Jan Magnussen and Antonio Garcia, who are joined 2013 DTM champion Mike Rockenfeller. The two Fords also looked very strong, which is hardly surprising given their drivers include 2018 IndyCar champion Scott Dixon, four-time IndyCar (formerly Champ Car) champion Sebastien Bourdais and long-serving Ford driver Ryan Briscoe.
One GTLM driver who has been gathering a lot of media attention is Alex Zanardi who will be competing in the #24 BMW. Zanardi was a guest driver for BMW in DTM last year for the Misano weekend, finishing fifth in the second race. He will make his IMSA debut at the Rolex 24, returning to endurance racing after a few years away from it.
Last, but by no means least, is the GT Daytona (GTD) class which has the largest field of all four classes at 23 cars. Audi, Porsche, Lamborghini, Lexus, Mercedes, Ferrari, Acura and BMW have all got entries in this class with the cars built to the international GT3 specifications.
Heinricher Racing (Acura) were the fastest of the GTDs at ROAR with the #57, which has an all-female line up of Katherine Legge, Ana Beatriz, Simona De Silvestro and Christina Nielsen. Both Lexus powered AIM Vasser Sullivan cars looked strong at ROAR, as did the #86 Meyer Shank Racing and the #33 Mercedes-AMG. However, pre-event tests can only tell you so much, and with the unpredictability of a 24-hour race, it really is anyone's game in GTD.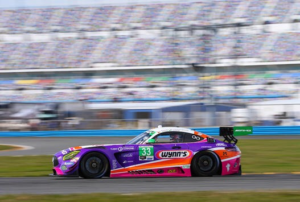 The Rolex 24 at Daytona kicks off with practice and qualifying on Thursday 24th January, with the race starting on Saturday 26th and concluding 24 hours later on Sunday 27th January. The weekend schedule is as follows:
Thursday 24th
Practice 1 (all classes) – 10:20 EST / 15:20 GMT
Practice 2 (all classes) – 13:30 EST / 18:30 GMT
Qualifying (GTD) – 15:35 EST / 20:35 GMT
Qualifying (GTLM) – 16:00 EST / 21:00 GMT
Qualifying (DPi/LMP2) – 16:25 EST / 21:25 GMT
Practice 3 (all classes) – 19:00 EST / 00:00 GMT
Friday 25th
Practice 4 (all classes) – 10:00 EST / 15:00 GMT
Saturday 26th
Race Start – 14:35 EST / 19:35 GMT
Sunday 27th
Race Finish – 14:35 EST / 19:35 GMT
*schedule subject to change
To see the full weekend schedule click here
To see the full entry list for the Rolex 24 click here
[Featured image credit: IMSA]