One of IndyCar's worst kept secrets is finally out; ex-F2 driver Santino Ferrucci will race for Dale Coyne in 2019, after competing for four events with the team in 2018. This announcement has been expected for some time, with the announcing of the deal seeming to be a mere formality.
The first three races of Ferrucci's IndyCar career, held at Detroit and Portland, were all tough to say the least – with the rest of the weekend's showing far more promise than the race result itself. Things turned around for the young American in his more recent IndyCar race at the season-ending Sonoma GP where he finished a respectable eleventh, ahead of teammate Pietro Fittipaldi, though still in the shadow of the vastly experienced Sebastien Bourdais.
2019 will see him partner Bourdais once again in the two-car Dale Coyne team, with Bourdais being one of the best on the grid to learn from, given his vast IndyCar success and experience.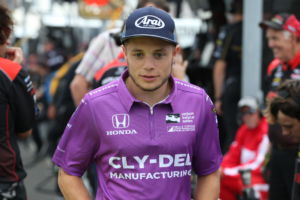 His IndyCar track record makes the move more than credible, but, unfortunately for Ferrucci, the 20-year old is much more well-known for his F2 misdemeanours than for his brief IndyCar career.
This was, of course, when he drove into then Trident teammate, Arjun Maini, on the cool down lap of the second race… but that was far from the only problem he created that weekend at Silverstone. Amongst other rule breaches, Ferrucci drove his F2 car between paddocks while on his mobile phone, something that the FIA did not take kindly to and thus dealt him a two-event ban. This became pretty irrelevant when his Trident team fired him, meanwhile court action surrounding unpaid bills is still going on in the background of all this.
But anyway, Dale Coyne have, wisely or not, given Ferrucci a lifeline in this IndyCar drive, and his addition to the field will be a welcome one after his performances earlier in the year. Certainly, the European media have been tough to handle for Ferrucci following that Silverstone weekend, so a move back to his home turf will help him get a fresh start to his racing career.
You don't get many second chances in motorsport… Ferrucci will be wise to take this one with both hands and prove to the world why he is still worthy of such a drive.
Featured image courtesy of Joe Skibinski/IndyCar