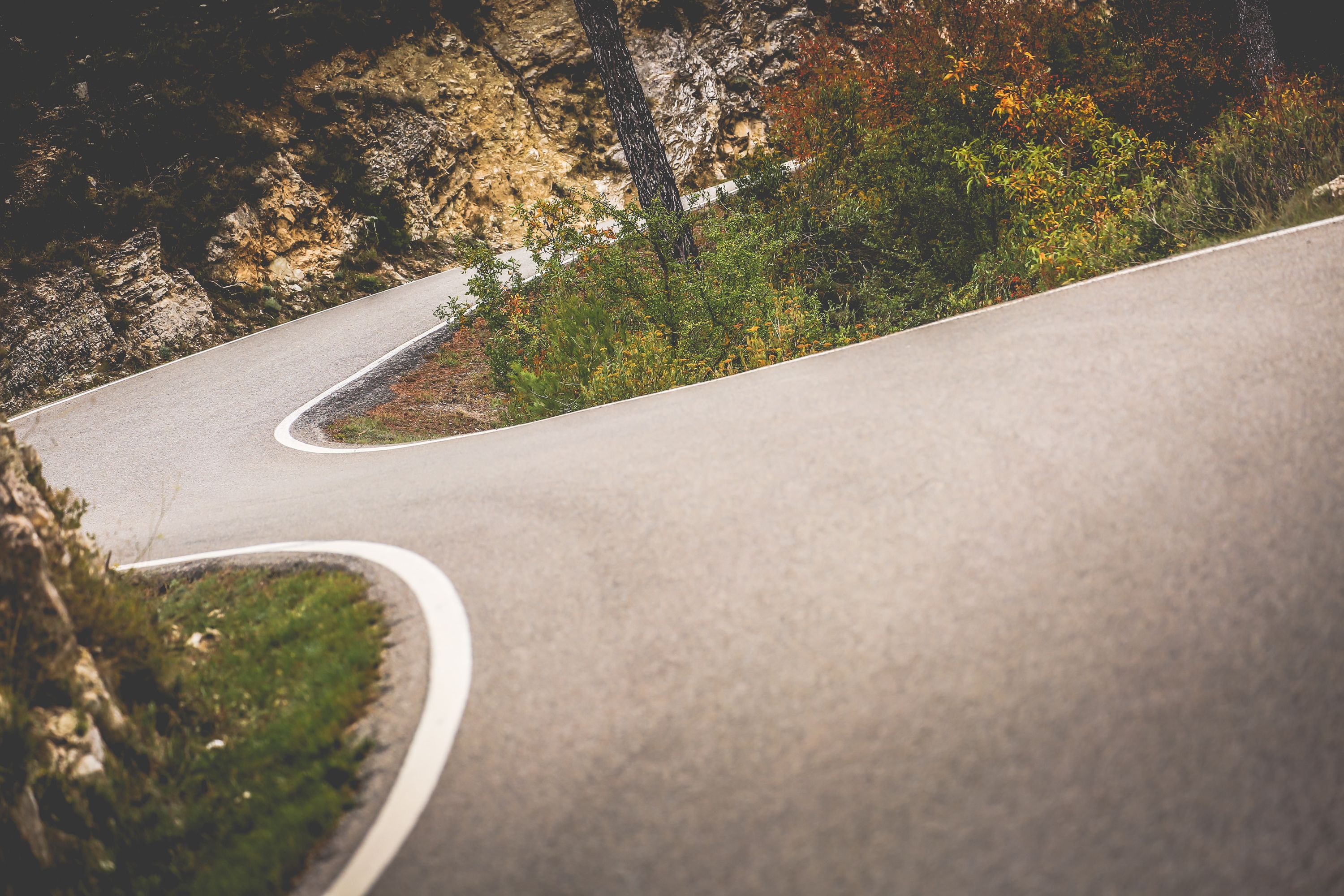 It's time for the only dual surface event of the year. Friday sees gravel stages mainly and then Saturday and Sunday, some very fast asphalt roads! Three drivers and two rallies! Toyota now have the fastest car I believe, and Ott Tanak can win this event. After his retirement on day two in Wales, and only scoring a few powerstage points, he is now 21 points from championship leader Thierry Neuville and 14 points behind Sebastian Ogier. The Frenchman's win last time out, has really helped him back into the fight to retain his title.
Meantime, Thierry is in the box seat to take his first title, but being first on the road is going to hurt his pace on Friday. He will hope for a podium finish, keeping the points loss to a minimum. The only way he could win the title is if both Seb and Ott don't score any points at all.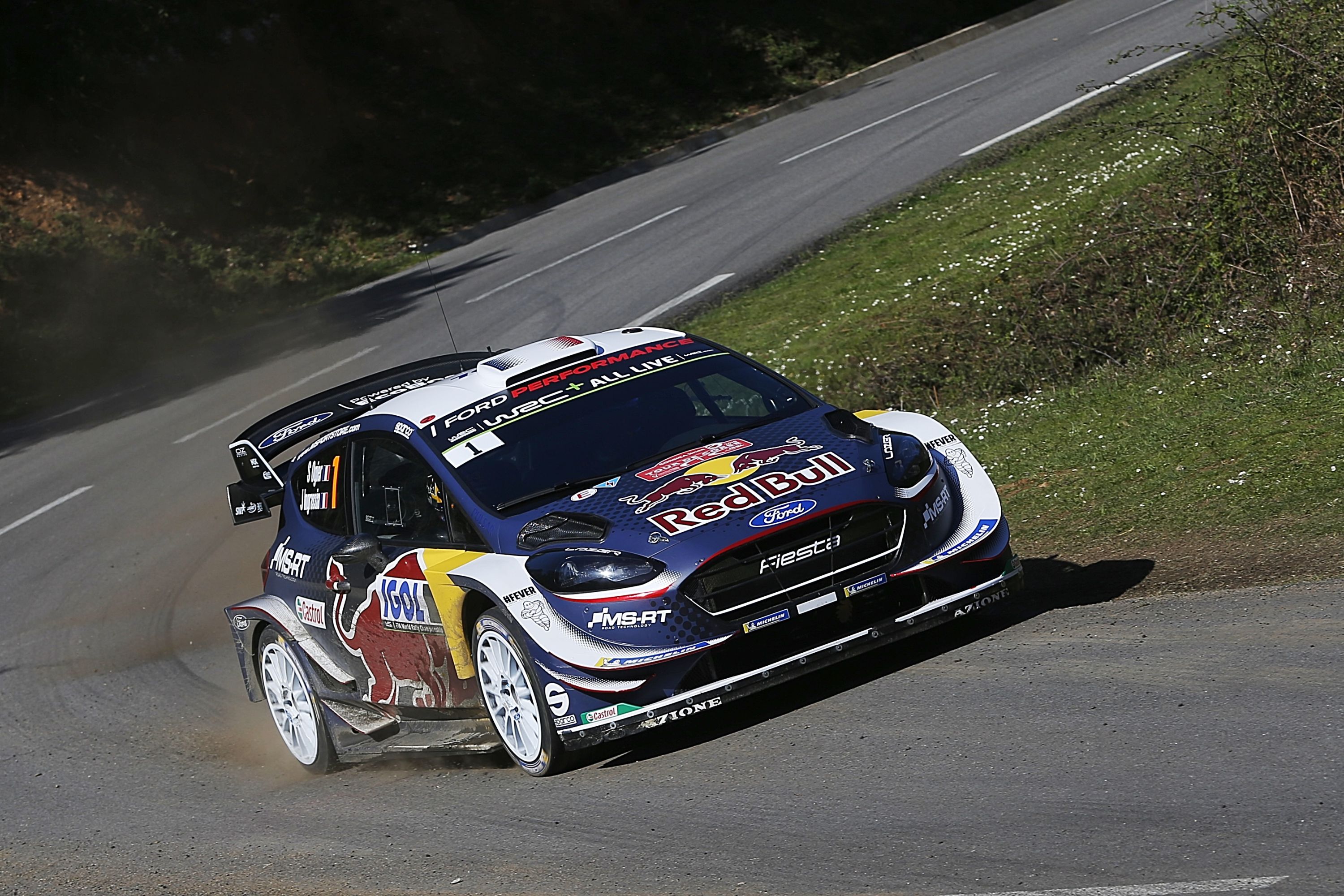 Now, who else could feature on the podium? Well, there could be any number of drivers- Dani Sordo returns for Hyundai and could challenge for the top places. Craig Breen is another and finally, Elfyn could as well.
Returning to the championship for the final time this year are erstwhile Citroen crew Seb Loeb and Daniel Elena, who have won this rally an incredible eight times, including three times after it switched to being a dual surface event in 2010. The French aces will almost certainly challenge for stage victories.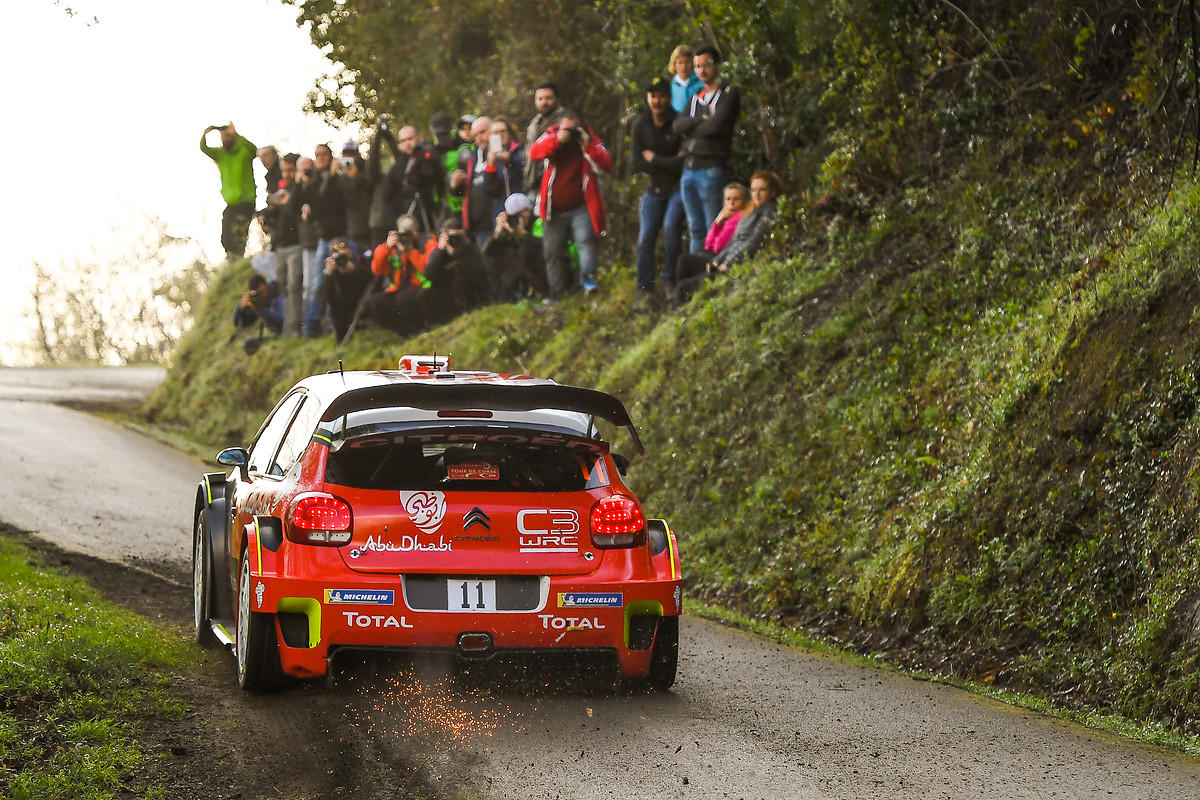 Now, here are the stages that the crews face. Eighteen stages totalling 331.58km. Now after Friday's stages, the teams have the usual seventy-five minutes to convert the cars from gravel spec, to tarmac spec.
RALLY DE ESPAÑA SCHEDULE (GMT+2)
THURSDAY 25 OCTOBER
8.00am: Shakedown – Salou (2.00km)
1.15pm: Start (Salou)
6.08pm: SS1 – Barcelona (3.20km)
8.08pm: Parc ferme (PortAventura)
FRIDAY 26 OCTOBER
8.00am: Service A (PortAventura – 15 mins)
9.33am: SS2 – Gandesa 1 (7.00km)
10.06am: SS3 – Pesells 1 (26.59km)
11.20am: SS4 – La Fatarella – Vilalba 1 (38.85km)
1.35pm: Service B (PortAventura – 30 mins)
3.23pm: SS5 – Gandesa 2 (7.00km)
3.56pm: SS6 – Pesells 2 (26.59km)
5.10pm: SS7 – La Fatarella – Vilalba 2 (38.85km)
7.20pm: Flexi Service C (PortAventura – 1 hr 15 mins)
SATURDAY 27 OCTOBER
6.45am: Service D (PortAventura – 15 mins)
8.23am: SS8 – Savallà 1 (14.12km)
9.08am: SS9 – Querol 1 (21.26km)
10.08am: SS10 – El Montmell 1 (24.40km)
11.43am: Service E (PortAventura – 30 mins)
1.28pm: SS11 – Savallà 2 (14.12km)
2.10pm: SS12 – Querol 2 (21.26km)
3.08pm: SS13 – El Montmell 2 (24.40km)
5.00pm: SS14 – Salou (2.24km)
5.30pm: Flexi Service F (PortAventura – 45 mins)
SUNDAY 28 OCTOBER
6.45am: Service G (PortAventura – 15 mins)
7.35am: SS15 – Riudecanyes 1 (16.35km)
8.38am: SS16 – Santa Marina 1 (14.50km)
9.45am: Service H (PortAventura – 30 mins)
10.50am: SS17 – Riudecanyes 2 (16.35km)
12.18pm: SS18 – Santa Marina 2 Power Stage (14.50km)
1.41pm: Service I (PortAventura – 10 mins)
2.01pm: Podium (Salou)
The longest day is Saturday, with the most stages and has the earliest start as well. Let's hear from the drivers and their hopes.
Hyundai Motorsport
Thierry Neuville
"These two final rallies of the season are massively important for us in the championship fight. We have lost some ground in the past couple of events, but we are still on top and we won't give up without a fight. The opening day on gravel will be particularly vital in setting the tone for the rest of the weekend, so we have to start strongly. We know we have had some deficiencies on tarmac this season but we have worked hard on that and hope we can see the fruits of that hard work."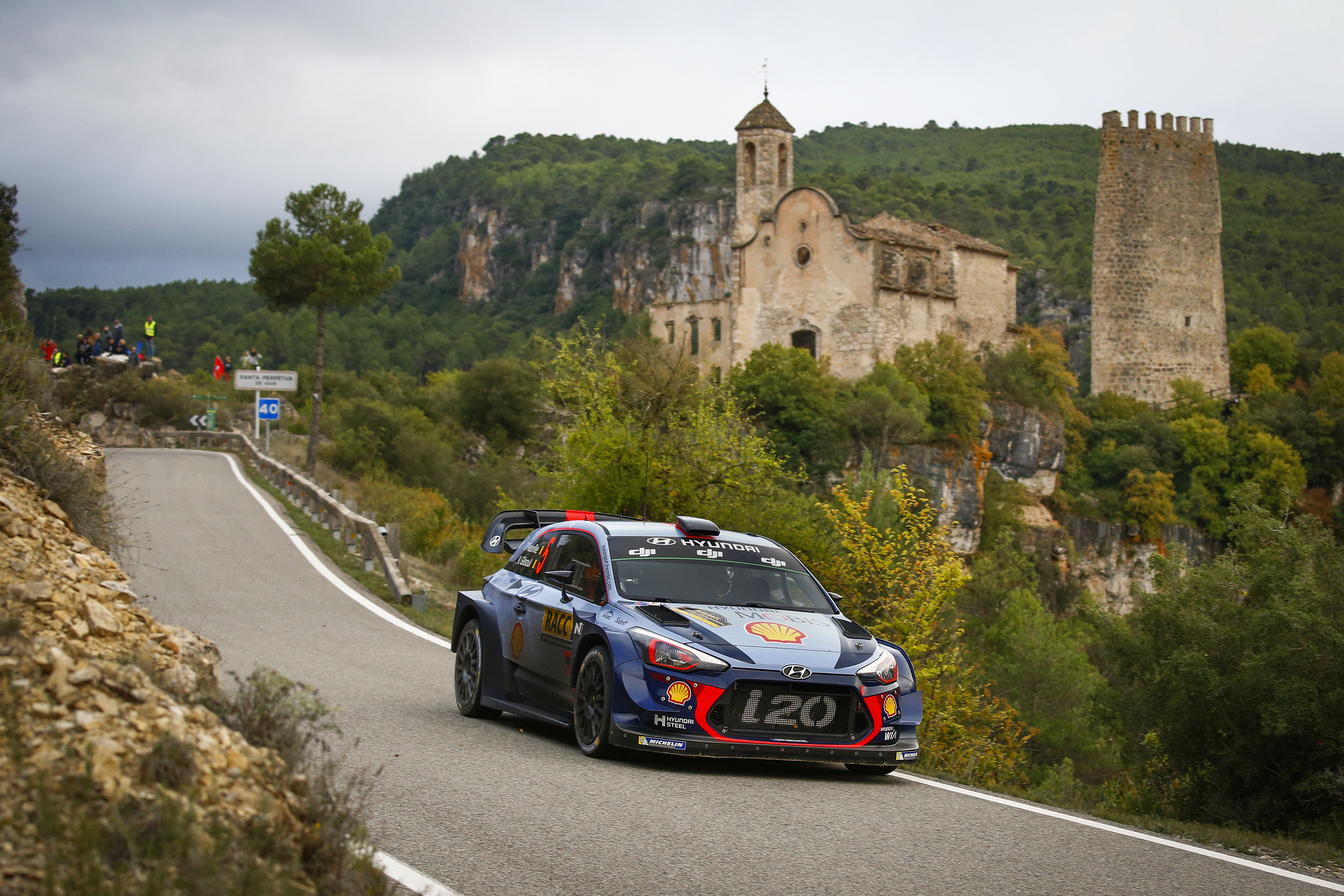 Andreas Mikkelsen
"We have made important steps in the past few rallies, which have not really been reflected in our overall results. The feeling and rhythm I have had with the i20 Coupe WRC has allowed me to pick up stage wins and to fight at the top end of the field. This is greatly encouraging. Rally Spain could be good for us. I feel that we have made some improvements on tarmac in preparation for this event. We have to see if all our homework pays off. It will be a crucial rally for the championship, so we have to be on top of our game."
Dani Sordo
"Rally de España is one of the most special events of the whole year for me. Nothing can replace the feeling we get when competing on home soil and in front of such passionate supporters. It makes for a tremendous atmosphere from the opening super special right through to the Power Stage.
"The gravel-to-tarmac schedule is like no other rally we tackle, and requires a very different approach. It's been a long time since Portugal, my last event on gravel, so it will be a tough start even with a beneficial road position. We know the car is strong on loose surface, while we also have some evolutions for tarmac so I hope we can perform stronger than in Germany."
M-Sport Ford WRT
Sébastien Ogier
"We go to Spain on a high after securing victory in Wales, and reducing the gap at the head of the championship standings to seven points. With just two events left to contest, the title race is really hotting up, and we'll need to deliver another strong result if we want to defend our crown.
"The competition is really exciting and I'm looking forward to this event which I enjoy a lot. The dual surface element of this rally makes it a unique fixture on the calendar and you need to adapt quickly to each change in terrain."
"The support we get in Salou every year also provides extra motivation and everyone can count on Julien and I giving everything to bring home another strong result for the championship."
Elfyn Evans
"We go to the Spain determined to secure a good result. Luck hasn't been on our side this year, but the speed is there and we'll be looking to close the season with some strong results."
"As the only mixed-surface encounter on the calendar, there's no other event quite like this one. We start the rally in gravel specification before everything is lowered and stiffened for Catalunya's circuit-like asphalt."
"It's quite a strategic rally and our plan will be to give it a big push through the gravel on Friday, before seeing where we are for the weekend's asphalt – which really is like driving on a racetrack in places!"
Teemu Suninen
"I have contested Rally Spain every year since my debut season in 2015 and it's an event I like a lot. I'm looking forward to heading back there this year and attacking the stages for the first time in a world rally car."
"We had a test on the Spanish asphalt last week and the car felt good immediately. The set-up for this sort of asphalt is pretty unique and you can really attack the stages like you would on a circuit. The gravel stages are quite narrow and similar to those in Portugal."
"This is a rally that demands commitment if you want to challenge for a good result, and we plan to deliver that and challenge for a positive result next week."
Toyota Gazoo Racing WRT
Ott Tänak
"I am looking forward to driving again in Spain. We still have a chance in the drivers' championship and we are not going to give up. In a way it is more straightforward for us: we just have to win the last two rallies and see what happens."
"I can be confident about our performance on both gravel and asphalt, as we have been strong on both surfaces recently. Still, we are always trying to improve and we had a good pre-event test where we were able to work on some things to make everything as good as possible before the rally."
Jari-Matti Latvala
"I am really excited about Spain and the chance to score a great result to help our bid for the manufacturers' championship. It is a rally I have always enjoyed: the asphalt stages there are particularly nice to drive.
"In my pre-event test last week, I was fortunate to experience both damp and dry conditions, and I have a good feeling with the car. Personally, I am on a nice run at the moment and the goal is to keep this going until the end of the season."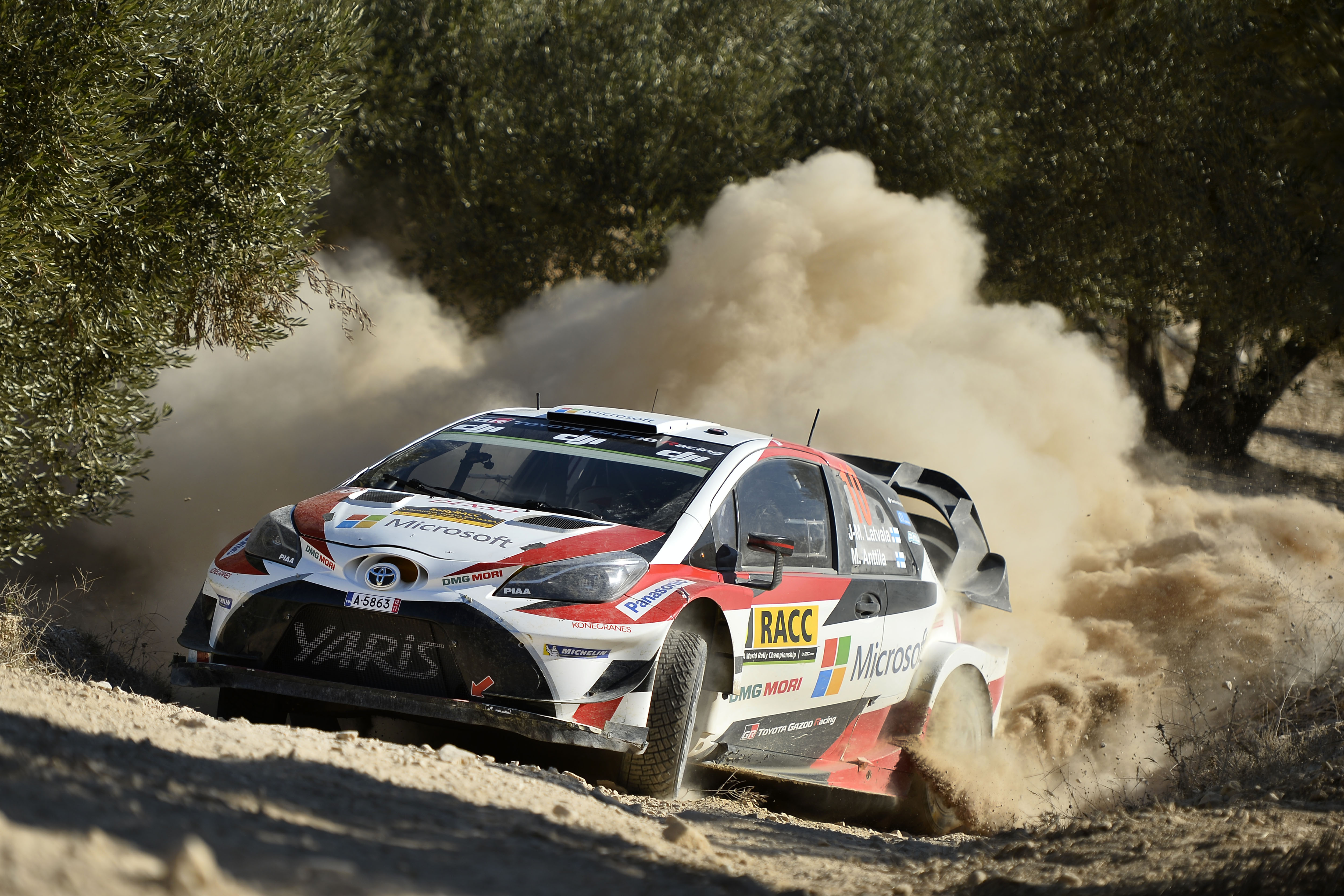 Esapekka Lappi
"I am fully committed to helping the team fight for the manufacturers' title over the final two events of the season. As a team we have had some really nice results recently and I hope to continue that in Spain."
"I like the challenge of the two surfaces: as a driver you do need to adapt to the chance but I think we all get used to it pretty quickly. The asphalt stages in Spain are very special and I really enjoy driving them. Unfortunately, I made a mistake last year but hopefully I can use that experience this time to have a strong finish."
Citroen Abu Dhabi Racing
Sébastien Loeb
"After setting some good times on both surfaces in Mexico and in Corsica, I'd love to get through an entire rally without making any mistakes. My two days of testing went well. It's now up to me to put it all together, from start to finish. The standard is so high that it would be pretentious to say that I'll be able to challenge the three title contenders, but I hope to be more or less on the pace. If it's dry on day one, then we'll need to make the most of the potential advantage of our road position, because lots of things always happen on this leg, with hidden, embedded rocks pretty much everywhere."
Craig Breen
"I'm excited to be racing on tarmac again, my favourite surface, especially as there are always a lot of Irish fans who come over for this rally. I'm also pleased that there have been some changes to the first leg on gravel, given that I haven't competed here for two years. For the tarmac leg, I'll be looking to my past in karting to get my bearings quickly on these sweeping, circuit-style roads. I'll need to keep it as clean and tidy as possible. I'll certainly be looking to pick up where I left off in Wales and fight for a podium finish."
Khalid Al Qassimi
"I'm delighted to be back at this rally. I've always loved racing here, especially the leg on gravel, even if it is always tricky. Switching from one surface to another during the weekend calls for a good ability to adapt and that's what makes this round such a difficult, but really interesting challenge."
Now, there are also a number of WRC2 R5 cars running this weekend, but the most anticipated has to be the debut of Volkswagen Motorsport's Polo GTi R5. Driving the two cars are 2003 world champion Petter Solberg and Eric Camilli. Also, Citroen are running C3 R5 and Hyundai have a i20 R5 too!
Here's their thoughts!
Volkswagen Motorsport
Petter Solberg
"Spain was the venue of my last WRC rally in 2012," says an emotional Solberg. "It feels great to be heading back there now. Particularly with this car and this team. The combination of gravel and tarmac will be a big challenge for me. After all, it is six years since I drove in a WRC rally. However, one way or another, it will be a fantastic weekend – with old rally friends and passionate fans out on the route."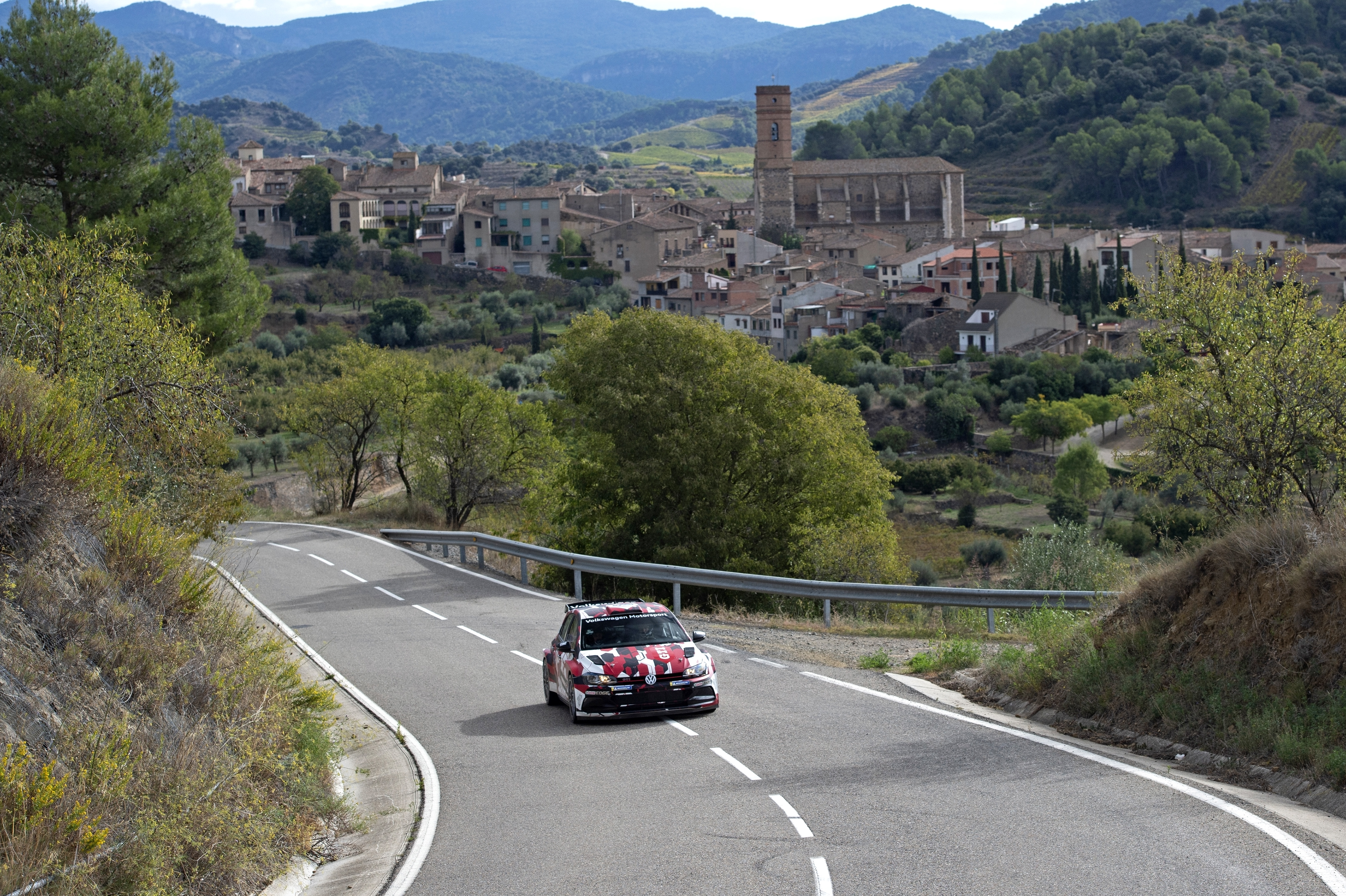 Eric Camilli
"It is a great honour for me to be involved in Spain. I have completed a lot of test kilometres and am really looking forward to finally getting to drive the Polo GTI R5 at a rally," says Camilli. "The first outing with a completely new car is always very special, and you have to be ready for anything. However, I know that we have prepared as well as possible and do not believe that we need to fear our more established opponents."
Citroen Racing
Stéphane Lefebvre
"I really like this rally and the fact that it is a mixed surface event. You have to be good at both parts, which are very different. First of all, on very technical gravel roads, and then on the sweeping, circuit-style tarmac roads where you really need to be very accurate in your lines. We have a couple of test days before the start, one on each surface, so we'll be starting the rally determined to finish our WRC2 campaign in style."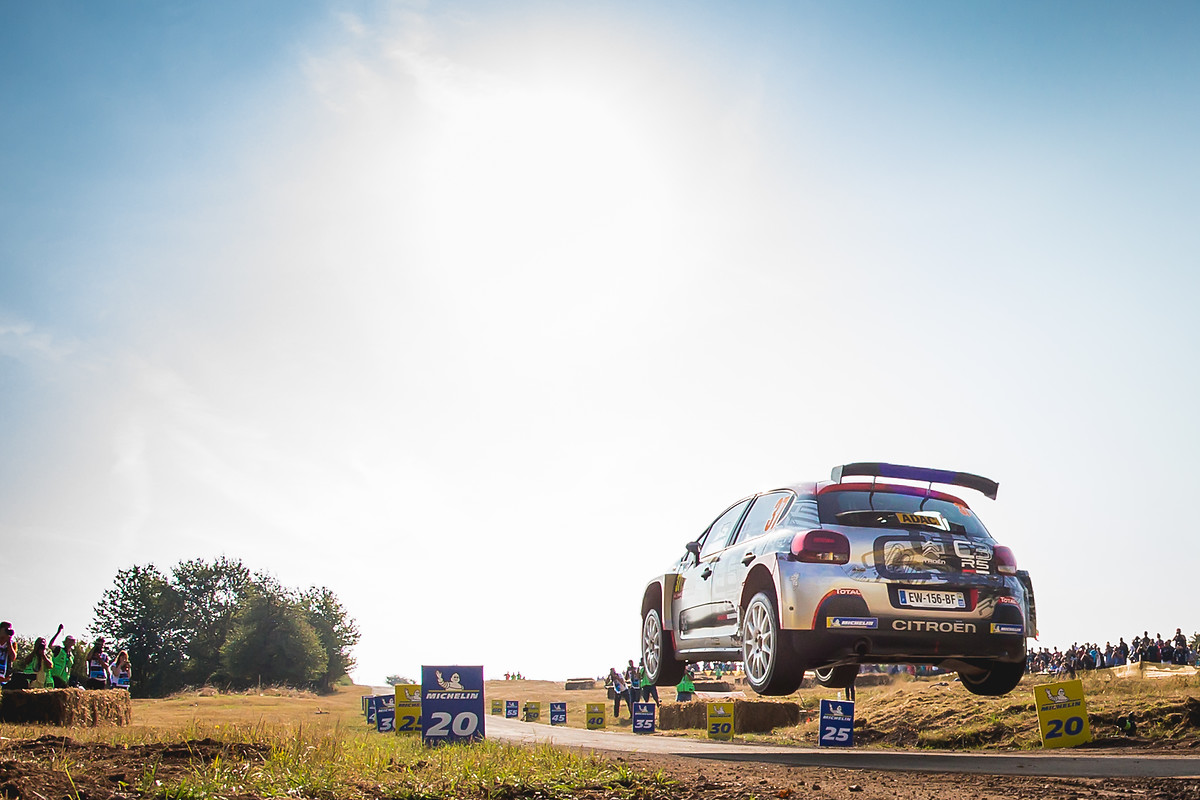 Hyundai Driver Development
Jari Huttunen
"Wales was arguably the most encouraging WRC2 weekend we've had this year. Of course, we were confident and fast in Finland but at the last event we really put into practice a full twelve months of development and hard work. The improvements have been good but we also know we have more to learn. Spain will be a new event for us, so we will have a bigger challenge against the main WRC2 contenders, who will no doubt set a high benchmark. Our aim is to get as close to them as we can and pick up experience of a mixed gravel/tarmac rally."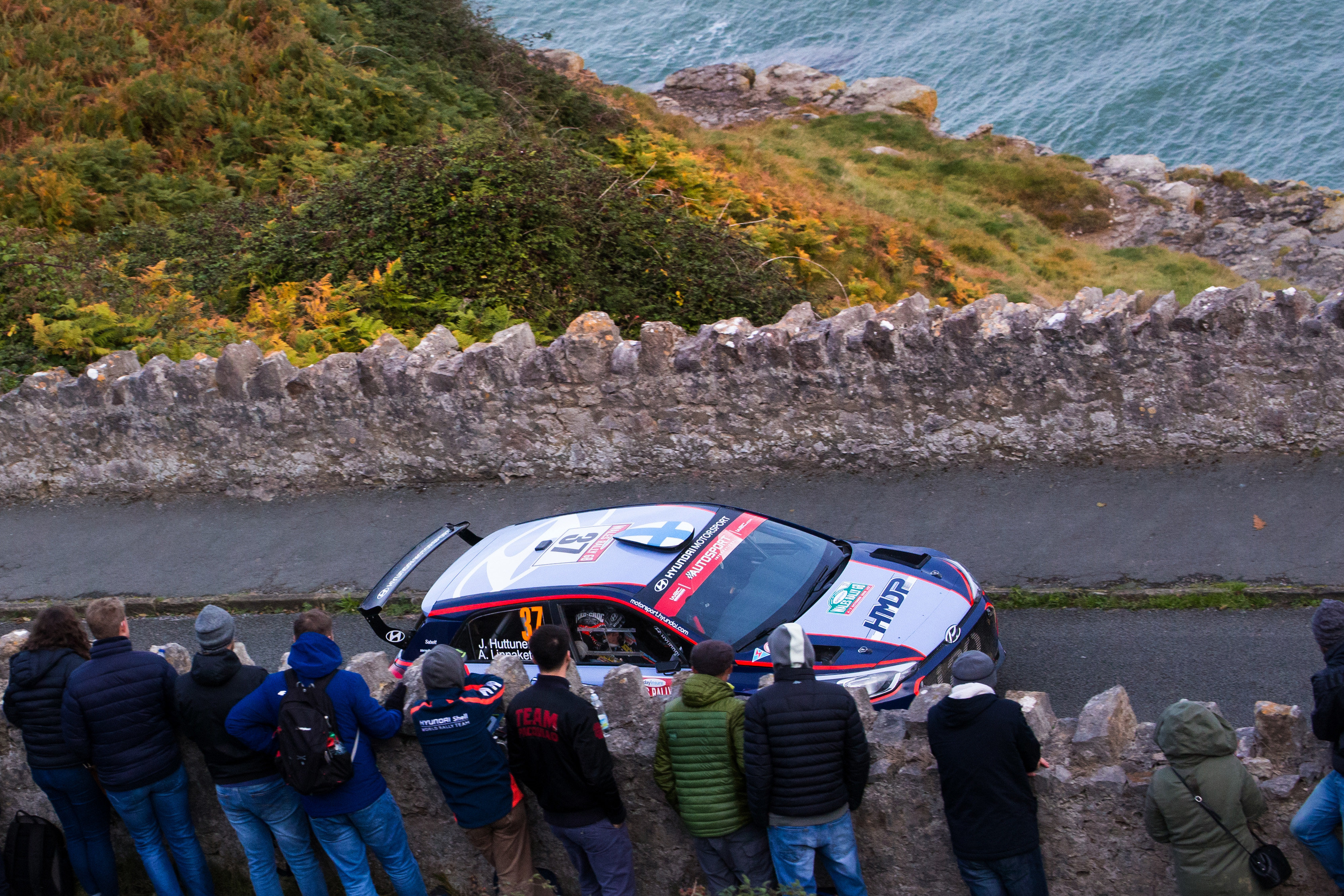 Well, we are set for a dramatic end to the season and anything could happen. You can follow the weekend with WRC+ Live and live timing on the EWRC site too.
Enjoy!!