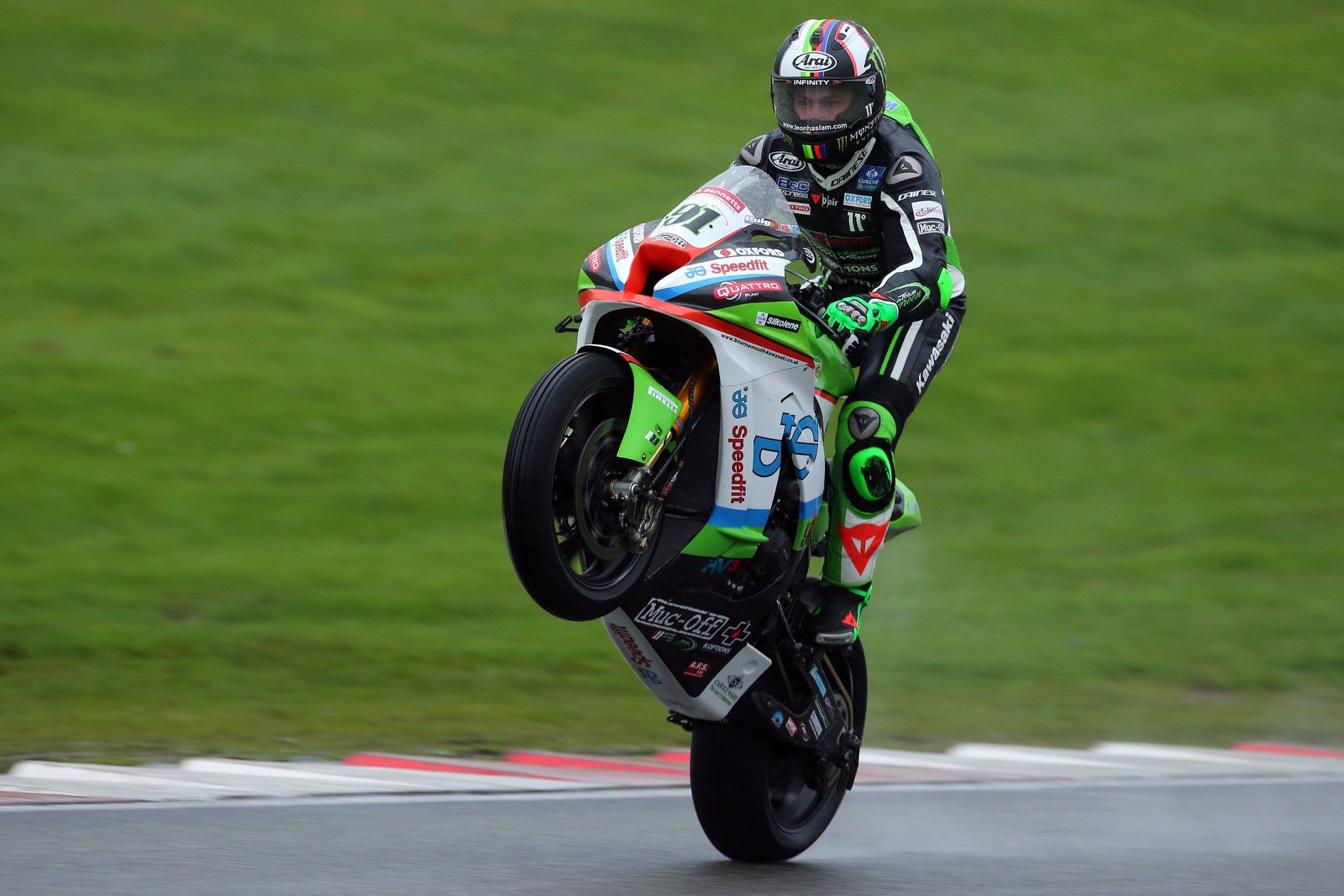 Leon Haslam marked his first race as British champion with his 15th win of the season, in treacherous conditions at Brands Hatch.
It's almost become an expected part of British racing that the sun will not be shining but unfortunately with the rain brought many crashes. Only 14 riders finished Race 2 with 12 crashing out, including Danny Kent (Halsall Racing Suzuki), Jake Dixon (Kawasaki) and Andrew Irwin (BeWiser Ducati).
Not the end to the season that most riders would be hoping for but, it was a very good weekend for Haslam (JG-Speedfit Kawasaki) who won the Championship and secured his 15th race win in a contained manner. Only romping away with first position when the end was in sight – almost like he learned from Dixon's mistake who's race ended with only a quarter of the race left when he finally obtained the lead.
It was an unfortunate race for Dixon on a whole who started on pole but he fell down to third after Irwin took his chance and clinched first position. Then chaos ensued as riders started falling left, right and centre due to the wet weather conditions and the camber of the track.
It wasn't long before Irwin wasn't leading and neither was Dixon as the race ultimately became a race between Haslam and Jason O'Halloran (Honda Racing) who fought long and hard for first position. When riding in the wet, being out front gives riders an advantage due to better visibility – no spray from the bike in front of them and a better view of the track means that they can judge their next move better. As the pair fought back and forth for this advantage, it was fishtailing that bothered O'Halloran.
It wasn't to be for future Moto2 rider Dixon who would have hoped for a better finish to the season, but he would ultimately finish 70 points behind Haslam in the Championship in second place. His progression to Moto2 will be interesting to watch as he copes without having experience on the Moto3 machine before jumping aboard the Angel Nieto Team bike with a Triumph engine.
But after a stellar season, it was Haslam who clinched the Championship before he too departs from BSB to rejoin the Superbike World Championship with the Kawasaki Racing Team in 2019. And for 12 riders at Brands Hatch, it was not a race to remember, but with the weather conditions being what they were it's not totally surprising that almost half the grid didn't finish the race.