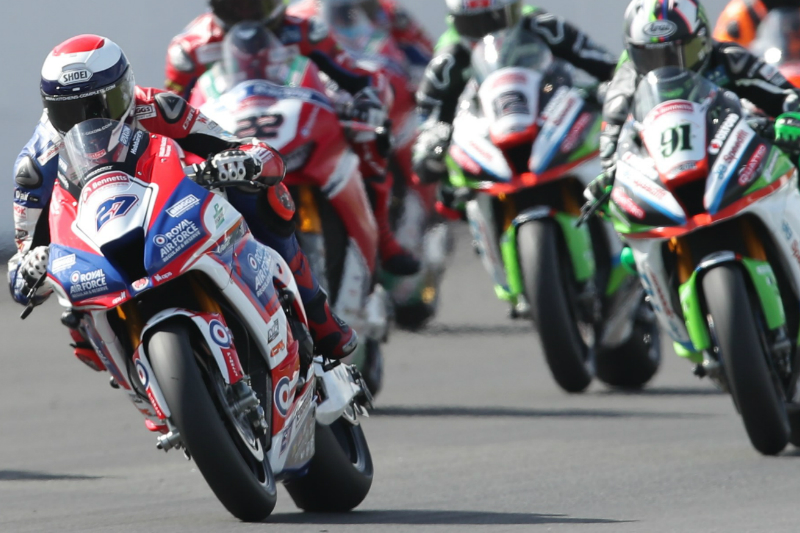 Assen has proven to be a popular addition to the British Superbike calendar since its first appearance in the championship back in 2012. That year, Shane Byrne and Josh Brookes shared the wins, as the #67 marched towards his third championship title.
For the 2018 edition of the only overseas round of the British Superbike Championship, the paddock arrives off the back of a drama-packed weekend in Oulton Park a fortnight ago, which saw Jake Dixon (RAF Regular and Reserves Kawasaki) pick up his first double-win of the season, as Leon Haslam (JG-Speedfit Kawasaki) fought back from qualifying disappointment which saw mechanical issues force him to start last on the grid for the first race.
Despite this, it is Haslam who arrives in Assen with the championship advantage, and ahead of the penultimate race weekend of the season his points lead stands at thirty-one points. It is therefore possible for Haslam to win the championship this weekend. He would need to win both races, and for Dixon to score no points in either race, but it is possible that the 2018 British Superbike Champion could be crowned this weekend.
Dixon, then, must not crash this weekend. Having just been announced as a Moto2 World Championship rider next year for the Angel Nieto Team squad, he will be eager to continue where he left off in Oulton Park, and get out of Assen with at least a mathematical chance of winning the championship at the final round in Brands Hatch. But, to have a realistic shot at the title, Dixon could really do with a non-score for Haslam this weekend.
As for the other Showdown contenders – Josh Brookes (McAms Yamaha), Glenn Irwin (BeWiser Ducati), Bradley Ray (Buildbase Suzuki) and Peter Hickman (Smiths-Racing BMW) – their chances are all but gone even ahead of this weekend, such has been the dominance of Haslam this season. Brookes and Irwin are tied for third place on 530 points, seventy-four behind Haslam, whilst Bradley Ray 11-DNF in Oulton leaves him fifth in the championship, six points further back of Brookes and Irwin. Finally, Hickman is four points back of Bradley Ray, and 84 behind Haslam. Like the riders outside of the top six, these four riders have nothing to lose for the remaining two rounds of the season, so only wins will do.
With that said, as a previous winner in Assen, Josh Brookes will certainly consider himself to be one of the riders who should be fighting for the win in both races this weekend.
Likewise, having been announced for the JG Speedfit Kawasaki team for next season – where he will replace World Superbike-bound Haslam – Irwin will be keen to end his three-year stint with the Be Wiser Ducati team in a positive way, which means with five victories in the final five races of the season.
Even Bradley Ray and Peter Hickman will fancy their chances this weekend. If the weather doesn't play ball this weekend, Hickman will definitely be in the mix, and the stability of the BMW should prove valuable in Assen's high speed sections. Meanwhile, Bradley Ray will be hoping that the speed he has shown this season remains this weekend, but that he can also keep the Buildbase Suzuki rubber side down.
With this in mind, it could be important to consider that Dixon and Haslam will have to contend this weekend with not only each other, but several other riders who are both very fast and without the pressure of their mistakes having consequences.
Of course, there is also the sub-plot, if you like, of the Riders' Cup. Jason O'Halloran (Honda Racing) currently leads the way in this points fight, but Tarran Mackenzie (McAms Yamaha), Danny Buchan (FS-3 Kawasaki), Christian Iddon (Tyco-BMW) and Tommy Bridewell (MotoRapido Ducati) are all within ten points of the Australian. Mackenzie and Bridewell are on especially good form coming into this weekend, Bridewell coming off the back of a double podium in Oulton, and rookie Mackenzie improving all the time on the superbike.
Overall, it looks like we're in for an incredible weekend of racing in Holland over the next few days, which will hopefully set us up nicely for a cracking season finale in Brands Hatch in a few weeks' time.