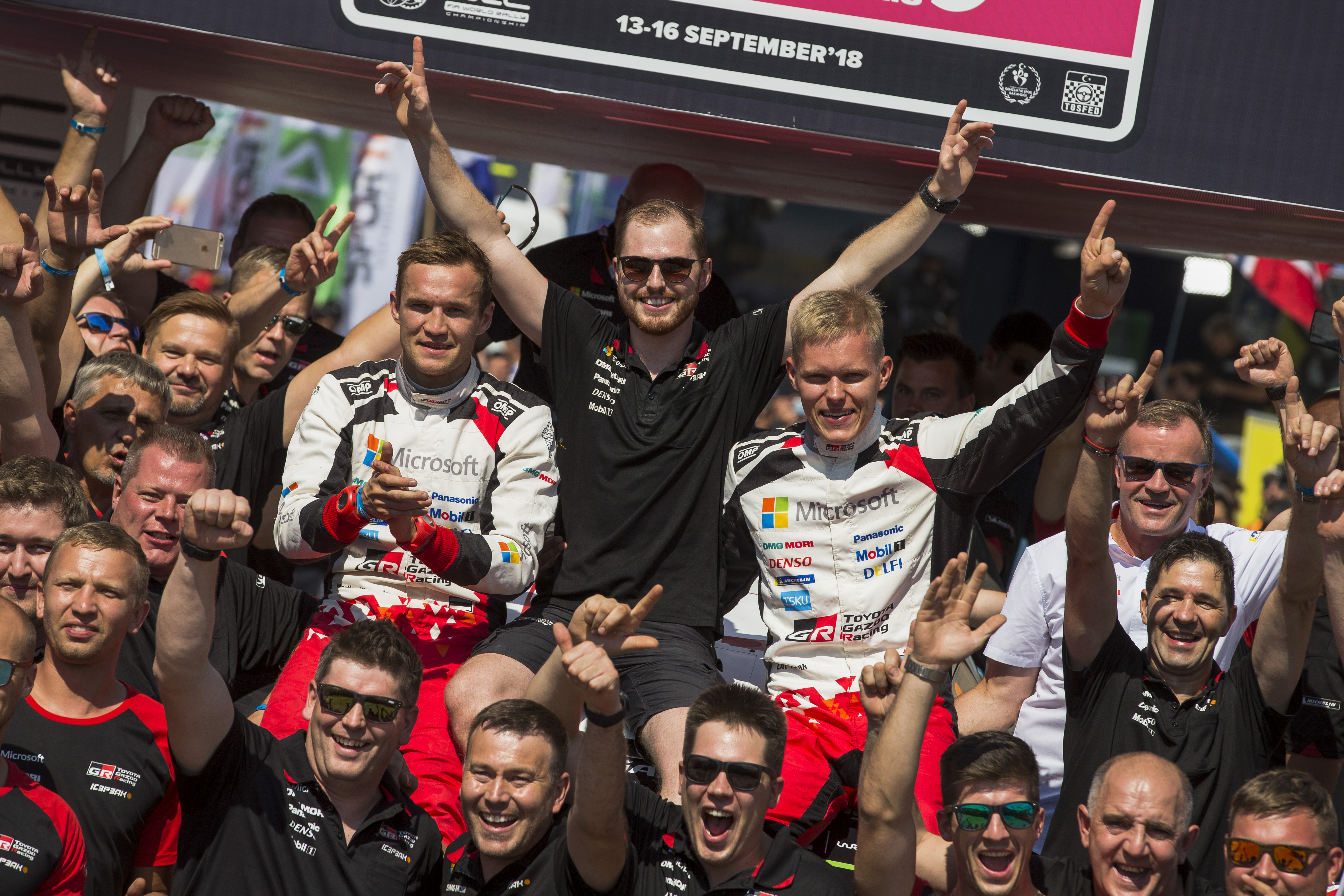 Well, what an amazing and epic event we were treated to! Here's my full stage by stage report. After Thursday's evening stage, Andreas held a small lead over the field, with Ott, Thierry and Seb in third, fourth and twelfth respectively. Seb was down there because of a small spin.
Friday
With six stages to run, including the double run of Çetibeli at 38km, which was the first stage of the day, there would be drama from the off. The start list looked like this – Neuville, Ogier, Tänak, Lappi, Mikkelsen, Latvala, Evans, Ostberg, Breen, Suninen, Paddon, Al Qassimi. Could Craig, who'd suffered badly on Friday's in recent events have a better first day?
Well, what we saw was Craig take the stage victory from Hayden and Andreas in third. The best placed championship challenger was Thierry who was in sixth, with Seb and Ott eighth and ninth. Craig said, it was all he could do, just to keep the car in the middle of the road and just survive to the end. Elfyn Evans had some intercom problems, which held him back from pushing.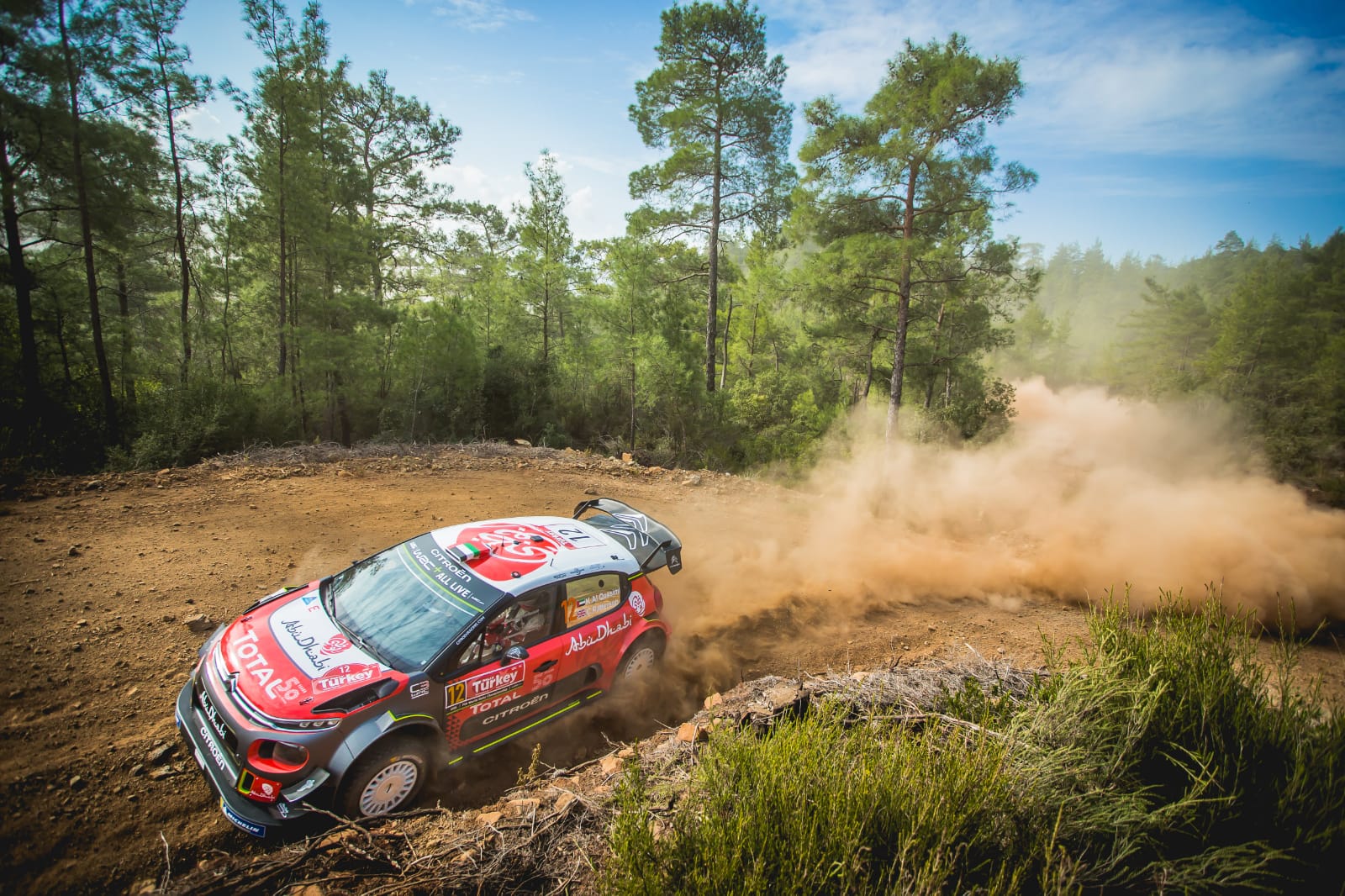 Now, into SS3 and this was the first surprise, as Thierry won the stage, despite being first on the road. Quite amazing, and this was enough to move the Belgian into fourth overall, with Hayden falling behind, down to sixth. Seb also moved up one place after setting the third fastest time impressively, only 2.6 seconds slower than Thierry in the stage. Craig remained in the overall lead though, from Andreas who was finding some good form.
This form continued into SS4 for the Norwegian, and he won the stage. Craig was cautious in this one, after he had a big impact near the start of the stage, meaning he thought there was a puncture, and this meant that we had a new leader, with Andreas moving to the top of the leaderboard. In fact, it was a good one for the Hyundai team, as Hayden also moved up to fifth, now ahead of Jari-Matti. Through all of this, Mads had held a very positive third overall throughout the morning.
The afternoon stages would really shake things up though. Craig's Friday curse would return in SS5, getting a puncture 13km into the 38km stage. It got worse for the Citroen team, with Mads suffering a tyre delamination and Al Qassimi getting a mechanical failure as well! Through all of this came Seb, who won the stage from teammate Teemu and Latvala third. Andreas now held the lead from the Frenchman, who'd taken ten seconds out of Andreas' lead.
Into SS6 then, and a few drivers would end up with broken cars. First up was Elfyn, who broke his differential after hitting a rock he couldn't avoid. Then, Mads broke his suspension as well. Craig passed them both in the stage. Meantime Thierry won the stage, and with Seb almost nine seconds slower, the championship leader was now up to second overall, less than two seconds off the lead.
The final stage of the day, SS7 was won by Ott, from Esapekka and Seb, but the big news was that Andreas who'd held the lead throughout the afternoon lost eleven seconds and fell to third. Our overnight leader was Thierry who was just three tenths of a second ahead of Seb.
STANDINGS AFTER DAY 1
Neuville / Gilsoul (Hyundai i20 WRC) 1:52:28.2
Ogier / Ingrassia (Ford Fiesta WRC) + 0.3
Mikkelsen / Jaeger (Hyundai i20 WRC) + 2.6
Latvala / Anttila (Toyota Yaris WRC) + 16.3
Tänak / Järveoja (Toyota Yaris WRC) + 31.9
Paddon / Marshall (Hyundai i20 WRC) +35.1
Lappi / Ferm (Toyota Yaris WRC) + 36.8
Breen / Martin (Citroën C3 WRC) + 50.1
Suninen / Markkula (Ford Fiesta WRC) + 1:02.9
Here's the thoughts of the drivers – Top three first.
Thierry Neuville
"We are involved in a fantastic fight for the leading positions, which is a great way to start this new event. The conditions we have faced today have been really tough. We had a good clean run this morning, and didn't expect to be so involved. The dusty conditions lessened our disadvantage from being first on the road so we could keep in touch. These roads have been a completely different challenge to any other we've faced this season, which keeps things fresh. We had to take things a bit more carefully this afternoon. We lost a lot of time in SS5 and had to take some risks in the subsequent stage as a result. We then lost several seconds in the final stage, needing to reverse after making a mistake. It was a reminder that this rally could be won or lost on the smallest of things. It is exciting, just how we like it!"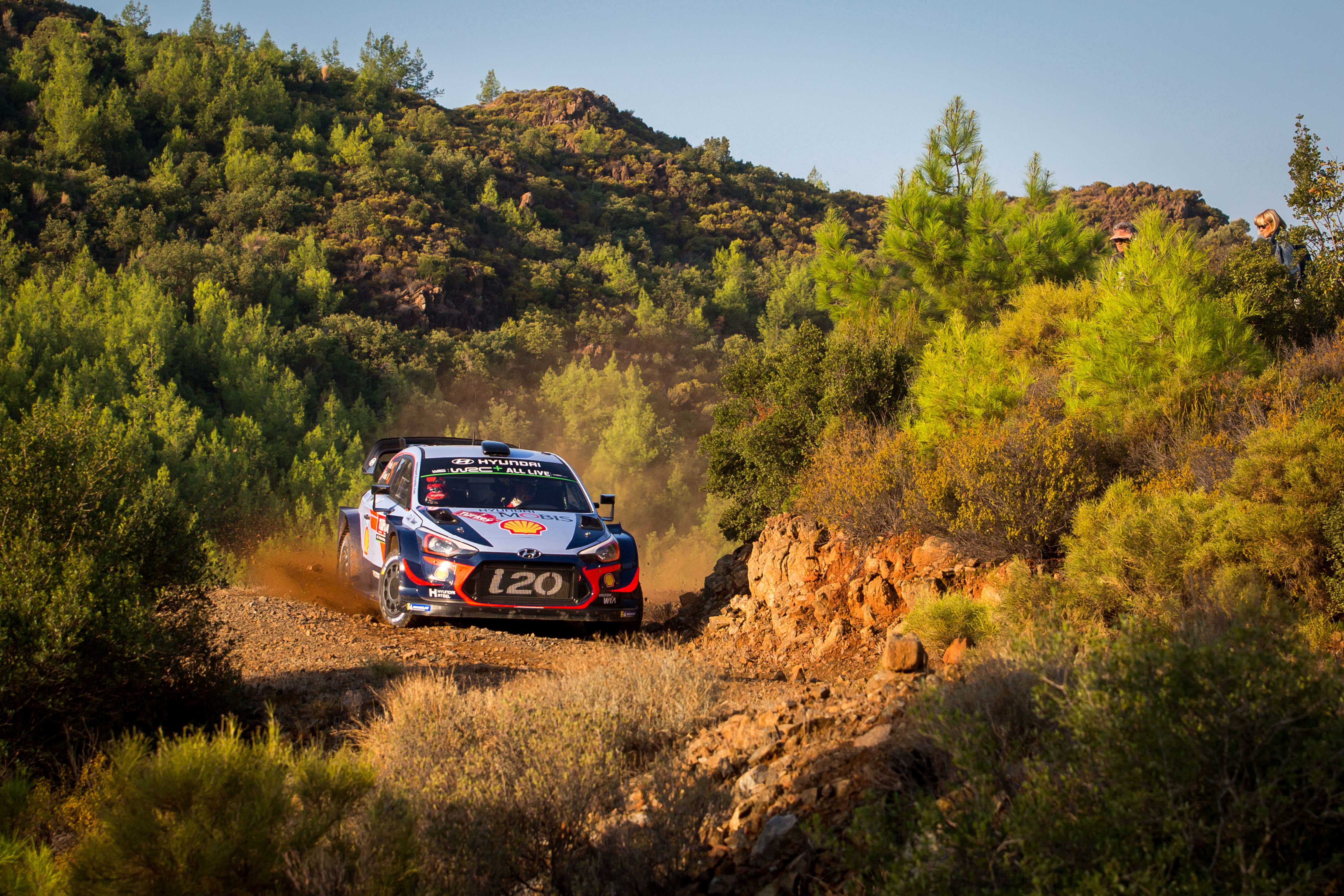 Sébastien Ogier
"Today has been a bit of a surprise as the conditions were often better for us in the front which is pretty rare on gravel. I gave it everything I had and I'm pretty happy with my drive. We lost a lot of time in the dust this morning, which is the only frustrating part of the day, but there was not much more we could have done.
"I stayed in my rhythm for the long stage this afternoon and wasn't pushing very hard – just trying to stay clean and not be too aggressive on the rocks. I had a lot of tyre wear after that and I finished the day without a lot of tread left!
"It's still going to be a long rally, but we will try everything we can. Our best chance is to keep the consistency, so let's see what we can do."
Andreas Mikkelsen
"I am pleased to end the opening day inside the top-three, and to be involved in a close fight for the lead with Thierry and Séb. We've had a strong start, though not perfect, in very demanding conditions. After starting the weekend with a stage win on Thursday night, we made a clever tyre choice for the Friday morning loop, which really paid dividends. We had a clean drive, avoiding the big rocks, pushing where we could but playing it safe at the same time. I knew the afternoon would be harder. We ended the day with a lot of caution, first because of a right-rear puncture and then tackling the final stage on very used tyres. Overall, two stage wins so far, we led the rally for three stages today, and we have more to come on Saturday. Plenty of cause for optimism!"
Toyota Gazoo Racing WRT
Jari-Matti Latvala (4th)
"This morning started with a good time in the first stage even though there was a lot of dust in the air from the cars in front. I lost some time in the next stages but this afternoon was much better: The stages were very rough but I tried to be clever and focus on being consistent and not making mistakes. We end the day in fourth and only 16 seconds from the lead. Tomorrow the stages are in a slightly better condition than today and I feel good about our chances."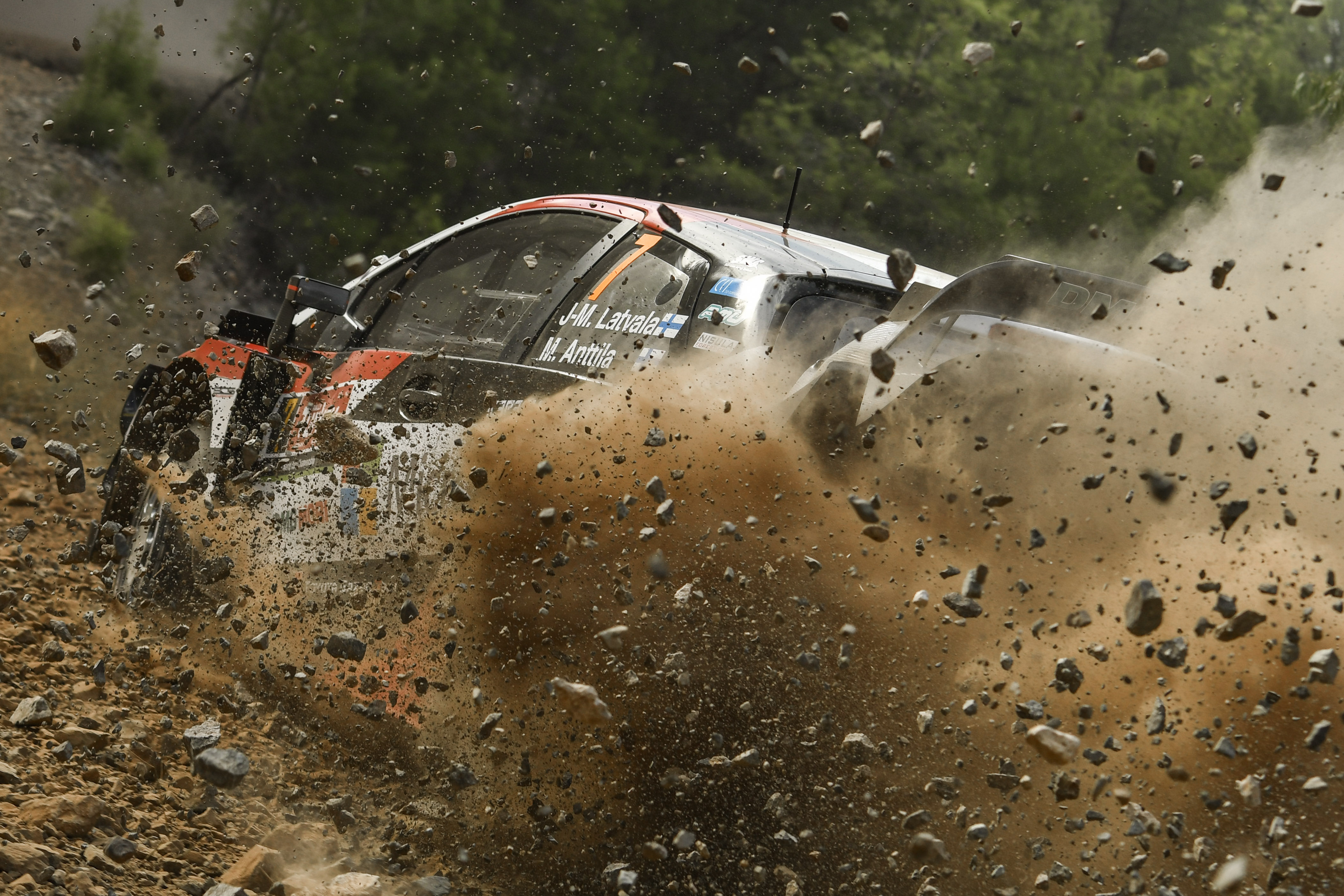 Ott Tänak (5th)
"The conditions in the morning were maybe not as bad as expected. It was just quite a lot of loose gravel and very low grip, and that's one area we still need to work on. The afternoon was very tough but we could improve our position by avoiding any incidents. Then the last stage was quite smooth and there we had a good run. We are working really hard with the engineers to improve for tomorrow. We are still very eager to fight for the top positions and we are not far away."
Esapekka Lappi (7th)
"This morning was quite a struggle but we got through it without any issues. We knew that the stages would be rougher on the second pass, so we made the car stiffer in service to protect it more against the rocks. However, this meant that we had less grip and we lost a lot of time on the long stage as a result. Then I made a lot of changes on the road section and we got the grip back. I'm looking forward to tomorrow: Hopefully we can continue like we ended today. Everything can still happen, there are many kilometres to go."
Hyundai Motorsport
Hayden Paddon (6th)
"It has been a hard day's work for pretty much everyone out there today. Some of the roughest conditions I have ever seen! We had a plan from the start, aiming to be sensible, look after the car and keep the driving nice and clean. We didn't really get an advantage from our road position so we just stuck to our pace notes. The afternoon was even harder, and it is testament to the strength of the cars that they withstood the stages as much as they did. We had a broken damper on the final stage, which didn't help matters but we're P6 in an incredibly close fight. Considering the conditions, that's not a bad start."
Citroen Abu Dhabi Racing WRT
Craig Breen (8th)
"It's very frustrating to have picked up two punctures when I was really taking care to drive in the middle of the road. But the race isn't over yet. Neuville and Ogier showed today that it's possible to be quick even if you're one of the first on the road, so tomorrow I'm going to try and produce the same kind of pace we had today."
Mads Østberg (Rally2)
"It's a shame to finish the day like this, a day that had started so well. We were right in the mix for the podium, whilst attempting to look after the car. Unfortunately, these really rough roads got the better of a suspension arm on our C3 WRC."
Khalid Al Qassimi (Rally2)
"I was getting my bearings with these stages and with the car, hoping to gradually up my pace, when our day was brought to a premature end with a technical issue. With times posted and the pace shown by the other guys this morning, the team certainly deserved a better outcome."
M-Sport Ford WRT
Teemu Suninen (9th)
"It's been really rough out there today but I think I've learnt a lot. I have never experienced conditions like this and I still don't know where the limit is. But when I drive flat-out and don't think too much about managing the car and the tyres – like on the first stage this afternoon – the times are really good. There's still a lot to learn to be more consistent, but the car has been really nice to drive and really strong so I hope we can continue to improve tomorrow."
Elfyn Evans (Rally 2)
"It was a tough day. We had intercom issues on the first stage [SS2] and then transmission issues on the two after that [SS3 and SS4]. The afternoon loop was going pretty well and we had really good speed before picking up a slow puncture towards the end of SS5. Then in the next one there was a massive rock on the inside of the line. We missed it with the wheel, but it hit the wishbone and unfortunately that was it – just one of those things."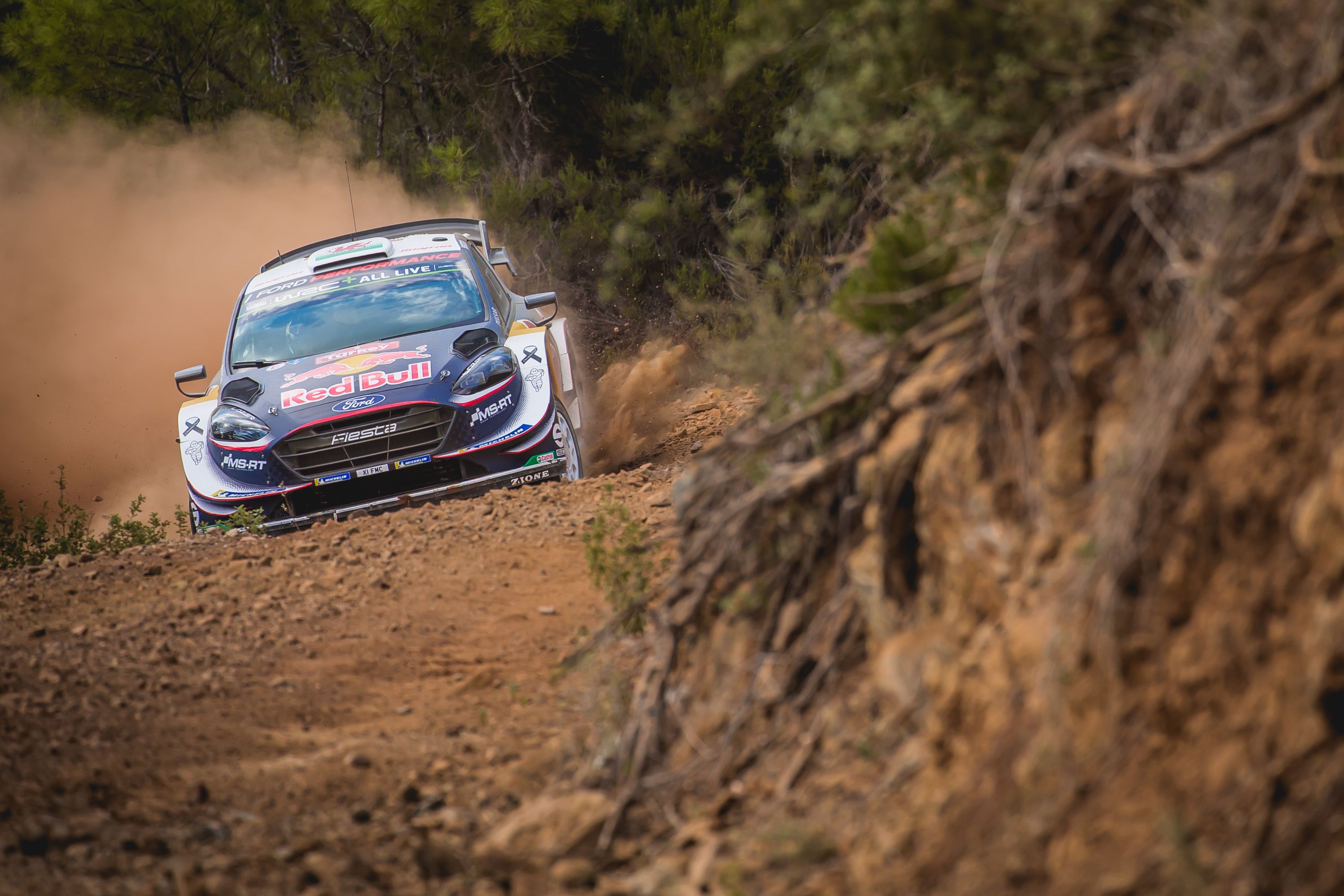 Saturday
With six stages to run on Saturday, the running order looked like this – Suninen, Breen, Lappi, Paddon, Tänak, Latvala, Mikkelsen, Ogier, Neuville, Ostberg, Evans, Al Qassimi.
The first stage of the day was SS8 and it was a long one again at 34km. Thierry would hit trouble, after an impact meant his suspension on the left front of the car smashed through his bonnet. He'd lose three and a half minutes, falling to ninth overall. Seb now took the lead after setting the fastest time through the stage. Sadly, Mads retired from the rally, after suffering a technical failure with his car. His teammate, Craig spun in the stage, leading to a stall and then also having to turn the car around as well, losing a few seconds. Overall top three now was Seb, Andreas and Jari-Matti.
Andreas won SS9, and closed the gap to Seb after the M-Sport driver suffered a broken wishbone on the front right of his car. The Frenchman did well to minimise the time loss to just eighteen seconds, his lead now seven and a half over Andreas.
It would change again in SS10, with Seb winning the stage. Unfortunately, he'd arrived at the stage six minutes late, and this meant he'd been given a one-minute penalty. He fell to fourth overall, 46 seconds from first place. Andreas was now the new leader, with Ott and Jari-Matti now up to second and third. Esapekka Lappi slid off the road as well, and was hanging off the road, nose first, like the coach in the original Italian Job! The car would later fall down, completely off the road.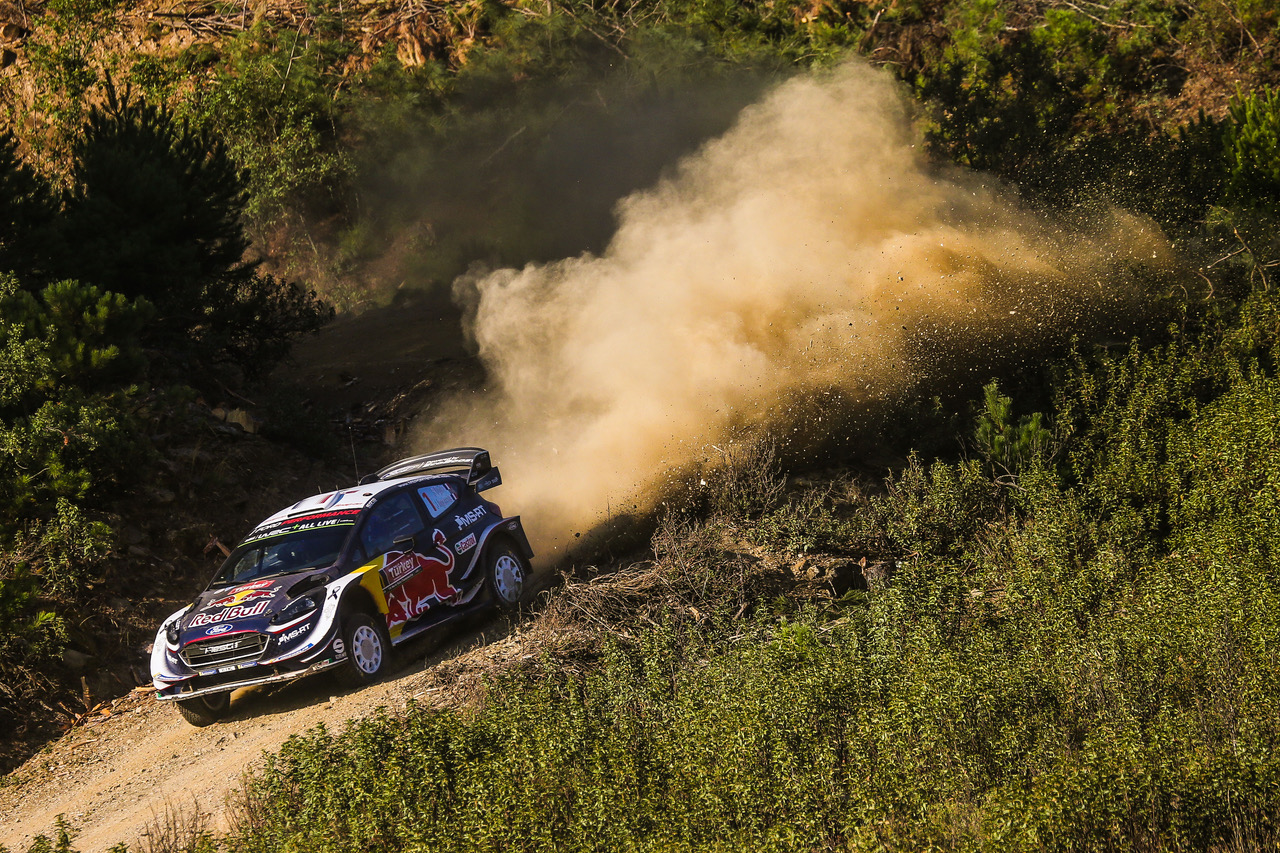 It would all change again in SS11 after the service break. First up, Craig was driving through with smoke coming from the car. He and Scott stopped a couple of times to try and see where it was coming from. They would continue to the end of the stage, albeit at a slower pace. Then came news that Seb had stopped, nineteen km's into the stage! The M-Sport crew had slid wide on a left-hander and become stuck! There was drama also for leader, Andreas. He had a puncture on the right-rear, but he was still pushing on! He'd finish the stage, but after a couple of spins and stalling his engine, he'd lose one minute 40 seconds! Ott Tanak would win the stage from Elfyn Evans, this putting the Estonian into the lead! Very significant given the championship situation with Thierry and Seb now looking like their best chances for points now lay with the power stage on Sunday. Sadly, Craig was also out, after his car caught fire, completely burning out. He was gutted. Andreas was another to be working on his car after the stage. Turns out the front diff had failed and left his car with just rear wheel drive. No wonder he'd spun so many times!
Into SS12 then and Jari-Matti set a great time, winning the stage from Elfyn Evans! Ott's lead was just eight seconds over his Toyota teammate. Meantime, we had confirmation that Andreas i20 definitely only had rear wheel drive! For the Norwegian this was frustrating, but just a case of getting to the end of the day now. Now, with all these problems for the top drivers and cars, Henning Solberg was now in sixth overall in a Skoda Fabia R5, with Chris Ingram and Kopecky also just behind him in identical cars, seventh and eighth overall.
The final test of the day, SS13, saw Ott fastest again from Elfyn, with Jari-Matti third quickest. Top three overall was now Ott, Jari-Matti and Hayden. Andreas lost more time with his car still without it's four-wheel drive working. Further back, Elfyn's pace had lifted him up to seventh overall now.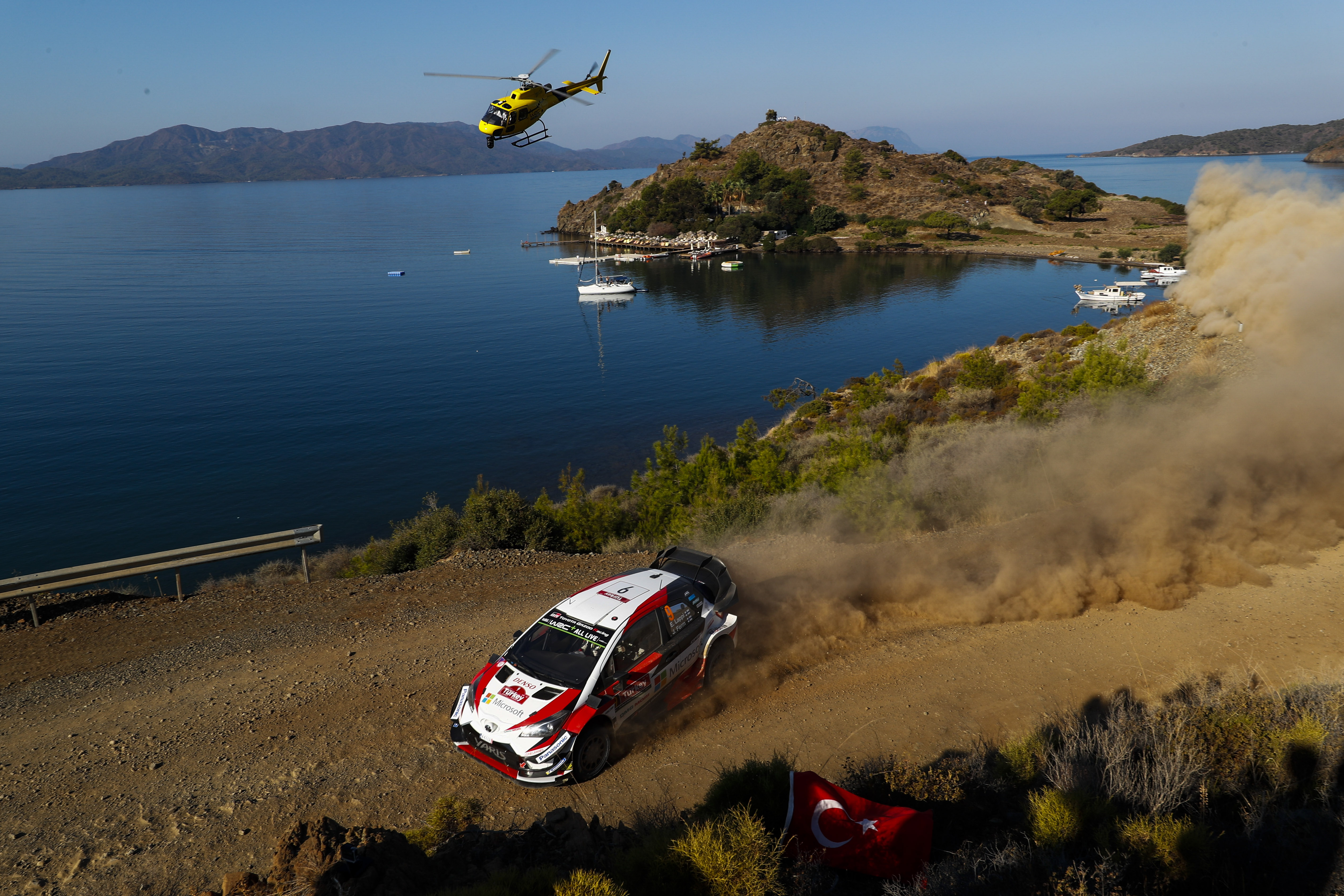 Summing up the second day, it's worth noting that the top four had not had any problems with punctures or suspension damage. On an event with such rough roads, it had been those driving at a good pace, but not as fast as the others, had paid dividends. Now there just remained a few stages on Sunday to get through.
End of Saturday Standings
1 Ott Tänak/Martin Järveoja (Toyota Yaris WRC) 3h34m22.5s
2 Jari-Matti Latvala/Miikka Anttila (Toyota Yaris WRC) +13.1s
3 Hayden Paddon/Seb Marshall (Hyundai i20 Coupe WRC) +1m10.5s
4 Teemu Suninen/Mikko Markkula (Ford Fiesta WRC) +3m22.2s
5 Andreas Mikkelsen/Anders Jaeger (Hyundai i20 Coupe WRC) +6m25.4s
6 Henning Solberg/Ilka Minor (Skoda Fabia R5) +11m55.5s
7 Elfyn Evans/Daniel Barritt (Ford Fiesta WRC) +16m49.0s
8 Jan Kopecky/Pavel Dresler (Skoda Fabia R5) +17m05.9s
9 Simone Tempestini/Sergiu Itu (Citroen C3 R5) +17m50.4s
10 Chris Ingram/Ross Whittock (Skoda Fabia R5) +18m38.2s
Let's hear then from the drivers after this remarkable day! Top three first.
Ott Tanak
"Overall it has definitely been a positive day for us. I said from the beginning that winning this rally would not be about speed but about reliability and avoiding any issues. So far, I think we have done a good job: both myself and Jari-Matti have come through without any real problems and it is nice to be in this position. There are still four stages to go and we have seen today that it is very tricky and a lot can happen. We just need to keep focused and hopefully we can bring it home."
Jari-Matti Latvala
"It has been a good day for us, particularly in the afternoon when I had a much better feeling and the car was generally working really well. Here you have to try to find a sensible limit with the driving. The grip is pretty high in some areas and that gives you the opportunity to push, but you have so many bad rocks and bumps, so it's very easy to damage the car. Tomorrow it will be important to be consistent and stay cool."
Hayden Paddon
"It has been complete mayhem out there today. We have stuck to our plan, and it seems to have paid off. It didn't quite work out yesterday but this has, at times, felt like a different rally compared to Friday. It's been much more loose and particularly tough on the tyres. In the afternoon loop, we had to take it a bit steady towards the end because our tyres were practically bald. I have learned my lessons from previous rallies, where we've gone out too fast too early and ended up by the side of the road. It can be frustrating when you look at the stage times, but it seems to be a good tactic. I'm happy to be in P3, although sad for my team-mates who were forced to relinquish their respective leads of this rally."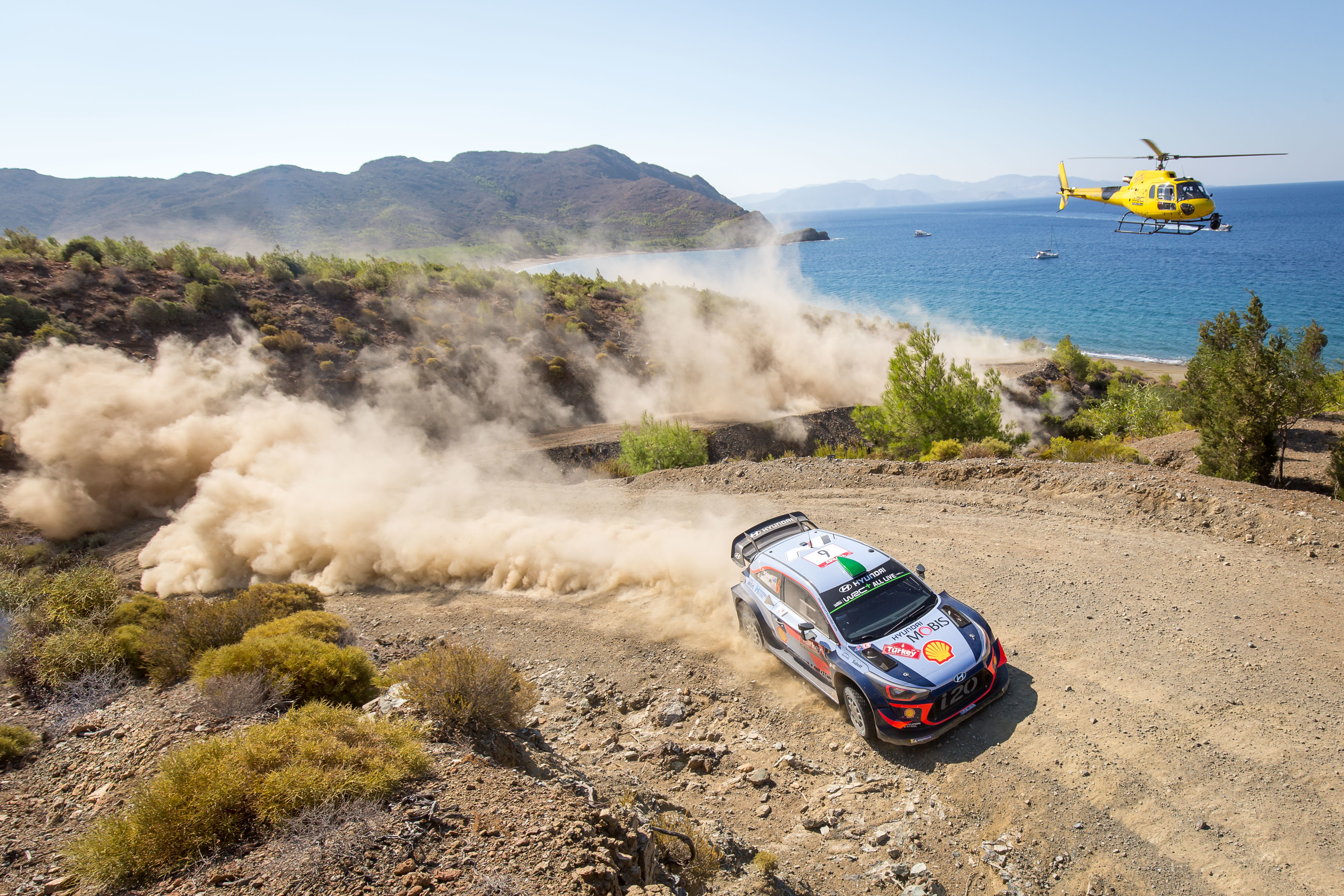 Hyundai Motorsport
Andreas Mikkelsen (5th)
"It goes without saying that we are incredibly disappointed. We had built up a comfortable lead heading into lunchtime service and really felt in full control. At the start of SS11, we knew almost immediately that we had a driveshaft issue on the front-right. Going into rear-wheel drive, we knew that it would be impossible to fight for the lead anymore. We got to the end of the stage and did all we could to fix the issue. It was important to just keep going, which we managed. Making it to service means we retain fifth place overall and can fight tomorrow for important points for the team. That said, I really think we could have won this one."
Thierry Neuville (Rally2)
"I am devastated that we had to retire from the rally today. We started the day in the lead and in positive spirits, but just 8 kilometres before the end of the opening stage I felt like I had a puncture. The car became slow to turn. Suddenly the bonnet started to move and the damper popped out, which is when we knew we were in big trouble. We finished the stage and tried to fix the car but there was no chance to continue. I am really disappointed but it's part of the game, and part of rallying, especially in rough conditions like we've faced this weekend. All we can do is fight back on Sunday with the target of maximum points in the Power Stage."
M-Sport Ford WRT
Teemu Suninen (4th)
"It's been another really rough and difficult day but I think we managed everything quite well. I tried to stay on quite a safe pace with the driving and that was the way to stay out of trouble. Of course, I would have liked to have had a bit more pace, but we were opening the road and still have a lot to learn."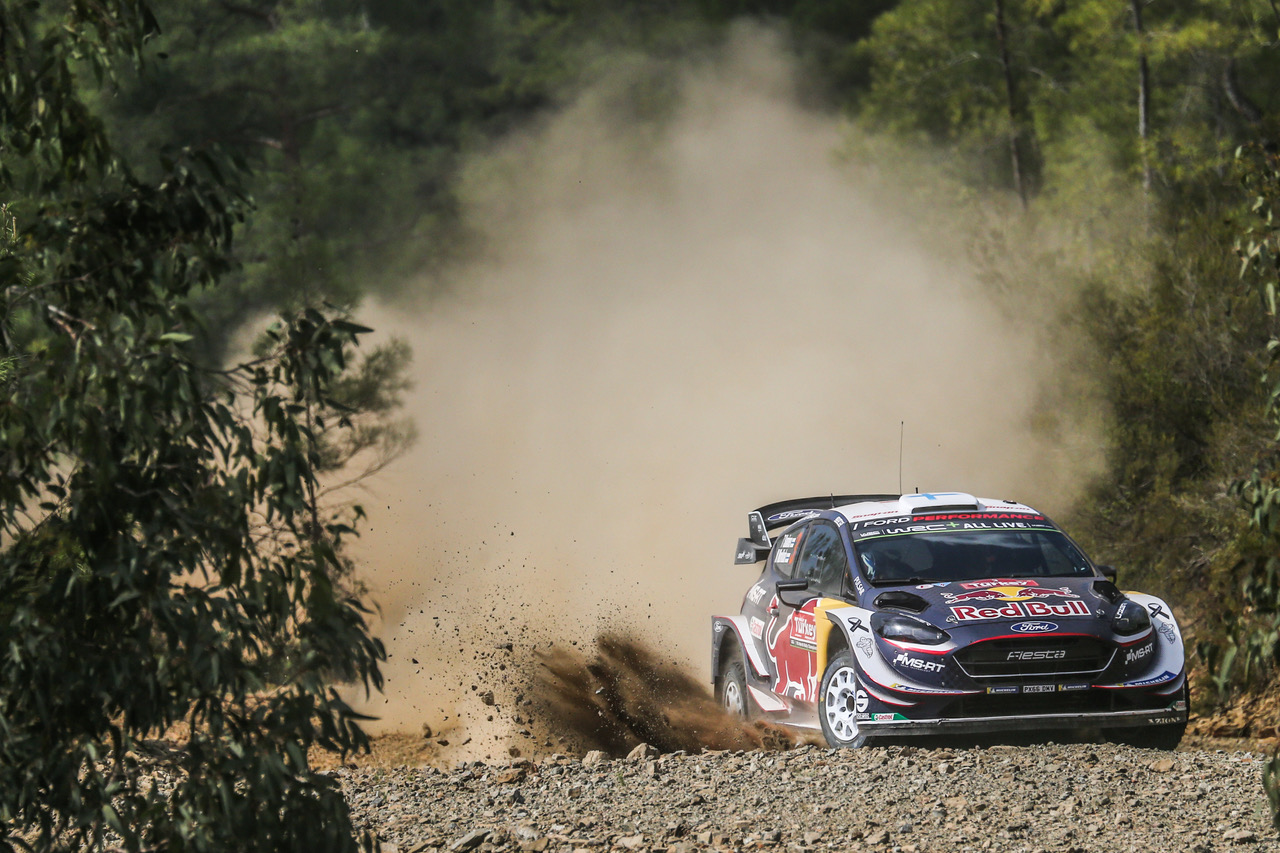 Elfyn Evans (7th)
"It's been a pretty good day for us. We were taking it quite carefully and not taking any unnecessary risks, but the times were pretty encouraging and we've managed to climb back into a reasonably good position."
Sébastien Ogier (12th)
"Today has been a really tough day for us and I probably made one of the silliest mistakes of my career. It happened at the exit of a tight right-hand corner with another very tight left-hander straight after – so I was going very slowly.
"But I wasn't listening to Julien very well and braked too late. We slid wide and came to a halt at a tree. The car had no damage and I could get it to move again. I reversed, but when I wanted to move forwards the ground was so soft that the car just sunk and got stuck.
"We fought very hard this morning to get back on the road. It was a hard time but we made it back to service and were still in the fight for some really good points. If this didn't happen we would probably be in the lead, but we're not.
"It seems like things don't really want to go our way at the moment, but that's motorsport. There are some bad days, but I'm sure some good ones will follow again soon."
Citroen Abu Dhabi Racing WRT
Khalid Al Qassimi (14th)
"After a tough first loop, we adjusted the set-up with the team and I was a lot more comfortable in the afternoon. I was able to up my pace, despite a few issues with the intercom."
Sunday
The final day then. What dramas would it hold? Just four stages and a total of 34km in length. The start list looked like this – Mikkelsen, Suninen, Paddon, Latvala, Tänak, Evans, Ogier, Al Qassimi, Neuville, Ostberg, H. Solberg, Kopecky.
The first stage of the day, SS14, would double up later as the power stage, which meant Seb and Thierry would be looking to get through well, and making sure that their stage notes were on point, ready for later. Thierry would go fastest from Mads, with Seb third quickest. Overall, Ott increased his lead to 15 seconds over Jari-Matti with Hayden looking good to take his first podium of the year.
Seb won SS15 and moved a little closer to Elfyn. This would become significant later. Mads was just four tenths slower, whilst the rally leader was third in the stage, taking his lead over Latvala to 17 seconds. We had four WRC2 cars in the top ten as well, with Solberg sixth ahead of Elfyn and Kopecky, Tempestini and Ingram eighth, ninth and tenth respectively.
Into SS16 then, the penultimate stage and once more the top three fastest were Seb, followed by Mads and Ott. Elfyn clocked into the stage early, meaning that he'd picked up some time penalties. Seb was the driver to benefit from this having now moved into tenth position. The Welshman confirmed his team had asked him to do it.
The final stage then. Who would take the stage victory and the points? Thierry blasted through the stage, setting a benchmark 4 mins 59.58 seconds. What could Seb and for that matter Ott do? Well, the Frenchman went through 1.6 second slower, giving him second fastest at that point. Finally, Ott completed the rally, and had taken his third victory in a row, plus was third fastest in the stage, 3.8 seconds behind Thierry.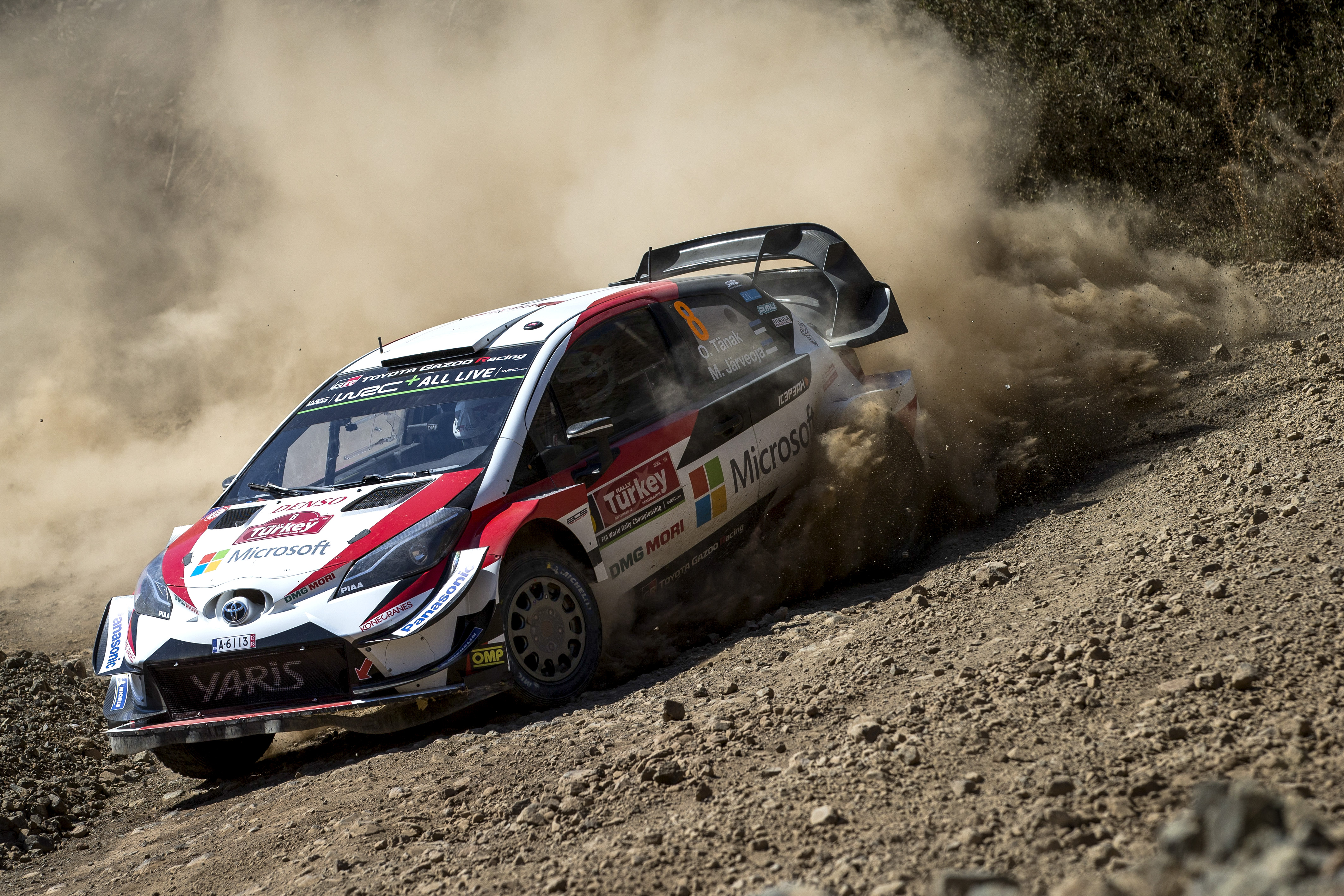 What a result for the young Estonian! He'd scored 28 points, with his win and third place in the power stage, and with that moved ahead of Seb in the championship! Just amazing! What a crazy rally. Proper endurance stuff, just getting around and knowing where to push and when to be sensible.
FINAL CLASSIFICATION, RALLY TURKEY 
1 Ott Tänak/Martin Järveoja (Toyota Yaris WRC) 3h59m24.5s
2 Jari-Matti Latvala/Miikka Anttila (Toyota Yaris WRC) +22.3s
3 Hayden Paddon/Seb Marshall (Hyundai i20 Coupe WRC) +1m46.3s
4 Teemu Suninen/Mikko Markkula (Ford Fiesta WRC) +4m10.9s
5 Andreas Mikkelsen/Anders Jaeger (Hyundai i20 Coupe WRC) +7m11.7s
6 Henning Solberg/Ilka Minor (Skoda Fabia R5) +13m40.6s
7 Jan Kopecky/Pavel Dresler (Skoda Fabia R5) +18m25.2s
8 Simone Tempestini/Sergiu Itu (Citroen C3 R5) +19m37.1s
9 Chris Ingram/Ross Whittock (Skoda Fabia R5) +20m21.3s
10 Sebastien Ogier/Julien Ingrassia (Ford Fiesta WRC) +20m51.2s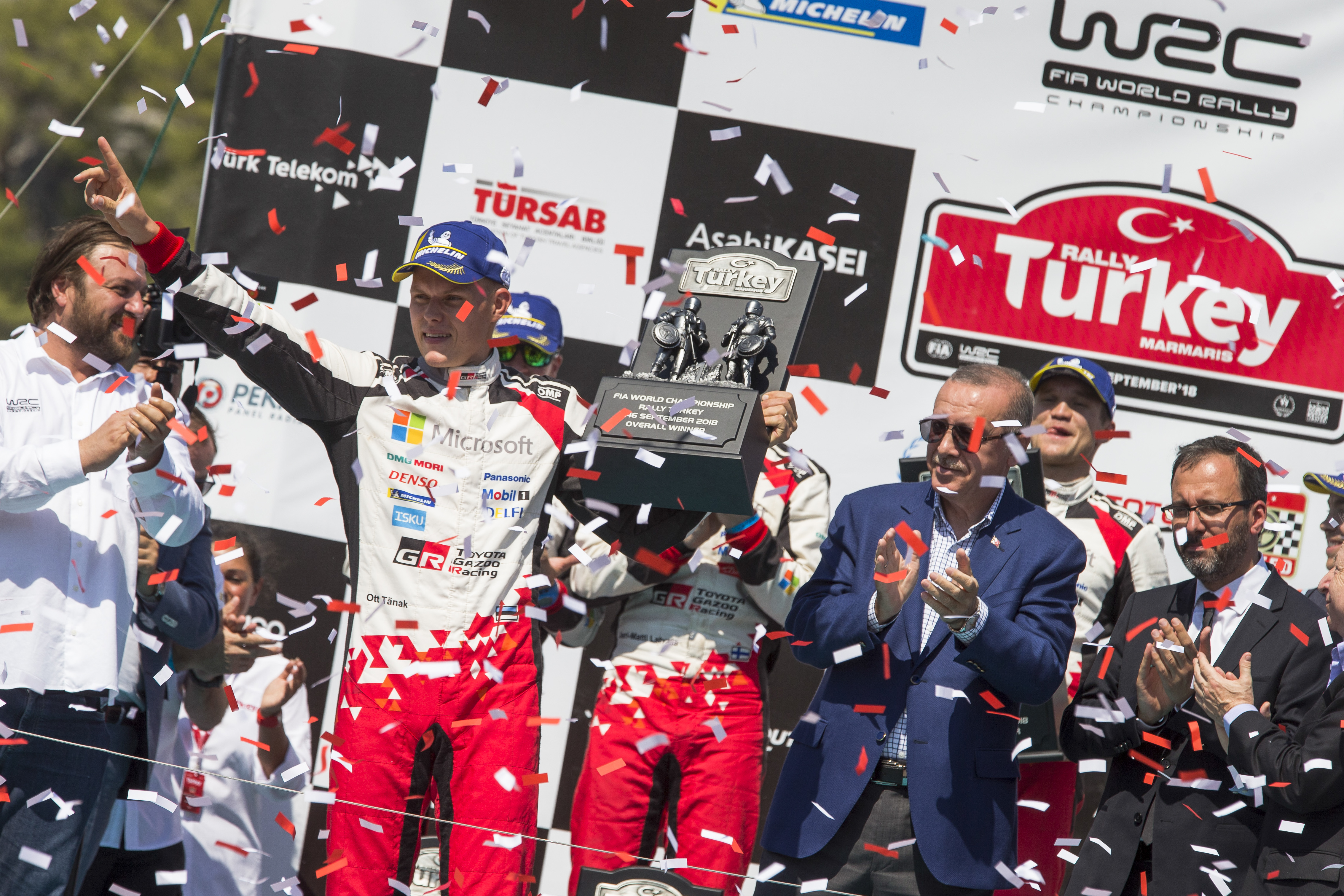 Here's the thought's then of the drivers!
Ott Tanak
"This rally was so difficult. From the beginning, we knew that it will not be the fastest driver that will win this rally but that it would be the smartest. We were the most consistent and we managed to do the whole rally without any issues or having to stop on any of the stages. Obviously, it has been a great team effort and they have been able to build a very strong car. The championship is now wide open so let's keep pushing."
Jari-Matti Latvala
"This is a great result for the team. The main thing today was to get the one-two finish and we did it. Everything went according to plan. I tried to be clever and not do anything stupid and I had a consistent run. We are trying hard to win the manufacturers' championship so these points were very valuable, and the remainder of the season now looks very exciting. For me, it is very nice to be on the podium again. Things have started to look better since Finland. Now let's keep it going this way."
Hayden Paddon
"I am really happy to take our first podium of the season. It has been a very tough rally. We have adopted a particular strategy this weekend that has required us to hold back and be patient. Thankfully that approach has paid off and we have been rewarded with third place – it's been a while since we've been on the podium! It hasn't been the rally that the team wanted or deserved. I am fully behind them coming back in the final rounds of the season and I am personally looking forward to Wales Rally GB."
M-Sport Ford WRT
Teemu Suninen (4th)
"This was definitely the roughest rally I have ever done so to finish fourth is a great result for me. It's the second-best result of my career, and I can be happy with that. It was also nice to reward the team with some good points because they all really deserved that this weekend.
"On Friday we set a really good time on the long stage [SS5] and it was positive to see that we were only two seconds away from the fastest time. Saturday was really difficult with all the loose gravel and honestly I couldn't do much more with all the wheelspin – but I hope that will be good practice for the future!"
Sébastien Ogier (10th)
"It's been a frustrating weekend, but that's part of the game and we have to accept it. I gave it everything I had this weekend and did everything I possibly could without reward. At least we secured some points at the end of the rally and hopefully we will get some rewards soon! It's definitely a three-way fight for the title now, and it's still all to play for."
Elfyn Evans (12th)
"It was a frustrating Friday with a lot of different issues which eventually resulted in retirement when striking a rock on the line which couldn't be avoided. We had a pretty solid day on Saturday and were able to show good pace whilst keeping out of trouble. But today we had to drop time and assist Sébastien with his championship defence."
Hyundai Motorsport
Andreas Mikkelsen (5th)
"It was very important for us to finish the rally with a safe, clever drive today. We took it easy on all four remaining stages, including the Power Stage, because we needed to secure the points for the manufacturers' championship. Finishing fifth is not what we wanted, nor what we were capable of. Despite our speed, which we showed by leading the rally on three separate occasions, unfortunately the issues we encountered yesterday prevented us from capitalising on our potential. We have lost a lot to Toyota this weekend, so we now look forward to a strong return at the next event in Wales GB."
Thierry Neuville (16th)
"I was absolutely flat-out in the Power Stage, and could not have done any more. We really needed those five points. We are fighting for the championship against some very hard guys to beat, so we had to give it everything. In all honesty, I feel we should have taken the win this weekend. We were clearly the fastest, especially on Friday when we were first on the road and leading at the end of the day. Were it not for a small issue on our car, we could have achieved so much more here. I am disappointed, but as a team we win and lose together. We will dust ourselves down and come back strong in the final three rallies."
Citroen Abu Dhabi Racing
Mads Østberg (23rd)
"Today we had the same kind of pace we had on Friday, with several very good times. It's a good way to finish what has been a very tough weekend for the team. I think we certainly deserved a better outcome."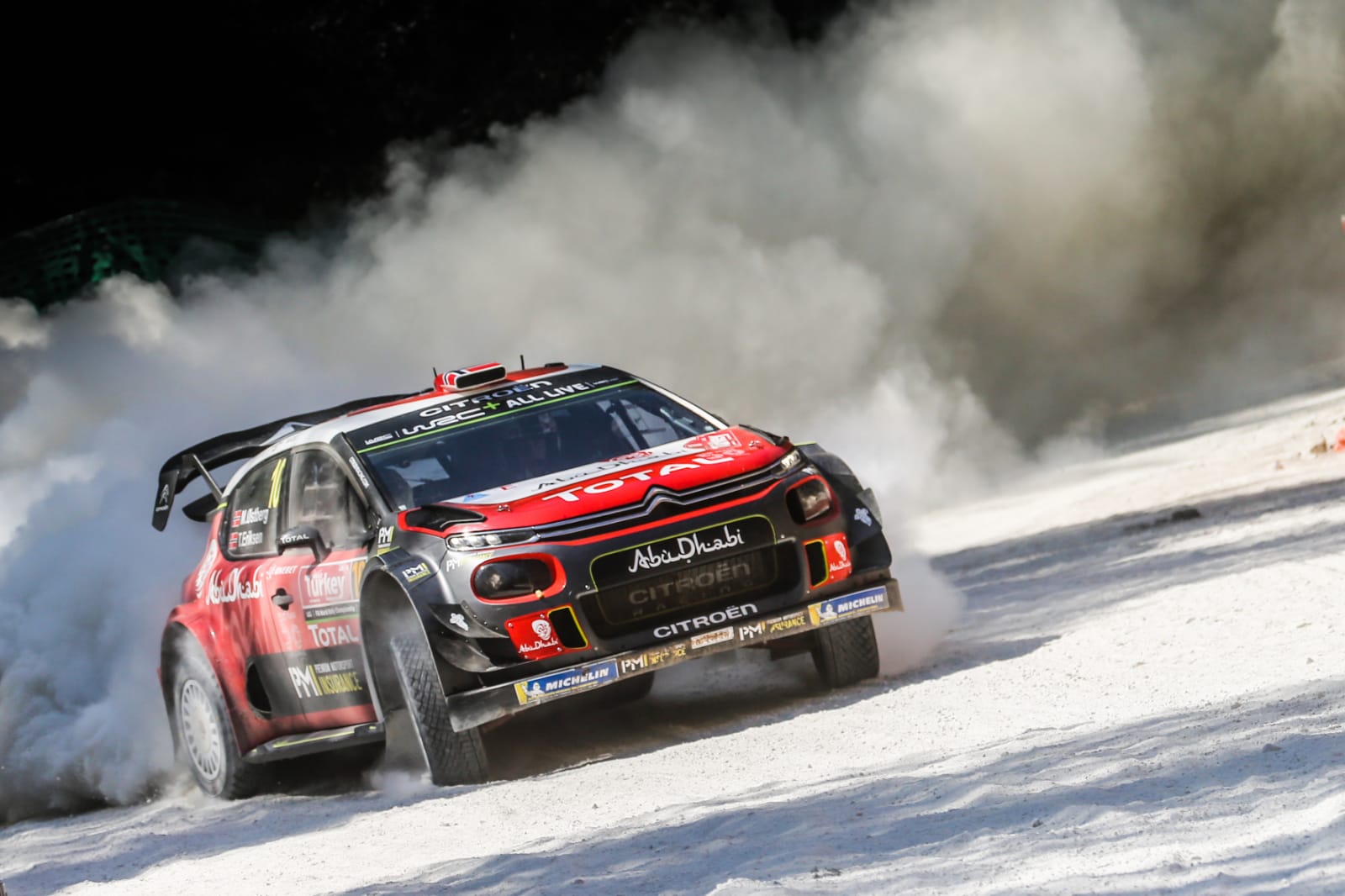 Khalid Al Qassimi (15th)
"Today, I adopted a thoughtful approach to my driving, carefully avoiding the stones, to make it to the end. This has been one of the hardest rallies I have ever done. The team finished on a positive note and that's the main thing."
Well, what an incredible rally! We are in for an amazing final few rallies this year. First up is an autumnal Wales in two weeks, followed by the only tarmac/gravel rally that is Rally Spain at the last weekend of October, and finally down-under to the Gold Coast in Australia for the season finale in the middle of November! Who will win? I've got no idea, but it's going to be fun to watch!
2018 FIA World Rally Championship for Drivers' Standings 
After round 10
| | | |
| --- | --- | --- |
| 1 | T. Neuville | 177 |
| 2 | O. Tanak | 164 |
| 3 | S. Ogier | 154 |
| 4 | E. Lappi | 88 |
| 5 | A. Mikkelsen | 75 |
| 6 | J.M Latvala | 75 |
| 7 | D. Sordo | 60 |
| 8 | T. Suninen | 54 |
| 9 | E. Evans | 53 |
| 10 | H. Paddon | 49 |
| 11 | M. Østberg | 48 |
| 12 | C. Breen | 47 |
2018 FIA World Rally Championship for Manufacturers' Standings
After round 9
| | | |
| --- | --- | --- |
| 1 | Toyota Gazoo Racing World Rally Team | 284 |
| 2 | Hyundai Shell Mobis World Rally Team | 279 |
| 3 | M-Sport Ford World Rally Team | 244 |
| 4 | Citroën Total Abu Dhabi World Rally Team | 169 |