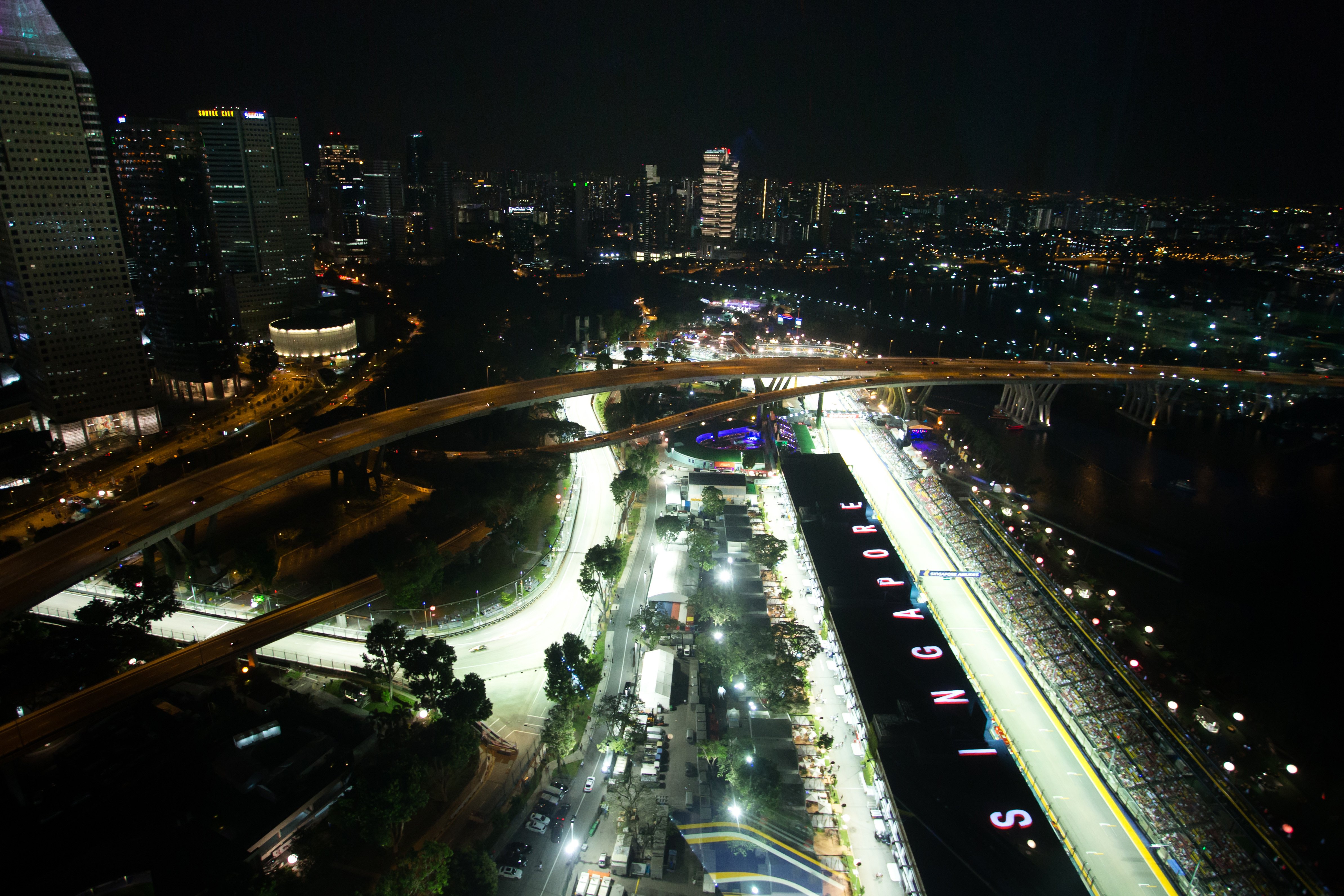 Located just south of Malaysia is the city-state of Singapore, the home of the only F1 street circuit in Asia, and the first ever night race in F1 history.
Singapore may have hosted a race for motorbikes and sportscars as far back as 1966, but the F1 Grand Prix as we know it was introduced in 2008. The five kilometre and 23 corner track, designed by Hermann Tilke, winds its way through Marina Bay, high end hotels, and brilliant road infrastructure, completed by fantastic night lights that reveal the true beauty of the city.
Speaking of 2008, the first ever Singapore Grand Prix in F1 was won by Fernando Alonso. The race, however, was marred by controversy and drama. Nelson Piquet, Alonso's Renault team-mate, was told to deliberately crash into the wall so as to bring out a safety car, allowing Alonso to get to the front. As a result, Pat Symonds was suspended from the sport, team boss Flavio Briatore was banned for life, and all this came about after Piquet was sacked by Renault and informed the FIA of the incident.
Singapore's explosive debut also had massive implications for the championship. Felipe Massa left his pit box with the fuel hose still attached to his car, and the time lost as a result of the team running to the end of the pit lane to get him back on his way saw him finish the race in 13th with no points. He would go on to lose the championship to Lewis Hamilton by just two points.
Singapore has, in fact, been notorious for denting championship hopes. In 2014, Nico Rosberg came into the race 22 points ahead of Hamilton in the championship, but a major engine issue before the race had even started saw him start from the pitlane and eventually retire the car several laps in. Hamilton won the race, and took a three point lead which Rosberg would ultimately be unable to overturn.
And who can forget last year? Sebastian Vettel, who was poised to take the championship lead by starting on pole, moved across on Max Verstappen and Kimi Raikkonen at the start, leading to a crash that eliminated all three of them from the race. Hamilton went on to win, and Vettel found himself 28 points behind Hamilton in the championship.
This year, however, the roles are reversed, and Hamilton finds himself 30 points in front of Vettel in the championship. Vettel may just need some help from the unforgiving Singapore circuit to get himself back into contention.
As Fernando Alonso discovered in that shocking night in 2008, you certainly can take advantage of the safety car in Singapore, which has been deployed a remarkable 17 times in 10 races under the lights.
Vettel, despite his misfortunes last year, is the most successful driver at Marina Bay, winning in 2011, 2012, 2013 and 2015. His title rival Hamilton has won 3 times, in 2009, 2014 and 2017.
As well as crashes, safety cars, and title game changers, Singapore is also famous for its almost unbearable heat. The temperature, even at night, is typically around 30 degrees, and Daniel Ricciardo said after his first race at Singapore in 2011 with HRT that the physical demands of the race gave him a feeling he "never wanted to experience in a race car again".
With so many variables in Singapore, this could be a chance to start a road to redemption, not only for Vettel's title challenge but also for several others chasing seats in F1 for 2019, and it's these variables that have us and the drivers excited about racing under the lights in Singapore.