After scoring yet another pole position on Saturday in Misano for the 2018 Moto2 San Marino Rimini Riviera Grand Prix, Francesco Bagnaia was in a fantastic position to go for his sixth race win of the season.
It was, however, not a completely straightforward beginning to the race for Bagnaia, as he had some small contact with Marcel Schrotter off the line. This came after some minor drama in the morning warm up, when Bagnaia was off the pace due to his leathers (new for this weekend for Sky VR46's Sky Ocean Rescue one-off livery) being too tight. However, from turn one, Bagnaia was almost untouchable. He stretched the gap tenth-by-tenth for all of the twenty-five laps, also leading every single tour of the Misano World Circuit Marco Simoncelli.
Bar one mistake, Bagnaia's ride was flawless, giving his competitors no opportunity to challenge him. Whilst the race was not as exciting as, say, Austria, Bagnaia admitted that this win was one of his favourites, primarily because he has never won at home before. Importantly, though, Bagnaia was once again able to extend his gap at the top of the World Championship to eight points over Miguel Oliveira, and with just six rounds to go, every point is going to count.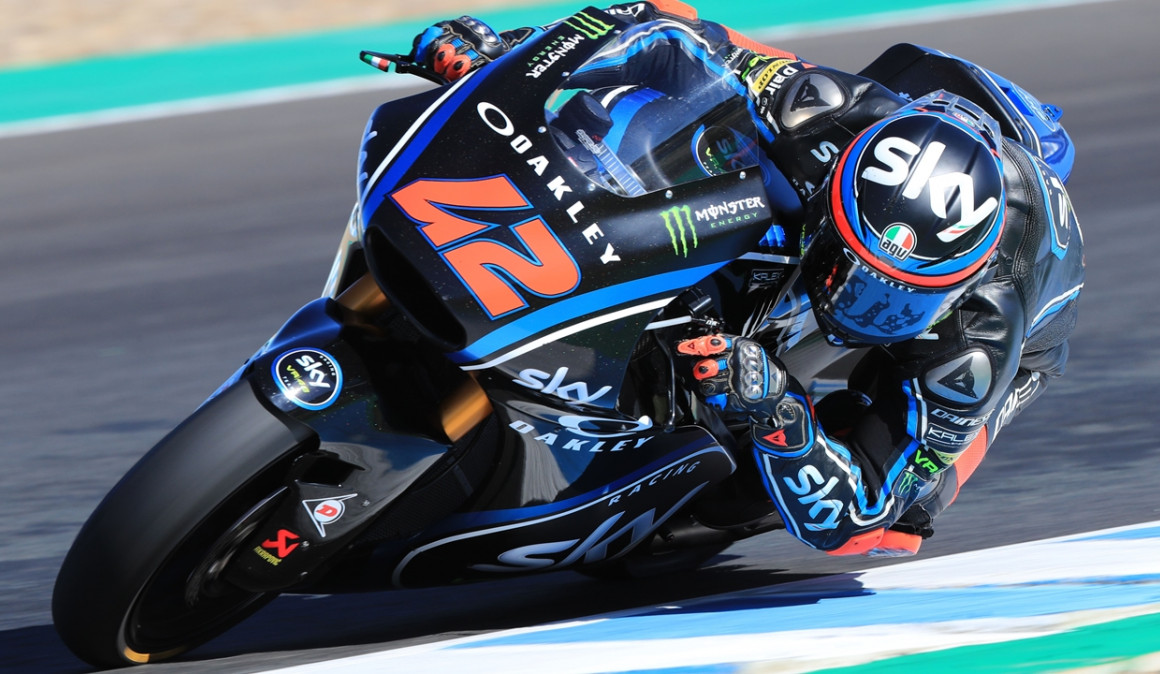 It was a good damage limitation from Oliveira, though, who once more regressed to his poor qualifying performances, managing only ninth on the grid, whilst teammate Brad Binder qualified in the middle of the second row. The Portuguese recovered well, though, climbing to fourth place by the end of lap two and third one lap later. Once Mattia Pasini's pace started to drop, the #44 together with Marcel Schrotter closed up to the back of the home rider and quickly disposed of him.
Oliveira was not left alone by Schrotter, though, the German fighting all the way to the final lap. Marcel's move in turn fourteen didn't work, both of them went wide, but Oliveira was able to tighten the line sooner and seal his second place.
It was a valiant effort, though, from Schrotter, and whilst he missed out on second place, he did finally pick up his first ever Grand Prix podium after 105 attempts.
Mattia Pasini finally crossed the line in fourth place, two seconds off the podium. It was the Italian's second consecutive fourth-place finish, which is important for the #54 as he looks to rediscover some consistency this season.
Fifth place went to Joan Mir, who looked capable of more in the early phases of the race. For a fifth place to be disappointing in a rookie Moto2 season, you have to be quite a talent. Furthermore, thanks to Alex Marquez's DNF at the hands of Augusto Fernandez (for which the latter apologised and the former accepted), Mir is now ahead of his more experienced teammate in the championship by one point, and only five points of Brad Binder who currently sits third in the standings.
Lorenzo Baldassarri recovered from a poor qualifying to finish in sixth place, although he had quite a quiet race in the end, coming home 2.5 seconds ahead of Fabio Quartararo in seventh. Brad Binder finished eighth ahead of Jorge Navarro who suffered a position drop penalty for track limits and Xavi Vierge who had not completed more than four laps consecutively before the race due to his injury from Austria but impressively managed to take the final top ten spot.
Eleventh place went to Simone Corsi, ahead of Remy Gardner, Dominique Aegerter, Andrea Locatelli and Jesko Raffin who took the final point on his Grand Prix return (replacing Alejandro Medina, who was replacing Isaac Vinales in the Stop And Go team).
Joe Roberts took sixteenth place for NTS after it was announced earlier in the weekend that he would be joining the Swiss Innovative Investors KTM squad to replace Sam Lowes next year. Seven tenths further back was the second NTS chassis of Steven Odendaal, who was one tenth ahead of Alex Marquez (he got back on after the crash with Fernandez), who in turn was 0.9 ahead of Iker Lecuona. Bo Bendsneyder completed the top twenty.
Twenty-first across the line was Niki Tuuli, from Khairul Idham Pawi, Jules Danilo, Federico Fuligni and Xavi Cardelus.
Danny Kent was the first retirement on lap two, before Luca Marini stopped for a bike problem eight laps later. Sam Lowes crashed trying to pass Remy Gardner 14 laps from the flag, and Sheridan Morais went down two laps later. Two laps still further Tetsuta Nagashima bowed out, before the drama really started.
With eight laps to go, Stefano Manzi tried to pass Romano Fenati who ran wide on the entry to turn fourteen. The pair came together, and Fenati gestured his anger towards Manzi. Manzi then passed Fenati again in turn four on the next lap in a strange exchange, where Fenati appeared to let Manzi through, but the Forward Racing rider ran clean off the track and took the Marinelli Snipers Team rider with him. Fenati then got the red mist, and on the straight between turns six and eight, grabbed Manzi's front brake with twenty bar of pressure (Misano's average pressure is nine bar). Manzi then crashed at turn eight, Fenati turning to him to once more express his displeasure. That was Manzi out of his home Grand Prix, and Fenati soon followed as the FIM Race Stewards Panel decided to disqualify him.
Augusto Fernandez was the final retirement, four laps from the flag, as he pulled into pit lane following his crash with Marquez much earlier on.