Takuma Sato took only his third IndyCar career win at Portland in a race that was turned on its head time and time again by the four cautions. Ryan Hunter-Reay came home second, but it was not enough to salvage his title challenge while Sebastien Bourdais returned to the Portland podium, ten years after winning the last race at the track.
Sato was never the one anyone had pegged on for the win. First it was Alexander Rossi and then, when his challenge faded, it was Hunter-Reay and maybe even Bourdais but never Sato, yet here we are! Perhaps the pivotal moment of the race for Sato came shortly before the second caution – the #30 Rahal Letterman Lanigan driver was the last to pit for the first stops, meaning when the end of the race came around, he had four laps more fuel that Hunter-Reay. This proved crucial, but it was the last two cautions that pushed him to the front of the field, at least once Max Chilton was forced to pit after coming up short. That means Sato takes his first ever permanent road course win – with his two other wins being Long Beach (street course) and the Indy 500.
In the first half of the race, Rossi looked nailed on for not only the win but a huge points swing in the championship with title rival Scott Dixon well down the order. At one point, Rossi had a seven second lead over teammate Hunter-Reay, but his race was brought crashing down by the second and third cautions. Will Power caused the second caution of the day by nosing into the barriers at Turn 12, eliminating Rossi's lead, while Zach Veach caused the third by spinning – catching Rossi out in the pits and leaving him down in 17th. From there, Rossi fought back as hard as he could but eighth proved to be the best he could do, unable to pass Charlie Kimball in the latter stages of the race. Rossi's deficit in the championship has increased to 29 points, but it didn't always look that way…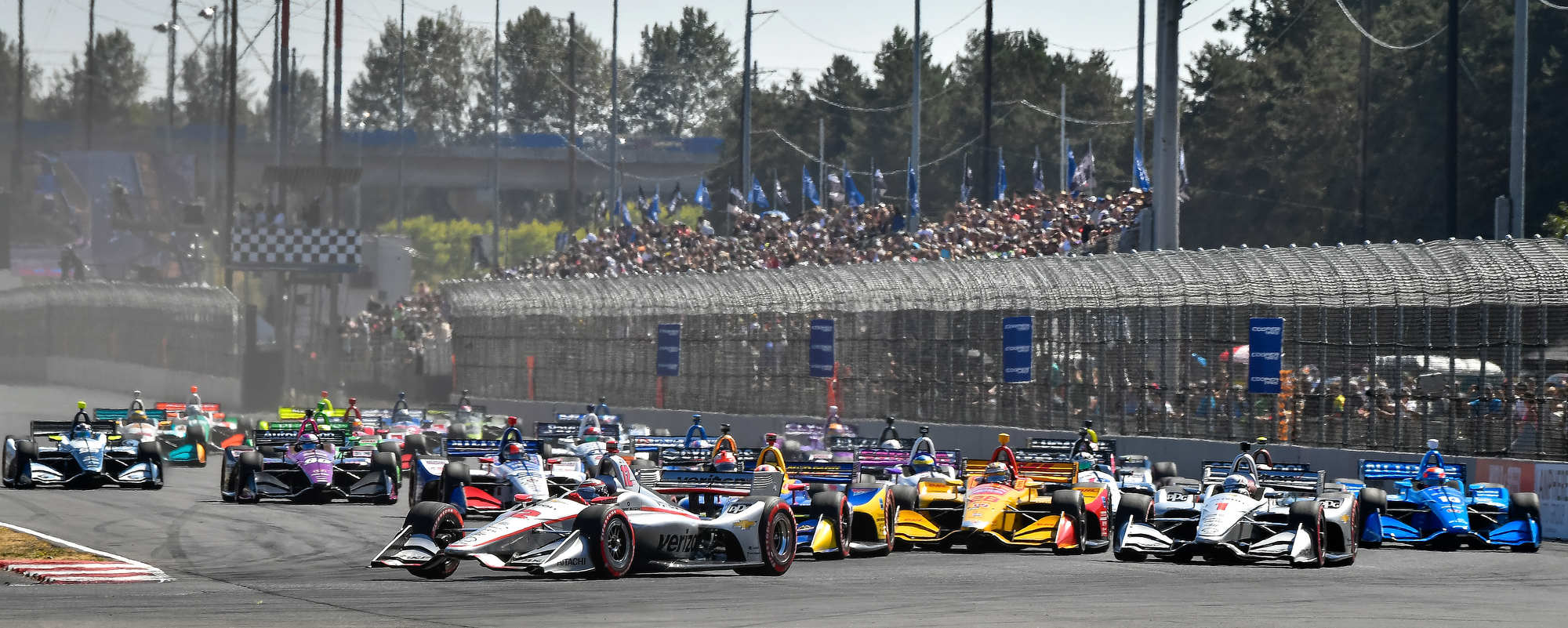 Dixon said after the race that he wanted to cry after the Lap 1 crash that very nearly ended his race, but, in true Dixon style, he drove the recovery drive of all recovery drives to finish the race in fifth, extending his championship advantage. It all started when James Hinchcliffe got squeezed at Turn 2 by Veach, causing the #5 to spin. Hinchcliffe in turn collected Ed Jones, Graham Rahal, Dixon and Marco Andretti, the latter of whom ended up flying backwards over both Jones and Hinchcliffe, eventually coming to a rest upside down. It's a wonder they all walked away from that with Jones having scuff marks on his helmet from Andretti's car, Hinchcliffe being very nearly hit and Andretti ending with his helmet touching the ground.
Amongst all that, it was easy to forget about Dixon but the #9 Chip Ganassi driver managed to keep his engine running and, once his path was cleared, was able to re-join the race with only a scuffed front wing to show for his ordeal. That was, however, not the last of Dixon's dramas. After the first stops, Dixon received a drive-thru penalty for speeding in the pit lane and, later on in the race, he was very nearly taken out at Turn 1 by first Josef Newgarden and then Spencer Pigot. Despite all this, Dixon came home in fifth in what was a true testament of why he's regarded as the best driver in IndyCar. Something that Rossi said a few rounds back really rings true here, "Dixon never has a bad race".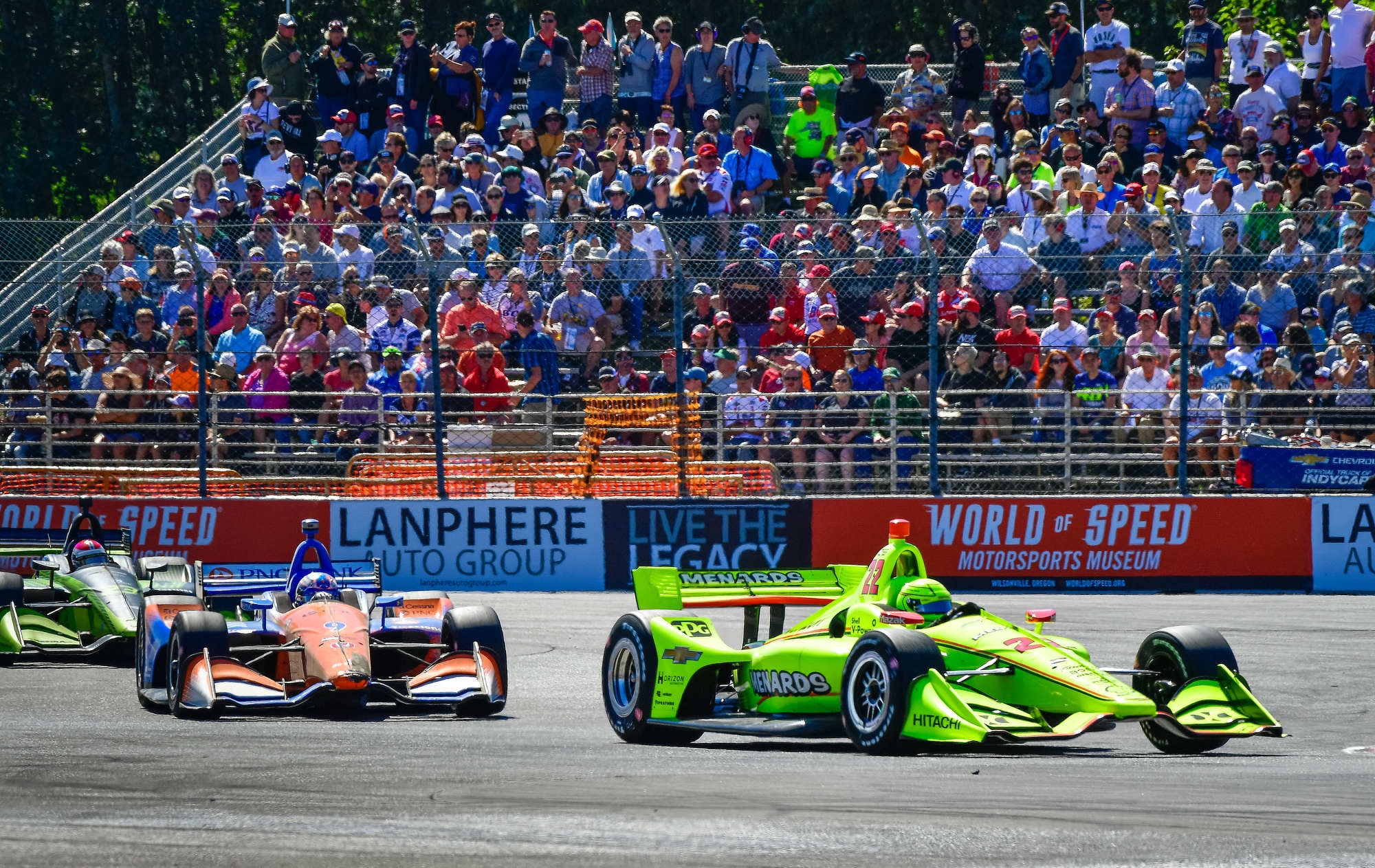 Portland wasn't really a good race for any of the title contenders other than Dixon. We've already covered Rossi's troubles and Newgarden had pretty much the same fate, finishing down in tenth. Hunter-Reay has been ruled out of title contention as he heads into Sonoma 136 points back with only a maximum of 105 points on offer while Power's day couldn't have been much worse if he'd tried. It was all going so well until the first restart when he lost all speed and with it a heap of places. This was later attributed to a gearbox issue that plagued the rest of his race and made pit stops a very difficult affair. Eventually, Power hit the barriers at Turn 12, bringing out the second caution, and effectively ending his race – he did re-join but he was seven laps adrift of the lead.
One to have a good race was defending Portland winner Bourdais who scored his first podium of the season since his win first time out at St Petersburg. Towards the end of the race, it looked like the Frenchman could challenge for the win, but it was not to be, and he dropped back from Hunter-Reay, finishing in a solid third place. Bourdais' newest teammate, Santino Ferrucci, also had a good race, even if the results don't show it. The American was running fairly high up in the order when his Dale Coyne conked out with a 'fuel system issue'. Of course, Ferrucci comes with a fair amount of baggage after his time in F2 but IndyCar has given him a second chance, and he's already proving his worth.
The other Dale Coyne car of Pietro Fittipaldi also had a decent race with the rookie scoring his first ever IndyCar Top 10, finishing ninth, just ahead of defending champion Newgarden.
The last mention of the day goes to Carlos Munoz who took part in his first non-oval IndyCar race for a long time, replacing the injured Robert Wickens. Munoz finished the race in a respectable twelfth place and is set to drive at Sonoma as well as Wickens continues his recovery. The latest Wickens news is that he's been transferred to the IU hospital in Indianapolis and is due for more surgery of his 'lower extremities'.
Next up for IndyCar is the very last round of the season at Sonoma which offers double points, meaning Dixon's lead is far from safe…
Full Race Results:
Takuma Sato
Ryan Hunter-Reay
Sebastien Bourdais
Spencer Pigot
Scott Dixon
Simon Pagenaud
Charlie Kimball
Alexander Rossi
Pietro Fittipaldi (R)
Josef Newgarden
Tony Kanaan
Carlos Munoz
Gabby Chaves
Matheus Leist (R)
Jordan King (R)
Jack Harvey
Alfonso Celis Jr (R)
Max Chilton
Zach Veach (R)
Santino Ferrucci (R)
Will Power
James Hinchcliffe
DNF – Graham Rahal, Ed Jones, Marco Andretti