After winning race one with the fastest lap, Leon Haslam placed himself in prime position to take a third career Cadwell Park double for race two, which he started from pole.
He didn't make the holeshot, though, that achievement went to Bradley Ray, as Haslam's start was hampered by the 'Pocket Rocket' seemingly losing his balance whilst sat on the grid, so he slightly missed the start. Still, he managed to get in to turn one in second place, just ahead of Jake Dixon, who started from sixth.
Immediately, the front three started to pull away, led by Ray, and the Suzuki rider wasn't headed until lap twelve, when Haslam slid through on the inside at Park, and was immediately followed by Dixon who made a superb move to the inside in the middle of Chris Curve.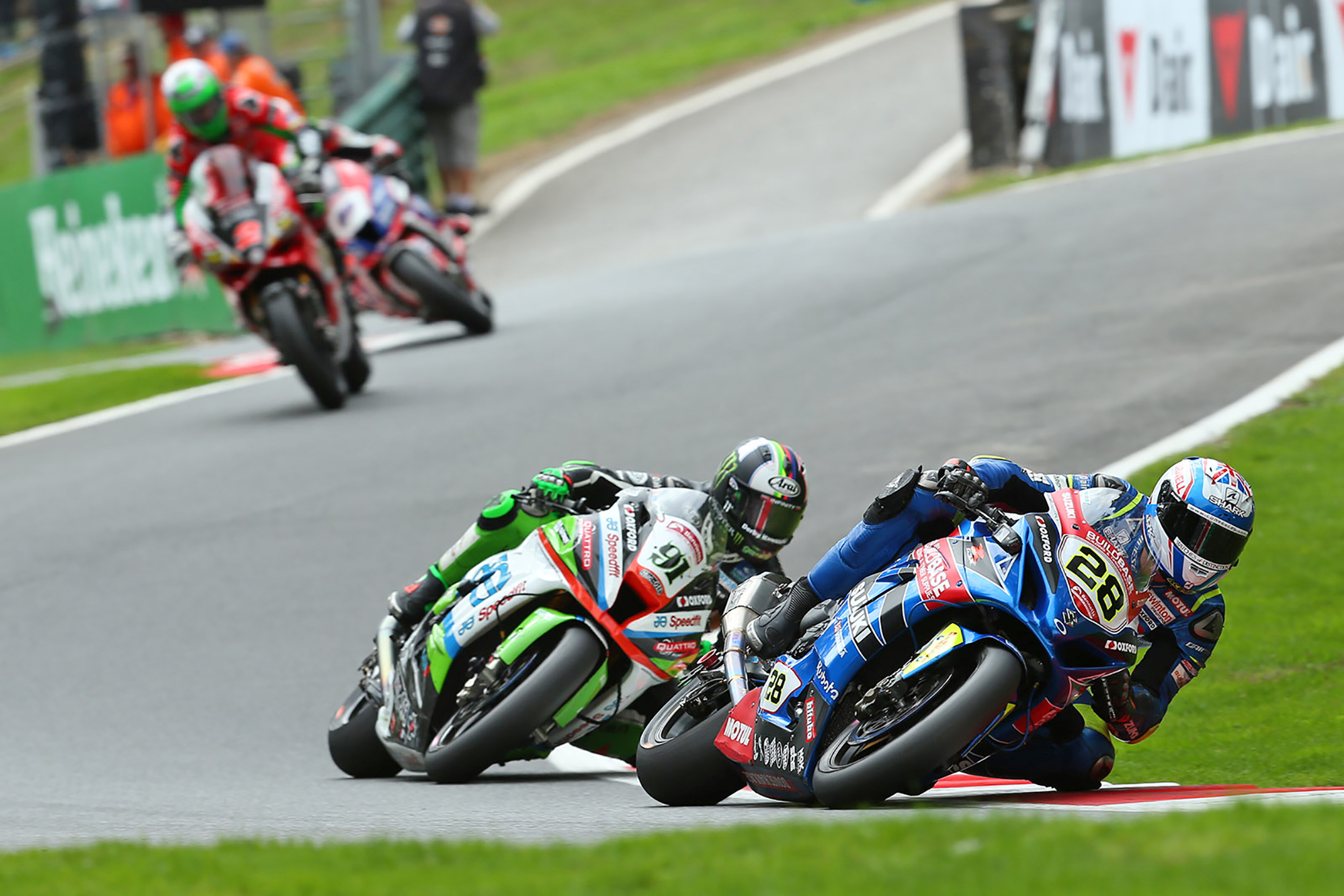 Pretty much from this moment on, Ray started dropping back, and the final seven laps were between Haslam and Dixon for the victory. For the most part, Haslam shadowed Dixon after the #27 passed him at Park on lap 13, but chose the same corner to reclaim the lead from his training partner on the penultimate lap.
Dixon tried to come back on the next lap, once again at Park corner, but Haslam defended aggressively, manoeuvring his Kawasaki to the inside of the track to block Dixon's attempt. Dixon tried anyway, but the outstretched leg of Haslam meant Jake had no choice but to release the brake and run off into the gravel, allowing Haslam an easy enough final lap to the flag, as well as letting Ray back into second place.
Much has been made of this 'incident' since the conclusion of the race, and it's fair to say that neither Jake Dixon nor his team are happy with Haslam's move. However, Haslam's style is to throw his leg in almost every corner, especially the right handers, and ultimately Leon did nothing wrong. He probably thought that Jake would have gone back to the outside, considering Haslam's line, or that the RAF Regular and Reserves Kawasaki rider would have backed out in some way. As it is, I can see the point of Dixon, ultimately this moment cost him the chance to fight until the end for the win, and cost him two podium points, but in reality Haslam did nothing wrong.
The win for Haslam marked his third double win in Cadwell Park, two years after his most recent maximum score in the Lincolnshire track. It also strengthened his advantage at the top of the championship, and critically in the podium points standings, where his advantage is now more than one race win. A controversial ride, but a strong one from Haslam, and the points he gained could be crucial for the championship.
Another second place for Bradley Ray means that Cadwell was his best scoring round since he doubled up in Donington Park at the beginning of the season, walking away with forty championship points and six crucial podium credits. He has three races in Silverstone to keep hold of his top 6 spot, and it looks as though it will be a fairly straightforward target for the #28 to achieve.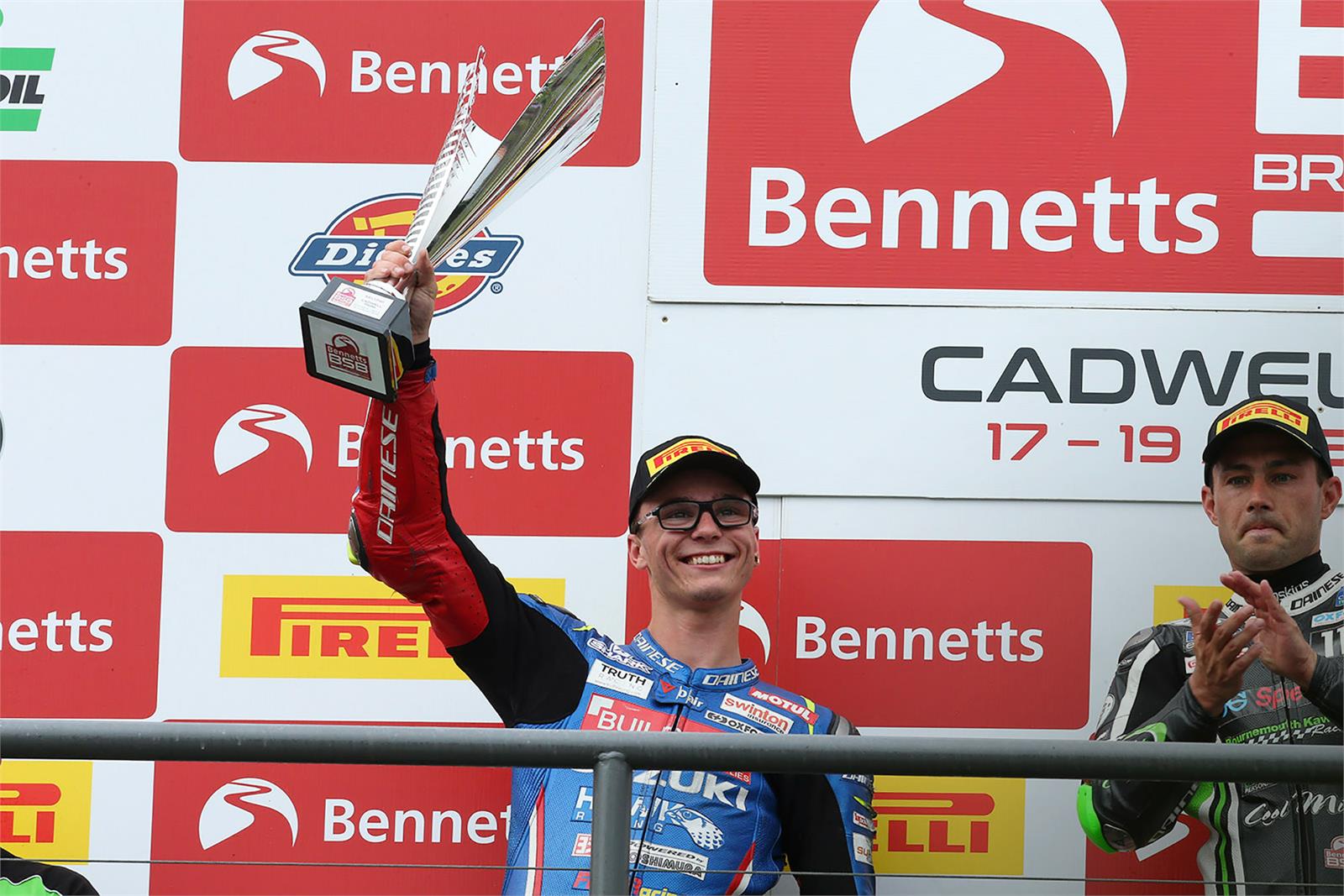 Of course, Dixon was disappointed to miss out on the victory, but nonetheless he left Cadwell Park with two podiums, and still in the championship hunt. He must look now to Silverstone as a round which he must take advantage of. That triple header could provide the opportunity for Jake to enter the Showdown in real contention.
Peter Hickman and Glenn Irwin were both valiant in fourth and fifth places respectively; Hickman suffering with the kidney infection he picked up back in Thruxton as well as contending with the after effects of a fortnight of little-to-no rest; whilst Irwin was struggling with a shoulder injury he picked up in Friday practice. Considering this, both did brilliant jobs to score solid points, and help their Showdown cases.
Christian Iddon repeated his race one result with sixth spot. In theory, Silverstone should suit the BMW better than the twisty Cadwell Park, and Iddon will be hoping to capitalise on that to fire himself into the Showdown.
Michael Laverty came home in seventh, ahead of Danny Buchan who made a solid recovery ride from a poor grid slot caused by his race one crash, and thus keeping his Showdown hopes alive.
Richard Cooper came home in ninth spot, whilst Luke Mossey rounded out the top ten to end a somewhat disappointing weekend after such a promising Thruxton meeting.
Eleventh went to Jason O'Halloran, who was ten seconds ahead of his very impressive temporary teammate, Tom Neave, who took twelfth place in just his fourth British Superbike race.
Meanwhile, Martin Jessopp took thirteenth, ahead of Sylvain Barrier and Shaun Winfield who rounded out the points, and was the final finisher in fifteenth.
James Ellison failed to start the race. He was pulled off the grid before the warm up lap, then sent back out, at which point his R1 started smoking. He lined up on the grid, but was pulled straight off again when the race started.
Tommy Bridewell was the first DNF, crashing out on lap six, one lap after he set the fastest lap of the race (later bested by Dixon). It was a shame for Bridewell. He made a bd start from the middle of the front row, but charged through from tenth for fourth by lap six. He was chasing down the leaders when he crashed, which he admitted was his fault. Still, the number 46 is positive ahead of the rest of the season, where he will hope to get better acquainted with the Panigale, a bike which he is already greatly enjoying.
One lap after Bridewell went down, Andrew Irwin dropped out of the race at Charlie's, and a couple of corners later, Gino Rea's OMG Racing Suzuki expired.
Tarran Mackenzie then dropped out on the McAMS Yamaha after nine laps, before Aaron Zanotti stopped. It got worse for McAMS on lap 12, when Josh Brookes' decent ride was brought to a halt by mechanical problems after climbing up into the top five. Finally, Fraser Rogers retred three laps from the flag.