The two British Superbike races in Thruxton were of course always going to be entirely about tyres, the rider that could manage their Pirelli rear slick the best would inevitably come out on top.
In race one, that rider was, somewhat surprisingly, Leon Haslam. It was a disappointing qualifying for the championship leader, making only the fourth row and going out of Q2, but he made a strong start, and made good progress in the early laps to give himself a good position to allow himself to save the tyre. Whilst Haslam had been fighting through, Luke Mossey had taken off at the front, but Haslam ensure that it was he who claimed the lead when Mossey came back to the pack. From there, he battled with Jake Dixon for the win in the final laps, and had enough tyre at the end to not allow Jake to get close enough to make a move on the final lap. It was Haslam's first ever win in Thruxton, and a well-deserved one after such a tough battle through the pack.
As such, Jake Dixon's second place was an important one, as he only lost two points (in podium credits) to Haslam in the championship, and stay within reach as the Showdown draws closer – just two rounds left before the final three championship-deciding rounds.
The two championship leaders were again fighting in race two, this time Dixon coming out on top as he took the final podium spot from Haslam on the final lap, another important result for Dixon as he took a point out of Haslam's podium credit advantage. Haslam's fourth place marked the first race since race one in Brands Indy that he had not made the podium.
Josh Brookes also had a mixed day in Thruxton, with a fourth in race one and a win in the second outing. His race one result was mainly down to a short gearing on the McAMS Yamaha, which was hitting the limiter on the run down to the final chicane, which made him vulnerable to attacks as well as making it difficult for the Aussie to make passes. The first race also had a hint of controversy for Brookes, as he put a seriously on-the-limit move on Jason O'Halloran for third place at the final chicane, but ran the pair of them wide, and allowed Peter Hickman onto the podium in third place. Race two went much better for Brookes, as he took the lead early on, and as the pack battled behind he duly cleared off, building a lead of over one second, which he then managed to the flag. That's three wins in four races for Brookes, and he will be hoping to add to that in Cadwell Park in two weeks' time.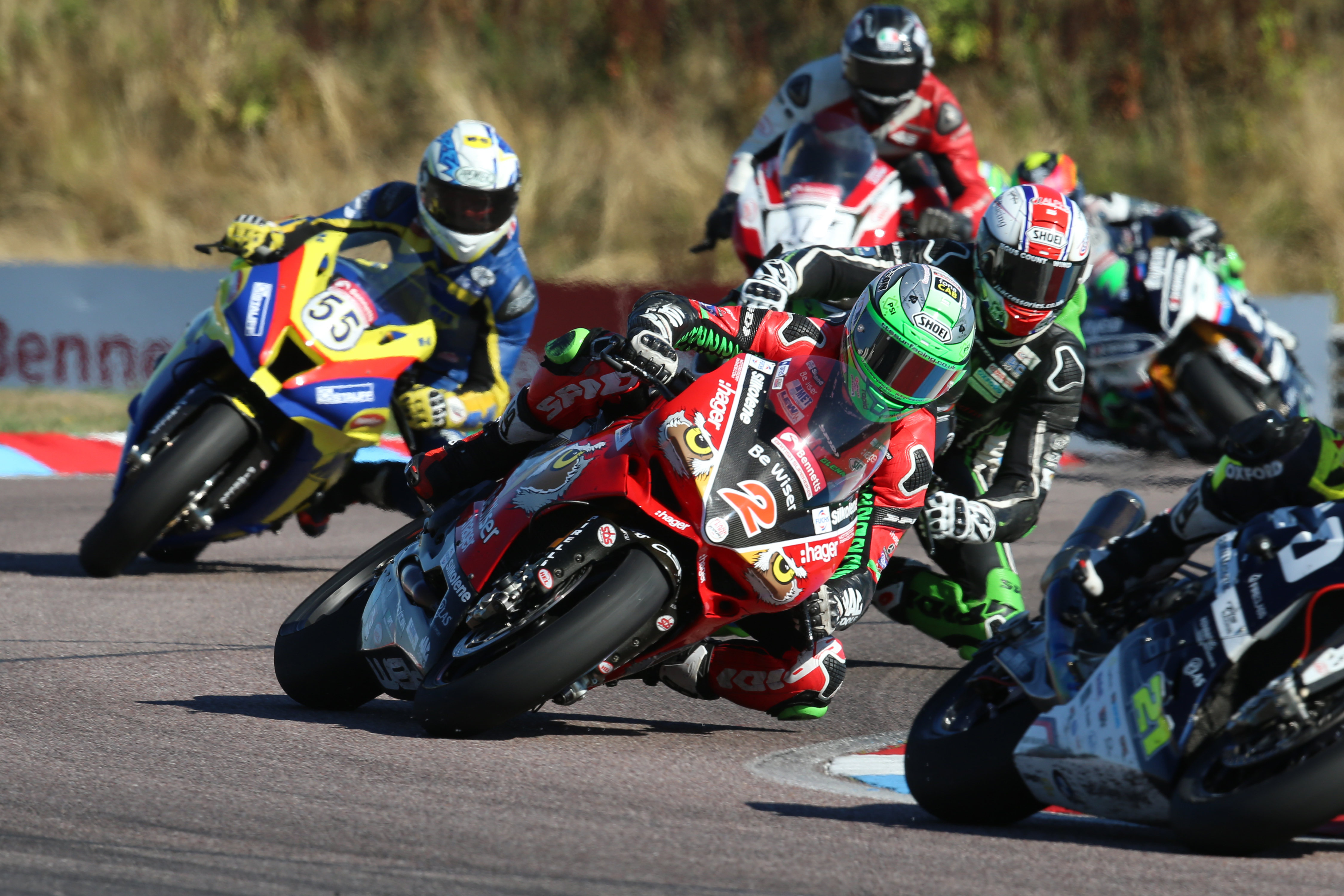 It wasn't such a good weekend for Glenn Irwin. Whilst he was able to snag pole position on Saturday, his and the PBM Ducati's tyre management wasn't up to a podium challenge, as he went 5-9. Whilst Irwin admitted that he was disappointed to have not been able to challenge for the podium, or the win, he was pleased with the speed that he and the team had showed over the course of the weekend. It's worth remembering that Thruxton is a very unique round with such a large emphasis on tyre management, and as such form is somewhat thrown out. Expect Irwin to be back at the sharp end in Cadwell, a favourite circuit of the Northern Irishman.
Bradley Ray had another difficult weekend, crashing out of the first race, taking two others with him, and only taking four points from race two with a twelfth place. This was especially disappointing after it seemed that Ray had rediscovered his early-season feeling and form in qualifying, after some positive findings in testing prior to the weekend with regards to the front end. Since Brands Indy, Ray's form has been abysmal, falling as often as he has scored. The next two rounds, in Cadwell and Silverstone, will be critical for the Suzuki rider, as he looks to return to the front before the Showdown begins.
Danny Buchan could only manage two DNFs in Thruxton, but still maintained his final Showdown spot in the championship. His first race retirement was due to being caught up in Brad Ray's crash. Ray lost the front on the change of direction in the final chicane whilst trying to pass Buchan round the outside. Unfortunately, Buchan had nowhere to go so was left on the floor, and it was a similar story in race two, as he went down in an incident with Shaun Winfield.
Peter Hickman's double podium came just a few hours after he was discharged from hospital. The 2018 Senior TT winner was hospitalised on Saturday night with what turned out to be a kidney infection, but was discharged just before noon on Sunday, giving him just enough time to get to the track in time for the first race. He somewhat lucked in to the first rostrum, benefiting from the incident between Brookes and O'Halloran, but in race two he was superb, managing the tyre better than almost anyone, but he was just too late to catch Brookes despite lapping significantly faster at the end. Either way, and despite the illness, this was Hickman's best event of the year, at least in BSB, and he took his first two podiums of the season. Afterwards he admitted that the second half of the season is his better portion, and he will be aiming to continue to take lumps out of the advantage of Buchan in the championship – which currently stands at seven points – as he looks to make the Showdown.
Christian Iddon had something of a nightmare on Thruxton race day. Unfortunately, he was unable to achieve the distance on the tyre that he needed through the weekend, and it showed in the races. He took thirteenth in race one, and after softening everything up in race two, destroyed the tyre still, to the extent that he flicked himself over the high side coming out of the chicane on lap fourteen. He hit the barrier but was okay.
Jason O'Halloran enjoyed a return to form in Thruxton. He got unlucky in race one with Brookes' move, but was running at the front, which was an improvement on Brands Hatch. In race two he received a 2.1 second penalty for cutting the final chicane, but fortunately for the Aussie he had enough of a gap over seventh place to not lose a spot. O'Halloran is not yet out of the Showdown, only 25 points behind Buchan in that sixth spot, and had five races to make up that difference to get himself into championship contention.
Michael Laverty had a disaster in qualifying, making only nineteenth spot. He came through to ninth on the first lap of race one but was the third rider involved in Brad Ray's lap two crash. Without that, his day could have been entirely different, with a good result in race one and a decent grid spot in the second race. As it was, he took no points from the first race and had a bad grid spot for race two, in which he finished thirteenth. A case of 'what could have been' for Laverty.
Sunday was fantastic for Tarran Mackenzie. Qualifying was a disaster for him, as bike issues prevented him from even setting a lap in Q1, meaning he had to start last for race one, in which he finished ninth, only 9 seconds off the win. He got a better grid for race two, and fought for the podium until the end, but was unable to pass, so could 'only' manage fifth. Anyway, it was another very impressive meeting for Mackenzie, and proved that Brands Hatch was no fluke for his results. That first podium isn't too far away now.
It was another disappointing weekend for James Ellison. A tough qualifying meant his race day was always going to be a tough one, and so it proved as he went 12-15.
It wasn't a much better day for Richard Cooper who didn't finish the first race, and could only manage 14th in race two.
Tommy Bridewell continued his good form with the Moto Rapido Ducati, though, going 11-7, although he was closed down in the championship by Luke Mossey who went 7-8.
Dan Linfoot, of course, was absent after his Brands Hatch crash and resulting injury, but Andrew Irwin had another impressive weekend, despite a crash in race one. Race two went better for the rookie, finishing ninth. But Andrew didn't completely destroy his tyre, and he set the fastest time of the weekend in Q2. His learning curve isn't getting much shallower, his progress is really impressive.
8th in race one and 10th in race two represent Mason Law's best weekend of the season in his rookie year, and he put some big moves down too. Mason's talent has never been in doubt, but a performance like this is testament to that; a double top ten from a rookie in Thruxton is a very impressive scorecard.
Chrissy Rouse went very well in race one, but suffered a nasty crash on lap on in race two. Hopefully the youngster will be back strong in Cadwell Park.
For Gino Rea, it wasn't such a brilliant weekend, with a DNF in race one and only a 17th in race two. Contrary to that, Sylvain Barrier had perhaps his best race of the season in the first outing, with fourteenth, but he could only manage eighteenth in the second race.
It was also Shaun Winfield's best weekend of the season, as he made Q2. He then took sixteenth in race one, but dropped out of race two when he had contact with Danny Buchan.
Martin Jessopp picked up his second point of 2018 in race one with fifteenth, and came home sixteenth, two seconds off the final point in the second race.