In Brands Hatch, two weeks ago, Glenn Irwin took his first British Superbike Championship pole position, and backed it up with two second places, narrowly missing out on both race victories. Coming into this weekend, his intentions were always going to be to right the wrongs of round six, and take his first victory. He provided himself with a good opportunity to do that in race one tomorrow, as in Saturday's qualifying session he managed to take his second career pole, and second in succession. He couldn't be in a better position to try to take his first win, but the race is very different to qualifying – especially in Thruxton – and managing the tyre will be the critical element.
Before we discuss that more, it is important to speak about the riders also on the front row: Luke Mossey and Glenn's brother and teammate Andrew Irwin.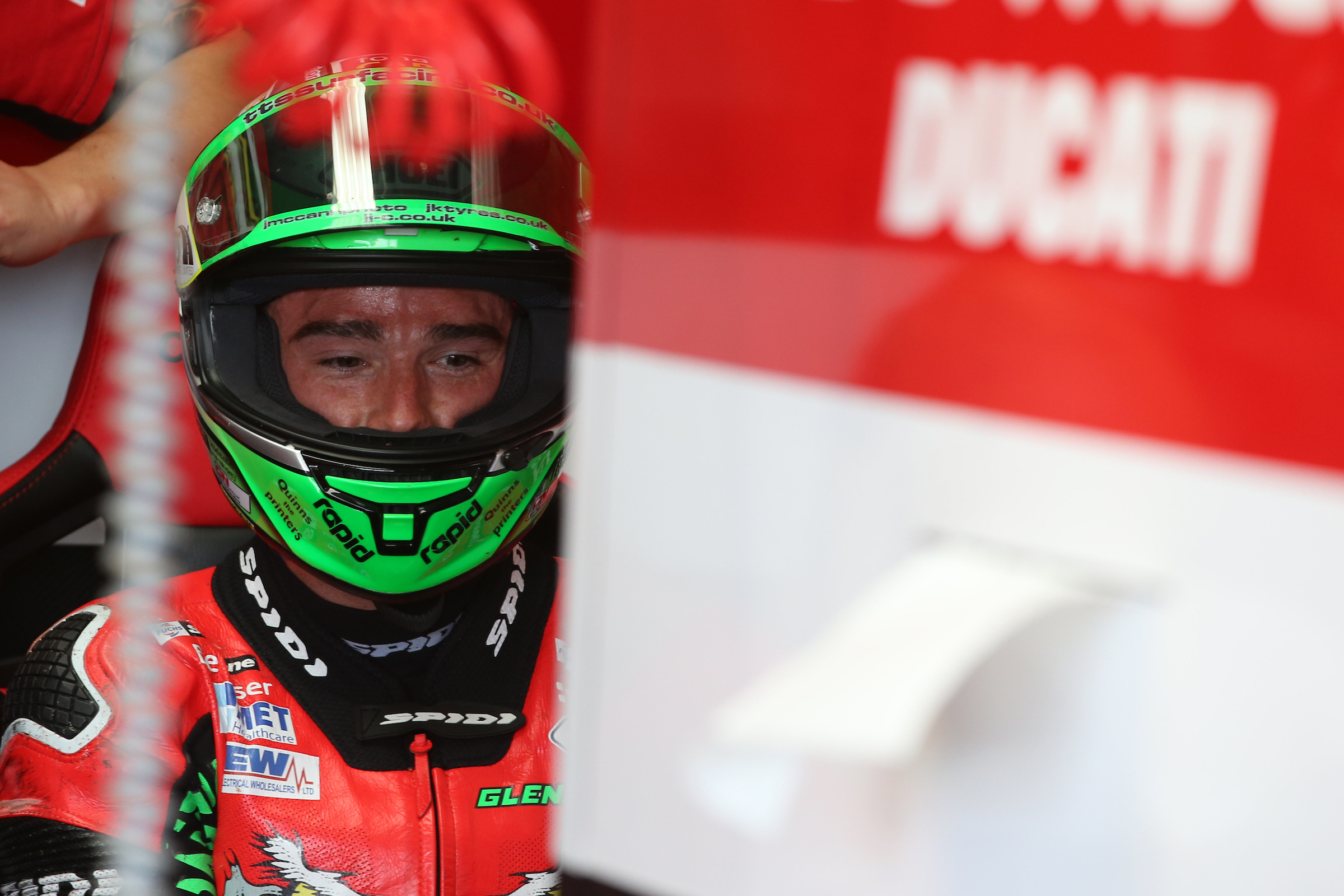 Firstly, Mossey. His 2017 season was ruined by a crash in Thruxton last year, before which he looked like a genuine championship contender and after which he looked like what he was: a rider recovering from a big injury sustained in a big, fast crash. It was a big moment in Mossey's career and it has affected him until, well, today. Of course, he was not helped by the change in tyre spec for this year, which ruined his preseason, but the after effects of the injury from last year have been a factor, too. So, what does he do when he returns to the scene of the accident that has lingered for the past twelve months? Well, he sticks it on the front row. This, from Mossey, is another one of those insane moments in motorcycle racing that are difficult for us mere mortals to comprehend, in a similar vein to, for example, the feat of Jorge Lorenzo in Assen 2013. Returning to something which has caused so much long term pain is a tough thing to do, for anyone, and what Mossey did in qualifying today deserves tremendous respect.
Now, Andrew Irwin. It's his fourth British Superbike meeting after returning to the British championship from a half-season in the World Supersport Championship. Superbikes are incredibly complex and, ultimately, alarming. They have more power than they can deal with, and with no electronic assistance the confidence of the rider is critical, and fragile. The McAMS Yamaha pair for this year are good comparisons. Josh Brookes, one of the most experienced riders on the grid, entered this year with no speed, because he had a poor feeling and thus no confidence. The take Tarran Mackenzie. He has been riding the Yamaha R1 since last winter, and only at the last round in Brands Hatch was he able to make the top ten. In comparison, Andy Irwin has come in has immediately been fast. In every circuit he has visited with the superbike, he has been up in the top ten in practice, but in Thruxton there is always a question mark, because if you feel a little bit off it costs you more than usual because the speeds are so high. But he arrived, and he was fast immediately. In Q2, he was the fastest rider, and that time stood as the fastest time of the weekend even after Q3, when he qualified third for his first front row in BSB, in just his fourth round in the championship. Irwin has been incredibly impressive, but I think I echo the feelings of everyone when I say that I hope he doesn't make a mistake soon, because whilst confidence takes a long time to build, it can be completely destroyed in ten seconds. A mistake now could have career-defining consequences, which Irwin doesn't deserve to have to endure.
Josh Brookes took fourth place, which he wasn't overly impressed with, but his race pace is demonic; beating the Aussie over race distance tomorrow will be a challenge for anybody and everybody.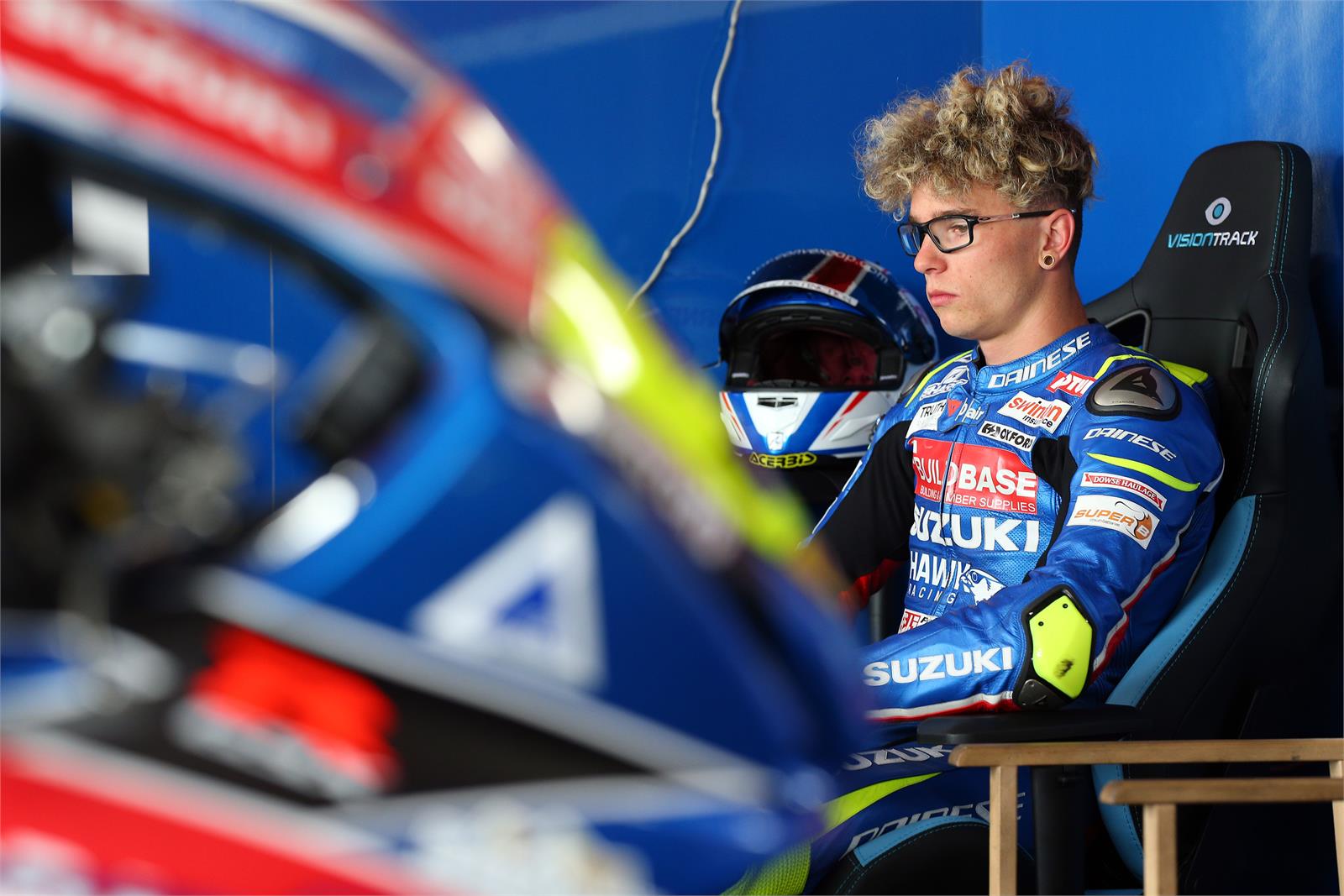 Bradley Ray discovered something to fix the front end issues he has suffered with the front end of the Suzuki in the last few rounds. It seems the opening round double winner is back to something like his giant-killing best. The podium has to be the aim for Ray tomorrow, it would be his first since race one at Brands Indy.
Jake Dixon has looked quite strong this weekend, and qualified decently in sixth place. He has a good chance to make the podium tomorrow from the back of the second row, but the most important thing for Jake tomorrow is to take points out of the podium credits lead of Leon Haslam.
Speaking of Haslam, he only managed to qualify eighth, behind Christian Iddon and ahead of Danny Buchan. The championship leader has a job on tomorrow to extend his advantage over Dixon, but he can take some steps closer to confirming his spot in the Showdown.
Jason O'Halloran qualified tenth, ahead of Friday's fastest man, Peter Hickman, who was ill today. Richard Cooper completes row four.
Tommy Bridewell was thirteenth for Moto Rapido Ducati, ahead of an impressive Martin Jessopp and equally impressive Chrissy Rouse. James Ellison was sixteenth, a surprising Shaun Winfield seventeenth and Mason Law was the last of the Q2 contenders in 18th.
Michael Laverty made the mistake of only using one tyre in Q1, which means he only starts 19th for tomorrow's first race, whilst Gino Rea rounds out the top twenty and Fraser Rogers completes the seventh row.
Dan Linfoot's replacement, Tom Neave, qualified 22nd for his first BSB, ahead of Sylvain Barrier, Luke Hedger and Aaron Zanotti.
Tarran Mackenzie had a bike issue on his out lap in Q1 which means he starts from the very back of the grid in 26th for tomorrow's first race.