Optimum Motorsport duo Flick Haigh and Jonny Adam will start tomorrow's two-hour British GT race from pole position after a scorching hot qualifying session on Saturday.
Haigh had put the #75 Aston Martin in a strong fourth position behind Andrew Howard (#99 Aston Martin), Graham Davidson (47 Aston Martin) and Rick Parfitt Junior (#1 Bentley) to get ahead of championship leaders Jon Minshaw and Phil Keen (#33 Lamborghini) in AM qualifying.
And Adam set the second  fastest time of the GT3 Pro qualifying session to take overall pole position, with only Yelmer Buurman in the #116 Mercedes bettering Adam's 1:25.182.
Darren Turner got his #99 Aston Martin to overall second in GT3, the Beechdean Aston Martin squad are just 0.4 behind Adam and Haigh, while Phil Keen rescued third for a Barwell Lamborghini #33 team that could take the title if they win and results go their way on Sunday.
Mark Farmer spun off for the #11 TF Sport Aston Martin he shares with Nicki Thiim in Am qualifying to dent their championship aspirations, and they will line up at the back of the GT3 grid. The #26 Ultimate Speed Aston Martin of Michael Brown and Matt Manderson will not start tomorrow after a heavy crash in practice severely damaged all four corners of the car.
In GT4 it was the Century Motorsport BMW show as the #42 and #43 crews frequently traded fastest laps, with Jack Mitchell and Dean MacDonald in the championship leading #43 crew eventually winning out ahead of Ben Tuck and Ben Green.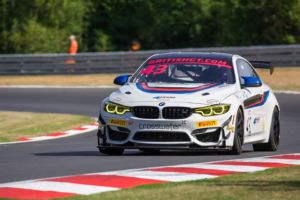 Mitchell's final effort of a 1:32.772 was just 0.009 quicker than Tuck's best effort in Pro qualifying, while MacDonald was ahead of Green by just 0.013 of a second, meaning the top two are split by 0.022 seconds.
The #61 Academy Motorsport of Tom Wood and Jan Jonck qualified third, just 0.3 behind the battling BMWs while the championship-challenging #4 Tolman McLaren crew of Charlie Fagg and Michael O'Brien go from fourth.
GT4 REACTION – Jack Mitchell:
"Qualifying pace is usually our strongest, race pace always strong for us so we knew we were going to be quite strong.
"It's a bit of an unknown after the first session with Ben Tuck so close to Dean (teammate), but you always know it's going to be close between me and Ben Tuck. To just beat them was good for me championship-wise and for the race, I have an added 20s penalty so I'm not totally expecting to win, but as we saw with Spa, you never know in motorsport. All we have to do is keep getting consistent results and my team have been amazing.
"17 points sounds like a lot but there's a ten-point gap between first and second place, it's a big jump. If that happened this weekend then it would be down to the wire this weekend. We'll keep doing what we're doing.
"I feel safer in a way because if the McLarens were all ganged up behind us then I'd be much more worried, Ben is still going to be trying as hard as possible to be getting past so it won't be easy."
IMAGE CREDIT: Craig Robertson, Race Photography