Before today, no Moto2 bike had lapped the Sachsenring in under 1'24. Now four riders have, led by Mattia Pasini who looks back on form after his post-Mugello depression. The veteran Italian has looked strong all weekend and in a field more closely packed than it is possible to remember, came out on top in qualifying with an early lap to give him pole position.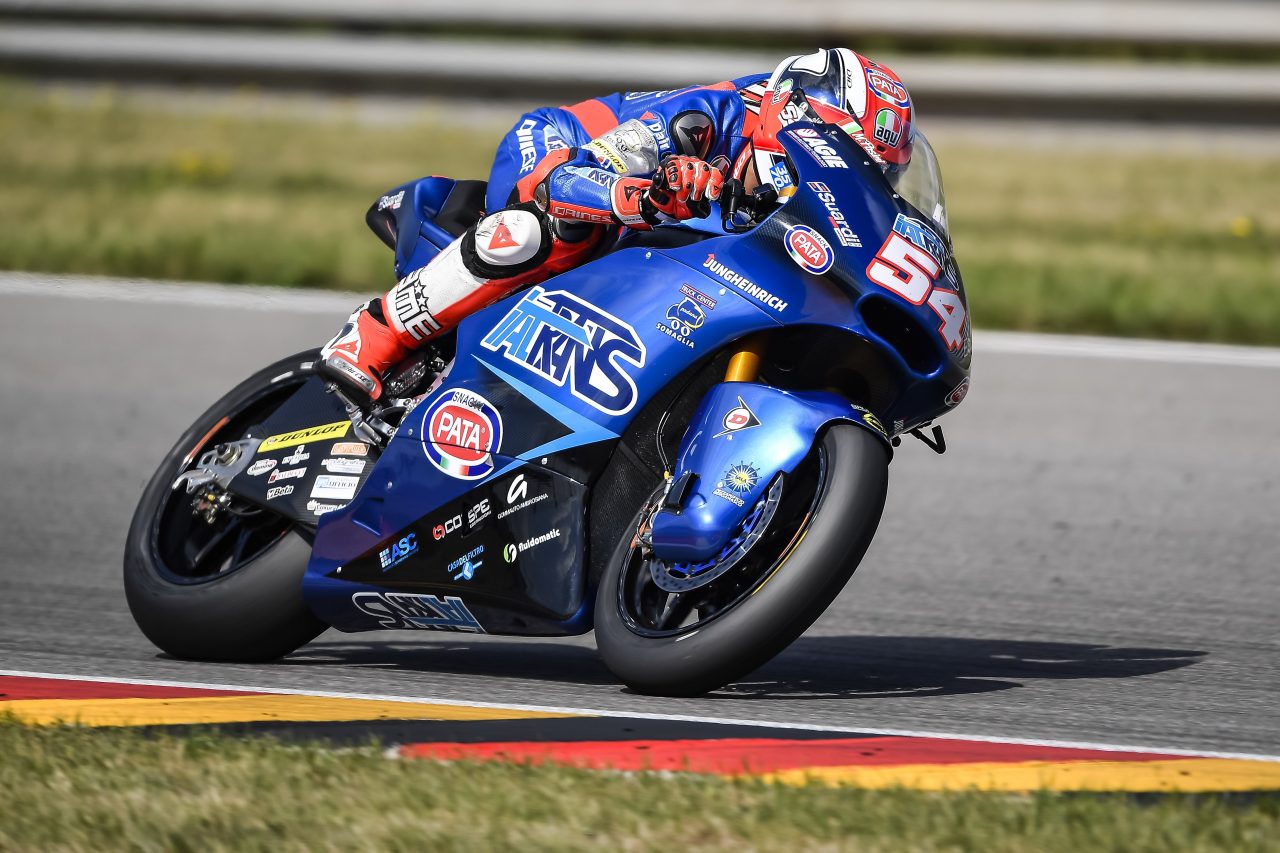 Nearly two tenths back of Pasini – yes, two tenths – was Luca Marini, who took his best career qualifying and second consecutive front row with second place. Marini was unable to convert his front row in Assen to anything special, but unlike Assen the Italian has had decent pace all weekend, and could challenge for the podium tomorrow.
Joining Pasini and Marini on the front row tomorrow is Francesco Bagnaia, the World Championship leader, who started off the weekend testing parts for Kalex which left him one second off the pace and down in 26th place. It turned around from there, though, and Bagnaia soon found his rhythm, as was able to make it an all-Italian front row, and tomorrow will be aiming to take consecutive victories for the first time in his career.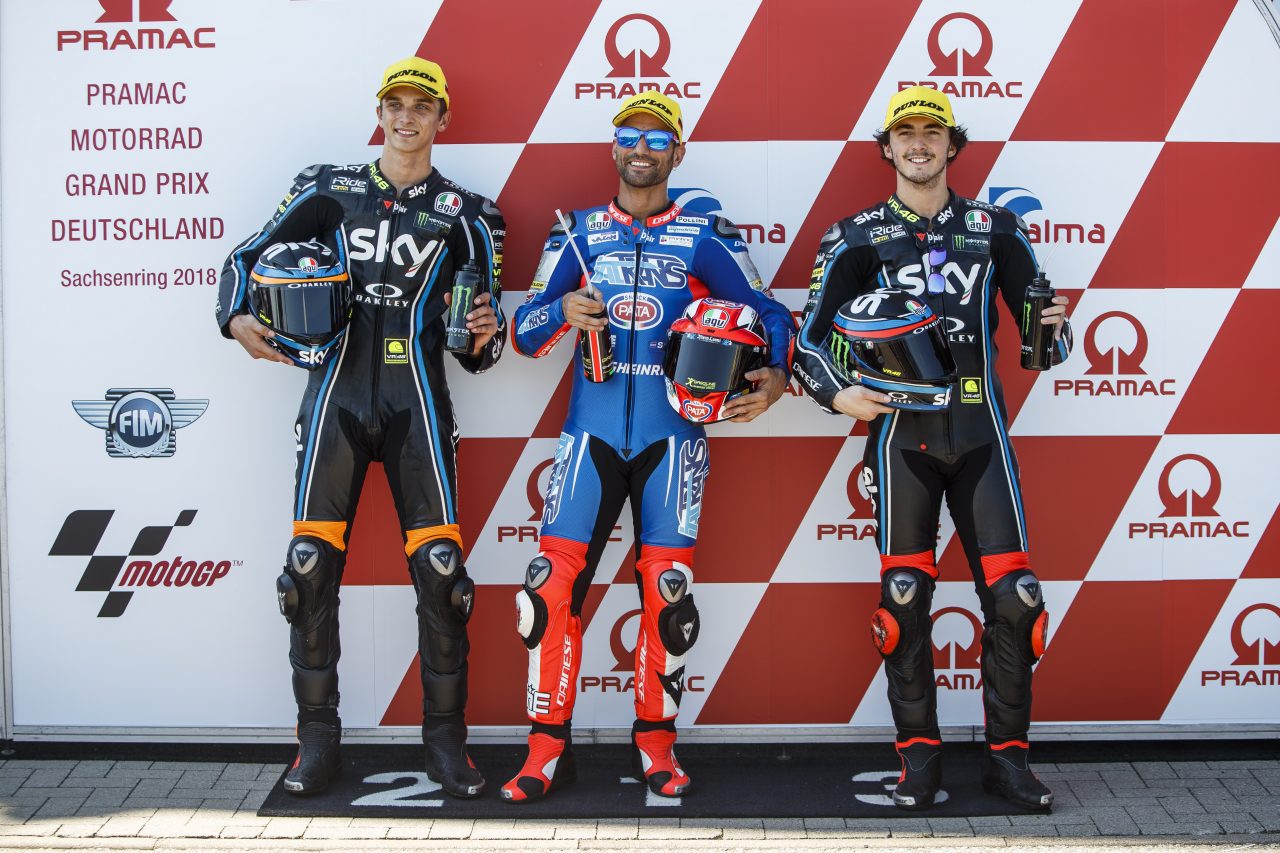 Sam Lowes was the final rider to dip below 1'24, with a 1'23.971 to give him fourth on the grid. Gearing changes – made for the race at Assen – to give the engine an easier time cost Lowes a better result than ninth, so on a weekend when he has been amongst the top times for its entirety, he will be hoping to maximise his potential tomorrow and take his first podium since Aragon 2016.
Lorenzo Baldassarri has floated about this weekend, sometimes outside the top ten, sometimes challenging the front runners, but in qualifying managed to pull it all together to take fifth on the grid from where he will be aiming to make up for the disappointment of Assen's puncture.
The final spot on the second row goes to Xavi Vierge, who has also been there or thereabouts all weekend.
Alex Marquez suffered a big crash today in FP3, but still managed to take seventh on the grid for tomorrow's German Moto2 Grand Prix, ahead of teammate Joan Mir and home hero Marcel Schrotter.
The top ten is rounded out by Brad Binder, who heads up row four and is joined on it by Romano Fenati – who was about the only person to improve their lap time in the final part of the session – and Danny Kent who has been strong this weekend despite the Speed Up historically not suiting Sachsenring.
Row five is fronted by Augusto Fernandez who continues to improve and impress on the Stihl HP40 Pons Kalex. He is joined on the fifth row by Isaac Vinales and perennial poor qualifier Miguel Oliveira who will need a first lap sent by some sort of deity if he is to avoid losing more points to Bagnaia in the championship tomorrow.
It's not easy to pass in Sachsenring and although Oliveira has possessed solid race pace this weekend, it's difficult to use that if you have fourteen riders in front of you who, in reality, aren't all that much slower. Furthermore, if there is a first turn on the calendar that invites a lap one pile-up, it's turn one at Sachsenring – partly because it is so tight and partly because from turn one you have to wait, really until turn twelve to be able to pass again. Whichever way you look at it, Oliveira has a proper job on tomorrow.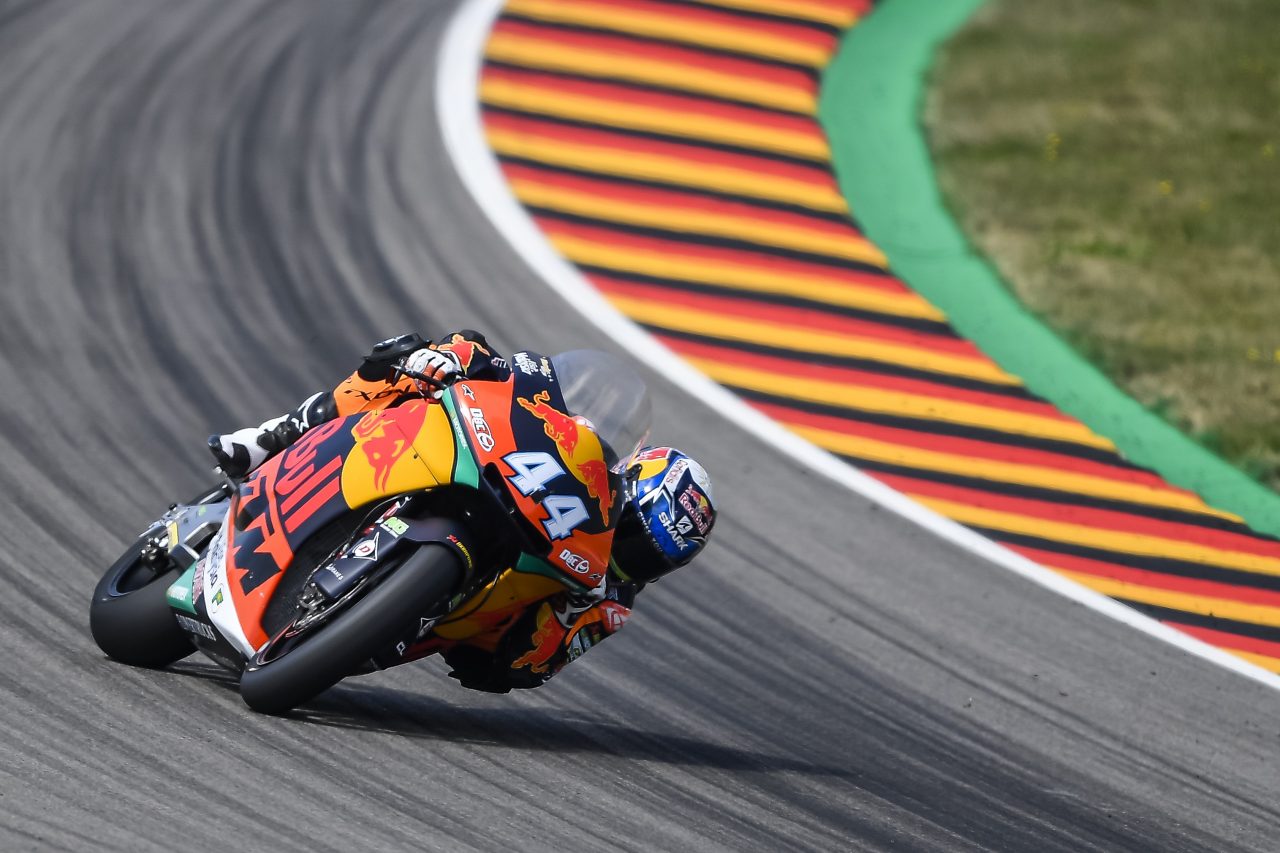 The sixth row is headed up by Jorge Navarro who has had a quieter weekend than normal this weekend, and is ahead of Andrea Locatelli who has looked better than seventeenth this weekend, and Fabio Quartararo, the Catalan winner blighted by inconsistency this weekend as his name has become linked to the Petronas Yamaha team for next year.
Simone Corsi will start from the head of the seventh row, ahead of Remy Gardner who will round out the top twenty – a surprise after the Australian's superb FP3 form – and Bo Bendsneyder.
Row eight will consist of Steven Odendaal, Dominique Aegerter – who started the weekend by topping FP1 – and finally Khairul Idham Pawi.
Iker Lecuona will be disappointed with 25th place, but either way he will be joined on the ninth row by Tetsuta Nagashima and Eric Granado.
Jules Danilo, Joe Roberts and Stefano Manzi make up the tenth row, Manzi incurring a three-place penalty for taking out Federico Fuligni in FP2 yesterday.
The eleventh and final row will only have tow riders on it, and they are the aforementioned Fuligni and the wildcard Xavi Cardelus.
Niki Tuuli has deemed himself unable to continue riding this weekend due to the finger injury he sustained in Assen two weeks ago.