It looked like Penske were going to be the ones to beat at Road America with Josef Newgarden and Will Power locking out the front row and, while one's challenge ended before it even started, the other took his third and most dominant victory of the season, ahead of Ryan Hunter-Reay and championship leader Scott Dixon, to vastly improve his own championship position.
After starting the season strongly, Newgarden had struggled in the last few races however, he turned that around at Road America to take the win, only failing to lead three laps which were all during the pit stops sequences. Hunter-Reay posed a constant threat throughout the race, always just a few tenths of a second behind Newgarden, shadowing him, waiting for a mistake but none came, and Hunter-Reay was unable to make a move. Power going backwards at the start helped Newgarden as everyone else had to dodge the slowing #12 Penske while his other Penske teammate, Simon Pagenaud, helped by forming a large train behind him and preventing any challenges from anyone below seventh. Despite the help, he still had Hunter-Reay, Alexander Rossi, Takuma Sato, Robert Wickens and Dixon to deal with – all of which put up strong, sustained challenges. Ultimately, it was Newgarden who had the better pace and therefore took the win with a victory that looks a lot more dominant on paper than it did in real life. That result puts Newgarden into fourth in the championship, overtaking teammate Power, and meaning that he's now only 50 points back – a race win's distance.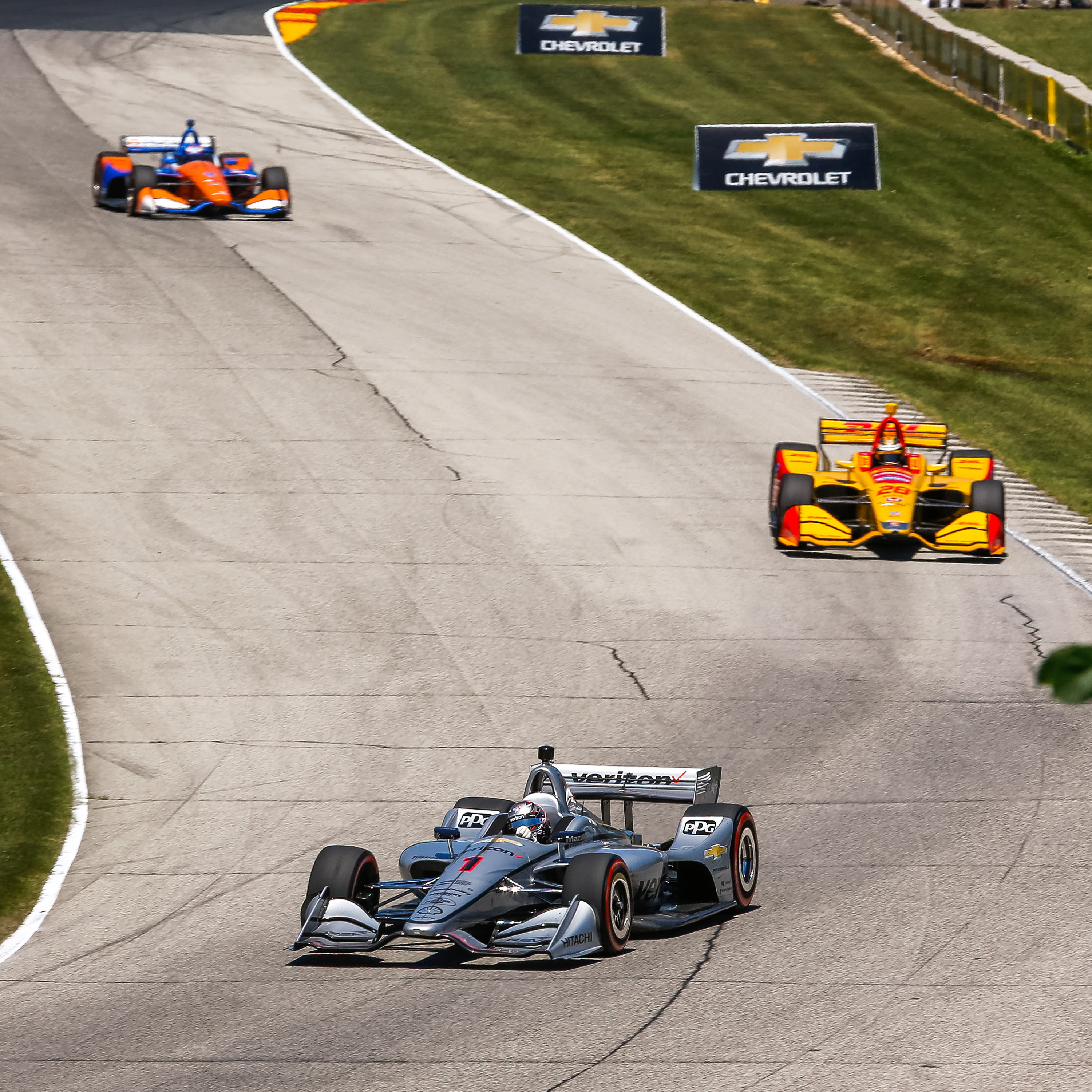 The other two Penske's of Power and Pagenaud did not live up to Newgarden's achievements at Road America. Power had started second, but he had an engine problem at the start which dropped him to last within half a lap and effectively ended his race. The Indy 500 Champion now finds himself in sixth in the championship and 65 points back, a large but not insurmountable gap. Pagenaud, meanwhile, finished the race but struggled for pace throughout, only getting up to seventh after barging past Ed Jones in the closing stages of the race. That tops off a sub-standard start to the season for Pagenaud who's now 138 points astray in the championship; taking the #1 this season is looking more and more unlikely for the 2016 champion.
Second in the race, and now the championship, was Hunter-Reay who spent the vast majority of the 55 laps staring at the back of Newgarden's #1 Penske. He had good pace during the race but couldn't quite find a way past race leader Newgarden while, at one point, it looked like he'd have to fend off the charging Dixon but that came to nothing. Overall it was a decent, if not frustrating, race for the 2012 champion who has very much announced himself in this championship.
Still in the lead of that championship, with a much-increased margin of 45 points, is Dixon who took third after qualifying, rather disappointingly, in eighth. As ever with the Chip Ganassi crew, clever strategy was the name of the game and meant that Dixon jumped Rossi, Wickens and Sato, putting him in third. This was done by running an extra lap on the first stint then cashing it in on the second by having to stop for less fuel so less time. It was a masterstroke from the #9 crew which meant that Dixon didn't have to waste time by trying to pass the three on track, which was proving difficult at best for everyone else.
For a long time, one of the biggest challengers to Newgarden was Rossi who had sat in third right from the start, after pushing Wickens off on Lap 1 in a slightly questionable move which Rossi managed to avoid a penalty for. Sato nearly passed both Rossi and Wickens after the second stops however, Rossi put a stop to that by, you guessed it, pushing him off track! Again, Rossi went unpenalized which did nothing to please Sato or Wickens but, in the interviews after, Rossi saw no error in his ways – rightfully or not. After all that work, Rossi's race fell apart when he suffered the same suspension issue that teammate Zach Veach had earlier in the race, meaning he actually finished in sixteenth.
Season-long rival Wickens may have both started and finished fifth however, that doesn't tell the whole story. After fighting with Rossi early on, Wickens had dropped back off the front group and had to work through the race to get back up to them. He was back with Rossi after the second stops, but any further dual was stopped by Rossi's suspension issue. Graham Rahal got past Wickens and, after an incident with Pagenaud in the pit lane slowed Wickens down, it looked like it was going to stay that way; in the closing laps of the race, Wickens managed to get back past Rahal to take fifth but still meaning that the Canadian is 119 points back in the championship.
Next up for the IndyCar paddock is Iowa Speedway after a weekend off, this race was won by Penske's Helio Castroneves last year who won't be returning to defend his win this year.
Full Race Result
Josef Newgarden
Ryan Hunter-Reay
Scott Dixon
Takuma Sato
Robert Wickens (R)
Graham Rahal
Simon Pagenaud
Spencer Pigot
Ed Jones
James Hinchcliffe
Marco Andretti
Jordan King (R)
Sebastien Bourdais
Tony Kanaan
Matheus Leist (R)
Alexander Rossi
Max Chilton
Charlie Kimball
Gabby Chaves
Alfonso Celis Jr. (R)
Zachary Claman De Melo (R)
Zach Veach (R)
DNF – Will Power
Featured image courtesy of Michael L. Levitt/LAT for Chevy Racing