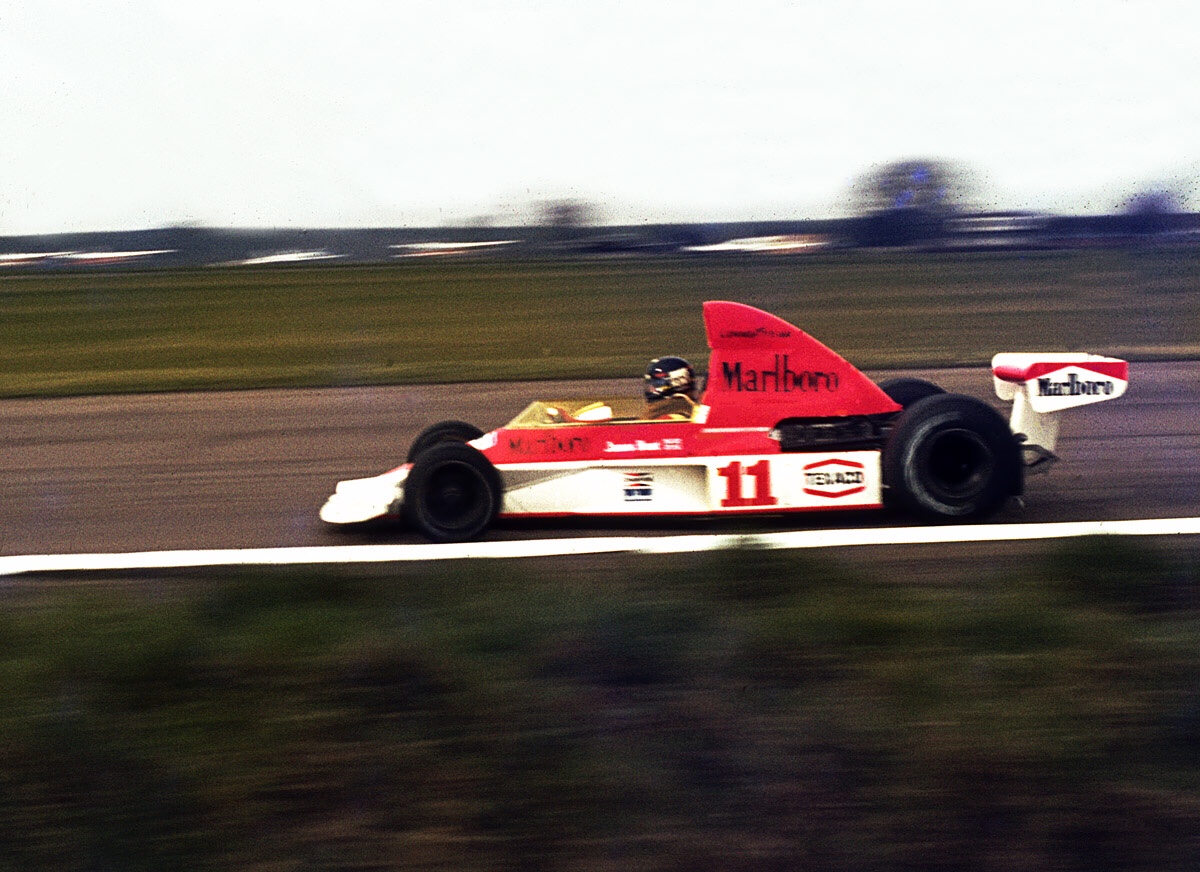 ? courtesy of Gilfoto
The iconic appearance of James Hunt is recognisable to almost the entire motorsport world. Those who fail to recognise him fall into two categories: Millennials, or those with a visual impairment.
25 years ago to the day, Hunt passed away after a heart attack, leaving a hole in motorsport world which can never truly be filled.
A quarter of a century on The Pit Crew online has decided to task the one writer in their ranks with a tangible link to Hunt (I was named after him), to reflect on a man whose legacy perhaps amounts to more than his achievements on the track, but I'll get to that.
Hunt has a soft spot in every British racing fan for obvious reasons: He won the Formula one world championship in 1976 and became the face of British motorsport, a face which could perhaps be described as 'cool' or 'suave'. Hunt didn't play by the rules and that's one of the attributes that won him supporters. He was a playboy race driver who caused controversy wherever he went, Nothing screams rebel more than dining at a restaurant with your pet dog after all…
We all remember the flashy grin, the blonde hair, and the irresistible cheek of Hunt but this was only brought to our attention by his outstanding racing pedigree. After showing flashes of brilliance in his Formula three days, Hunt joined Hesketh racing: the stepping stone to world fame. He made his formula one debut at Monaco in 1973 and managed and impressive second place at the New York track of  Watkins Glen Grand Prix Race Course. This early indication of Hunt's talent won him the Campbell trophy classing him as the best British driver of the season.
The first season of promise was followed by two of stagnation and limited success. His first race win came in 1975 at the Dutch Grand Prix. This win paired with a 4th place finish in the overall standings provided the basis of Hunt's team switch to Maclaren. This was where Hunt hit the heights.
McLaren was the golden chance for Hunt to prove his critics wrong. The myth surrounding his apparent inability to compete in a sustained title challenge was soon swept to the side. Hunt won 6 races over the course of the season and was in a two way title fight for the entirety of the season with Nicky Lauda. The title race itself suited Hunt's lifestyle, it was unpredictable, exciting and controversial. There were disqualifications, bad blood and serious racing incidents such as Lauda's horrific crash at the Nürburgring which has scarred him for life. The title switched back and forth all season going down to the final race in Japan. Hunt finished third and with Lauda retiring from the race due to an inability to blink resulting from his facial injuries he won the championship.
Hunt was an inspiration to millions of young aspiring racers across the globe. Kimi Raikonen was a huge fan of Hunt even entering a snowmobile race under the alias of James Hunt. His playboy, cavalier style of racing and love for the sport were perfect ingredients for the inspiration of a new generation of British racers.
As mentioned earlier, whilst Hunt was undoubtedly a talented professional, he only won one championship in a six year career. Some may question why there is so much reference and mention of Hunt as a legend of the sport when he only has one title to his name, but to me it seems obvious. Spectators love a showman. A supporter wants to watch exciting dynamic races as people dice it out in adrenalin fuelled overtakes and championship battles. They also want to root for a racer who has an interesting personality, this is true across all sports: The controversial characters have the largest fanbases, Hunt in F1, Ronaldo in football, Tyson in boxing, the list goes on. Hunt was an exciting racer, whose combination of skill and character marked him out as a legend of the sport.
25 years on the world remembers James Hunt: 1976 Formula one champion, hero to some, well known to all.