Well, what an amazing rally we witnessed this weekend!
End of day one (Thursday): 
1 Sebastien Ogier/Julien Ingrassia (Ford Fiesta WRC) +2m02.7s
2 Andreas Mikkelsen/Anders Jaeger (Hyundai i20 Coupe WRC) +0.1s
3 Thierry Neuville/Nicolas Gilsoul (Hyundai i20 Coupe WRC) +0.7s
Friday morning saw rain arrive. Now this would see drama in each stage! This was the start list for the day – Neuville, Ogier, Tänak, Lappi, Mikkelsen, Evans, Latvala, Breen, Suninen, Ostberg, Paddon.
First stage of the morning, stage two, and Andreas would use his good road position to make a great start and take the lead from Seb and Mads slotted into second overall. Thierry remained in third, but Elfyn suffered a big problem and damaged his steering arm. He'd replace it in the stage very quickly and get back underway.
Stage three would see Andreas increase his lead to 15 and a half seconds after he won the stage, and with Mads dropping back with handling woes. Thierry, Ott and Teemu all moved ahead of the Norwegian.
Stage four would see Ott Tanak set the best time and he'd move into second overall, whilst Seb moved ahead of Mads after he put hard tyres on his car and with the heavy rain really struggled for grip! Andreas remained in the lead though, 14 seconds ahead of Ott.
Into stage five, the last of the morning before service and Thierry won it, moving ahead of Ott who fell to third. Seb set the second fastest time and closed to within one tenth of a second of his younger teammate. Further back, Jari-Matti and Miikka, making his 200th wrc top level start set the fourth fastest time, thus passing Mads into sixth overall.
The service break would allow M-Sport to fix Elfyn's steering arm, but the timeloss with his problem would hamper his progress.
Stage six would have standing water and this would see Seb put an amazing time in, going from fifth place into the lead, with Andreas three and a half seconds now behind after he overshot at a tight left hander. Esapekka also moved ahead of Teemu into sixth place. Thierry suffered a spin and was now eight seconds behind our new leader.
Stage seven would see Andreas drop out of second place, 10km into the stage after he stopped with gearbox failure. Teemu won the stage from Seb and new second placed man, Thierry was third fastest. Just two stages remained and the top three was, Seb, Thierry and Ott, with just 15 seconds covering the top three!
Thierry won stage eight, reducing Seb's lead to ten and a half seconds, whilst Ott remained in third place a further six seconds behind. Meantime, further back, Elfyn was climbing the leaderboard after setting the 7th fastest time bringing him into 23rd place.
The final stage of the day was won by Jari-Matti and with the demise of Ott Tanak after he broke his radiator on a jump and Teemu who'd gone off the road after losing control on a right-hander, he was now in third overall.
Classification after Day One
| | | | | |
| --- | --- | --- | --- | --- |
| 1 | S. Ogier | J. Ingrassia | Ford Fiesta WRC | 1:35:56.9 |
| 2 | T. Neuville | N. Gilsoul | Hyundai i20 Coupe WRC | +18.9 |
| 3 | J.M. Latvala | M. Anttila | Toyota Yaris WRC | +37.2 |
| 4 | E. Lappi | J. Ferm | Toyota Yaris WRC | +41.6 |
| 5 | M. Østberg | T. Eriksen | Citroën C3 WRC | +58.3 |
| 6 | H. Paddon | S. Marshall | Hyundai i20 Coupe WRC | +1:01.5 |
| 7 | C. Breen | S. Martin | Citroën C3 WRC | +1:26.0 |
Let's hear from the drivers.
Sébastien Ogier
"It's a perfect result at the end of the day and I'm really happy with our performance. Maybe I wasn't in the mood to take all of the risks this morning, but I knew that I had to do a little bit more if I wanted a good position for tomorrow.
"The first stage of the afternoon was really demanding and in these conditions it's so hard to estimate your rhythm. You never know if you are going to lose 20 seconds or gain 20 seconds, so to get to the end of the stage and see the time – let's say that it was a happy surprise.
"If it stays dry tomorrow then we should have a good road position, but there is still a long way to go. It's nice to be in the lead with a 19 second advantage, but for sure there is no time to relax."
Thierry Neuville
"A challenging day, that's for sure! Starting first on the road is never easy, irrespective of the conditions. The rain on the opening loop helped minimise the disadvantage, but we knew it would be a struggle. The car was working well, and I was pretty satisfied as we could fight for some stage wins and end the day second overall. We have had to be clever with our tyre strategy. It worked well in the morning, but by the final stage we had two new tyres left and opted to put them crossed on the car. Unfortunately, this created a big imbalance in the handling; the car was unstable and tentative with a lot of slipping. We tried to push hard but experienced some surprises. Tomorrow will continue to be hard but we'll give it our best."
Jari-Matti Latvala
"Today has been very positive. I was too cautious on the second stage this morning but then I started to find the rhythm and the speed. In the second run through Tula the conditions were more like Wales with the rain and the mud, and it was so slippery. I lost a lot of time at the end of that stage, but after that the conditions got better, I felt like I could push more and then in the final stage of the day I had the confidence to attack and we won the stage. It's very close with Esapekka going into tomorrow. I like tomorrow's stages and the most important thing will be to have a clean run. Then, if we can keep the speed up as well, we will be in a good position."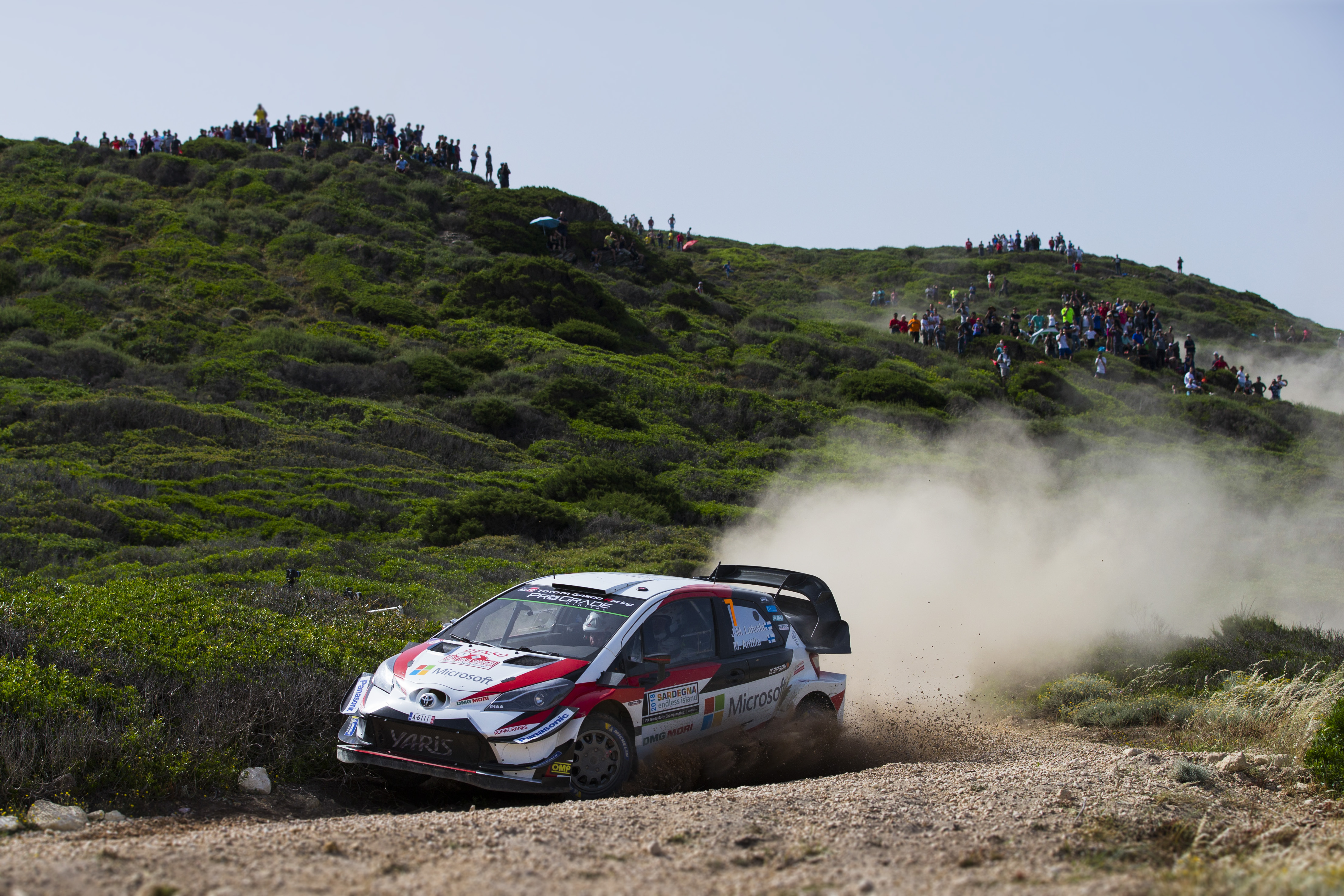 Toyota Gazoo Racing WRT
Ott Tänak (Rally2)
"On the final stage of the day we had a bad landing which caused some damage to the car and forced us to stop. The impact caught us by surprise quite a bit because we have driven this section of road four times now, including the shakedown yesterday and the first pass this morning, and I always had the same approach. Therefore, it's difficult to explain why it happened. It's a tough moment and a big setback. Even though I hadn't had a perfect feeling with the car today, we were doing OK and we were still in the fight, so it's a big shame to have to retire from the day with this kind of issue. It makes our title chase really hard now, but we will try to win every other rally from here."
Esapekka Lappi (4th)
"This morning was quite difficult. That car felt OK but we had a slow puncture in the first stage and our one spare tyre was a hard compound, and because it was raining it was not really a good tyre to put on. The conditions were crazy in the first stage this afternoon with a lot of mud and rain but we managed to do a good run there and gain some time back to most of the others. Then the weather dried up, and we made some small changes to the car before the last stage and we were close to the top time. I think we can just work to find a little more grip for tomorrow and fight for the podium."
Citroen Abu Dhabi Racing WRT
Craig Breen (7th)
"It hasn't been a very good day for us, especially due to the problems we had with the handbrake. On twisty stages like those we had today, we tend to use the handbrake a lot. I stalled three times on one of the stages and lost quite a bit of time. I'm going to be running second on the road tomorrow, which will probably be difficult, but I'll do everything I can to try and make up the time lost."
Mads Østberg (5th)
"This rally has never been easy, but today's crazy weather undoubtedly made it even more difficult. We were a bit unlucky, especially with two mistakes on tyre choice for the Tergu-Osilo stage, but I'd rather focus on the second fastest time on the final stage, which means that we will have a pretty good road position for tomorrow."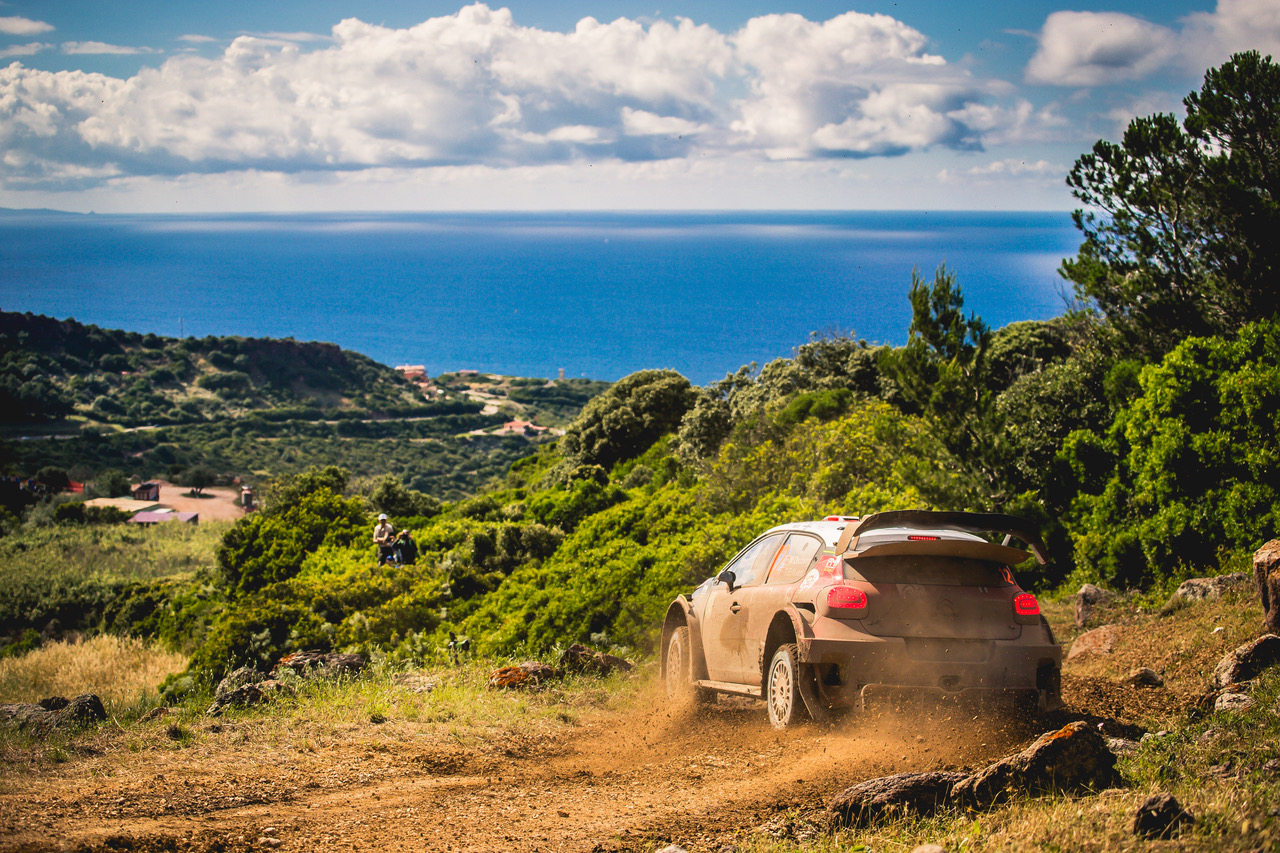 Hyundai Motorsport
Hayden Paddon (6th)
"We can't be happy with our performance or results today. Whatever we have tried just hasn't worked. Nothing has been clicking. We took a bit of a gamble this morning with the tyre choice, expecting it to dry out more than it eventually did. Tyres aside, we haven't had the rhythm we need, nor the confidence to push. We have had little choice but to play the sensible game and get to the end of the day without having any issues. We are in the top-six but that is little consolation. We need to let the times come more naturally, and there are some things you can't shake a magic wand at. We'll sleep on it tonight and start again on Saturday morning."
Andreas Mikkelsen (Rally2)
"The ultimate day of two halves for us today. We started really positively and confidently. It was a great morning loop and we could really build a good lead. It was nice to show the results of the changes we had made to the car, which we weren't able to demonstrate at the last rally. We wanted to keep that momentum going into the afternoon but it wasn't to be.  An overshoot about 2km into SS6 lost us a lot of time, and then in SS7 we had some transmission problems, which left the car in reverse gear. The car was returned to service. We start under Rally 2 on Saturday but we've missed a good opportunity to assert our authority on this rally."
Saturday would see seven stages run over a distance of 146km. The running order looked like this – Evans, Breen, Paddon, Ostberg, Lappi, Latvala, Neuville, Ogier, Tänak, Suninen, Mikkelsen
Ott won the first stage of the day. Despite not completing all the stages on Friday, he'd got a pretty decent position in the running order. In fact, so did Teemu and Andreas too. Meantime Elfyn, who had finished all the stages was first on the road – a very interesting situation. In the battle for the lead, Thierry took some time out of Seb's advantage whilst Latvala and Lappi were separated by just nine tenths of a second in their inter-team battle for the final step on the podium.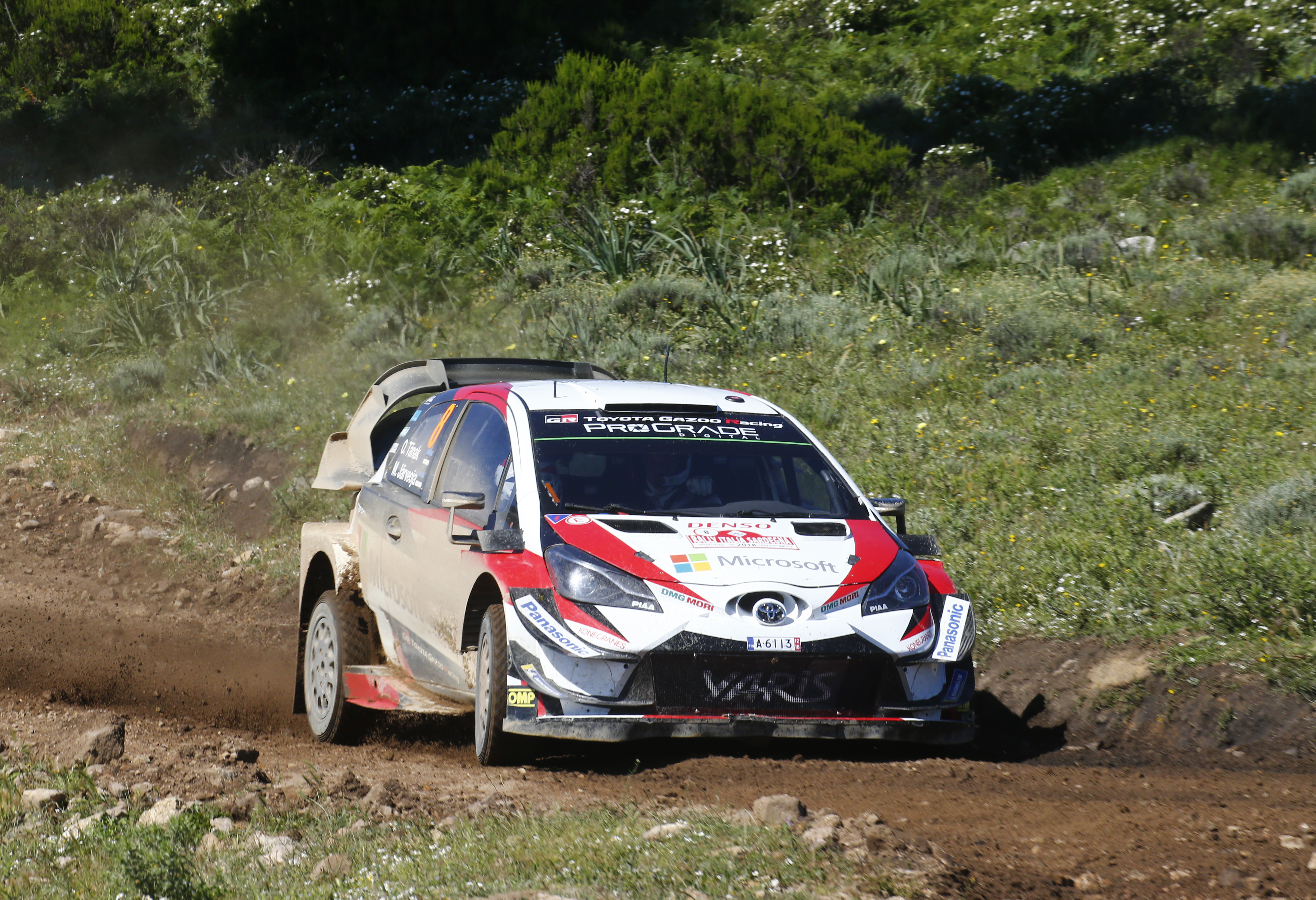 In stage eleven, Seb was fastest resulting in the gap increasing again to Thierry. Further back, Citroen duo of Mads and Craig suffered with poor stages. Mads was hampered with speed sapping understeer, whilst Craig had a big impact on the front right. Latvala opened up a decent gap to his younger teammate after setting the fourth fastest time, opening up the gap by around five seconds.
The last stage of the morning loop, stage 12 saw a storming drive by our championship leader Thierry, who flew through it 14 seconds faster than Seb who suffered with understeer, bringing the lead down to just 4.9 seconds! Meantime, Hayden passed Mads gaining fifth place from the Norwegian.
The afternoon loop started with the short stage 13 and clearly any changes that had been made by M-Sport to Seb's car hadn't helped in this stage. The stage was won by Esapekka, but more significantly Thierry went third fastest and closed down Seb some more, the lead just 2.9 seconds.
Stage 14 saw Seb strike back, winning it and bringing the gap back up to nearly seven seconds. Hayden was now making fifth place his too, opening up the gap to Mads who was still the best placed Citroen.
Thierry wasn't about to give up though in his pursuit of Seb, winning stage 15 and now the gap was just 4.3 seconds. In fact the battle between Latvala and Lappi continued to rage, with the younger Finn three seconds faster – now just two seconds separated them.
Well, the final stage of the day, and Thierry completed it just four tenths faster than Seb, but this meant there was just 3.9 seconds between the title protagonists. This was not over at all. Now, annoyingly for Jari-Matti and Miikka, they'd completed the stages and held a good lead of 6 seconds over Esapekka Lappi and Janne Ferm. Unfortunately, their car didn't make it back to the service park after it stopped on the road section. Sadly, the alternator had packed up. Such is the way of motorsport.
Classification after Day Two
| | | | | |
| --- | --- | --- | --- | --- |
| 1 | S. Ogier | J. Ingrassia | Ford Fiesta WRC | 3:02:16.9 |
| 2 | T. Neuville | N. Gilsoul | Hyundai i20 Coupe WRC | +3.9 |
| 3 | E. Lappi | J. Ferm | Toyota Yaris WRC | +54.2 |
| 4 | H. Paddon | S. Marshall | Hyundai i20 Coupe WRC | +2:01.8 |
| 5 | M. Østberg | T. Eriksen | Citroën C3 WRC | +2:03.9 |
| 6 | C. Breen | S. Martin | Citroën C3 WRC | +3:13.6 |
Let's hear then the thoughts of the drivers!
Sébastien Ogier
"Generally, I think it's been a good day and it's been really enjoyable driving these stages – there was just one that didn't go to plan. I don't know why, but on SS12 I didn't have the rhythm and it's actually in that one stage where we lost all the time.
"For sure it will be a big battle tomorrow and the pressure will be on; but to be honest it's been like that all weekend with no time to relax at any point. Nobody likes to cruise to the finish on Sunday morning – we all like to fight – and it's definitely not going to be a cruise tomorrow. If we want it, we will have to fight for it."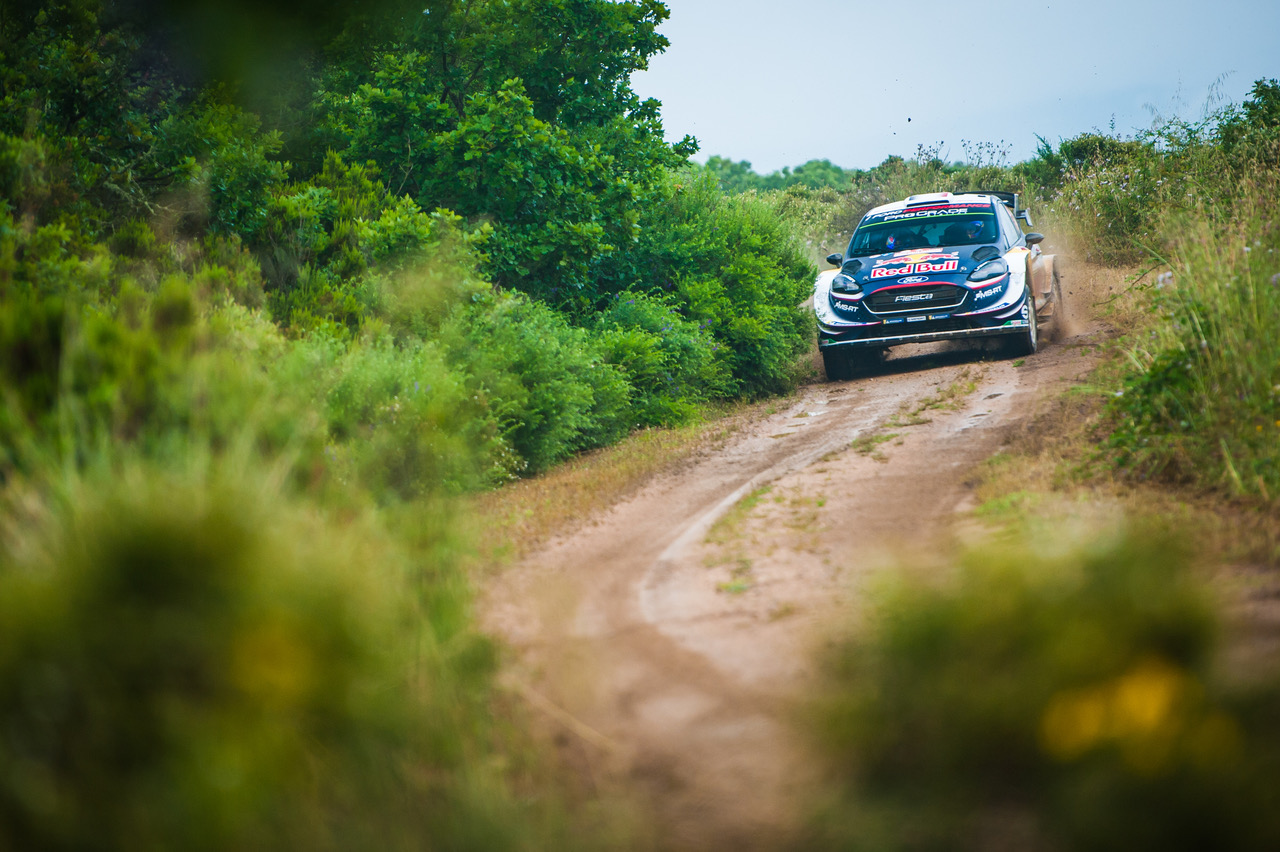 Thierry Neuville
"We have had a good day and have really set up a great fight between Sébastien and me for the final morning. With just 3.9 seconds between us, it will be full attack for the win on Sunday. Generally, we've had a strong performance with three more stage wins and a good feeling inside the car. The mechanics did an amazing job to repair the small damage we picked up on Friday afternoon, and we could really feel immediately back 'at home' on the morning loop. We have taken fewer risks than we did yesterday but still been able to push and feel comfortable in the car. The afternoon wasn't as smooth but we have kept out of trouble and can now look forward to an exciting end to the rally."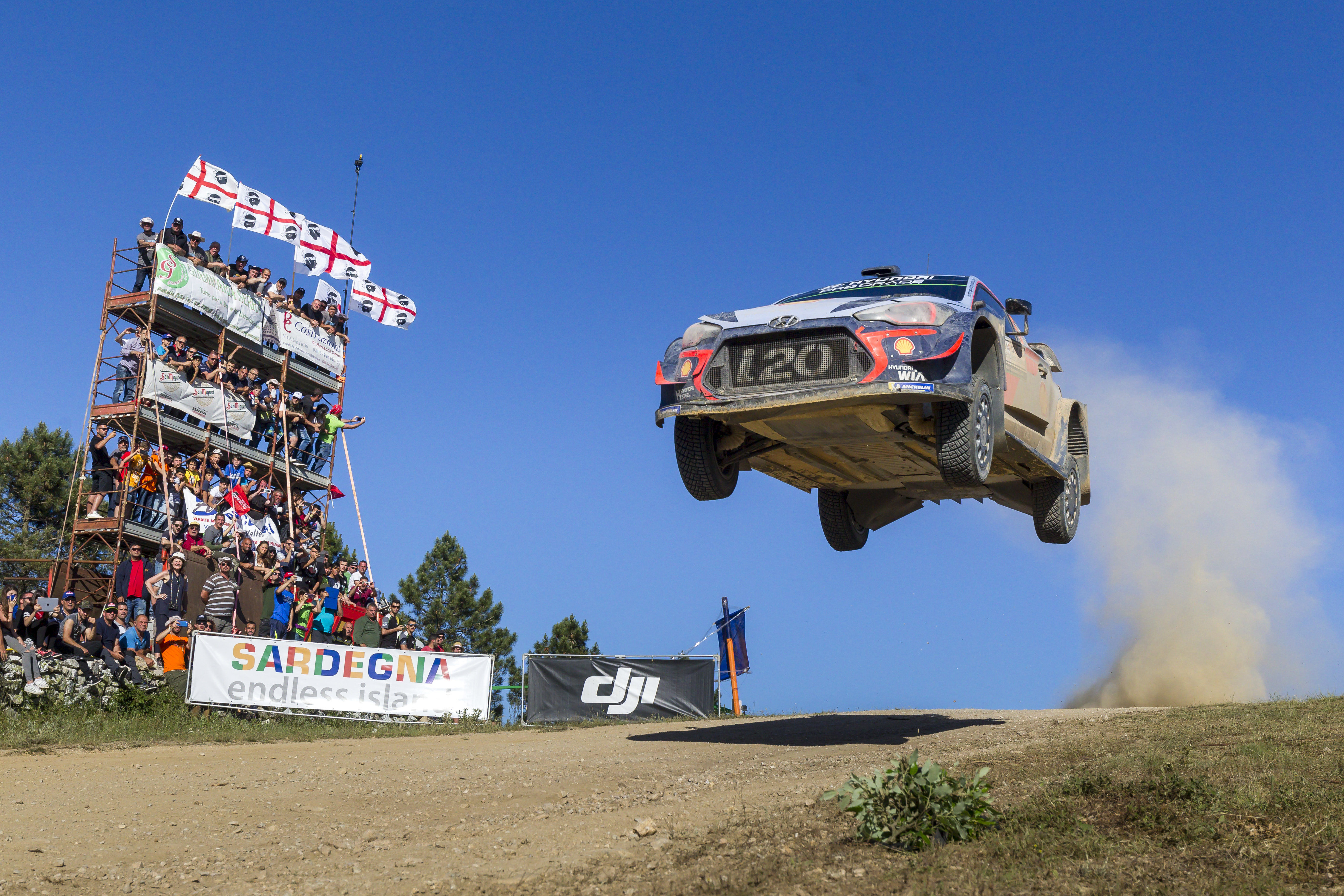 Esapekka Lappi
"Today was quite fun. It was a really good fight with Jari-Matti. I was faster on one stage and then he would be quicker on the next. It was like that this morning and again in the afternoon. It is a shame how it ended with the problem for Jari-Matti. It means that we will start tomorrow with a big gap in front of us and a big gap behind, so we don't need to push very hard. The car felt really good this afternoon, so I'm feeling pretty confident."
Hyundai Motorsport
Hayden Paddon (4th)
"We have definitely enjoyed the conditions today more than we did on Friday. There has been a little bit of sweeping required, but nothing too detrimental. The grip was good on the morning loop and we recovered some of the positive feeling we had in shakedown. Rally Italia Sardegna certainly throws up a fair few surprises, as we've seen again today, so we played it smart and concentrated on clean runs. We tried to keep the pressure on Mads throughout the day, and it's going to be a close-run final morning. There are important manufacturer points up for grabs, so we won't be doing anything foolish but fourth is there for the taking, so we'll do our best to defend it."
Andreas Mikkelsen (20th)
"We knew that there wasn't going to be much to challenge for today, as we restarted under Rally 2. Of course, it is a shame we weren't able to push for a good result, especially after taking an early lead. Instead, we just wanted to find a good feeling from inside the car on today's stages and carry out some learning for next year. There's not much more we could have done in the circumstances. We still wanted to show our pace, which I felt we did in many of the stages. We had a spin in the first run through Monte Lerno and a puncture in the repeat stage, but otherwise it was a decent day for us. Let's see if we can push for some Power Stage points tomorrow."
Citroen Abu Dhabi Racing WRT
Mads Østberg (5th)
"Although we played it safe this afternoon by taking two spares, we managed to stay right in the mix for a good final position, and I really enjoyed today when the conditions were closer to those you expect at this round. Tomorrow looks set to be another exciting and close fight, and I can't wait to get started!"
Craig Breen (6th)
"Despite our poor road position, some of our times were fairly encouraging, but we then broke the anti-roll bar mounting and that slowed us down a bit in the ruts on the afternoon's two long stages."
Toyota Gazoo Racing WRT 
Jari-Matti Latvala (8th)
"Overall, I would say that it was a good day, even though it ended this way. Looking just at the special stages, I'm really pleased with how they went. I took care when there were rough sections and I pushed harder when the conditions were better. Esapekka was doing really good times and getting closer and closer and I wanted to really attack on the last stage. I got to the end of the stage, but we had an alternator warning and eventually we ran out of battery on the road section. It's very frustrating because I really wanted to get a podium from this event. Tomorrow we will carry on fighting and try to score as many points as possible."
Ott Tänak (9th)
"After the frustration of yesterday it was important to get back behind the wheel today. We made a couple of changes to the car at lunchtime and this afternoon it was really enjoyable. The car was feeling almost perfect and I had a nice rhythm. Unfortunately, we picked up a puncture somehow on the last stage, which gives us a little bit more to do tomorrow because we are trying to gain one more position and now the gap is a bit bigger. But we are not giving up and we will start tomorrow with a big attack to try and get this one position."
M-Sport Ford WRT
Teemu Suninen (13th)
"It's not been an easy day and it was difficult to find the rhythm. I think I was a bit too careful after yesterday, and that cost us a lot of time. But we were still able to take a lot of experience that will help in the future – and next year I believe I can be faster."
Elfyn Evans (14th)
"It's never an easy situation to be in when you're opening the road and not in a fight. There were some tricky sections today, so we just had to focus on getting through without any mistakes."
Sunday arrived and it was a sunny day! We had the amazing situation with a real battle for the win between Seb and Thierry. The Belgian had a great opportunity to beat Seb and increase his lead in the championship and just four stages covering 42km to do it in. This was the start list – Evans, Breen, Ostberg, Paddon, Lappi, Latvala, Neuville, Ogier, Tänak, Suninen, Mikkelsen.
Well, stage 17 saw the lead that Seb held over Thierry close by 8 tenths of a second. Now just 3.1 seconds separated the top two. The Belgian was delivering on what he said. He said at the end of the stage "I don't know if it's enough. It will be tight. Two small mistakes at a junction and I ended up in a bit of loose, so I lost a bit of time." Seb said "It is okay, it is very narrow, so it is hard to push harder". Ott completed the top three in this stage
Thierry continued his push in stage 18, taking 1.8 seconds out of Seb. The gap was just 1.3 seconds… wow. Thierry was asked how he felt after a dominant display. "I don't know! I just try to keep it on the road and push as much as I can without making mistakes. At this level everyone is pushing hard and fighting with Ogier is the most difficult!"
Seb said "It is tight! We will have to push to the end. This stage is all about fighting with the car, and for sure you can be a lot more aggressive. I will have to push on the next one." Andreas was third fastest and saving his tyres for the powerstage.
A short regroup before the final two stages, and which way was this going to go?
Well, we had the answer. Thierry went through and it may not sound much, taking half a second from Seb's lead. That however meant just eight tenths of a second remained between these two…. One stage left.
Thierry said, "I made two mistakes. I overshot the ruts and I was once was a bit close to the wall so I lost a bit of speed. We are going to go for it to the end". Seb didn't say anything at all and left his timecard with a marshal at the end of the stage. Clearly the pressure was telling. Ott collected the timecard and returned it to Seb.
The last stage then, after a pretty epic event! Who would prevail? Thierry set the fastest time in the stage, beating Tanak's benchmark. He said "I had to try. I gave it everything. I want to say thank you to the team for all their hard work this weekend." Now, at first Seb was seven tenths up at the first split, but the middle split showed he'd lost that time and more, now two tenths down. Coming through the final split he was 2.2 down, therefore technically not in the lead and finally coming over the flying finish 1.4 down. Thierry had done it. He'd beaten Seb by just seven tenths. The Belgian said, "We gave it everything and it was a great fight. Such a small difference at the end."
Seb had this to say, "I tried everything I could today. I was always losing a few tenths here and there. The last stage was very rough and I made two mistakes which cost me a few tenths. It is still good points for the championship. We lost the battle, but we haven't lost the war. There are still six rounds to go, it isn't time to panic. Thierry was lucky with the rain but there will be another rally where he loses time as the road opener."
Summing up the event.
Thierry did benefit from the rain on Friday to a degree, but this will go down in history as I believe as his best drive to date. Just amazing. It was a shame for Jari-Matti and Miikka retiring on Saturday from a great third place on Miikka's 200th WRC event.
Hayden Paddon and Seb Marshall drove well, getting a great fourth place. Elfyn can feel a bit annoyed with his position of first on the road, despite completing all the stages. Those to benefit from the rally2 regs had a far better positions, and I believe it's something that needs to be looked at.
The Citroen pairing of Mads and Craig had solid events, but it's fair to say the team have some work to do to make their car faster.
Let's hear from the drivers' then!
Thierry Neuville (1st)
"I can't believe it! We knew we had to give it everything we had this morning, and it was a truly fantastic fight with Sébastien. The gap at the end was so small and we left absolutely nothing behind. We kept pushing as hard as we could without doing anything stupid. Battling against Séb is one of the most difficult things to do, so this is a precious victory. Nicolas and I send massive thanks to the whole Hyundai Motorsport team for giving us a great car this weekend. Without them we couldn't have done this today. Starting first on the road on Friday put us at a disadvantage. The rain helped a bit but we never gave up and we can share in one of the finest wins of our career. Leading both championships heading into the break gives us all the motivation we need for the second half of the season."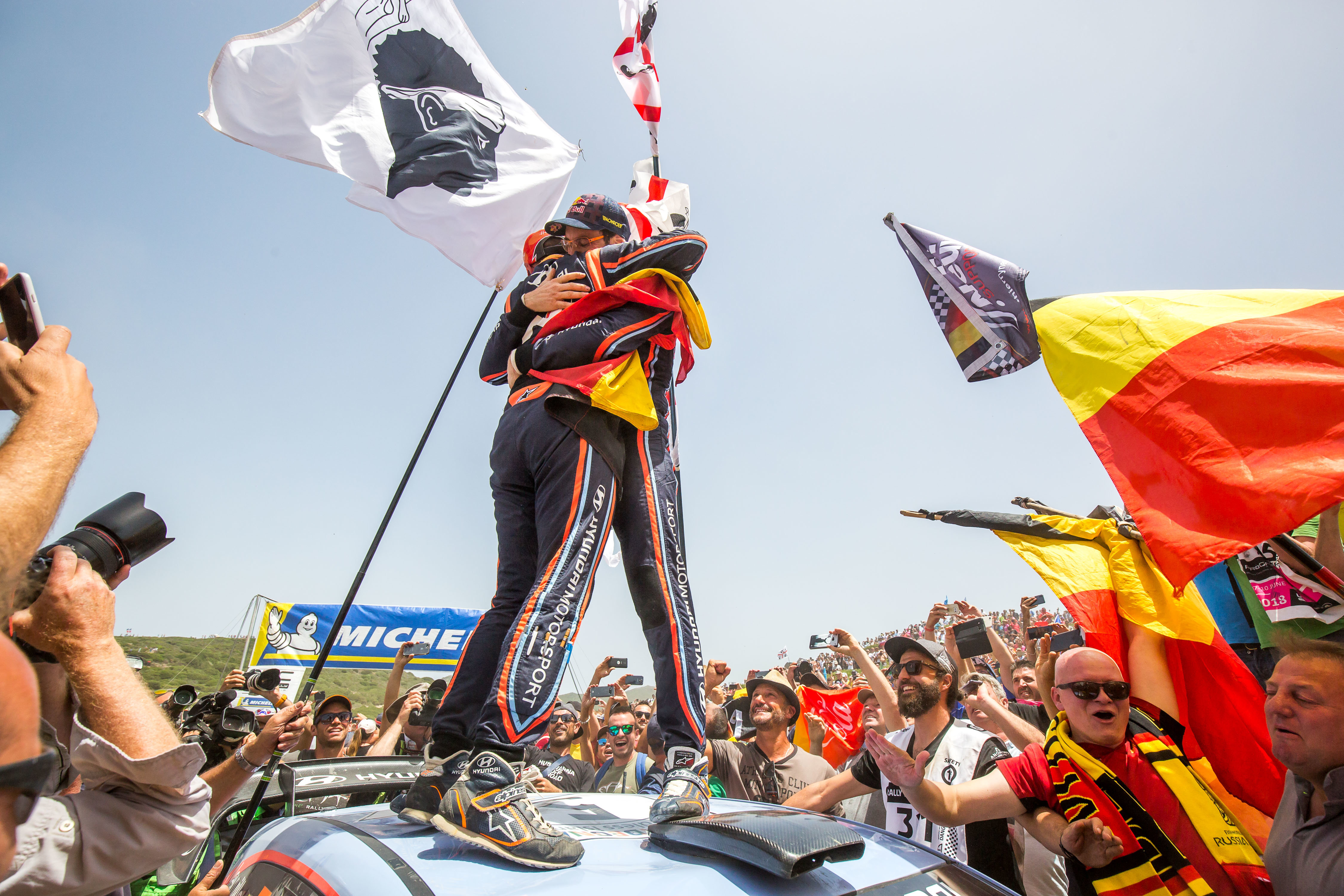 Sébastien Ogier (2nd)
"I don't think I can be unhappy with this weekend. I did everything I could, but I have to say that I was not prepared to take as many risks as Thierry. We still have some work to do because we were losing some tenths here and there – especially in the slower, more technical sections – but it's still a good result for the championship.
"We're only at the halfway point with six more events to come, but for sure we will have to be consistently strong. It will be a nice challenge and we will enjoy that, but now it's time to have a break and enjoy the holidays!"
Esapekka Lappi (3rd)
"Today was just about bringing the car to the finish and to the podium. This is a really important result, both for my confidence but also for the team as well. I think we deserved a podium. We had opportunities to do it earlier in the season but I made some mistakes. Both Portugal and Sardinia have been quite clean rallies for me with a consistent performance, so I hope I can take this forward to Finland."
Hyundai Motorsport
Hayden Paddon (4th)
"A difficult weekend for us, but a positive end to the rally for the team. We wanted more from this rally, but to take fourth place gives us important confidence for the coming events. Things didn't really click from the first stages, and we weren't able to replicate the positive feeling we had from shakedown. Still, it's nice to finish this event for the first time in three years, and to score important points for the team in the manufacturers' championship. We will look to build from here, and to try and take a few more risks. Congratulations to Thierry, Nicolas and the whole team for a fantastic victory."
Andreas Mikkelsen (19th)
"We gave it all we could in the Power Stage to try and salvage something from what has been a frustrating weekend. Since the last rally, we have found a much better feeling from inside the car but we haven't had the results to match. On Friday morning, we could show the potential we have with some strong times and leading the rally. Unfortunately, the transmission problem ended our rally and we've spent the remaining stages just refining things and picking up useful information about the car on these tough gravel stages. It is all valuable learning but we leave Sardinia with a feeling of missed opportunity. We will regroup over the summer break and be ready for Finland. Finally, congratulations to Thierry and Nicolas on an outstanding win this weekend."
Citroen Abu Dhabi Racing WRT
Mads Østberg (5th)
"Although we set competitive times on a number of occasions, we quickly found ourselves having to defend our position. We therefore didn't take any unnecessary risks. That was true both on my side, in terms of driving, and also from a technical point of view, in carrying two spares for yesterday afternoon's loop, for example. But I'm pleased to secure this fifth place for the team."
Craig Breen
"The weekend didn't go especially smoothly for us. Having started quite far down the running order on Friday in the rain, we struggled with the tricky road conditions. We then ended up opening the road for the next two days as the ground dried out. The roads, when dry, are renowned for cleaning a lot, meaning the early runners are at a real disadvantage. I nonetheless managed to improve my knowledge of this specific rally. My focus has already shifted to Finland."
Toyota Gazoo Racing WRT
Jari-Matti Latvala (7th)
"It was good to be able to get back out on the stages today after the frustration of yesterday. The feeling in the car was good and the times were pretty good, even though we were saving the tyres. Unfortunately, on the Power Stage I stalled the engine in one corner: I went too quick into a left-hander and the ruts were quite deep. I really wanted a podium here but I will try to have a positive break and be ready to fight in Finland."
Ott Tänak (8th)
"It was a tough weekend with many lessons learned. We still need to understand what happened and why, and we need to avoid the same things happening in the future. Generally, the feeling is good, we are really fast, now we just need a bit of consistency. I know we can do it. As a team we are still young but we are learning quickly. I have good faith in the team and I'm sure we can put these moments behind us and be stronger in the future."
M-Sport Ford WRT 
Teemu Suninen (10th)
"On Friday I was really happy with my speed. The feeling was good and the rhythm was coming quite easily – we were in the fight for the podium and weren't taking any big risks. Then in the last stage I just pushed a little too hard on the old tyres and we went off.
"After that it was a difficult weekend. We were focused on getting through all of the kilometres and when you're driving carefully you lose the rhythm and the times don't come as easily. But we got to the end and I am sure that we will be faster here next year."
Elfyn Evans (14th)
It's been a frustrating weekend – especially as the feeling in the car was really good on Friday morning. A relevantly small error proved pretty costly, and when you drop 13 minutes there is very little to fight for. We managed to salvage a point from the Power Stage which was some consolation, and now we'll have a few weeks off before getting fully focused ahead of the next one in Finland."
We now have the summer holiday break and the WRC will return in the last weekend of July, a full six weeks from now for Rally Finland!
Final Overall Classification – Rally Italia Sardegna
| | | | | |
| --- | --- | --- | --- | --- |
| 1 | T. Neuville | N. Gilsoul | Hyundai i20 Coupe WRC | 3:29:18.7 |
| 2 | S. Ogier | J. Ingrassia | Ford Fiesta WRC | +0.7 |
| 3 | E. Lappi | J. Ferm | Toyota Yaris WRC | +1:56.3 |
| 4 | H. Paddon | S. Marshall | Hyundai i20 Coupe WRC | +2:55.2 |
| 5 | M. Østberg | T. Eriksen | Citroën C3 WRC | +3:10.9 |
| 6 | C. Breen | S. Martin | Citroën C3 WRC | +4:31.7 |
| 7 | J.M. Latvala | M. Anttila | Toyota Yaris WRC | +11:22.1 |
| 8 | O. Tänak | M. Järveoja | Toyota Yaris WRC | +12:38.2 |
| 9 | J. Kopecky | P. Dresler | Škoda Fabia R5 | +13:14.6 |
| 10 | T. Suninen | M. Markkula | Ford Fiesta WRC | +15:30.4 |
2018 FIA World Rally Championship for Drivers' Standings 
After round 7
| | | |
| --- | --- | --- |
| 1 | T. Neuville | 149 |
| 2 | S. Ogier | 122 |
| 3 | O. Tanak | 79 |
| 4 | E. Lappi | 70 |
| 5 | D. Sordo | 60 |
| 6 | A. Mikkelsen | 56 |
| 7 | E. Evans | 46 |
| 8 | K. Meeke | 43 |
| 9 | J.M Latvala | 37 |
| 10 | C. Breen | 34 |
| 11 | M. Østberg | 26 |
| 12 | T. Suninen | 24 |
| 13 | H. Paddon | 22 |
2018 FIA World Rally Championship for Manufacturers' Standings
After round 7
| | | |
| --- | --- | --- |
| 1 | Hyundai Shell Mobis World Rally Team | 212 |
| 2 | M-Sport Ford World Rally Team | 184 |
| 3 | Toyota Gazoo Racing World Rally Team | 161 |
| 4 | Citroën Total Abu Dhabi World Rally Team | 129 |