Race 1 saw Scott Dixon take his 42nd IndyCar win while in the second race, Ryan Hunter-Reay managed to break his losing streak of nearly as many races, 41, by taking the win after Alexander Rossi cracked under pressure late on. Detroit is a notoriously bumpy track, ready to severely punish any mistakes but also graciously reward those who get it right. Both races proved to be a https://www.youtube.com/watch?v=mQALMfRkdzgbattle between the 2-stop and 3-stop strategies with each being made work by different drivers.
It may have been Marco Andretti on his first pole since Pocono 2013 for Race 1, but just a few laps into the race it became evident that Dixon had far better pace and was more confident in the trickier areas of the track. The first round of pit stops played nicely into Dixon's hands, removing the challengers of Andretti and Rossi, thus leaving the fight for the win down to just himself, Hunter-Reay and Rahal. Once last year's double winner, Rahal, had removed himself from contention by hitting the wall, the race was on between Dixon and Hunter-Reay with the former having the pace to pull away in the closing stages of the race, taking his first win of the season.
Race 2 was a quieter affair for Dixon, coming home in an eventual fourth place. The second race certainly had an odd start, the pace car crashed on the formation lap, causing a 34-minute delay to proceedings but once the race did eventually get going, Dixon seemed to be missing some of his Race 1 pace. He had some good battles with Sebastien Bourdais and race-winner Hunter-Reay but ultimately didn't have the pace to challenge, leaving him in fourth.
The most relieved driver after the weekend would probably be Hunter-Reay who broke a victory drought that had spanned back to Pocono 2015. Admittedly, that gap is not as large as teammate Andretti whose last win came back at Iowa 2011, but it's still longer than any driver would want and in breaking it, Hunter-Reay has answered a lot of the questions that have been coming his way recently. Race 1 was already a good showing from Hunter-Reay but he didn't quite have the pace to match Dixon who seemed imperious in the first outing, leaving Hunter-Reay as the slightly disgruntled bridesmaid once again.
However, the #28 Andretti driver's fortunes finally turned to the better, after years of bad luck and hardship, in Race 2. A poor qualifying, including two spins, had left Hunter-Reay playing catch up in the first half of the race but, even as he was cutting his way through the field, he clearly had the pace of the leaders, namely Rossi. Following his last stop, Hunter-Reay was over eight seconds back from Rossi but, with just seven laps to go, Rossi had been caught. A lock up from Rossi handed Hunter-Reay a lead he would've surely taken anyway and meant that his nearest challenger was over 16 seconds back, meaning the American could take a dominant victory, 41 races after his last.
Losing that race to Hunter-Reay was Rossi who, after coming home in third in Race 1, was the championship leader. Rossi was repeatedly told on the radio to think about the bigger picture, about the championship, not just this race but, racing drivers are just that, racing drivers and Rossi wanted that win more than anything else. With Hunter-Reay having the superior pace, Rossi was right on the limit, already shown by an earlier lock up that cost the #27 Andretti driver valuable time. Then, at Turn 3, Rossi had another, much larger, lock up that forced him to go straight on, losing him the lead, leaving him with a puncture and meaning that he only trailed home in 12th. Rossi's now lost the championship lead to Will Power but he's just 11 points back so all is far from lost.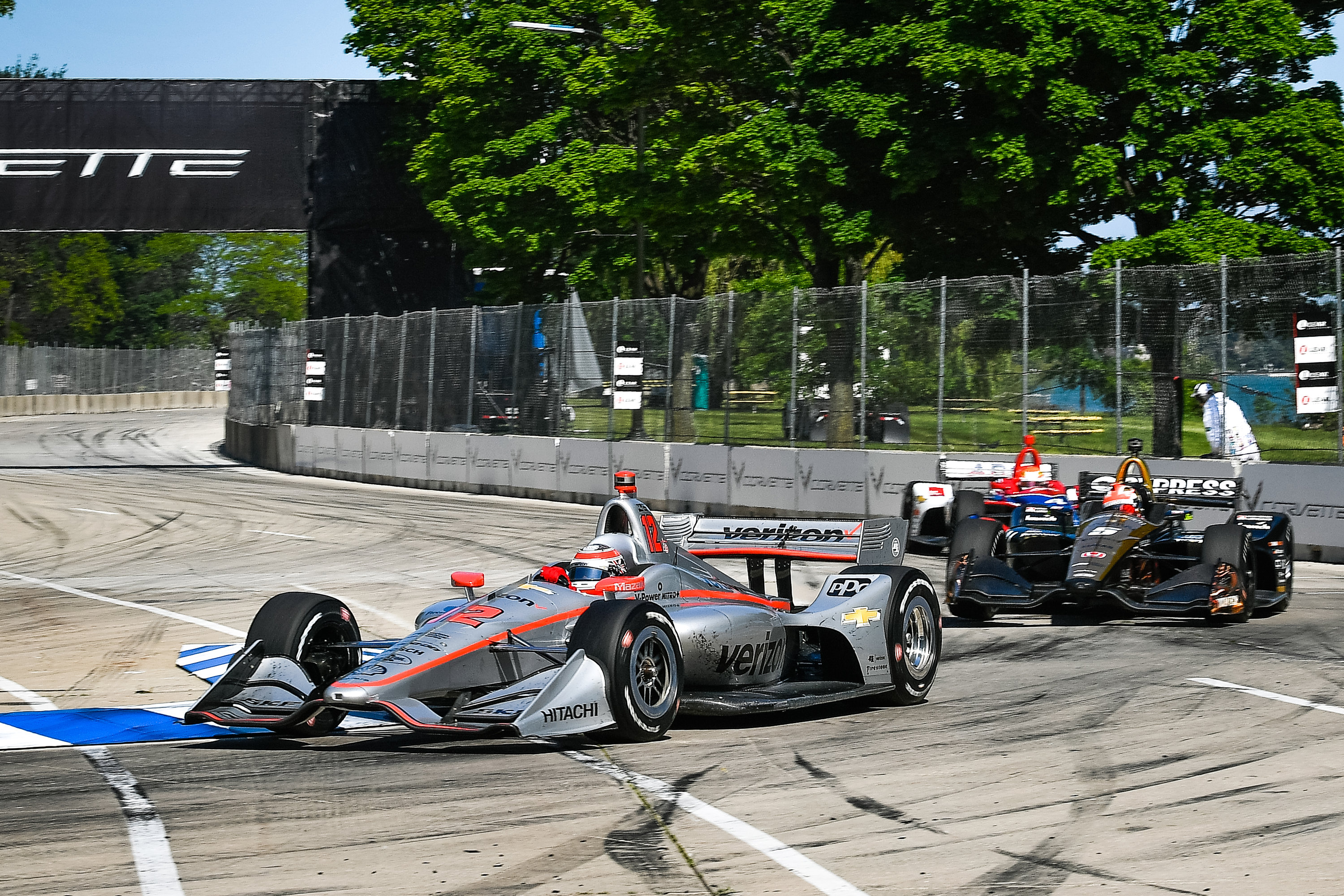 Following on from his Indy 500 triumph, Power was top Chevrolet all weekend, getting a seventh in Race 1 and then a podium in Race 2, meaning he stays in the championship lead. In Race 1, all the Chevrolet-powered cars struggled for pace and were no match for their Honda-powered counterparts however, some overnight changes meant that their pace was much improved, meaning Power could snatch a podium. While Penske teammates Josef Newgarden and Simon Pagenaud could hardly make it into the top-10, Power was able to take the fight to the Hondas, even if he wasn't a threat to Hunter-Reay.
Top rookie, as it always seems to be, was Robert Wickens who came home eighth in Race 1 and then sixth in Race 2, after starting second. Schmidt Peterson, like so many others, struggled for pace all weekend with Wickens' teammate James Hinchcliffe having an awful pair of races, a significant amount off the pace in both.
Last year's Rookie of the Year, Ed Jones, put in very good performances in both races with a sixth in Race 1 and then a remarkable third in Race 2, showing that he can challenge teammate Dixon and removing some of the questions that had been hanging over him for the first part of the season.
IndyCar first-timer and F2 driver Santino Ferrucci also put in very respectable performances, even if the results don't show it. His first ever IndyCar race ended in a trip to the barriers curtesy of a nudge from behind by Charlie Kimball, who served a drive-thru penalty for the collision. Race 2 was a similar story; Ferrucci managed to avoid the barriers after spinning on exiting pit lane but his race was ruined by it. Regardless, it was a good showing from Ferrucci who was, at times, outpacing teammate Bourdais who had a dire weekend.
An excursion in the run off in the opening stages of Race 1 dropped the Frenchman well down the order with Bourdais eventually finishing in 13th place. His weekend was to only get worse in Race 2 after first getting a puncture, then a penalty for pitting under caution and, to top it all off, a spin as a result of a bent tow-link. Certainly, a weekend to forget.
The races keep coming for the IndyCar paddock who now head onto Texas Motor Speedway for their third consecutive weekend of racing. A well-deserved two-week break awaits the teams and drivers after Texas, providing a crucial reset button.
Full Race Results
Race 1
Scott Dixon
Ryan Hunter-Reay
Alexander Rossi
Marco Andretti
Takuma Sato
Ed Jones
Will Power
Robert Wickens (R)
Josef Newgarden
Spencer Pigot
James Hinchcliffe
Zach Veach (R)
Sebastien Bourdais
Tony Kanaan
Matheus Leist (R)
Jordan King (R)
Simon Pagenaud
Gabby Chaves
Charlie Kimball
Max Chilton
Rene Binder (R)
DNF – Santino Ferrucci (R), Graham Rahal
Race 2
Will Power
Ed Jones
Scott Dixon
Graham Rahal
Robert Wickens (R)
Tony Kanaan
Charlie Kimball
Marco Andretti
Simon Pagenaud
Max Chilton
Alexander Rossi
Zach Veach (R)
Matheus Leist (R)
Josef Newgarden
James Hinchcliffe
Takuma Sato
Jordan King
Gabby Chaves
Santino Ferrucci (R)
Sebastien Bourdais
Rene Binder (R)
DNF – Spencer Pigot