It's time for the really dusty rally! Last year, M-Sport won the rally, thanks to a superb drive from Ott Tanak. Thierry Neuville is the championship leader, currently 19 points ahead of the reigning champion Seb. Opening the road on Friday will make the event very tricky for him. Last year we saw Seb open the road and he finished in fifth place and kept the lead in the championship.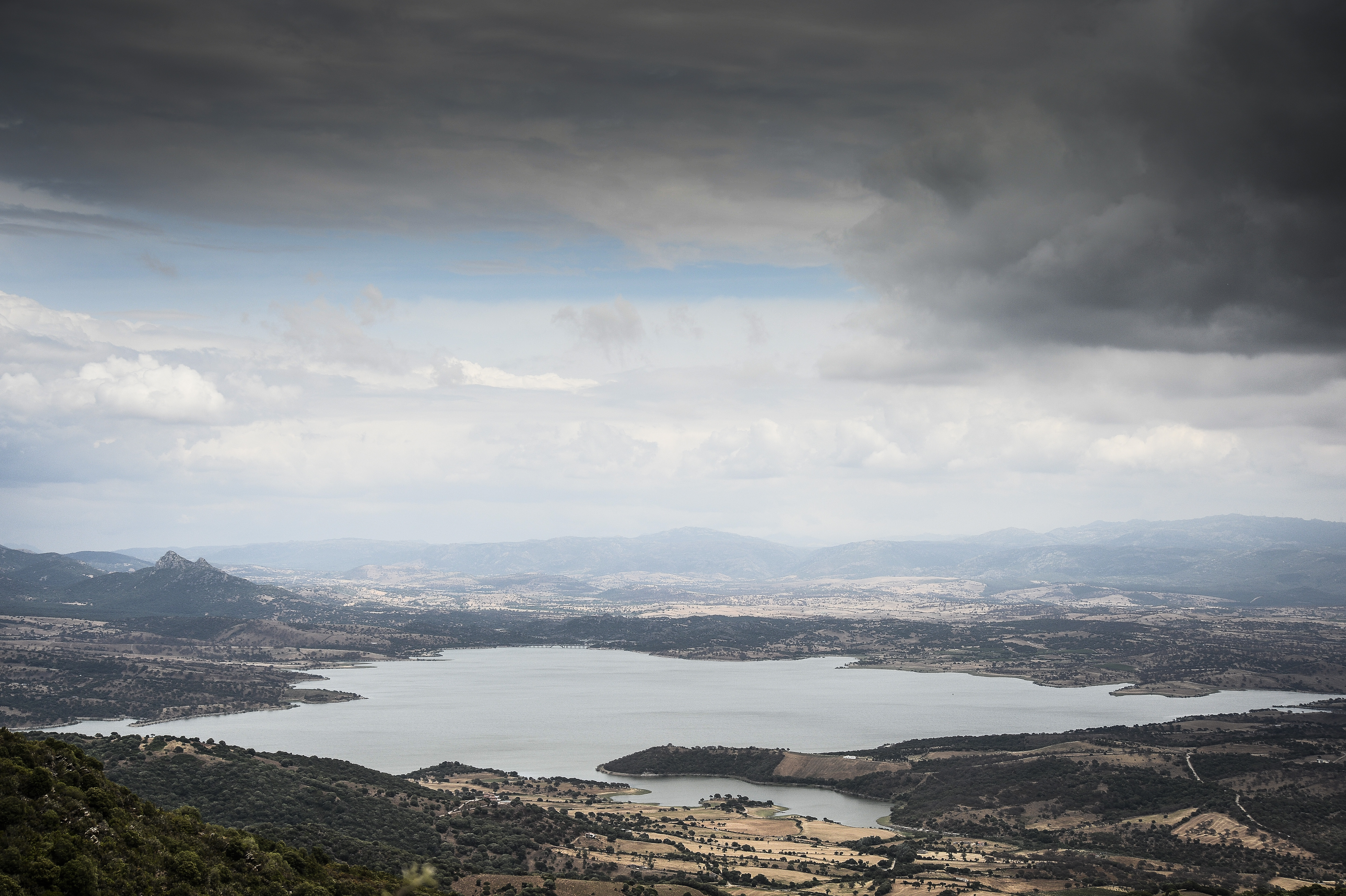 Here's last year's result.
Final  Overall Classification  -Rally Italia Sardegna
| | | | | |
| --- | --- | --- | --- | --- |
| 1 | O. Tanak | M. Jarveoja | Ford Fiesta WRC | 3:25:15.1 |
| 2 | J.M Latvala | M. Anttila | Toyota Yaris WRC | +12.3 |
| 3 | T. Neuville | N. Gilsoul | Hyundai i20 Coupe WRC | +1:07.7 |
| 4 | E. Lappi | J. Ferm | Toyota Yaris WRC | +2:12.9 |
| 5 | S. Ogier | J. Ingrassia | Ford Fiesta WRC | +3:25.3 |
| 6 | J. Hänninen | K. Lindstrom | Toyota Yaris WRC | +3:38.5 |
| 7 | M. Østberg | O. Floene | Ford Fiesta WRC | +6:31.8 |
| 8 | A. Mikkelsen | A. Jaeger | Citroën C3 WRC | +8:07.8 |
| 9 | E. Camilli | B. Veillas | Ford Fiesta R5 | +11:15.8 |
| 10 | J. Kopecky | P. Dresler | Škoda Fabia R5 | +11:21.4 |
Here's the full schedule for this tricky event!
RALLY ITALIA SARDINIA SCHEDULE (GMT+2)
THURSDAY 7 JUNE
8.00am: Shakedown Olmedo (3,34 km)
5.00pm: Start (Alghero)
6.00pm: SS 1 – Ittiri Arena Show (2,00 km)
7.00pm: Parc fermé (Alghero)
FRIDAY 8 JUNE
6.30am: Service A (Alghero – 15 min)
8.33am: SS 2 – Tula 1 (21,99 km)
9.48am: SS 3 – Castelsardo 1 (14,52 km)
10.37am: SS 4 – Tergu – Osilo 1 (14,14 km)
11.48am: SS 5 – Monte Baranta 1 (10,78 km)
12.44pm: Service B (Alghero – 30 min)
3.02pm: SS 6 – Tula 2 (21,99 km)
4.17pm: SS 7 – Castelsardo 2 (14,52 km)
5.06pm: SS 8 – Tergu – Osilo 2 (14,14 km)
6.24pm: SS 9 – Monte Baranta 2 (10,78 km)
7.00pm: Flexi service C (Alghero – 45 min)
SATURDAY 9 JUNE
5.55am: Service D (Alghero – 15 min)
8.38am: SS 10 – Coiluna – Loelle 1 (14,95 km)
9.33am: SS 11 – Monti Di Ala' 1 (28,52 km)
10.11am: SS 12 – Monte Lerno 1 (29,11 km)
1.03pm: Service E (Alghero – 30 min)
2.11pm: SS 13 – Citta' Di Ittiri – Coros (1,40 km)
4.08pm: SS 14 – Coiluna – Loelle 2 (14,95 km)
5.03pm: SS 15 – Monti Di Ala' 2 (28,52 km)
5.41pm: SS 16 – Monte Lerno 2 (29,11 km)
8.15pm: Flexi service F (Alghero – 45 min)
SUNDAY 10 JUNE
7.45am: Service G (Alghero – 15 min)
8.45am: SS 17 – Cala Flumini 1 (14,06 km)
9.38am: SS 18 – Sassari – Argentiera 1 (6,96 km)
11.12am: SS 19 – Cala Flumini 2 (14,06 km)
12.18pm: SS 20 – Sassari – Argentiera 2 Power Stage (6,96 km)
1.15pm: Service H (Alghero – 10 min)
2.15pm: Podium (Alghero)
Let's hear from the driver's!
 Hyundai Motorsport
Thierry Neuville
"Portugal was the near-perfect weekend for us, as we took 29 out of a maximum 30 points. We now move onto Sardinia, which is one of the most technical events on the calendar, leading the championship. The roads are very narrow and become extremely rough on the second pass. The grip level is quite high on the repeat loop, but we often lack traction on the first run through. They are tricky conditions but the stages tend to suit my driving style and pace notes system. I am able to be very precise and I have been successful there many times in the past."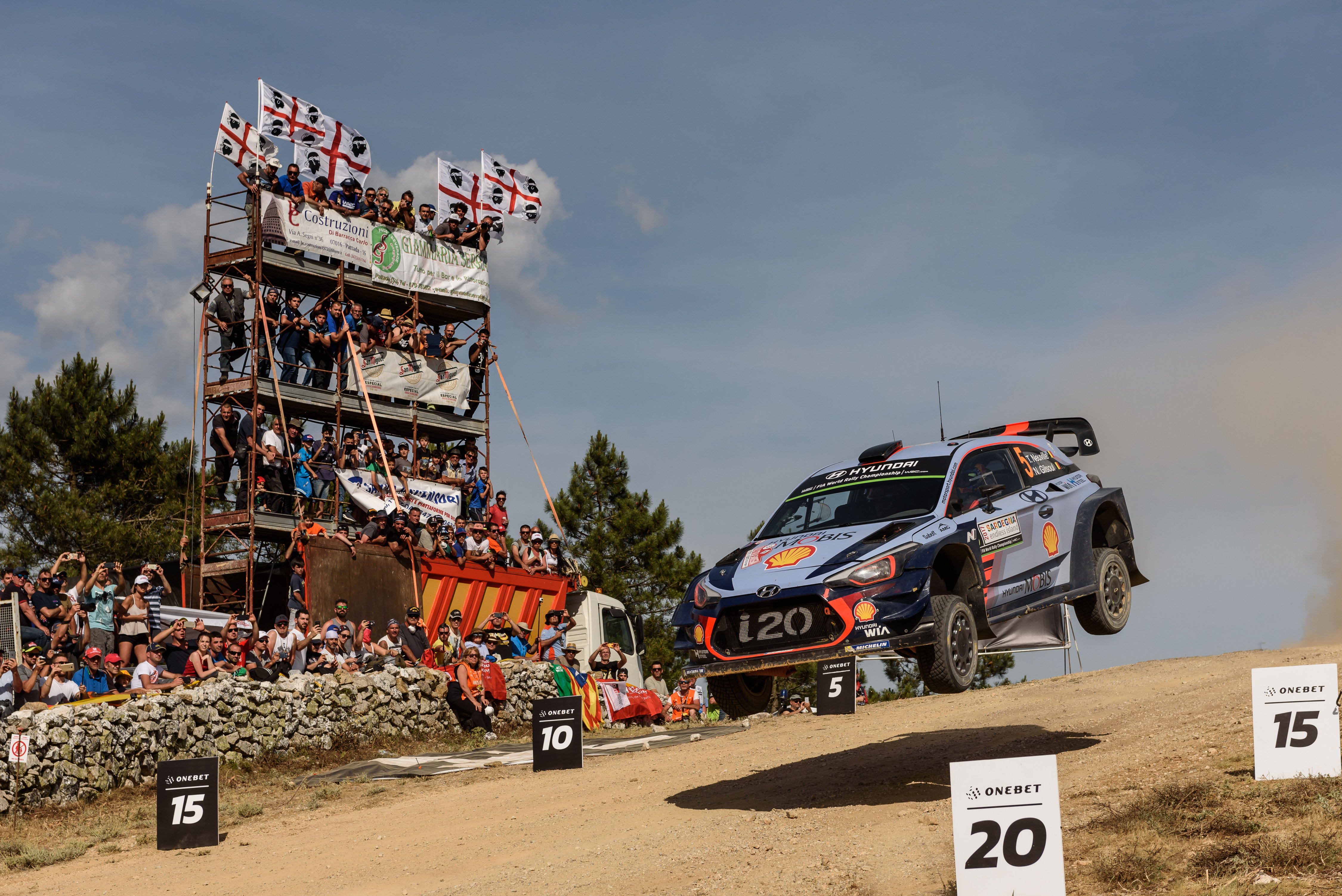 Hayden Paddon
"First of all, I am feeling fighting fit after the incident in Portugal and I'm ready to get back down to business. Up to that point, we were able to show a competitive level of performance, taking a stage win and battling for the lead. Rally Italia Sardegna is certainly one of the highlights of the year, located in the Mediterranean with sunny conditions and hot temperatures. The stages are very twisty and challenging. It is a rally I enjoy, and from where I have good memories. I scored my first WRC podium there in 2015 and led the rally in 2017. I would like to finish off what we started last year."
Andreas Mikkelsen
"Rally Italia Sardegna is a very warm event and it's important to have high concentration; there are many rocks sticking out that can cause punctures or damage. You also need a stable car because the stages are quite narrow and rough with a lot of bumps. We have made improvements to the car on gravel, which has given me an improved feeling, and I felt really comfortable during Rally de Portugal. This is a positive sign for Sardinia where our aim is to catch up some points and improve our position in the drivers' championship, while also helping the team to increase the manufacturers' lead. It will be tough on mind and body, as well as the car and tyres, but we're ready for it."
Toyota Gazoo Racing WRT 
Jari-Matti Latvala
"I always enjoy competing in Sardinia. I actually drove there for the first time in 2003 on the Rally Costa Smeralda, the year before the WRC started going there. The roads have a very hard base with a layer of sand on the top which can make it very slippery for the first cars on the road. The roads are narrow but you can go very fast if you can keep to the right line. I feel positive heading to Sardinia. I had two clean days of driving in Portugal without any mistakes and this helped my confidence a lot, and I am really enjoying driving this car."
Ott Tanak
"Sardinia is a special rally for me as it's where I got my first win one year ago. Hopefully we can get another top result this time around. I think this will be a key rally for the championship. Portugal obviously didn't go as well as we planned or hoped, so it will be really important to score some strong points. We are trying to be well prepared as possible, and I know that the team is working really hard. I am really happy with how the car has been performing: In Argentina it was fantastic and it felt good in Portugal as well. Now we just need to translate that speed into a good result before the summer holidays."
Esapekka Lappi
"I am really looking forward to competing in Sardinia again. We had a pretty good result there already last year and my speed was good, as we won six stages. I think I have learnt a lot since then, and there has also been a lot of progress with the car. I have felt very comfortable over the last couple of rallies and I have had the confidence to push hard. Now that we are fifth in the championship, we will have to run quite early on the road on Friday. The road cleaning effect can be quite big there, but I got some good experience of this on the final two days in Portugal, so I am not worrying about this too much."
M-Sport Ford WRT
Sébastien Ogier
"Portugal was a shame as we had the speed to challenge for the win. It was a small mistake with big consequences, but we put it behind us and are now fully focused on giving it everything we've got in Sardinia.
"Having competed here many times before, I've learned to really enjoy these demanding stages. It's a beautiful island, but not the easiest of rallies with some very rough and abrasive terrain. You need to keep a margin and stay focused from start to finish – which is exactly what we intend to do next week.
"We won't be opening the road this year, but we'll still have something of an uphill battle with many fast drivers benefitting from a cleaner road behind. Even so, I'm confident that we can challenge for a good result. If we can keep the lead in sight on Friday night then we'll be in with a chance – and will push for the best possible result."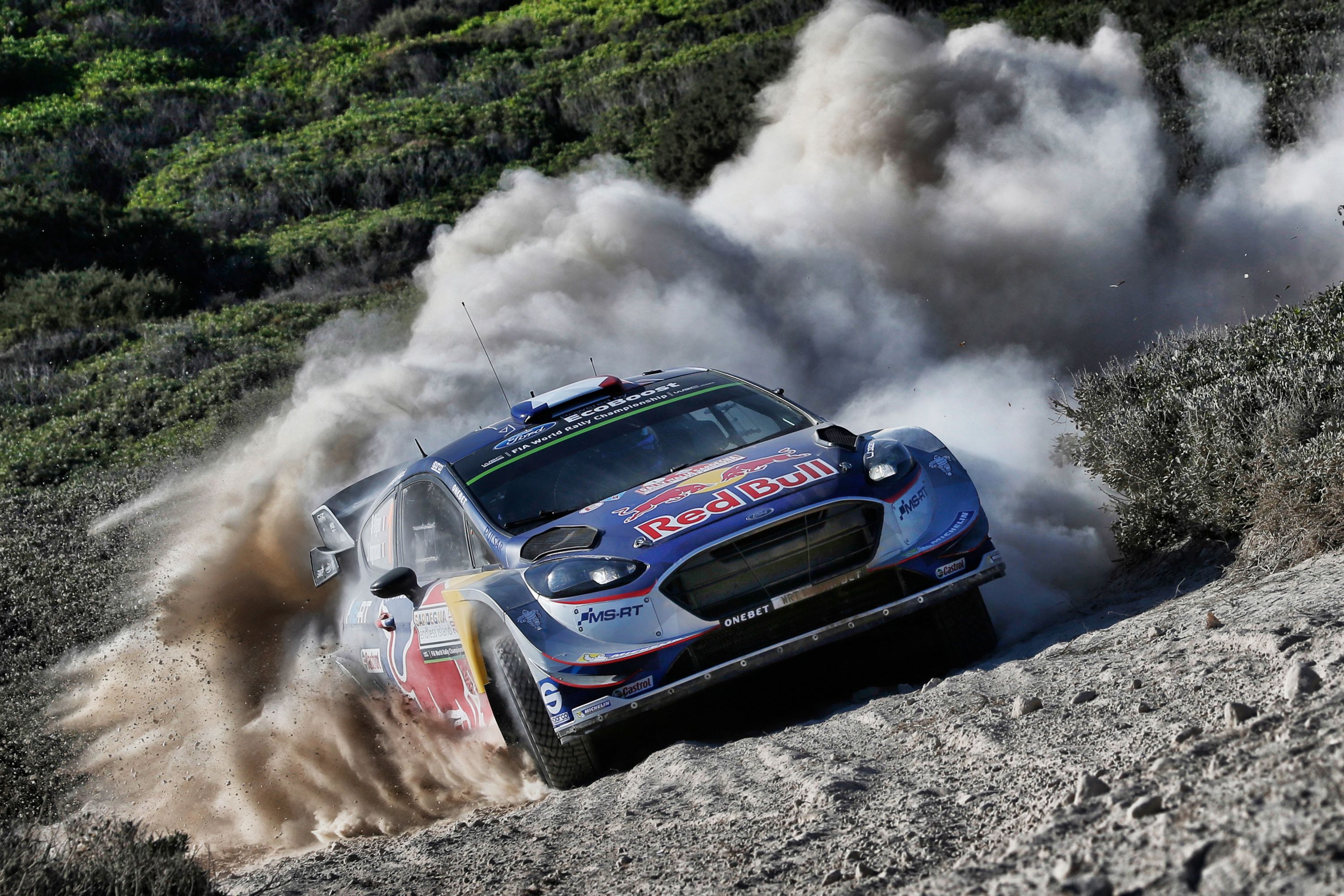 Elfyn Evans
"Sardinia will always be a special place for me. It's where I first got behind the wheel of a world rally car and I've come to really enjoy the challenging nature of the stages. It's not an easy rally by all means, but I think that's one of the reasons why I enjoy it so much.
"It's such a demanding event and there are so many things that you need to keep in mind. The stages themselves are very rough and abrasive. You need to keep a margin within your driving otherwise your rally can be over before it's even begun.
"Then there's the heat. At this time of year, we can be looking at temperatures as high as 30C. That takes its toll on the cars, and the 50C plus temperatures inside the cockpit take their toll on the crew too!
"After our good result in Portugal we're keen to keep that momentum going in Sardinia. We've completed two days of testing and we'll have a fairly good road position on Friday that we'll need to make the most of. If everything goes our way, I see no reason why we can't be challenging for another strong result."
Teemu Suninen
"I didn't compete in Sardinia last year, but I did win the WRC 2 category in 2016 so hopefully that will help us this year. Every rally is difficult at this level and every minor detail has an effect on the end result – I'm sure Sardinia will be no different.
"We completed a one-day test last week which proved really useful. The road was quite slow, but that was good for me as it's on these slower roads where I need to focus on improvements – where it's slow and narrow and you need to take an advantage over every inch of the road.
"Even on the test I noticed how hot it will be next week. Normally I drink three litres a day but in Sardinia I expect to be drinking more than five litres a day! The stages are also quite rough and that means that we will have to get every stone marked in our notes.
"By focusing on my rivals my speed won´t improve. I'll focus purely on my own driving and on improving stage by stage – then we'll see where we are at the end of the rally."
Citroen Abu Dhabi WRT 
Craig Breen
"This is one of the WRC rallies where I have the least experience, but fortunately it hasn't changed much since last year and so I have most of the pace notes already. It's not necessarily my favourite event, because it's never easy to adopt a fluid driving style on these really narrow, technical stages. But I have a good road position in eighth in the running order, because it's one of the events where cleaning is most significant, so I'm going to try and make the most of it on the opening day."
Mads Østberg
"It's one of my favourite rallies. I've always been quick here. First of all, you need very good pace notes and then you need to find the right balance between pushing where you can and defending when there is a real risk of smashing the car. I learned a lot about the C3 WRC in Portugal and ended up by showing some pretty decent speed. The two days of pre-event testing held this week will help me to find the right pace, especially as I fully intend to take advantage of my good position in the running order."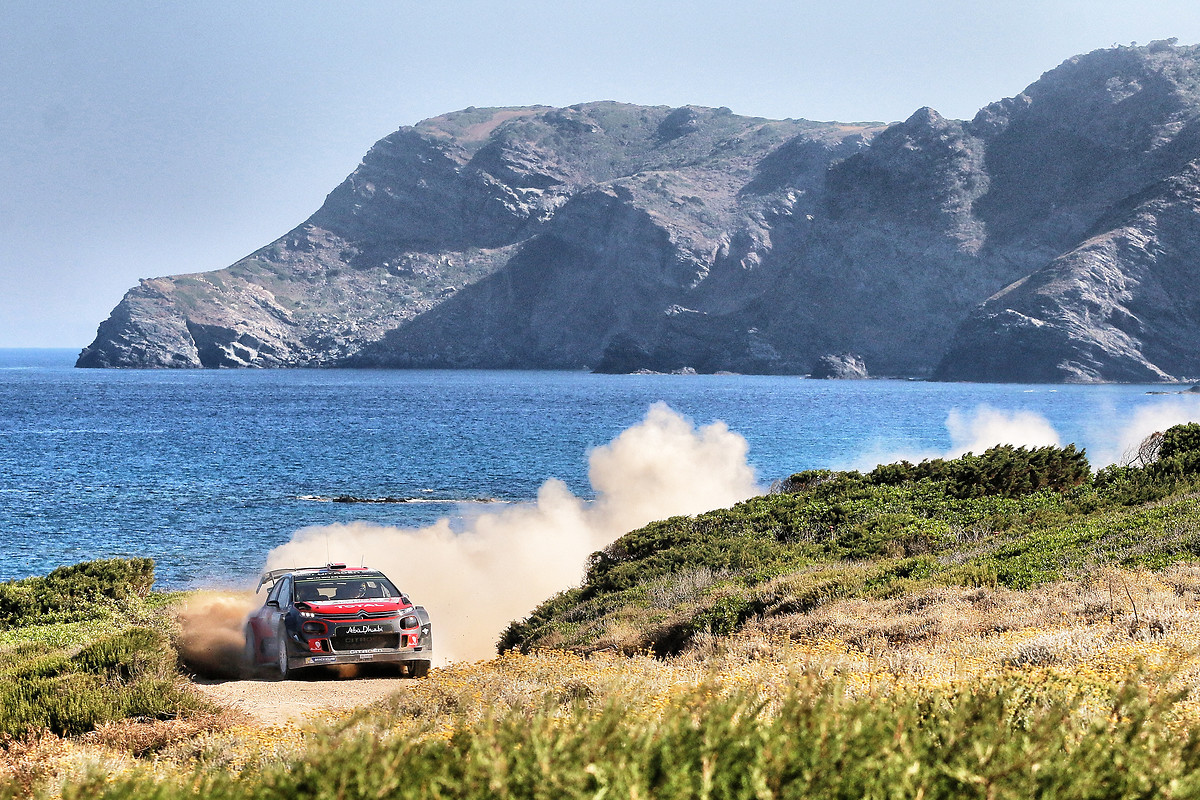 Just one team will be running two cars, with the removal of Kris Meeke and Paul Nagle from the Citroen team a few days ago. This will make it hard for them to make some good ground up in the manufacturers championship, but with Mads making his third start this year for this team and Craig in the other car looking to learn more about this tricky event for the future, they've got two drivers that can get to the end of the rally in the points.
Now, this is a special event for Miikka Antilla. He is making his 200th WRC start. A very special moment for Jari-Matti's co-driver. The Toyota crew will want to get a great result, to mark this weekend.
Well, who do I think could win? Hayden Paddon and Seb Marshall will make their third start this year, and with his great road position, I would expect them to be in the mix for the podium at the very least, along with Andreas, Jari-Matti and Esapekka.
Don't forget, all the action starts on Thursday morning with shakedown at 8am, that's 6am BST here in the UK. The latest weather reports for the area on Friday are suggesting there will be thunderstorms. If there are stages that have rain, then Thierry will be a happy man.
Enjoy!