Aston Martin dominated the British GT GT3 class with two victories from Snetterton's two sprint races on Sunday.
Nikki Thiim and Mark Farmer in the TF Sport #11 Aston Martin eased home after pole position for race one, and Farmer was relieved with his second GT victory after falling back to third.
"I made a bit of a mistake which cost me momentum. Sadly the Aston got me and the Bentley got me because of that, it went from perfection to losing out in the blink of an eye but that is how it is.
"We had a lightning driver change, we'd been practicing all morning, it was really fast and we jumped them in the pits."
Farmer was quick to point to the guidance given to him by Thiim, a world champion at sportscar level.
"It's massive to have a Pro driver like Nikki with you, as an Am you're still finding your way in the sport so to have someone that can guide you an coach you is super important. I had John Barnes for a long time, to have Nikki as well, I'm extremely fortunate.
"They're both very different, but we get on well and I'm learning a lot from him."
After finishing well back at Rockingham with technical gremlins affecting his Aston Martin,  there's plenty of motivation for the #11 Am driver, who conceded that the team cannot afford any more mistakes.
"We were really quick in Rockingham but had a technical issue, these things happen and our championship starts now. The competition is really tough, you can't afford to slip up and we have at Oulton and Rockingham. We need to be flawless from now."
Later in the afternoon, a stint-long battle between Derek Johnston's #17 Aston and Andrew Howard in the #99 Beechdean Aston eventually went the way of the former.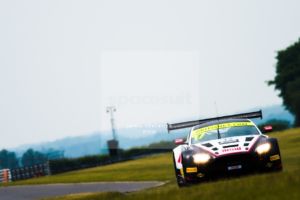 J
Howard had been all over Johnston and despite pushing, Johnston held on for a far from stress-free victory.
I don't know if it was fun! That's the hardest I've worked in a race I think, Andrew kept me on it and as we're in identical cars he knows what I can do and vice versa.  That is why we go racing. For two old guys like me and him to be out there like that, that was perfect.
"I thought "What have I got to do?" because he just kept on following me through back markers. I was working harder and harder. He just never let me breathe."
Johnston was well aware of the importance of teammate Marco Sorensen passing the #33 Barwell Motorsport Lamborghini of Phil Keen at the start of the race, which kept the #17 in touch with the leading #11 of Nikki Thiim.
"To pass Phil at T1 at the start was important for us, we weren't quite as quick as the sister car early on but all in all that was great. We had a BOP (Balance of Performance) disadvantage and we thought that may affect us, but the Aston is still a good old car at seven years old."
And the #17 Am driver praised the two-race, sprint format in use this weekend.
"Two races lets you know whether you have made a mistake on setup, you can put it right. For me, I rarely get the opportunity to take the chequered flag with a win so that was phenomenal. The best feeling in the world."