It's that time of year again, the Month of May has nearly run its course and there is just one crucial event left in it, race day. Practice and qualifying entailed enough dramas of their own so, if they're anything to go by, the race should be another thrilling showdown.
We had a surprisingly low amount of wrecks in practice and qualifying with just the one for James Davison but that didn't mean that we were short of commotion. This was chiefly caused by the re-introduction of bumping, a long-standing Indy 500 tradition. Proper bumping hasn't been present for a few years so here's a quick run-down: the grid is traditionally only made up of 33 cars but 35 entered this year so two had to be removed from running before the race. This was done on the Saturday of qualifying where, after all drivers had completed their guaranteed runs, the track was opened for the free-for-all that is 'Happy Hour' following which the slowest two drivers would be eliminated.
Throughout the build up to qualifying, there had been the general feeling that bumping was going to throw up a surprise or two with someone who didn't really deserve to be bumped ending up without a seat when the music stopped. This was, unfortunately, James Hinchcliffe who hasn't exactly had the best of times at this track over the years. From nearly being killed in practice in 2015, to pole the year later and now this, Hinchcliffe's pretty much had it all at this track. After a few days of speculation, Schmidt Peterson released a statement saying that they would not be trying to purchase an already qualified ride and that barring 'unforeseen circumstances', Hinchcliffe would not be racing. It's a season-wrecker from a championship point of view but Hinchcliffe has proved his class and has only gained fans through his dealing of the bumping.
With all the Hinchcliffe talk, the other bumpee, Pippa Mann, was rather overshadowed, as was day two of qualifying. Over all the noise, it was Ed Carpenter, an Indy 500 expert, who took a surprising pole from Penske's Simon Pagenaud and Will Power. Row two will be made up of championship leader Josef Newgarden, Sebastien Bourdais, who made an impressive return after his monster crash last year, and Spencer Pigot. IndyCar returnee Helio Castroneves was in the lead after day one but he couldn't quite deliver when the Fast Nine came around, eventually ending in eighth, just behind Danica Patrick in her last race but ahead of Scott Dixon who was last in the Fast Nine. No rookies made it into the Fast Nine but it was Matheus Leist who took the top rookie spot in eleventh after very nearly beating teammate Tony Kanaan to tenth.
Other than Hinchcliffe, the next biggest shock of qualifying would have to be 2016 winner Alexander Rossi who had a puncture on his fast run, almost crashed and ended up way down in thirty-second, only ahead of the ill-fated Conor Daly. Despite this, Rossi has remained resilient, stating the well-known point of you only have to be in the Indy 500 to stand a chance of winning it.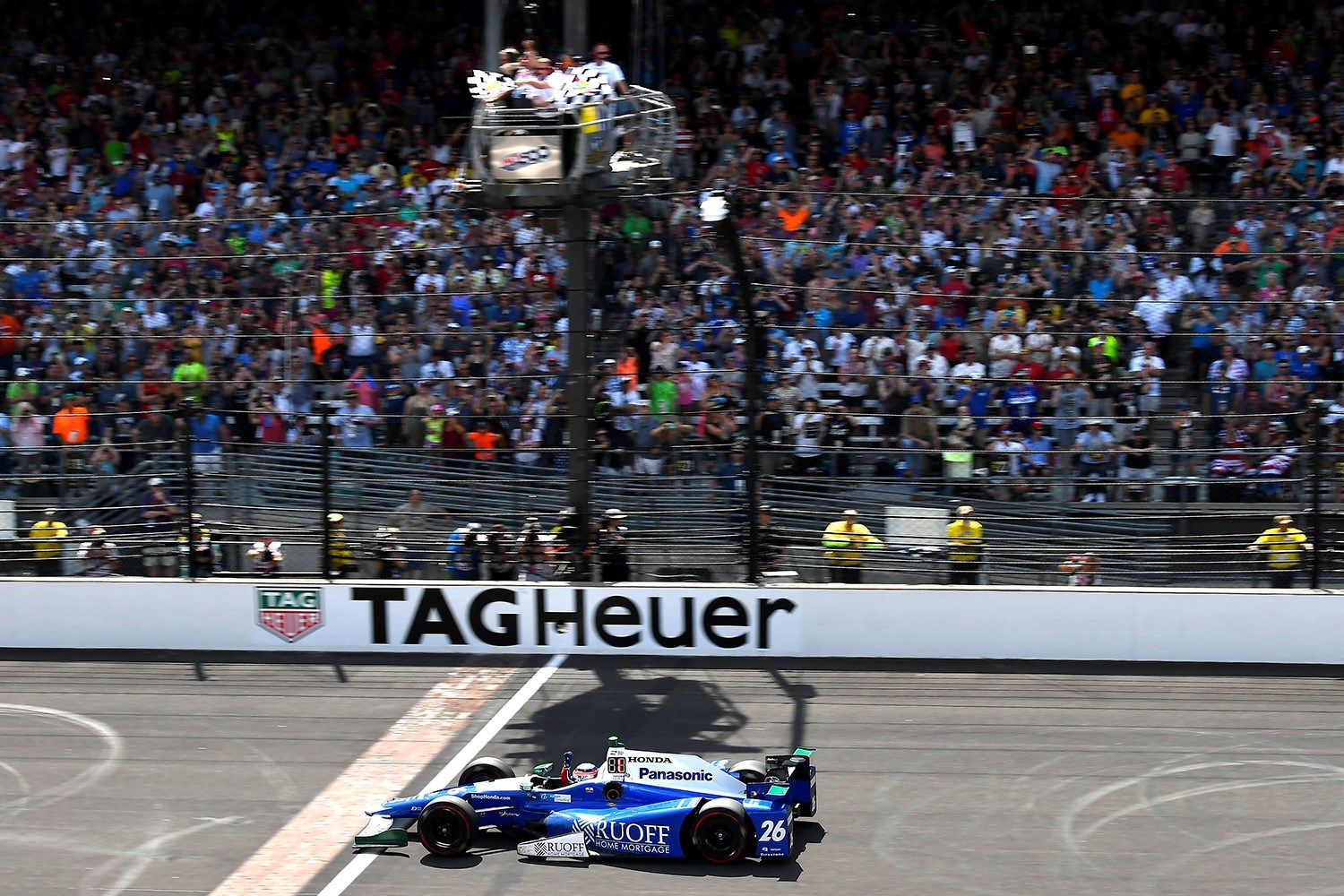 Speaking of winning, it was Takuma Sato who took that glory following a thrilling duel with Castroneves in the closing laps. Rookie Ed Jones took third and Max Chilton followed him home in fourth, a penny to anyone who could've predicted that! But that's what the Indy 500 is, it always has been, and always will be, massively unpredictable due to its length and attritional nature. Last year, 17 of the 33 cars failed to make the 200th and final lap with most being taken out in wrecks.
The biggest question from last year's running that has remained for this year is surrounding Honda's reliability, or lack thereof. The biggest name blow-outs were Ryan Hunter-Reay and, rather ironically, Fernando Alonso who'd come from pitiful Honda reliability in F1. Honda themselves claimed that they'd found the problem not long after last year's running and will hope beyond all hopes that their engines hold out for this year, if not, more questions will certainly be asked and some championships could take a massive hit.
Any of the 33 entrants could win this race, that could be said for any IndyCar race but it is never more true than at the Indy 500. The dice will inevitably be rolled strategy-wise by those with little to lose while wrecks and cautions could all play a massive part in deciding the winner. Ultimately, and as they always say, Indianapolis Motor Speedway choses the winner, try as you might, if IMS doesn't want you to win, it isn't going to happen.
Race starts at 5:05pm UK time so tune in to our Twitter channel for commentary as well as the BT Sport/ESPN channel to find out who will kiss the bricks on Sunday afternoon.