In my exclusive interview last week, Thierry said that he didn't think he'd be able to win and was hoping instead for a podium finish. Here the story of an unlikely win on the roads of Portugal, which has lifted him into the championship lead. Elfyn and Teemu also had great events to round off the podium.
Ott Tanak took the early lead in the stage that kicked off this event on Thursday evening. Less than two seconds covered the top ten.
Friday morning dawned a beautiful day and the cars would go into the days eight stages in championship order – Ogier, Neuville, Tänak, Mikkelsen, Sordo, Meeke, Lappi, Latvala, Evans, Breen, Paddon, Ostberg, Suninen.
The first stage of the day – Viana Do Castelo, was won by Hayden, making his first start for Hyundai since February's Rally Sweden. Evans and Meeke were second and third as well, whilst Seb could only manage eighth, 12 seconds slower. Thierry was ninth at this point. Sadly, for Toyota, Ott stopped in the stage after hitting some rocks. So far, Thierry's predictions were so far true.
The next stage – Caminha, Kris won and this was enough to move him into the lead with Hayden dropping to second. Seb set a great time considering his road position and with those ahead not so fast jumped to positions into sixth, whilst Thierry also moved up to into eighth. Toyota also saw a second retirement, with Jari-Matti also stopping in the stage! Big drama for Tommi's team.
The third stage of the day – Ponte De Lima, and the last before midday service saw another change in the lead, with Dani Sordo now winning the stage from his teammate Andreas and moving ahead of Kris by almost 5 seconds. Ogier also showed great pace again, setting the third fastest time and moving up to fourth, but Thierry was keeping close to the French champion in fifth overall.
The midday break was welcome for a few drivers, in particular, Mads Ostberg who was shown a few things by the Citroen team. He put these things to good use in the first afternoon stage.
Stage 5 – Viana Do Castelo 2, was won by Kris with Mads going second fastest, just eight tenths slower. There was drama in the M-Sport camp though with Seb going off and retiring from the rally! A big shock, but he was pushing very hard and when you're first on the road, things can catch you out. With his stage victory, Kris had moved back into the lead, with Dani slipping back just one place to second. Further back, Elfyn had moved up to seventh. Andreas and Craig were also both on the move, passing Thierry who was now sixth.
Stage 6 – Caminha 2, and Kris got a puncture about 3km into the 18km stage, despite running the hard tyres. He lost 18 seconds and dropped to fifth but was still just 11 seconds from the leader who was once again Hayden. Craig and Thierry were both now ahead of Kris in third and fourth.
There was more drama in stage 7- Ponte De Lima 2, with Craig and Kris both getting punctures, Andreas retiring and Hayden going off and damaging his car too much to complete the stage. Thierry was now in the lead with Elfyn up to second.
The final two stages of the day were won by Thierry, with Dani and Craig also second and third in both.
Thierry had driven brilliantly and very consistently throughout the day letting the others make mistakes. Citroen had reasons to smile, but fortune was not smiling on them with punctures spoiling their efforts. Hayden also was showing pace and had led, only to suffer misfortune. Things were definitely looking better for Elfyn though! The welsh wizard had driven very well!
Classification after Day One
| | | | | |
| --- | --- | --- | --- | --- |
| 1 | T. Neuville | N. Gilsoul | Hyundai i20 Coupe WRC | 1:37:30.7 |
| 2 | E. Evans | D. Barritt | Ford Fiesta WRC | +17.7 |
| 3 | D. Sordo | C. del Barrio | Hyundai i20 Coupe WRC | +24.3 |
| 4 | T. Suninen | M. Markkula | Ford Fiesta WRC | +34.4 |
| 5 | E. Lappi | J. Ferm | Toyota Yaris WRC | +45.8 |
| 6 | M. Østberg | T. Eriksen | Citroën C3 WRC | +48.3 |
| 7 | K. Meeke | P. Nagle | Citroën C3 WRC | +1:18.7 |
| 8 | C. Breen | S. Martin | Citroën C3 WRC | +2:27.3 |
Anyway, lets here from all the drivers after Friday's stages.
Thierry Neuville
"All in all, I am pretty happy with my day. We have made improvements to the car from one stage to the next, and we have been able to stay out of trouble. The afternoon loop proved decisive with a complicated tyre selection. We opted for six soft tyres, which – in hindsight – was perhaps not the best choice, but we were clever and made it work quite well in the end.  Despite incredibly rough conditions, we felt comfortable and pushed as hard as possible. We took four stage wins in a row, and the performances in the Street Stage allowed us to build a decent lead. However, it's still very early days in this rally, and we've seen today that we absolutely cannot be complacent."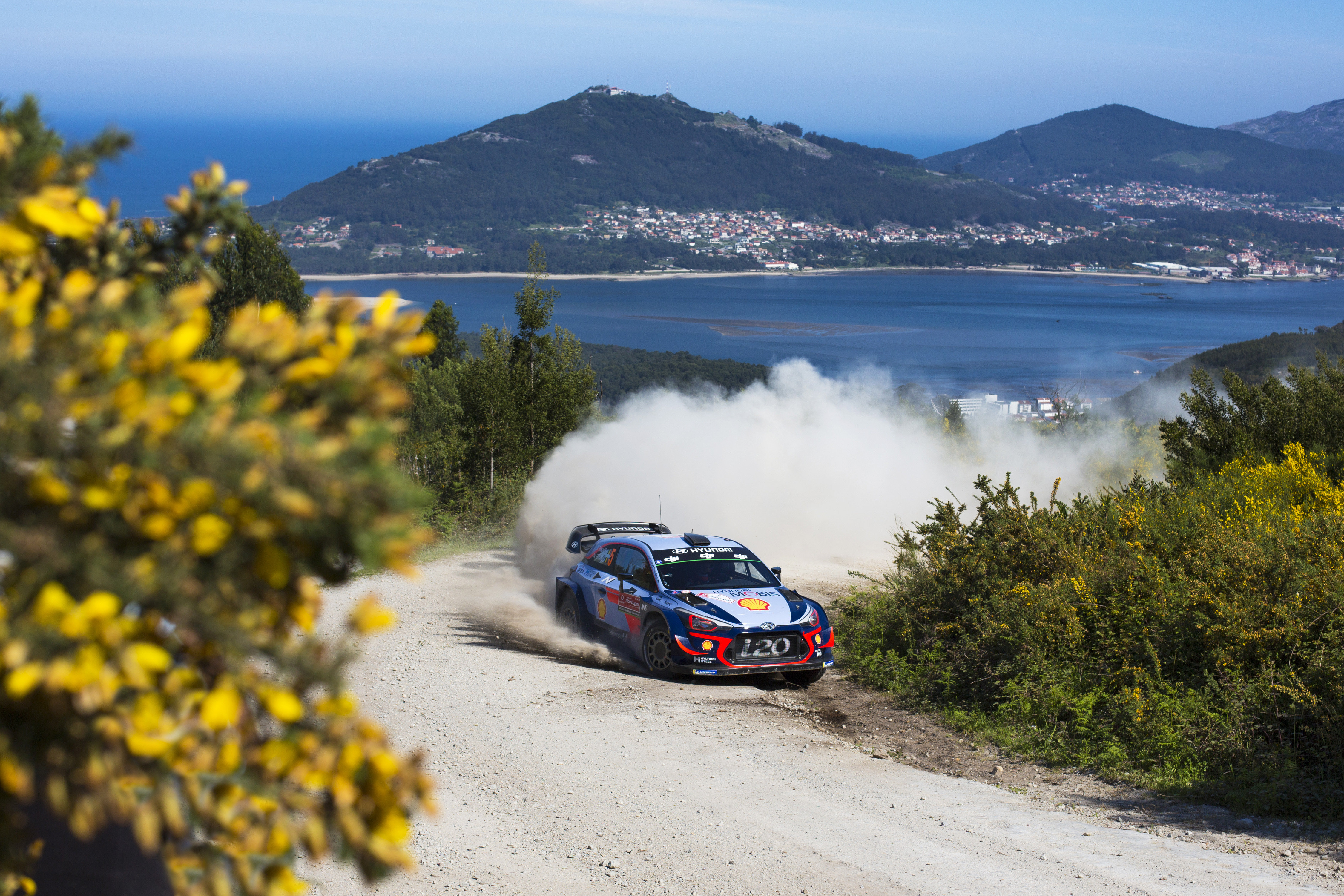 Elfyn Evans
"It's good to be in this position at the end of the day. I felt that our driving was pretty good on the whole, but there are still some things we can improve and we'll be working on that tomorrow. We've just got to keep going and fight for the best result possible."
Dani Sordo
"It has been a very tough day, so I am pleased to be inside the top-three overall and still in the close podium hunt. There is still a long way to go, but it has already been a rally with many incidents. We started the morning loop carefully but built up confidence in the first run through Ponte de Lima to win the stage. For the afternoon, we opted to run soft tyres, which in the end was not the ideal choice. The stages were rougher than expected and we had high wear which prevented us from pushing. We managed the situation reasonably well and had two good runs during the Porto Street Stage to end the day positively. I hope for a smoother Saturday!"
M-Sport Ford WRT
Teemu Suninen (4th)
"I was happy with my pace – especially on the second loop when I did some really good stage times. I was just a bit disappointed with SS4 where I was a bit too careful and lost a lot of time. That tells me that I need to go flat-out all the time, and that's what we plan to do tomorrow."
Sébastien Ogier (Rally 2)
"I went just a couple of centimetres too deep into a right-hand corner. There was a bank and I thought it would be okay to touch it a little, but unfortunately there was something there – a small root [or tree stump].
"It was a small, short impact on the suspension, but it was enough to break it. In the next corner nothing happened when I braked – I couldn't turn and went straight into the trees. It was my mistake and I shouldn't have touched the bank – those two or three centimetres have cost us a lot this weekend."
Citroen Abu Dhabi Racing WRT
Kris Meeke (6th)
"It was a difficult day for us. It had all started so well, I felt so good in the car and we were leading the rally. But in the afternoon, I picked up two separate punctures – I've no idea where – and suddenly things were a lot more complicated. In order not to break the rules, which say that you can't drive on the wheel rims during the road sections, we had to manage the two flat tyres as best we could. In running second on the road tomorrow on the stages that will clean the most this weekend, I'm going to suffer for sure, but you can count on me to fight all the way and give it everything."
Craig Breen (7th)
"Obviously, it's been a frustrating day for us. We had really got back into our stride again this afternoon. Without the puncture, we could potentially have been leading the rally tonight. I'll be first on the road tomorrow, but I'll be doing my utmost to limit the damage."
Mads Østberg (8th)
"After an up and down morning where I made a few set-up mistakes, I really enjoyed it this afternoon. The car was really perfect to drive, after the team made changes in service. We stopped on the road where Paddon had his accident to see if we could help, so we didn't contest the longest stage of the day, but that wasn't the most important thing at the time. The conditions remind me of the Acropolis Rally, in Greece. It was so rough out there today, but we made it to the end of the leg and we're going to try and do even better in the rest of the rally."
Toyota Gazoo Racing WRT
Esapekka Lappi (5th)
"The morning wasn't the best for me as I struggled a bit with the confidence. The car itself was fine but I didn't feel like we had much lateral grip, so I just couldn't push as much as I wanted to. This afternoon the conditions were some of the roughest I have seen in my career, with so many rocks on the road. We changed a lot of things on the car during the mid-day service and that helped. The first stage this afternoon was immediately better. Then we had a small issue with the damper and we had to manage that until the end of the day, but the times were still not too bad. I think we are in a fighting position for tomorrow."
Jari-Matti Latvala (Rally 2)
"On the first stage I was a bit too cautious, but on the second stage I started to push more. Then about five kilometres into the stage, in a left-right corner combination, there was a rock in the line, which was in my pace-notes. I went over the rock as intended but immediately the front-right suspension was damaged, and I had to stop. The team has worked hard to fix the car and we will be able to carry on tomorrow. I'm very motivated to continue. I really want to drive now, because I have a very good feeling with the car and I am enjoying driving it."
Ott Tänak (DNF)
"It was very, very unfortunate what happened to us this morning. Quite early in the first stage we came across a place where the road was full of rocks: there were not just one or two rocks but four or five. We could not avoid them and they caused damage to our radiator. We had to stop soon afterwards with an engine issue, which it was not possible to repair here. We were in a strong position coming into this rally, and like the previous rally I had a really good feeling in the car. It's a hit for our championship bid but it's never over before it's over, so I will still keep fighting. We will aim for a big fight-back in Sardinia: we know we have the performance."
Hyundai Motorsport
Andreas Mikkelsen (Rally2)
"A day of two halves for us, unfortunately. The morning went reasonably and I felt like we were getting more comfortable with each stage. The car felt good and I was encouraged for the afternoon loop. In SS6, the second run through Caminha, we lost the power steering midway through and had to battle hard to make it to the end of the stage. We tried to fix the problem with the remote support of the team. Although we couldn't manage to find a solution, we were still able to start SS7. Towards the end of the stage, the engine started to feel strange and I noticed oil on the windscreen, so we had no choice but to stop the car. The team will now assess the car to see if we are able to rejoin under Rally 2 on Saturday. I am very disappointed as we were going well and the car was perfect."
Hayden Paddon (DNF)
"The day was going well, we were driving within ourselves and to our plan. It was a difficult day for everyone and hard to get the tyre choice right but it was, of course, good to be back on the pace right away. Near the start of SS7 there was a big rock on the inside of the corner, which was concealed. I had to steer out a little for the corner to avoid it, but then the speed was too great and the car ran wide. The problem then was a big culvert on the exit of the corner, which stopped the car instantly. I'm gutted for the team as a good result was possible but for a third year in a row, this stage bites us."
Day two, Saturday would see the crews tackle six stages. Hayden and Seb wouldn't restart the rally after the Kiwi was kept in hospital overnight. Seb and Jari-Matti would however be back out, looking to get some points come the end of Sunday's stages. Kris Meeke's car was also rebuilt on one side by the amazing Citroen team.
Jari-Matti made a great start to day two winning Vieira Do Minho from Neuville and Lappi who was holding fourth overall. Elfyn and Dan lost a little ground to Thierry but were holding their own near the top of the leaderboard.
Into stage 11 – Cabeceiras De Basto, and it was Elfyn's turn to win a stage and with that he closed on Thierry by a few seconds. Dani and Jari-Matti were second and third fastest, and this showed just how competitive the WRC is at the moment with three different cars setting times that are very evenly matched.
The first run through the longest stage of the day, stage 12 -Amarante sadly saw Kris and Paul crash out. The car was wrecked and there would be no return sadly. At the front, Thierry took another stage win and with Elfyn 17.2 seconds slower the Belgian now had a lead of almost 30 seconds! Just behind him the remaining Toyota duo were showing the great pace of the Yaris with Lappi closing on Suninen for fourth place.
After the midday service break stage 13 – Vieira Do Minho 2 was won by Elfyn, with Seb second fastest and Teemu with the third fastest time – a M-Sport triple, and with Thierry only fifth fastest, the gap had reduced to a little over 23 seconds. Also, Teemu had now opened up the gap to Lappi. He was being allowed to push as he wanted, and that pace really showed.
The second run of Cabeceiras De Basto 2, stage 14 saw some surprising rain! Latvala, Thierry and Ogier were the top three, whilst further back Mads went off the road after sliding off in the rain! He still held onto sixth place though, as Craig was two minutes behind the Norwegian.
The final stage of the day -Amarante 2, and it was won by Seb with Thierry and Jari-Matti second and third. The lead that Thierry held now was almost 40 seconds over Elfyn with Dani in third. However, the battle for the final podium position was not over with just four seconds between Dani and Teemu.
Classification after Day Two
| | | | | |
| --- | --- | --- | --- | --- |
| 1 | T. Neuville | N. Gilsoul | Hyundai i20 Coupe WRC | 3:16:30.0 |
| 2 | E. Evans | D. Barritt | Ford Fiesta WRC | +39.8 |
| 3 | D. Sordo | C. del Barrio | Hyundai i20 Coupe WRC | +57.2 |
| 4 | T. Suninen | M. Markkula | Ford Fiesta WRC | +1:01.9 |
| 5 | E. Lappi | J. Ferm | Toyota Yaris WRC | +1:13.0 |
| 6 | M. Østberg | T. Eriksen | Citroën C3 WRC | +3:14.1 |
| 7 | C. Breen | S. Martin | Citroën C3 WRC | +4:53.1 |
Let's hear then from the crews!
Thierry Neuville
"We have had a very positive day and can be extremely satisfied with our position. That's not to say we can relax because we have some tricky stages on Sunday, including the two runs through Fafe. Our focus today was to extend our lead overall but we knew we had to be clever with our strategy on both loops. We had to save the tyres in some places to maximise the performance on the longer Amarante stages. We knew we could make the difference here; it's a stage I really enjoy and we could give it a really big push. There were a few wet patches at the end of the afternoon, but we made it through and could increase our margin. We will need to remain concentrated because there are still five stages to go – and we've seen just what can happen here."
Elfyn Evans
"On the whole I think we can be pretty happy with our day. It's not been perfect by all means and I was a bit disappointed with both runs through the Amarante stage (SS12 and SS15). But overall we can be pretty satisfied and we're in a good position going into tomorrow."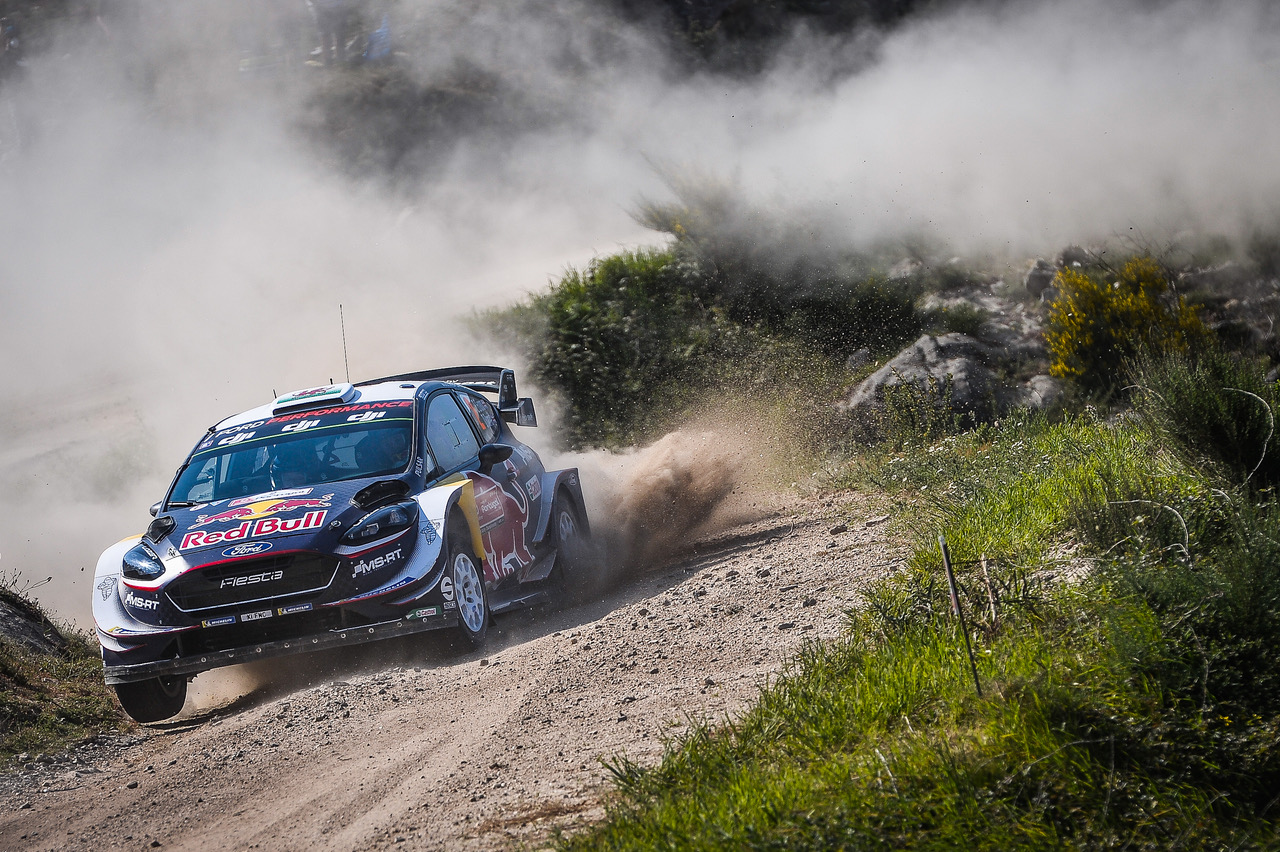 Dani Sordo
"In general, I am pleased with our day and to be in the battle for the podium. The gap to the guys behind is close so we need to keep pushing. The only downside to today's running was the final stage, the repeat of Amarante, which started with a half-spin. I don't know what happened; something felt a bit strange and I lost the rear, but we kept our focus. We quickly built up our confidence again and worked on reducing the time loss. The crowds at this rally have been incredible and it really gives us the motivation to fight for the podium on Sunday morning. That's our target!"
M-Sport Ford WRT
Teemu Suninen (4th)
"It's been a good day for us and I was really pleased to see that we were able to improve through the slower sections which is what we wanted to work on today. Now there are just five stages left and it looks like we have a chance of challenging for the podium too. I'm really happy to be in this battle, and tomorrow I want to continue like this – to show what I can do."
Sébastien Ogier (Rally 2) said:
"It wasn't a very exciting day for us, but I wanted to make use of it – doing some work on the car and trying to find some little things to improve the set-up. I'm pleased with that and we were quickest over the second loop – closing the day with a fastest time. Power Stage points is the only thing we can try to push for tomorrow. We'll be running pretty early on the road so it won't be easy, but at least we have nothing to lose."
Toyota Gazoo Racing WRT
Esapekka Lappi (5th)
"It has been a pretty good day. The feeling has been nice with the car and I have been pushing really hard. I don't think I've ever pushed as hard for a whole day, especially this afternoon. I gave it everything, and it was really enjoyable. The guys in front of me have been doing a really good job and it has been hard to take any time out of them, but I'm really happy with my driving and that I could stay on the limit for so long. It was a risky tyre choice this afternoon to go with the hard tyres and it didn't pay off, but we didn't lose anything to our rivals either. The gap is quite big going into the final day but I want to keep the pressure on."
Jari-Matti Latvala (Rally 2)
"I'm really, really happy about today. We had two stage wins, so we know the speed is there. I still have a little bit of margin: particularly this afternoon when it was quite rough in places I was a bit more careful not to break the car, as it has been important for me to have a clean day. The car is fast and I have started to find in myself the speed and confidence. All the elements are now there so we just need to bring it to the end. Tomorrow my approach will be to try and carry on in the same way. I want to be competitive and to do another clean day, and then of course in the Power Stage, I will try to attack and try to get some points. The idea is try to and keep building the confidence ready for Sardinia."
Citroen Abu Dhabi Racing WRT
Mads Østberg (6th)
"The morning went well for us. I felt full of confidence in my C3 WRC and the times were pretty decent given our position in the running order. Since we weren't in a close fight for position with anyone, we decided to do some set-up tests this afternoon to try and keep improving with the car. We probably pushed things a bit too far, but that's part and parcel of the learning process."
Craig Breen (7th)
"It was a difficult day for us, with a huge amount of cleaning with the dry and sandy ground. It hasn't rained properly here for a while! But it's the kind of experience that you have to get in order to fight with the very best one day and I prefer to focus on the very good feeling that I had driving my C3 WRC."
Kris Meeke (DNF)
"I turned into a fast-left-hand corner a little bit late, missed my line and got onto the loose gravel on the outside of the corner and lost control of the car. Obviously, I'm sorry for the whole team, who clearly deserved better. I'm really very grateful that they built such a strong car. It was my mistake, of course, so I'll take it on the chin. But the feeling in my C3 WRC was so good here in Portugal that I can't help but take the positives away from this weekend."
Hyundai Motorsport 
Andreas Mikkelsen (Rally 2)
"First of all, I am very grateful to the team for their efforts in getting us back into the rally after the problems we experienced on Friday. We had to make some adjustments to the engine settings for today to help us make it through. As a result, we didn't have access to full power, which limited what we could do. We simply had to do our best with what we had at our disposal and I think in that regard it has been a pretty good day. It is important for us to finish the rally cleanly in order to secure manufacturer points for the team, even if we are not at the level we know we could be. We always want to compete at the front and I hope we can fight for some Power Stage points tomorrow."
The final day then and with five stages to go, it wouldn't be easy.
The first stage then saw Dani lose third overall with Teemu and Esapekka moving ahead of the Spaniard. Thierry's lead was really strong, whilst Elfyn was looking good for his best result of the year.
The first run of the famous Fafe stage, with its jump just before the finish line saw Ogier set the best time – a sign of things to come, whilst the battle between Dani and Esapekka continued over fourth, this time the Spaniard getting back ahead!
Stage 18 – Luilhas, saw them swap again and Esapekka was back into fourth! Meantime, Teemu was looking really good in third and likely to score his first WRC podium. Thierry and Elfyn were just stroking their cars to the finish, ticking off the km's.
Teemu won stage 19 – Montim 2, beating Lappi by 1.7 seconds whilst Dani was third. The overall positions were really set now, with Thierry looking likely to win his second rally of the year, but in the M-Sport camp all eyes were on their young drivers. Elfyn was set for his best result since last October's Wales Rally GB and Teemu was set for his first ever podium finish!
Time then for the final stage, the re-run of Fafe, with its famous jump. Of course, there were as usual points up for grabs for the quickest five drivers! The winner of the stage was Lappi, and Thierry was second. Dani, Teemu and Elfyn rounded out the top five. Seb had rejoined under rally 2 regs, and had come very close to scoring some points, ending up just 8 tenths away from fifth place.
Thierry had taken a unexpected but very welcome victory, and we also had Elfyn in second place, with teammate, Teemu Suninen taking his first ever podium. Thierry had also taken the lead of the world championship after Seb's mistake took him out of the points. He'll want to bounce back at the next round- no doubt!
Final Overall Classification – Rally de Portugal
| | | | | |
| --- | --- | --- | --- | --- |
| 1 | T. Neuville | N. Gilsoul | Hyundai i20 Coupe WRC | 3:49:46.6 |
| 2 | E. Evans | D. Barritt | Ford Fiesta WRC | +40.0 |
| 3 | T. Suninen | M. Markkula | Ford Fiesta WRC | +47.3 |
| 4 | E. Lappi | J. Ferm | Toyota Yaris WRC | +54.7 |
| 5 | D. Sordo | C. del Barrio | Hyundai i20 Coupe WRC | +1:00.9 |
| 6 | M. Østberg | T. Eriksen | Citroën C3 WRC | +3:33.5 |
| 7 | C. Breen | S. Martin | Citroën C3 WRC | +5:23.0 |
| 8 | P. Tidemand | J. Andersson | Škoda Fabia R5 | +14:10.8 |
| 9 | L. Pieniazek | P. Mazur | Škoda Fabia R5 | +16:17.3 |
| 10 | S. Lefebvre | G. Moreau | Citroën C3 R5 | +16:34.3 |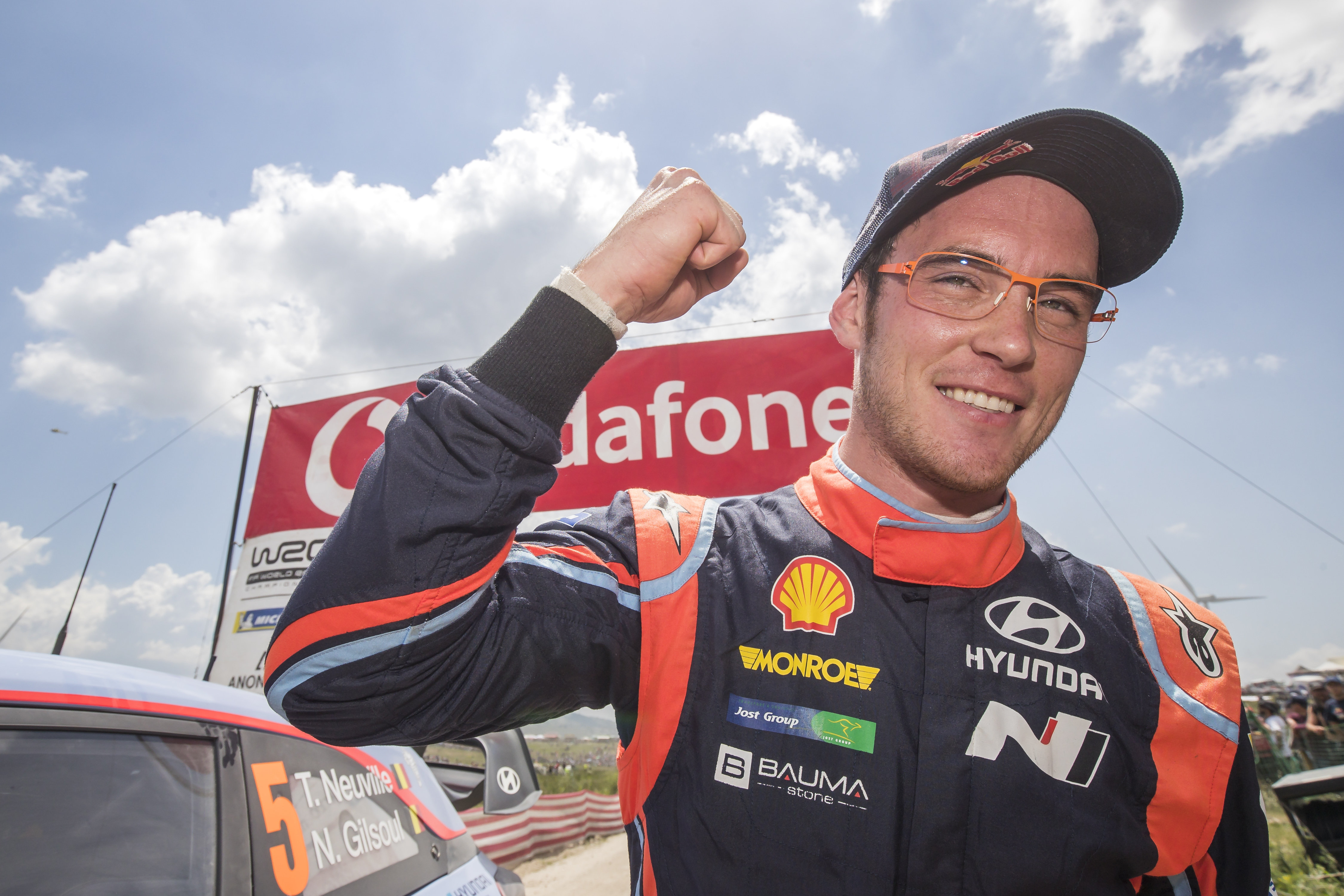 Let's hear from the drivers! 
Thierry Neuville
"What a weekend and what a result! We have taken a clever approach to this event, pushing when we could and controlling the pace when we needed. The car has been fabulous all weekend long, and the team has been behind us every stage of the way. I have felt completely comfortable and at ease despite some challenging conditions. My teammates have also been on the pace but were unlucky not to be on the podium. We tried to give it a bit of a push in the Power Stage, to take as many points as we could, but also taking care not to make any mistakes. We have a lot of Portuguese people in the team, so it's going to be a nice celebration. A fantastic weekend for our team."
Elfyn Evans
"I'm happy with this result, and a bit relieved too if I'm honest! Everyone knows that our season didn't get off to the best of starts. Monte started well with the exception of the puncture, but one thing led to another and it quickly snowballed into what was becoming a pretty dismal season.
"We knew coming here that we needed to get some strong points on the board – for the team and for us as well. So, to come away with second place was good. It wasn't perfect, and there are some areas where we can still improve. I wasn't entirely happy with my driving through all of the stages, but it's certainly alleviated the pressure and we can go to Sardinia in a positive frame of mind."
Teemu Suninen
"It's really great to get my first podium here in Portugal – the first one is always special and I think it will be a big step for my career. I was really happy with my driving all weekend. We struggled a bit to find the limit on Friday morning as I had to get used to driving this car on these stages, but after that I was able to push and set some really good times.
"I want to thank the team for their trust in me and for the good support that they gave me all weekend. I'm really happy that I could pay them back with these good points for the championship."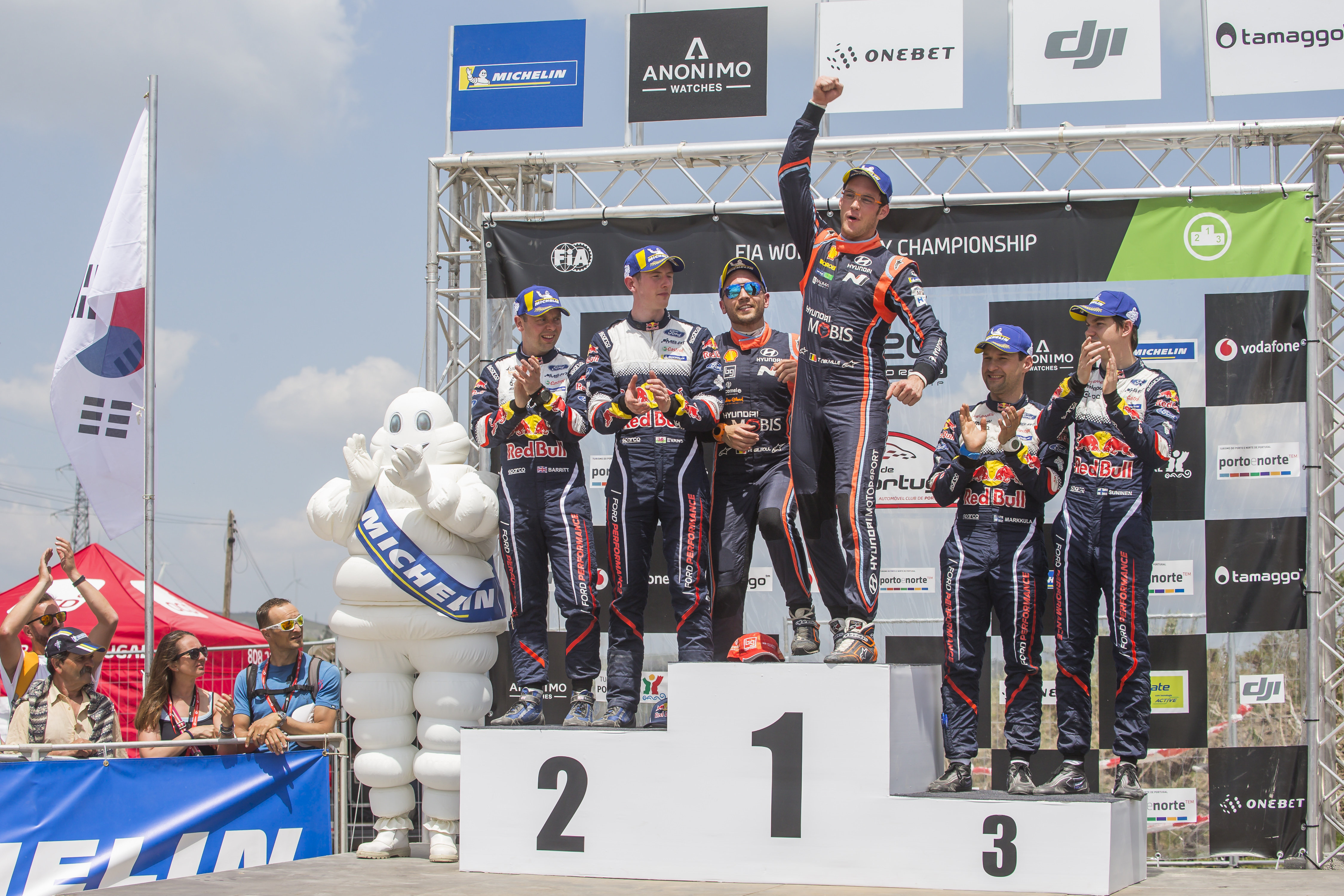 Hyundai Motorsport 
Dani Sordo (4th)
"I am disappointed not to finish on the podium after what had been a very promising and competitive weekend for us. We showed our pace in many stages and were definitely in the fight. The time penalty was frustrating but we put that out of our mind and concentrated on doing the best job we could on Sunday morning. Unfortunately, we had an issue during the penultimate stage when a stone went through our front splitter and smashed the windscreen. This made some corners difficult to see in the Power Stage but we gave it absolutely everything. There are so many fans here and lots of people supporting me, so I was happy to put on a good performance through Fafe. Congratulations to Thierry and Nicolas on a great win, and thanks to the team."
Andreas Mikkelsen (16th)
"That was not the weekend we had hoped to have but it's been a positive final morning. The car was working much better in the Power Stage, which allowed us to really give it a push. I'd like to send big thanks to the team who put in a huge effort to adapt the car to get it better suited to my style. I have enjoyed driving this weekend and without our issues on Friday, and the knock-on effects of that, I am sure we could have had a much more representative result. Congratulations to Thierry and Nicolas on their victory, which is thoroughly deserved for them and the entire team. I am looking forward to Sardinia."
Toyota Gazoo Racing WRT 
Esapekka Lappi (5th)
"Today we just continued like we ended yesterday: flat out all the time. In the end, we just couldn't catch Suninen. It was a tough, tough fight. He did a good job and deserved the podium. However, I have to be pleased to take five points from the Power Stage as well. I have now won half of the Power Stages this year, and this is important, because I now have 15 points just from these three stages alone. I'm pretty satisfied with the weekend: we didn't make any mistakes, and that is what we were looking for."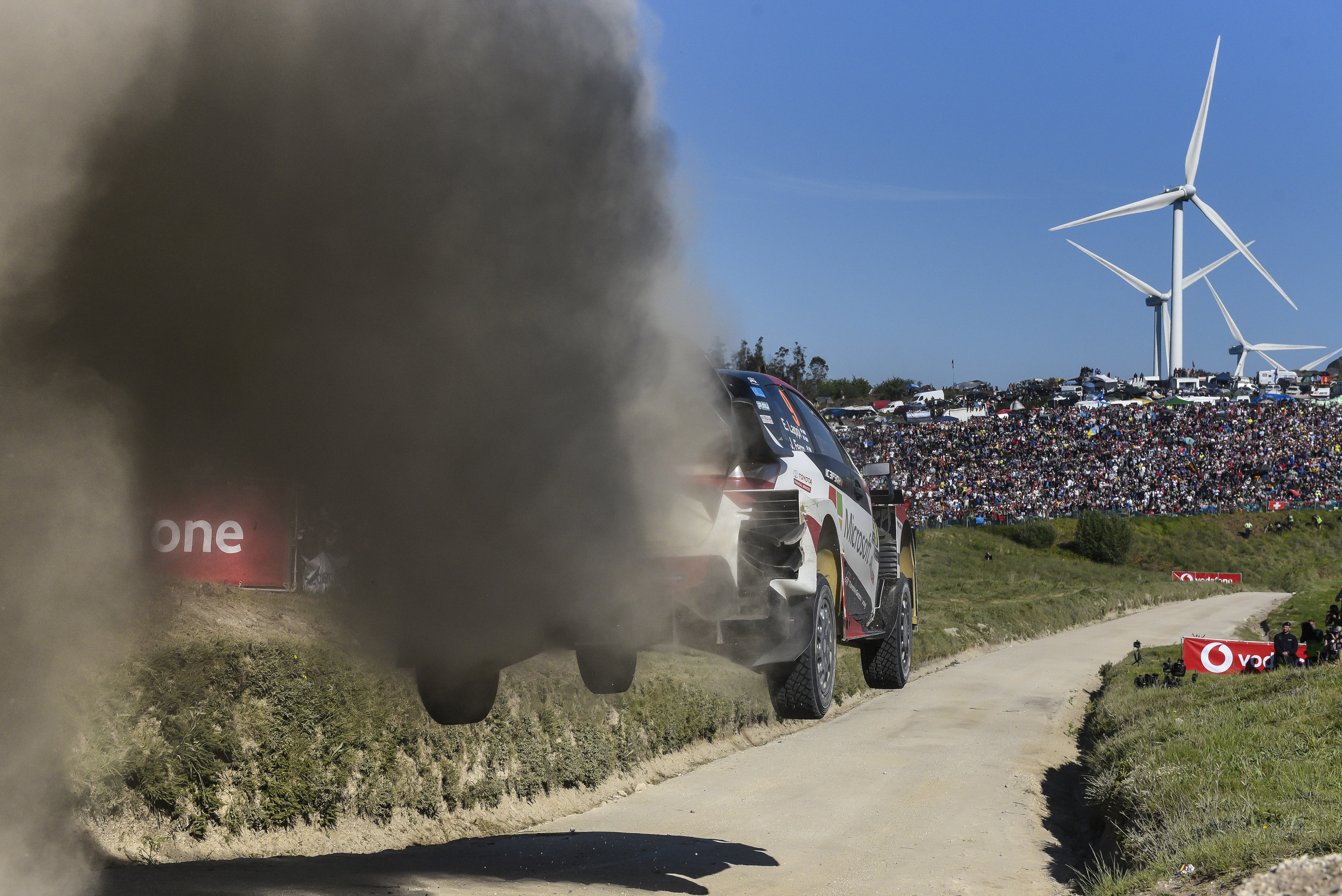 Jari-Matti Latvala (24th)
"Today was another good day, with another stage win. Of course, I tried to go for points on the Power Stage and give everything I could. It was a very good run; I don't think I could have driven much better, but there was a very big cleaning effect on the Fafe stage today and I was the first World Rally Car on the road. I am happy though because the confidence is improving a lot. We had the problem on Friday but at least I could then drive two clean days without any mistakes. We could also learn something on today's stages, which were more technical than before, about the setup that we need for Sardinia. I feel very positive going there."
Citroen Abu Dhabi Racing WRT 
Mads Østberg (6th)
"This first rally on gravel was informative for us because we learned a lot about the C3 WRC. Although we struggled a bit to find the right set-up on Friday morning, the team quickly worked it out and the car worked very well in the afternoon for the second loop. It's just that we then had a tough time of it due to our road position. If you don't have as good a first day as you were hoping for, then your whole rally ends up being affected, but I'm pleased to see that the speed was there whenever we pushed and we had the right conditions."
Craig Breen (7th)
"Our puncture on Friday afternoon, when we were running third, meant we had to open the road on the next two days and from that point on, it was difficult to hope for a better outcome. But I'm now looking forward to Sardinia to turn the good feeling we had this weekend into a significantly better result."
Well, after yet another twist in this year's championship we head to Rally Italia Sardegna held from the 7th to the 10th of June!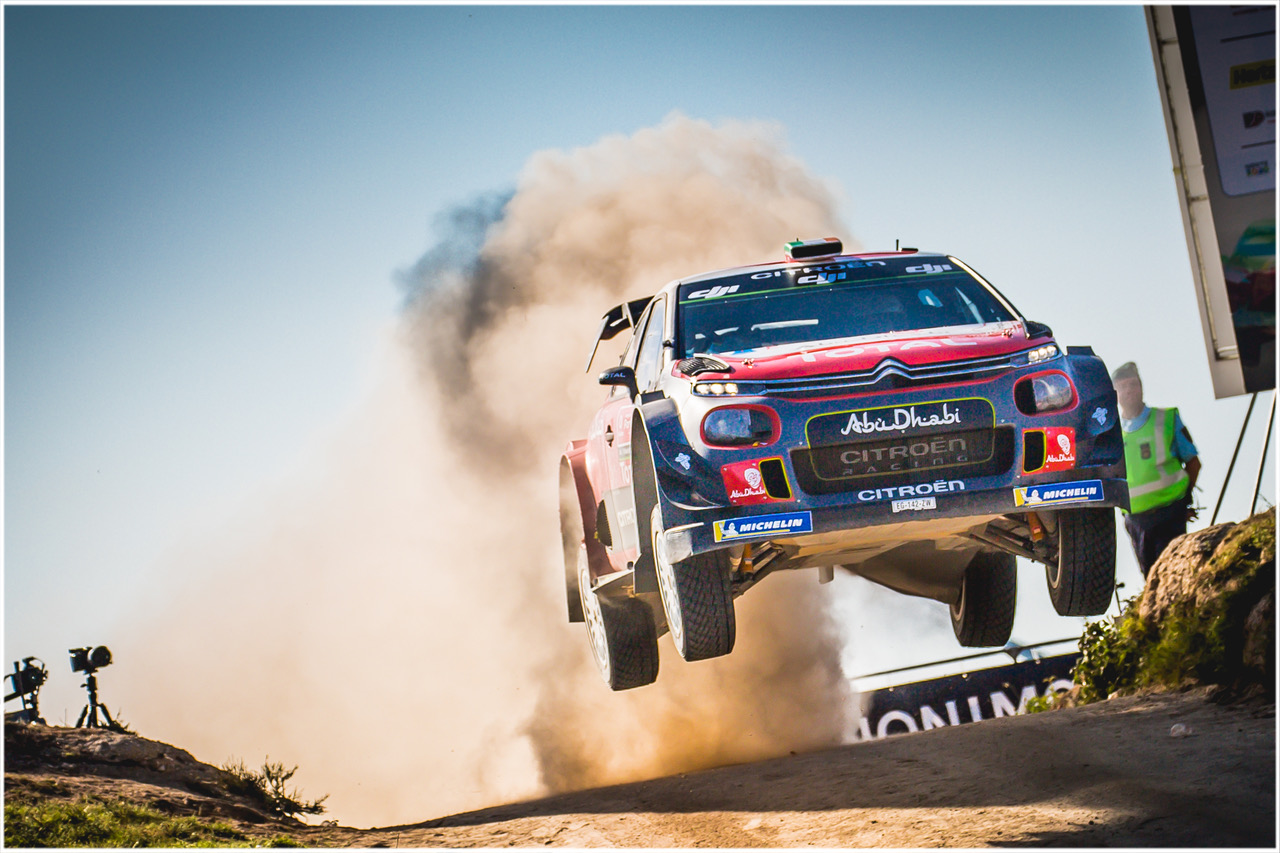 2018 FIA World Rally Championship for Drivers' Standings 
After round 6
| | | |
| --- | --- | --- |
| 1 | T. Neuville | 119 |
| 2 | S. Ogier | 100 |
| 3 | O. Tanak | 72 |
| 4 | D. Sordo | 58 |
| 5 | E. Lappi | 57 |
| 6 | A. Mikkelsen | 54 |
| 7 | E. Evans | 45 |
| 8 | K. Meeke | 43 |
| 9 | J.M Latvala | 31 |
| 10 | C. Breen | 26 |
| 11 | T. Suninen | 23 |
| 12 | M. Østberg | 16 |
| 13 | S. Loeb | 15 |
| 14 | P. Tidemand | 11 |
| 15 | H. Paddon | 10 |
2018 FIA World Rally Championship for Manufacturers' Standings
After round 6
| | | |
| --- | --- | --- |
| 1 | Hyundai Shell Mobis World Rally Team | 175 |
| 2 | M-Sport Ford World Rally Team | 162 |
| 3 | Toyota Gazoo Racing World Rally Team | 140 |
| 4 | Citroën Total Abu Dhabi World Rally Team | 111 |