The French Moto3 Grand Prix, round five of the 2018 World Championship, should have been all about Aron Canet – how quick could he get through the field and could he get to the leaders. The Spaniard was forced to start the race from last position on the grid following the crash he caused in Jerez and his incident with Makar Yurchenko in Argentina.
But instead Race Direction decided that it was they, who would cause the controversy in this race, and take all attention from the racing. They did this by enforcing penalties, ridiculous ones! They gave each rider who cut either the first chicane at turns three and four or the second one at turns nine and ten a penalty which, in their opinion, was equal to the time the rider had gained.
Jakub Kornfeil was the first to rack up a time penalty (of 1.3s), for going wide at turn nine and cutting turn ten when Jorge Martin came across him in the braking zone, which, to some extent, left Kornfeil with little solution but to go off. Kornfeil then cut the chicane at turns three and four for a similar thing, but no penalty was given for this incident. It was then Niccolo Antonelli's turn to get penalised for cutting turns three and four, and he got 1.8 seconds compared to Kornfeil's 1.3 seconds.
Then, critically for the race[result], it was Fabio Di Giannantonio who got three seconds added to his race time for cutting turns nine and ten. The most important thing to point out is that none of the riders gained any positions or time, nor did they hold onto positions unfairly, by cutting the track. The penalty for Di Giannantonio ultimately cost him the race, after he passed Marco Bezzecchi at the final corner on the final lap, and it was entirely unfair. Di Giannantonio gained no time, if anything he lost time, in cutting the chicane – he made sure of it. And if he did gain time it was not anything like three seconds. To give a comparison, Valentino Rossi went off track last year in Austin when Johann Zarco put an aggressive move on him at turn three in Texas and gained three tenths in that sector. Rossi was penalised three tenths, which was fair. The three seconds incurred by Di Giannantonio, the 1.8 incurred by Antonelli (who actually lost several positions when he ran off) and the 1.3 given to Kornfeil are not only unjust but also inconsistent with the precedent the Race Direction had already set in Texas last year. This means that a new precedent has been set, and it is a dangerous one. If something like this happened in MotoGP to, for example, Valentino Rossi, there would be complete uproar, and rightly so. Race Direction need to sort this issue out quickly, before it gets messy.
Thankfully, though, Race Direction did not steal the whole show. Jakub Kornfeil had the save of all saves, when he launched the PruestelGP KTM from the single "whoop" that Enea Bastianini's crashed Leopard Honda had created in front of him, and somehow landed it in the gravel. Marc Marquez declared it the best save ever, and if Marc says so, on this topic it is true. Congratulations, Mr. Kornfeil, the only person to successfully ride MX on a GP bike.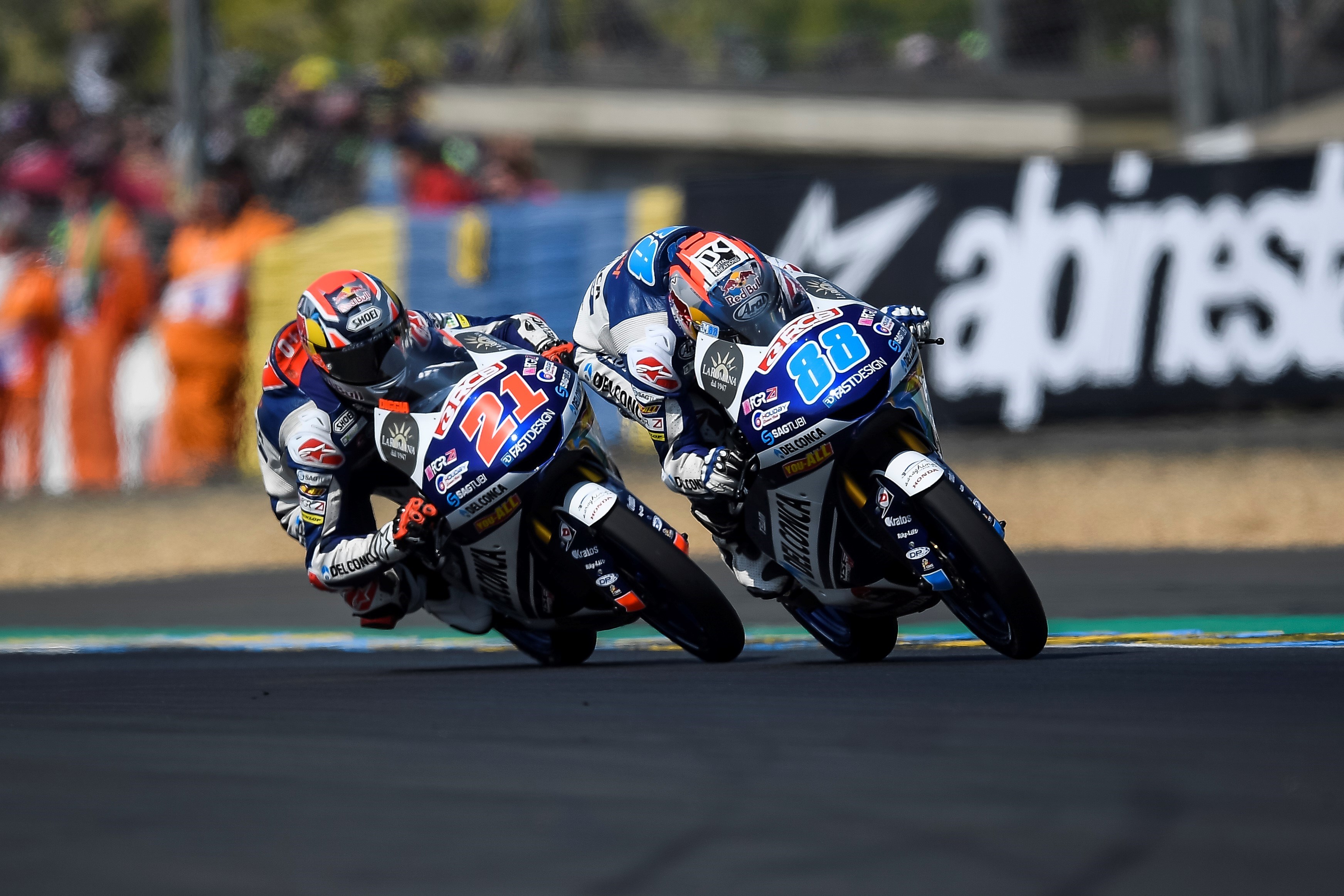 After all the penalties had been handed out and Fabio Di Giannantonio had had a little, but well deserved cry, it was Albert Arenas who instead took his first Grand Prix victory. He did not deserve it, really, but either way it was a great moment for the Spaniard, although he will probably still want to win a race by crossing the line first. Anyway, it was nice to see the Angel Nieto name back on the top step of the podium.
The Nieto name was on step two, as well, thanks to Andrea Migno on the second of the Angel Nieto Team KTMs who followed his teammate home for second. Temporarily, Nicco Antonelli was third, but his penalty gave that position to Marcos Ramirez who took his second podium of the season after his third place in Jerez. Ramirez' third place also gave KTM their second consecutive podium lockout. Back in Qatar, I likened this season, in prospect, to 2013, with three riders dominating. That has not been precisely true, but two KTM podium lockouts in two races? Now that is 2013.
Fabio Di Giannantonio ended up fourth, despite crossing the finish line first. He was eight tenths short of his first victory, but he and his team have maintained that he is the moral winner of the 2018 French Grand Prix. Somehow, the feeling is that in two weeks' time in Mugello for the Italian Grand Prix, the Roman will have his first winner's trophy, and probably the first of many.
Niccolo Antonelli's penalty dropped him to fifth place, just in front of Jakub Kornfeil who returned from the French motorcycle show-jumping championships just in time to cross the line in sixth place. Tony Arbolino was seventh, ahead of Aron Canet who did well to recover so many positions without being penalised for running on, Tatsuki Suzuki and Jaume Masia who rounded out the top ten.
Darryn Binder took his best finish of the year with eleventh place, ahead of John McPhee who also made a decent recovery after he, like Canet, started on the back row. Makar Yurchenko was thirteenth ahead of Dennis Foggia who took his first points of the season, and Jerez winner Philipp Oettl, who has seemingly been unable to build on his debut win and in Le Mans completed the points finishers.
Ayumu Sasaki was sixteenth, in front of Kaito Toba, Kazuki Masaki, who himself had an unbelievable save on lap one at the first chicane, Alonso Lopez, Nakarin Atiratphuvapat and Livio Loi who was 21st and the last finisher.
Gabriel Rodrigo, Nicolo Bulega, Lorenzo Dalla Porta, Enea Bastianini, Adam Norrodin, Jorge Martin and Marco Bezzecchi were the retirements.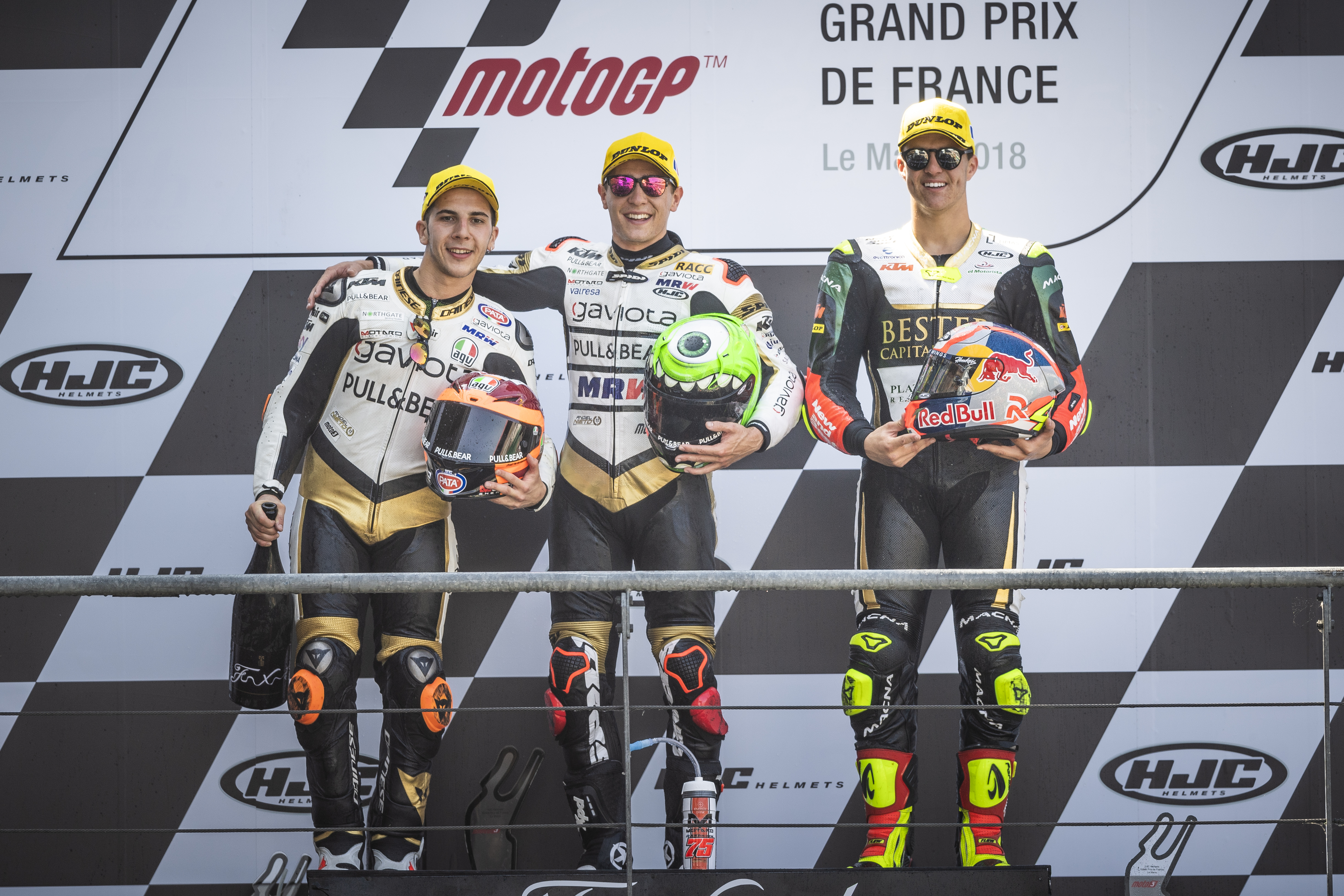 Bezzecchi and Martin retired together on the final corner of the final lap. Di Giannantonio passed Bezzecchi on the inside, Bezzecchi tried to cut underneath to pass him back in the second part of the final corner, cracked the throttle and threw himself over the top. Martin had nowhere to go and was taken out for the second weekend in a row. Bezzecchi apologised after, at least on social media anyway, but anyway Jorge Martin knows enough about racing to know that Bezzecchi did nothing anyone else wouldn't do in his position. They are both still well in the championship hunt, Bezzecchi is still leading the championship on 63 points, four clear of Diggia, seven clear of Canet, whilst Martin is eight back of the championship lead.
Featured image courtesy of Philip Platzer / KTM Media Library