It's time for round six of this year's championship and the teams are headed for the classic Portuguese roads that make this event. With twenty stages totaling 358.19km of competitive action it's sure to have lots of drama.
Twelve months ago, Seb took his second victory for M-Sport with Thierry and Dani taking second and third.
Final Overall Classification  Rally de Portugal 2017
| | | | | |
| --- | --- | --- | --- | --- |
| 1 | S. Ogier | J. Ingrassia | Ford Fiesta WRC | 3:42:55.7 |
| 2 | T. Neuville | N. Gilsoul | Hyundai i20 Coupe WRC | +15.6 |
| 3 | D. Sordo | M. Martí | Hyundai i20 Coupe WRC | +1:01.7 |
| 4 | O. Tanak | M. Jarveoja | Ford Fiesta WRC | +1:30.2 |
| 5 | C. Breen | S. Martin | Citroën C3 WRC | +1:57.4 |
| 6 | E. Evans | D. Barritt | Ford Fiesta WRC | +3:10.6 |
| 7 | J. Hänninen | K. Lindstrom | Toyota Yaris WRC | +3:48.9 |
| 8 | M. Østberg | O. Floene | Ford Fiesta WRC | +5:29.7 |
| 9 | J.M Latvala | M. Anttila | Toyota Yaris WRC | +5:43.6 |
| 10 | E. Lappi | J. Ferm | Toyota Yaris WRC | +8:13.3 |
Here's the full run down of this year's stages then.
RALLY PORTUGAL SCHEDULE (GMT+1)
THURSDAY 17 MAY
7.30am: Shakedown (Paredes)
6.10pm: Start(Guimaraes)
7.03pm: SS 1 – Lousada (3,36 km)
8.00pm: Parc fermé (Exponor)
FRIDAY 18 MAY
7.45am: Service A (Exponor – 19 min)
9.15am: SS 2 – Viana Do Castelo 1 (26,73 km)
10.20am: SS 3 – Caminha 1 (18,11 km)
10.53am: SS 4 – Ponte De Lima 1 (27,54 km)
1.40pm: Service B (Exponor – 34 min)
3.25pm: SS 5 – Viana Do Castelo 2 (26,73 km)
4.30pm: SS 6 – Caminha 2 (18,11 km)
5.03pm: SS 7 – Ponte De Lima 2 (27,54 km)
7.03pm: SS 8 – Porto Street Stage 1 (1,95 km)
7.28pm: SS 9 – Porto Street Stage 2 (1,95 km)
8.10pm: Flexi service C (Exponor – 49 min)
SATURDAY 19 MAY
7.15am: Service D (Exponor – 19 min)
9.08am: SS 10 – Vieira Do Minho 1 (17,50 km)
9.46am: SS 11 – Cabeceiras De Basto 1 (22,22 km)
11.05am: SS 12 – Amarante 1 (37,60 km)
1.00pm: Service E (Exponor – 34 min)
3.08pm: SS 13 – Vieira Do Minho 2 (17,50 km)
3.46pm: SS 14 – Cabeceiras De Basto 2 (22,22 km)
5.05pm: SS 15 – Amarante 2 (37,60 km)
7.00pm: Flexi service F (Exponor – 49 min)
SUNDAY 20 MAY
7.00am: Service G (Exponor – 19 min)
8.35am: SS 16 – Montim 1 (8,64 km)
9.08am: SS 17 – Fafe 1 (11,18 km)
9.36am: SS 18 – Luilhas (11,89 km)
10.35am: SS 19 – Montim 2 (8,64 km)
12.18pm: SS 20 – Fafe 2 Power Stage (11,18 km)
1.50pm: Service H (Exponor – 14 min)
2.20pm: Finish (Matosinhos)
Here's the views of the drivers.
 Citroen Abu Dhabi WRT
Kris Meeke
"After two fairly specific rallies on gravel in Mexico and then Argentina, Rally de Portugal will be the first real test in terms of out-and-out performance. As the stages are unchanged from last year, everyone has the pace notes and the same knowledge of the roads. I'm going to try and take advantage of my sixth position on the road on day one. It's a rally that I really like and I have high hopes that, like in Argentina, I can show the progress that our C3 WRC has made on this surface."
Craig Breen
"I have some good memories from 2017. We were fast, especially on the Friday, so much so that we weren't far off ending the opening leg in the lead. The stages are fantastic, the fans are very passionate and there are lots of them too! I would love to fight for a podium place. We went pretty close in Argentina, despite our lack of experience, but this time I want to produce that level from start to finish, avoid making any mistakes and turn all of that into a good result."
Mads Østberg
"I'm delighted to be back in the team after my last race at Rally Sweden, which already seems like it was light years ago! With this long break, I might need a bit of time to get my bearings again. But I had a good day testing with the C3 WRC before Argentina. The feeling in the car was very good and I felt confident fairly quickly. Rally de Portugal is obviously a bit special for me, as it's the only one I've won in the WRC, but at the time it was held in the Algarve. However, this year my approach will perhaps be slightly more cautious, so I can get my bearings back and make it to the end without any problems. Then I'll be ready to go for a big push in Sardinia!"
Hyundai Motorsport
Thierry Neuville
"This rally will be a big weekend for all of us at Hyundai Motorsport. Not only are we entering four cars, but we are also determined to continue the form we showed in Argentina. Portugal is a great event with a lot of supportive fans and some nice stages. It offers us some unique challenges with varying grip levels on the stages. We saw at the last rally that our rivals are very strong but this gives us added motivation to improve ourselves and do all we can to fight at the front."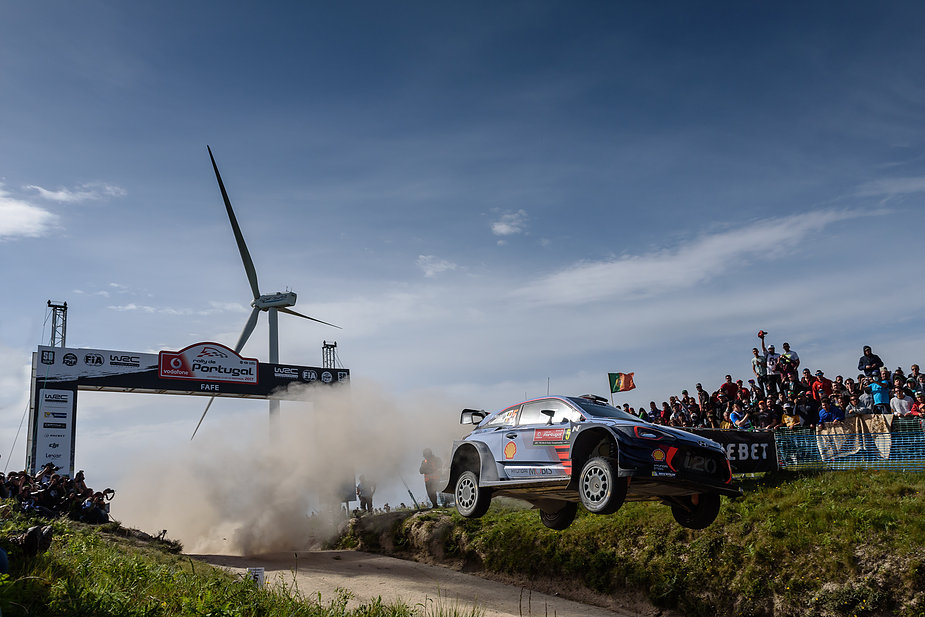 Hayden Paddon
"I have spent the time since our last WRC event doing some rallies in New Zealand and training hard. It will be challenging having not driven the WRC car for three months but Seb and myself are ready to give it our best shot. The Portuguese stages require a lot of commitment and the grip levels can be quite changeable, depending on the weather. As everyone knows the rally quite well, only with perfect preparation and pace notes will we be competitive."
Dani Sordo
"Rally de Portugal is a special event for me, being situated so close to Spain. Many supporters make the short trip to show their support, and it makes for a fantastic atmosphere. Of course, the Fafe jump is a highlight of the weekend but there are many other enjoyable stages to tackle over the weekend. We have four cars for this event, which will make our service area very busy, but it will be fun to drive alongside the other crews."
Andreas Mikkelsen 
"We head back to Europe following a pretty positive weekend for the team in Argentina.  I have good experience at Rally de Portugal with a best result of second place a couple of years ago. I didn't take part last season so I am looking forward to putting my i20 Coupe WRC through its paces on the gravel stages. It can be quite rough with high grip in places. It's an event I enjoy and we'll be looking to put our recent gravel experiences to good use."
Toyota Gazoo Racing WRT
Jari-Matti Latvala
"Even though my rally ended early, there were positives to take from Argentina: the car felt really, really good and the speed was also good for me before my retirement. This gives me great confidence going to Rally Portugal. I believe our car will be strong again in Portugal. It is quite a similar rally to Argentina, with the main differences being that the surface is smoother and the roads are a bit more flowing. Therefore, I see no reason why the car shouldn't work well in Portugal. We had two days of pre-event testing there last week and I am really happy with how that went. I had our test driver Juho Hänninen with me during the test: we were working together to fine-tune the car and I am really pleased with how the car feels."
Ott Tänak
"We certainly go to Portugal with a good feeling. We obviously know just how well the car can perform. Everything felt good too in our pre-event test last week, where we were just trying to find some more improvements and even better performance. Portugal has always been one of my favourite events. It's always really nice to go there: there is a great atmosphere. It is also the place where everything started for me in the WRC in 2009. Our aim is to perform as well as in Argentina, but let's see how it goes. I think Friday will be critical with our road position: we have two cars in front of us so we will have some lines to follow, but normally the cleaning has more of an effect in Portugal. It is important to get another strong result for the championship: we closed the gap a bit in Argentina and now we aim to do the same in Portugal."
Esapekka Lappi
"Portugal is where I started to compete in a World Rally Car last year, so I think that everything should be a little bit easier from this point onwards. In the first part of the season there were ups and downs, but I was pretty surprised with how good the speed was on some events. There were many positives and we just need to try to learn from the negative moments and be better in the second half of the year. It is going to help to have already done the upcoming rallies with this car. That is especially true for Portugal as it will be basically the same roads as last year. Argentina was already good from a car setup point of view, but I think we still made a small step forward on the pre-event test. I am pretty confident this time to start to push from the first stage: the approach will be different to Argentina."
Well, we are set for another great battle in this event, and we can only guess at this point who will stand on the podium.
Enjoy!