Young Estonian Ott took his third WRC victory and first for Toyota on his fifth outing for the Finnish based Toyota squad! Here's the story of how they did it. In the championship fight, Thierry closed the gap on his rival Seb in their fight for the title and Ott Tanak has brought himself into this fight with his brilliant drive to victory.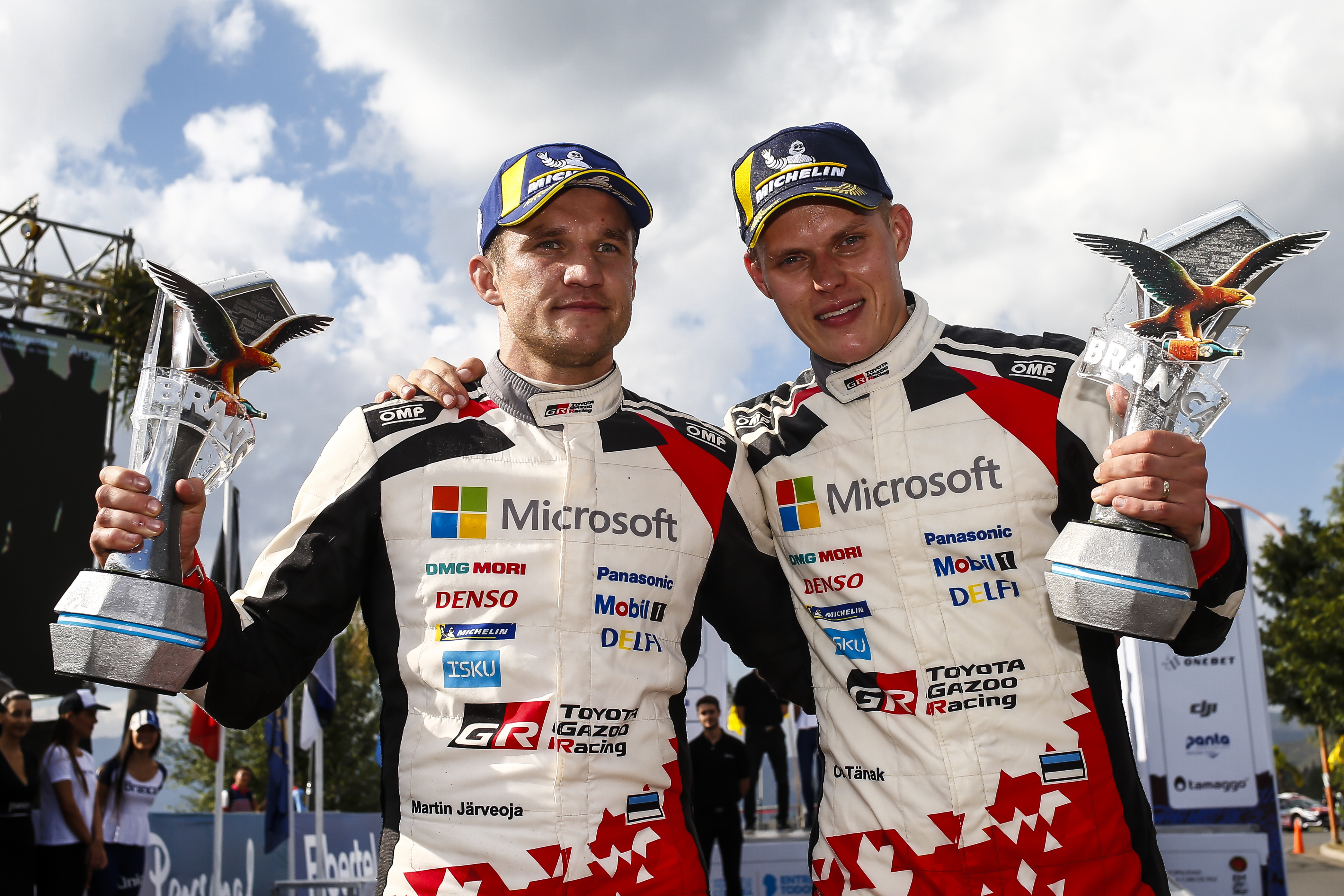 After the short stage on Thursday evening, Thierry Neuville held a lead over Ott with Seb in third.
Friday would see the crews tackle seven stages, totaling 154.2km. This was the start list – Ogier, Neuville, Tänak, Mikkelsen, Meeke, Lappi, Latvala, Sordo, Breen, Evans, Suninen, Al Qassimi.
Despite being the first car into the stage, Seb won the stage and was eight seconds faster than Thierry who was fourth fastest. Ott was not fast in this one, over twenty seconds slower than the leader and tenth.
It all turned around on the next stage. Ott took the stage and Seb dropped 17.8 seconds. Andreas Mikkelsen moved into the lead with Ott now just nine and a half seconds off the lead. Sadly, this stage saw the exit of Jari-Matti.
Stage four saw Ott close the gap to Andreas to just one second, whilst Kris got past Seb into third overall. Thierry was also moving up on place to fifth overall.
The lead changed again in stage five in the short 6km super special with Ott moving ahead of Andreas. Thierry also dropped a place to Dani.
After the service break, the second run of Las Bajadas – Villa Del Dique saw Ott take another stage victory and increase his lead after Andreas drop right down to eight overall. Kris was now the closest to the young Estonian.
Stage seven saw the lead increase again with Ott now almost 17 seconds ahead of Kris. Dani was second fastest in the stage and this moved him ahead of Seb and Thierry into third overall.
The final stage of the day was won again by Ott with Thierry just a little over one second slower than him in second, meaning that he'd moved ahead also of Dani and into third overall. Kris remained the closest driver to Ott, ending the day 22 seconds away, and wary of the foggy stages that sometimes show up during the morning of day two.
Ott had driven a superbly all day, whilst Kris had done a clever drive. He'd picked up a puncture in the last stage of the day though, leading to the little time loss.
Classification after Day One
| | | | | |
| --- | --- | --- | --- | --- |
| 1 | O. Tänak | M. Järveoja | Toyota Yaris WRC | 1:30:38.6 |
| 2 | K. Meeke | P. Nagle | Citroën C3 WRC | +22.7 |
| 3 | T. Neuville | N. Gilsoul | Hyundai i20 Coupe WRC | +28.6 |
| 4 | D. Sordo | C. del Barrio | Hyundai i20 Coupe WRC | +29.5 |
| 5 | S. Ogier | J. Ingrassia | Ford Fiesta WRC | +36.4 |
| 6 | C. Breen | S. Martin | Citroën C3 WRC | +41.2 |
| 7 | A. Mikkelsen | A. Jæger | Hyundai i20 Coupe WRC | +58.5 |
| 8 | E. Lappi | J. Ferm | Toyota Yaris WRC | +1:07.9 |
| 9 | E. Evans | D. Barritt | Ford Fiesta WRC | +1:10.3 |
| 10 | T. Suninen | M. Markkula | Ford Fiesta WRC | +1:33.7 |
Let's hear then from the drivers-
Ott Tanak
"I am definitely happy with today. We have been pushing really hard and I couldn't have done that if it wasn't for the perfect feeling that I have with the car. It has been performing really well and it's giving me confidence. It's good that we have been able to make some improvements and they seem to be paying off, although I think there is still more to come. It's a shame that we lost some time on the first stage this morning: I'm not sure how it happened but we had a spin in a very narrow place and it took a long time to get back in the right direction. Then we started to push hard to get the time back, and this afternoon we had three perfect stages. I feel quite confident about our position: Tomorrow the stages are even faster and we know that fast roads suit this car really well, and I was able to do some really good times on these stages last year, so I'm looking forward to it."
Kris Meeke
"Although our day got off to a difficult start, with some visibility issues on the first stage and some problems finding the right pace on the next one, we worked things out after that. This was a daunting leg so we're pleased to have been both smart and consistent. I felt confident behind the wheel, which just goes to show that the changes made to the car are going the right way and that we have to keep it up. If there is fog tomorrow, then that blows the whole thing wide open again because the gaps will end up being minutes rather than seconds. So it'll be up to us to perform!"
Thierry Neuville
"I am quite pleased with the day overall. We have had a good feeling inside the car and felt that we could really push for competitive stage times despite starting second on the road. At the same time, we have had to avoid trouble and effectively save the car, as the stages were pretty rough in places. The strategy has really been to take it easy and keep in touch with the leaders. I am sure we have more pace in us for tomorrow, which will be a very different challenge."
Hyundai Motorsport 
Dani Sordo (4th)
"It has been a positive start to the rally for us, and I am thoroughly enjoying driving in front of these crowds. The stages themselves, as we know from the past, are very rough and it is very easy to have some problems. To be fighting for the podium is where we would hope to be at the end of the first day – and it is very close. I have to thank the team for the job they have done to prepare our car. I have hit a few big rocks this afternoon, and the car has done its job perfectly, very solid and competitive. Let's see if we can keep up the fight tomorrow!"
Andreas Mikkelsen (7th)
"We had a great morning and led the rally for a few stages, which was very promising. Ott has been incredibly fast today so we knew we had to push hard, which is easier said than done on such rough stages. It was going well until the start of the afternoon loop when the tyre came loose from the rim and lost us a lot of time. We then had to be extra careful because we knew one more issue might be game over, so we focused on getting the car home. We'll be ready for another push on Saturday."
M-Sport Ford WRT 
Sébastien Ogier (5th)
"It was an excellent day for us and I couldn't do much more in terms of driving. We didn't make any mistakes and I really tried to push as much as I could. Ott [Tänak] is flying and did a great job, but other than that we're still in the fight for second place – despite opening the road."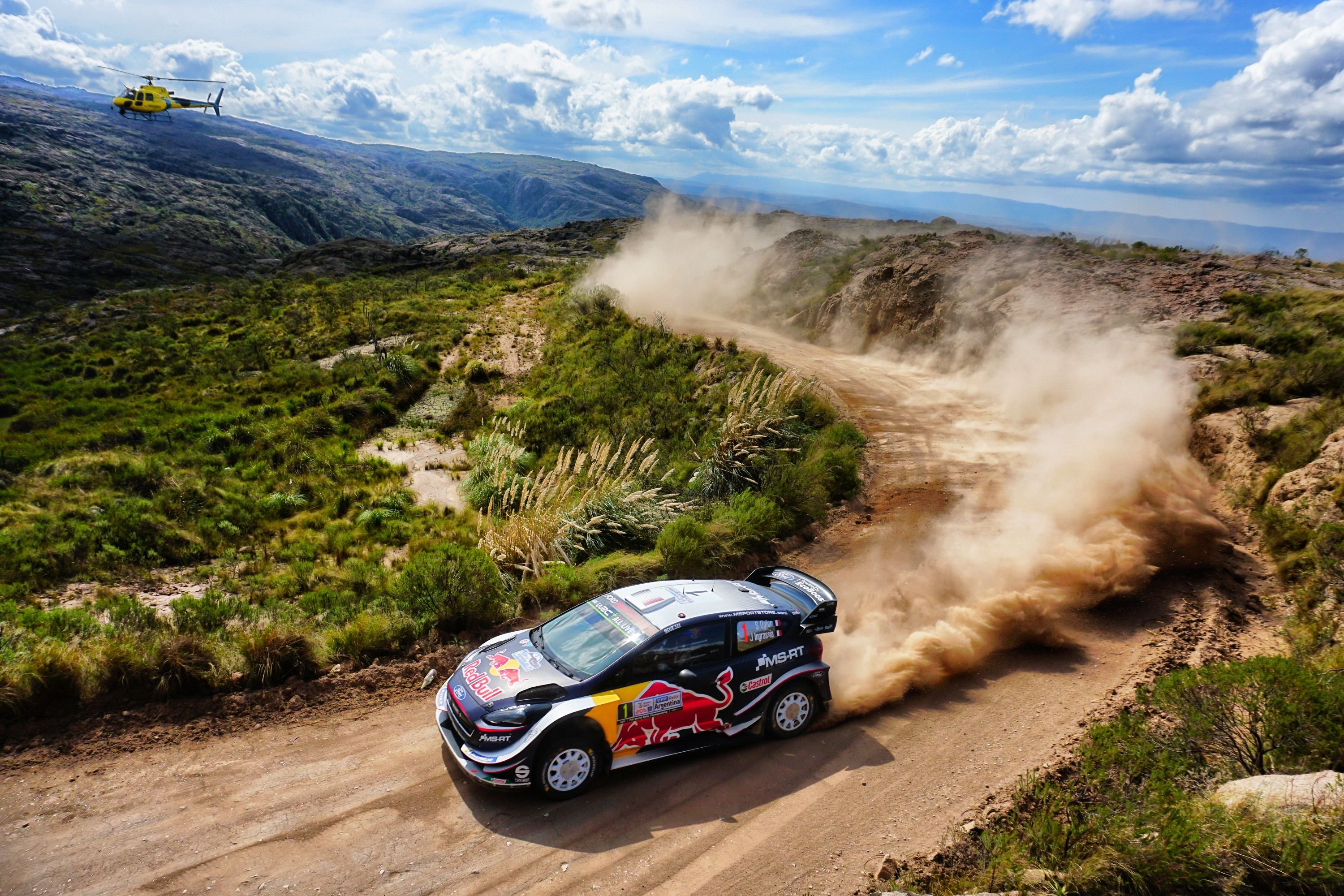 Elfyn Evans (9th)
"For sure it has been a difficult day for us. On the whole I felt that the driving wasn't particularly bad, but the times just haven't been there. We need to understand why that is and do better tomorrow."
Teemu Suninen (10th)
"It hasn't been the easiest day in the car, but we have learnt a lot. We were able to improve the driving a bit today, but we need to improve more to be faster and challenge for the podium. The main things we need to look at are the braking style and corner entries. Hopefully if we can improve one, it will be like a domino effect and the other will improve too. So, let's see what we can do tomorrow."
Toyota Gazoo Racing WRT 
Esapekka Lappi (8th)
"This morning started surprisingly well on the first two stages. On the third one we lost a lot of time, as it was a bit more slippery and I didn't want to make any mistakes. This afternoon it was a lot rougher on the second pass, and to have three punctures today is obviously not good. I'm not really sure why it kept happening, and to be honest I think it was just bad luck: the tyres themselves were fine but they kept coming off the rim. Tomorrow the weather might be different and this could be an opportunity for me to get some time back."
Jari-Matti Latvala (DNF)
"I had a perfect feeling with the car this morning. The Yaris WRC is going so well here, and it was so easy to drive. I was really enjoying it. The second stage of the day was going really well and actually getting better and better as it went on. Then we came to a long right-hand corner and at the exit of the corner I hit a rock which I didn't see hidden in the shadows. Immediately the front-right suspension was broken and one of the oil pipes was damaged, so I had to stop. On this rally there are so many rocks: sometimes you are lucky with them and sometimes you are unlucky, and I think I was unlucky. It is very frustrating because we were in such a good rhythm. My co-driver Miikka was really frustrated too, because he knew that I was not attacking too hard. I just need to put this behind me, and hope that I can get that good feeling again on the next rally. One thing is for sure: the car is really fast."
Citroen Abu Dhabi WRT
Craig Breen (6th)
"It was a pretty good leg for us, given our lack of knowledge of the stages. I think I made a real breakthrough in the afternoon, in trying to adapt my driving style to the handling of the C3 WRC. My time on the final stage shows this and that augurs well for the rest of the rally."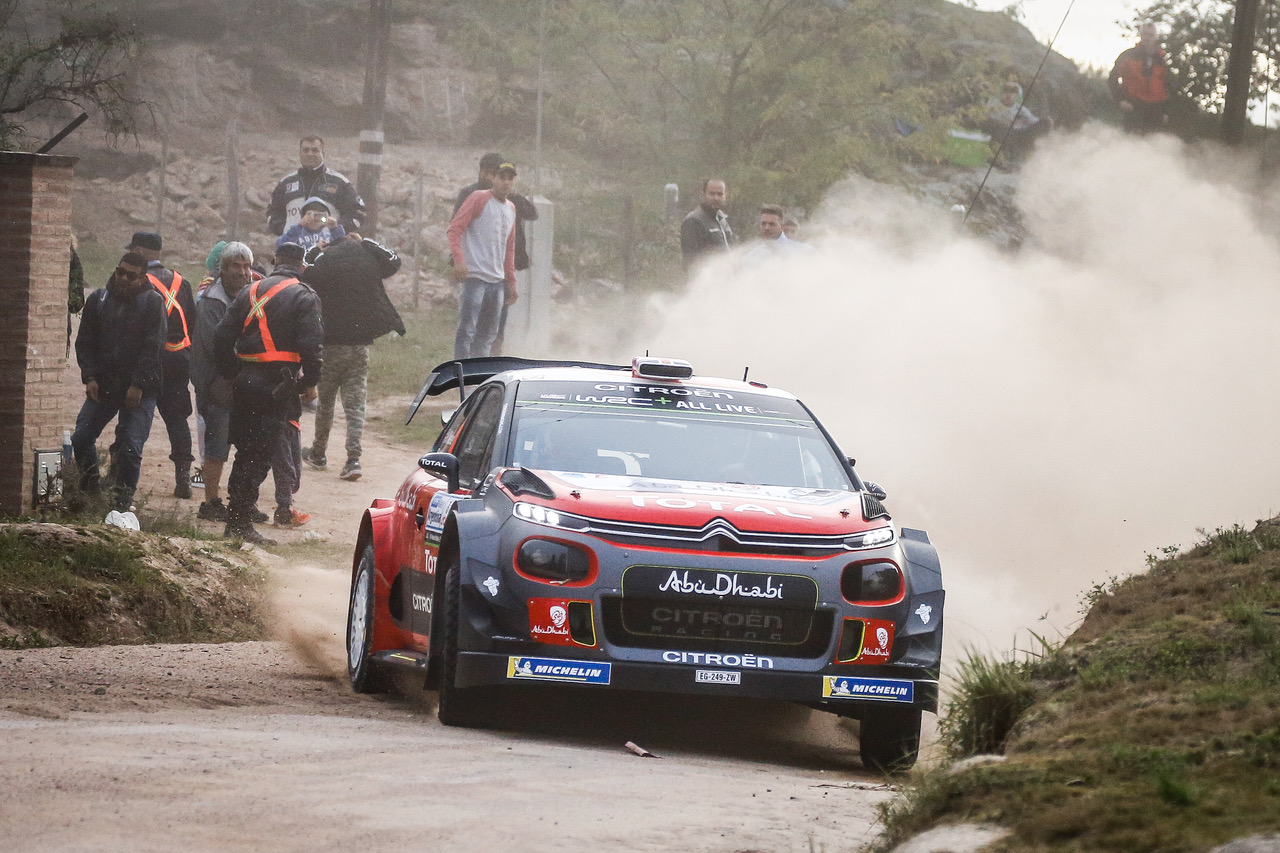 Khalid Al Qassimi (15th)
"With the fog we experienced in recce, my pace notes weren't perfect but we made it to the end of this leg whilst making steady progress. Although the first loop was difficult, I felt more confident on the afternoon loop thanks to the adjustments to my C3 WRC' set-up by the technical team."
Day Two – Saturday!
The crews had seven stages and 146.88km of action! The top cars would run in opposite order – Al Qassimi, Suninen, Evans, Lappi, Mikkelsen, Breen, Ogier, Sordo, Neuville, Meeke, Tänak.
Ott started the day where he left off, winning from Kris and extending his lead over the Citroen driver. Seb was doing his best to stay with the leaders but lost more time.
Stage ten saw the crews face the fog and Al Qassimi really struggled with this, using the brakes a lot just to be sure he'd complete the stage. Thierry and Dani were the closest challengers to Ott who won the stage, but Kris fell back a little and now the gap between them was over 30 seconds.  Thierry was now closer to Kris as a result.
Stage eleven saw more fog and a longer stage at 40km's! Craig rolled out after losing control over a jump and his teammate Kris fell behind Thierry. We saw a welcome return to the front of Elfyn Evans who set the third fastest time and moved up one place to seventh. Ott's lead was now a pretty comfortable 43 seconds.
The short 6km super special saw Thierry take a stage victory, his measured approach paying dividends, now ten seconds ahead of Kris. Dani was also driving well, his gap over Seb growing and hoping to take points away from Seb to benefit Hyundai's best hope for the drivers' championship (Thierry).
Ott continued to set the pace at the front in the first afternoon stage, number thirteen, and continued to open the gap over Thierry and Kris and was looking pretty comfortable.
The fog had now gone from the next stage, but Kris reported that it was very low grip after wearing his tyres more in the previous stage. He was now almost a minute behind the leader. The Hyundai twins of Thierry and Dani set exactly the same time, just 2.1 seconds slower than Ott.
The second running of the 40km stage saw disaster for Kris who ran over a stone and got a puncture immediately. He and Paul changed the tyre as fast as they could, but still lost two and a half minutes meaning that they dropped to eighth overall. The top three was now Ott followed by Thierry and Dani.
The Spaniard won the stage, ending Ott's run of fastest times today. Esapekka also moved ahead of Elfyn into sixth after setting the second fastest time.
After all the drama, the top ten at the end of Saturday looked like this-
Classification after Day Two
| | | | | |
| --- | --- | --- | --- | --- |
| 1 | O. Tänak | M. Järveoja | Toyota Yaris WRC | 2:58:33.9 |
| 2 | T. Neuville | N. Gilsoul | Hyundai i20 Coupe WRC | +46.5 |
| 3 | D. Sordo | C. del Barrio | Hyundai i20 Coupe WRC | +1:08.2 |
| 4 | S. Ogier | J. Ingrassia | Ford Fiesta WRC | +1:59.0 |
| 5 | A. Mikkelsen | A. Jæger | Hyundai i20 Coupe WRC | +2:13.8 |
| 6 | E. Lappi | J. Ferm | Toyota Yaris WRC | +2:42.9 |
| 7 | E. Evans | D. Barritt | Ford Fiesta WRC | +2:49.1 |
| 8 | K. Meeke | P. Nagle | Citroën C3 WRC | +3:20.4 |
| 9 | T. Suninen | M. Markkula | Ford Fiesta WRC | +4:17.6 |
Here's the views then, starting with the top three.
Ott Tänak
"Everything has been working really well. I have a very good feeling with the car, and especially so on today's roads, which were fast and flowing and suit our car very well. I was not pushing as hard as yesterday, when I was really on the limit. Today there was maybe a bit more control, but still the times were clearly quite good. This morning we had some really tricky conditions with really thick fog, but we managed it well and this afternoon was very enjoyable. I need to show respect for tomorrow's stages, because El Condor and Mina Clavero are very tough pieces of road and very different compared to today, but I am feeling confident."
Thierry Neuville
"I am pleased to have moved up into second place in the overall classification. We have had to stay really focused today. We lost a bit of time early on as we tackled the foggy morning stages but pushed as hard as we could. In the afternoon, with soft tyres, we had to take things carefully to avoid risking a puncture. We could have done a bit more but it wasn't necessary. Ott has a commanding lead of this rally so our target tomorrow is to secure second place and maximise points for both championships."
Dani Sordo
"The opening loop was really difficult in the fog, and it was impossible not to lose some time getting through in those conditions. Things improved at the end of the long stage but it offered a tough start to the day.  The fight for the podium places has been quite open. The final stage went really well – although I was a bit scared of the tyres because we were on the limit. We couldn't afford a single mistake so we drove clean and just enjoyed it. In the end, the time was good and we moved back up to third. We will do all we can to keep this position on Sunday."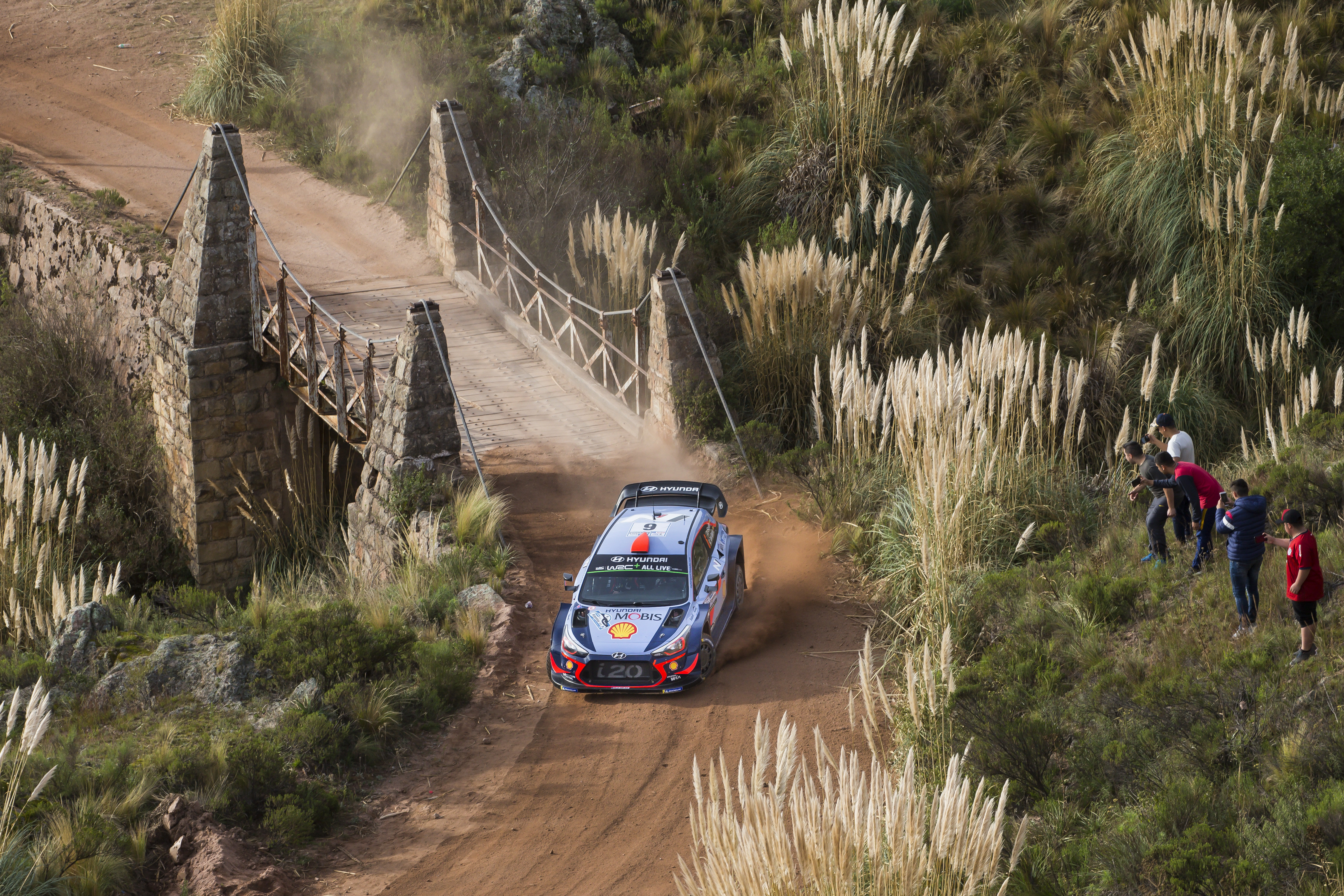 M-Sport Ford WRT
Sébastien Ogier (4th) said:
"I wasn't committed enough to go for it in the fog this morning. I was a bit too careful and maybe also a bit distracted when I got the message that Craig [Breen] and Esapekka [Lappi] were stopped – thinking something worse would be coming. At least we are here now – finishing the day in the points which isn't too bad for the championship.
"Dani [Sordo] did a great job today and it would have been difficult to catch him anyway. It looks as though we're not as fast here as we have been at the previous events. Like last year we struggled with the pace and we're not exactly sure why – so at the end of the day fourth position is not too bad.
"Tomorrow we will of course try to hold on to this position, and it would be good to grab some extra points in the power stage. The three stages tomorrow are the toughest challenge of the weekend. We'll have to see what the weather does and – if it turns out to be foggy as it so often does on El Condor – it will be a challenge for sure."
Elfyn Evans (7th) said:
"It's been another tough day to be honest, and we were still struggling in all the clean stages. We were able to make a difference in the fog – pushing very hard and setting a pretty decent time – but we're still not where we would like to be and need to find the answer."
Teemu Suninen (9th) said:
"We've been the second car on the road today so we had a lot of cleaning to do. I was a bit disappointed with the time in last stage, but it's all a learning curve and all okay. Tomorrow we will experience another completely different type of stage where the roads are a lot slower and a lot narrower. I've still got some homework to do, but hopefully next time we will be better."
Hyundai Motorsport 
Andreas Mikkelsen (5th)
"We have used today to try and make up some places after our issue on Friday. The fact we are back into the top-five is a positive result considering where we were at the start of the day. We have made some changes to the car during the day in a bid to find more rear stability and there was a definite improvement. We are not a million miles behind Seb in fourth place but we are just trying to drive neat and tidy, and we'll see where we end up tomorrow. As we've seen again today, this is a particularly tough and unpredictable rally."
Toyota Gazoo Racing WRT
Esapekka Lappi
"This morning started well: the car was working well and the setup felt good. Then on the long stage, I got a wrong pace-note, and in the fog, I couldn't see anything and we went a long way off the road.
Luckily, we didn't hit anything. This can happen, we are only human. The afternoon was really promising.
We all know the potential is there in the car, as Ott has been showing since yesterday, and I'm getting there step by step. I had some strong times and the road was getting cleaner for the drivers behind me, so, I'm pretty pleased with the speed. Every day is different here on Rally Argentina, and tomorrow's stages are the slowest, very technical and narrow with a lot of rocks. Therefore, I don't know if I can have the same confidence tomorrow, but I will certainly try for sure."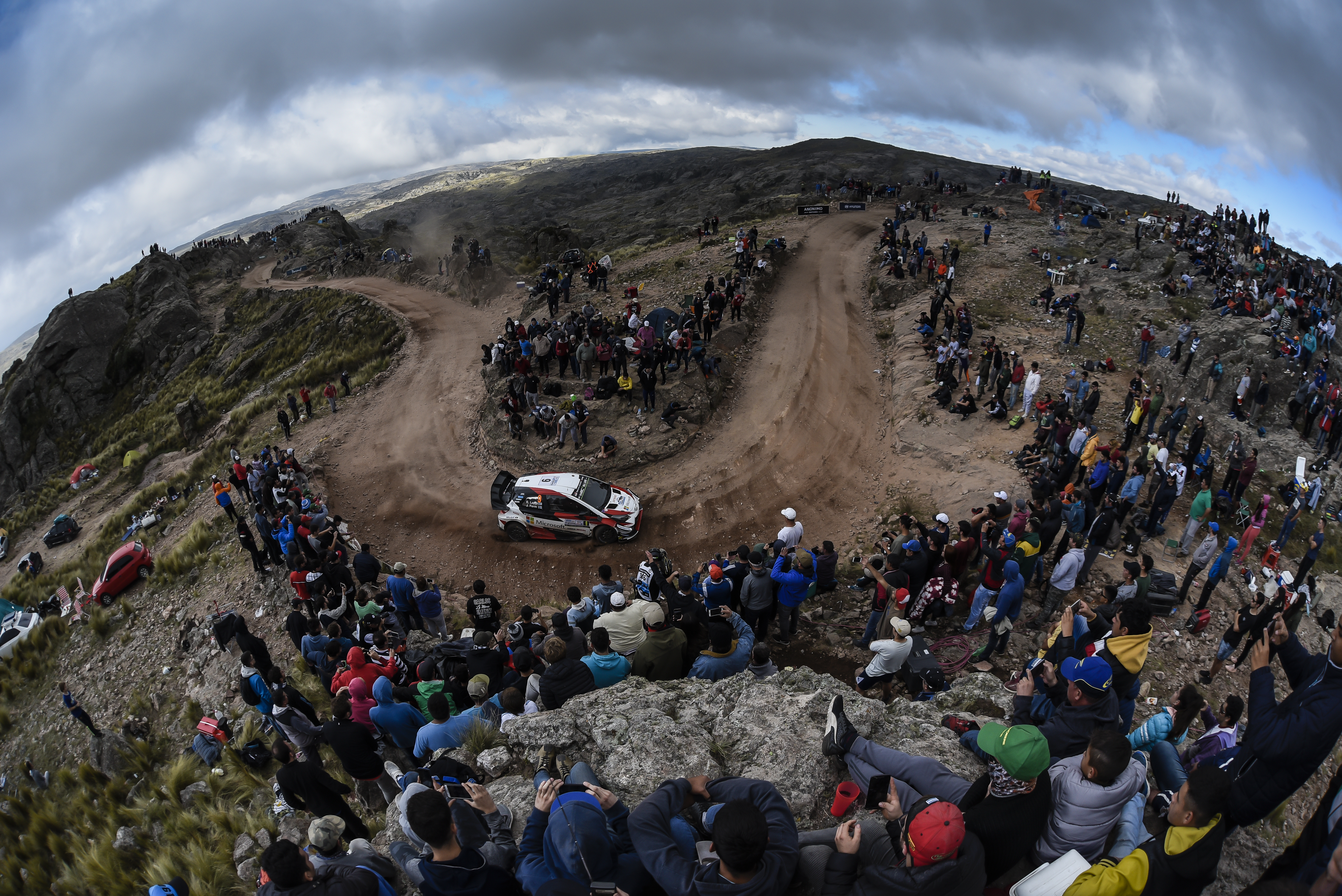 Citroen Abu Dhabi Racing WRT
Kris Meeke (8th)
"There was a stone in the middle of the road and I couldn't avoid it, given the width of the road. Unfortunately, I got a puncture straight away on the right rear tyre. It's a shame because I was both quick and consistent, and I clearly felt capable of securing third place."
Khalid Al Qassimi (14th)
"It wasn't an easy day for us, mainly due to the fact we opened the road all day, which meant we spent the morning especially cleaning the road for those behind. I enjoyed the afternoon driving a C3 WRC that was more precise, despite making a minor mistake, which fortunately had no serious consequences."
Craig Breen (DNF)
"Unfortunately, I turned in a bit too soon on a right-hander over a crest. I realised that I was going to hit a ditch so I tried to steer to avoid it but it was too little, too late and when we landed, we were thrown into a roll. Obviously, I'm sorry for the team, who deserved a better result, and am frustrated not to have been able to complete any more miles at this event, where I'm already short on experience. But I have to focus on the speed we showed at certain points and will aim to come back stronger in Portugal."
Day Three – Sunday!
The last day then and with 55km's spread between three stages and the narrowest stages including a double run of the iconic El Condor stage, with the added twist of running in the opposite direction this event could still throw up a surprise. The start list looked like this- Al Qassimi, Suninen, Meeke, Evans, Lappi, Mikkelsen, Ogier, Sordo, Neuville, Tänak.
Kris and Citroen were using the final day to test some changes and settings for Portugal and clearly it worked after setting the fourth fastest time and climbing one place to seventh. Esapekka lost a chunk of time dropping from sixth to eighth. Andreas won the stage with Seb just half a second slower and Ott third fastest with his lead now at 49 seconds, only disaster would stop him winning!
The penultimate stage, the longest of the final day at 22km. Tanak was taking a measured approach, whilst Thierry won the stage from Andreas and Dani. Despite being the third car on the road, Kris set a good time, just twelve seconds slower than Thierry for sixth fastest, the settings for Portugal proving their worth.
So, to the final stage and Thierry blazed through the stage and beat Seb to the power stage victory, taking all five points with Andreas third, Ott fourth and Kris fifth despite having to avoid a dog which he blamed for losing him half a second.
However, it was Ott Tanak's weekend. He'd won his third rally and his first for Toyota. It was also their first victory of the year! He'd set the pace all weekend and brought himself into a championship battle with Seb and Thierry.
Final Overall Classification – Rally Argentina
| | | | | |
| --- | --- | --- | --- | --- |
| 1 | O. Tänak | M. Järveoja | Toyota Yaris WRC | 3:43:28.9 |
| 2 | T. Neuville | N. Gilsoul | Hyundai i20 Coupe WRC | +37.7 |
| 3 | D. Sordo | C. del Barrio | Hyundai i20 Coupe WRC | +1:15.7 |
| 4 | S. Ogier | J. Ingrassia | Ford Fiesta WRC | +1:58.6 |
| 5 | A. Mikkelsen | A. Jæger | Hyundai i20 Coupe WRC | +2:02.6 |
| 6 | E. Evans | D. Barritt | Ford Fiesta WRC | +3:06.3 |
| 7 | K. Meeke | P. Nagle | Citroën C3 WRC | +3:25.7 |
| 8 | E. Lappi | J. Ferm | Toyota Yaris WRC | +4:32.6 |
| 9 | T. Suninen | M. Markkula | Ford Fiesta WRC | +5:38.6 |
| 10 | P. Tidemand | J. Andersson | Škoda Fabia R5 | +12:15.8 |
Let's hear what he had to say.
Ott Tänak 
"It is very special to take my first win with the team. We have been improving the car very quickly, and it is now pretty much how I like it. It has been giving me great confidence. It is also great to see how much the team has been supporting me. To dominate a rally like this for the first time is very nice, but it has definitely not been easy. Earlier in the weekend I was pushing a lot. As the gap was growing it was possible for us to control it more and more, and today we were more on the safe side. The direction is good and we are closing up in the championship. It is still fairly early in the season, so now we just need to keep going in the same way in the coming rallies."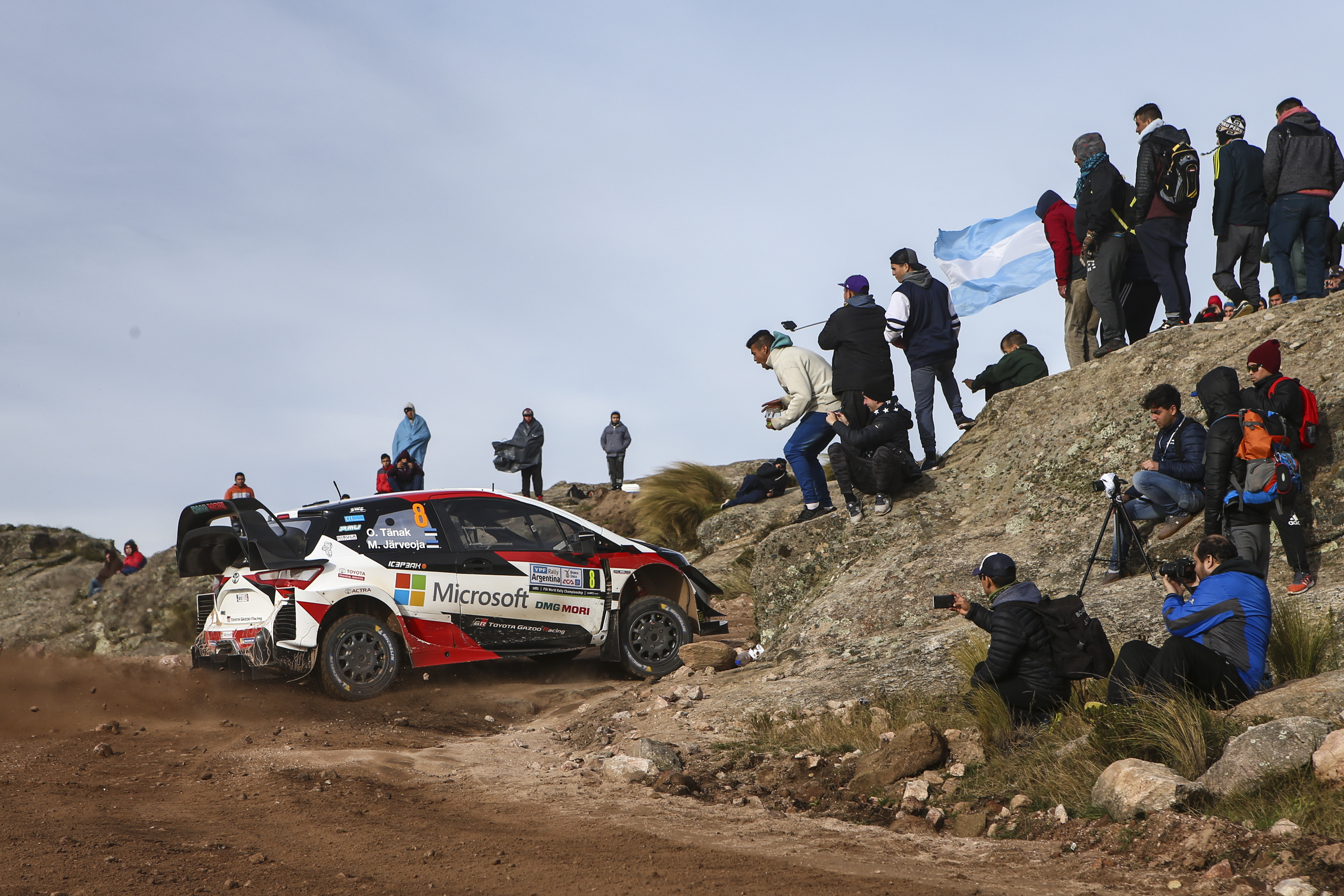 Thierry Neuville
"I am thrilled to finish on the podium in Argentina and to have taken the Power Stage win. It has been something of a relief after the difficulties we had in Corsica, as we have been on the pace all weekend and felt completely comfortable with our Hyundai i20 Coupe WRC. The team has really done a great job for this rally and I am hugely thankful for everyone's contribution. We knew we had to push on the Power Stage to take as many points as we could off Séb, and we were able to do that. I'm happy with what we take away from Argentina and look forward to Portugal."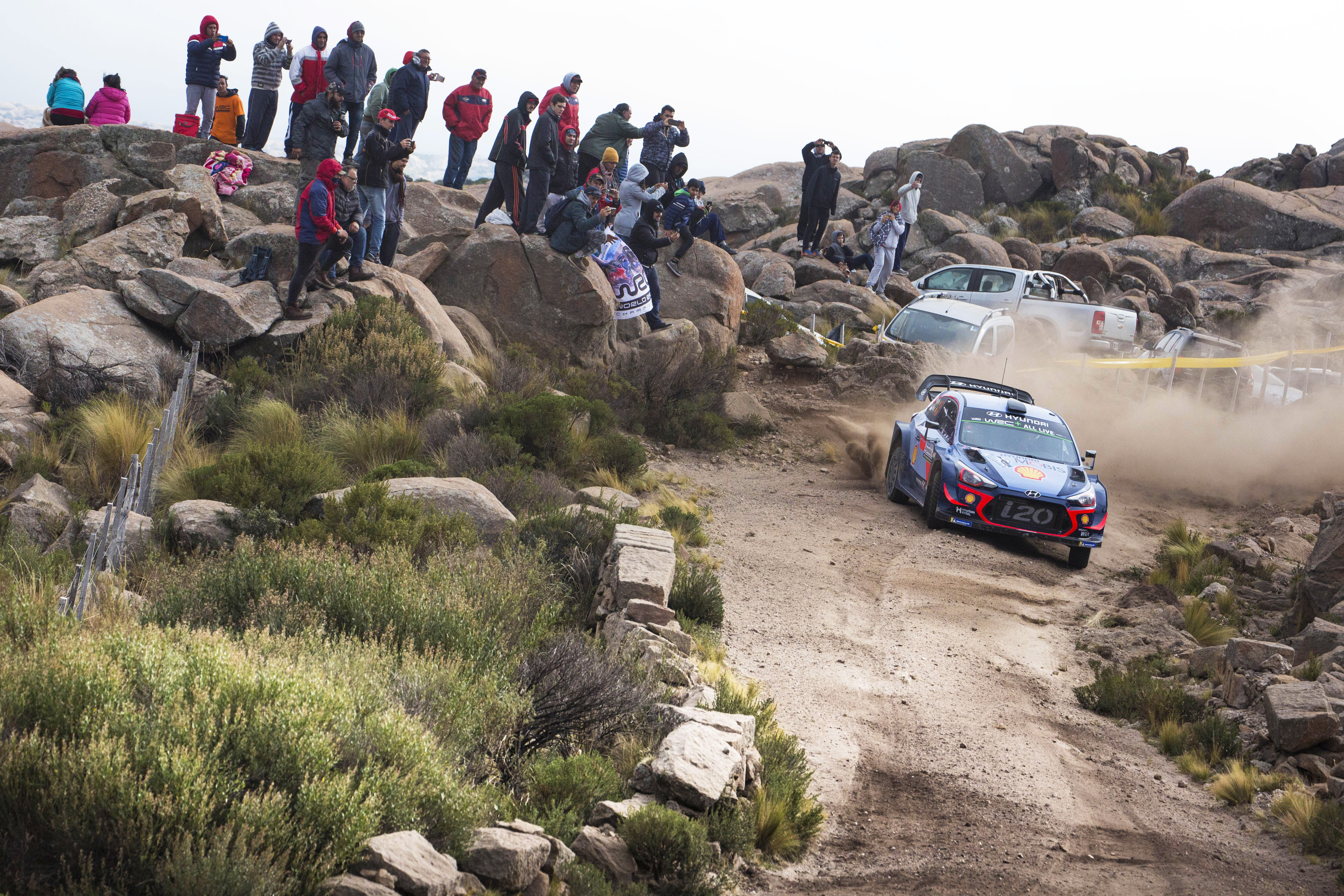 Dani Sordo
"What a fantastic rally this has been for the whole team. I am really happy to take my second podium of the season alongside Carlos, and to continue to show a competitive pace. The stage times have been very close all weekend long with lots of fighting for positions each day. Above all it has been a positive event for the team with a double podium that scores good manufacturer points. We didn't take too many risks on this final day, concentrating on finishing third. Thankfully we had a decent buffer so could complete our mission to take the podium. We have had a huge support from the fans – we hope they enjoyed the show!"
M-Sport Ford WRT
Sébastien Ogier (4th)
"There was an amazing atmosphere this weekend and I've never seen so many fans out on the stages. It wasn't an easy rally for us and we need to work on some areas to improve. But when you come away from a difficult event with 16 points, it's not so bad.
"As expected, the stages were challenging again today. They were rough and slow with very low grip – and we weren't super-fast in those conditions. We had to push hard to try and make a good time in the Power Stage, and we managed to grab four points which was important."
Elfyn Evans (6th)
"All things considered, sixth place isn't a bad result and it was good to get  some solid points on the board. But the pace just wasn't there this weekend. It was disappointing and not what we came here to do. We need to do some analysis to try and understand why that was. The engineers will study the data, I'll study the onboards, and hopefully we can get back on it in Portugal."
Teemu Suninen (9th)
"It's been a challenging weekend, but I have to say that the car has been amazing. It's really nice to drive and really easy to drive. From that side I really enjoyed the rally – even though I would have liked to have been a bit faster.
"On Friday we weren't able to set the fast times and that gave us the worst starting position for the next two days. It's like that for everyone, but we need to work on having a better Friday so that we have a better starting position for the weekend.
"But overall it has been a good experience – not an easy one, but a good one. Next year it will be much easier to prepare as we'll know what to expect and what the biggest challenges will be."
Hyundai Motorsport
Andreas Mikkelsen (5th)
"Firstly, I extend my congratulations to Thierry, Nicolas, Dani and Carlos for their podium results here in Argentina. From the team's point of view, this was a very competitive weekend with all three cars inside the top-five. We had a positive final day with a stage win, a second place and three points from the Power Stage. Obviously, we would have liked to fight those couple of places higher up but unfortunately our time loss on Friday prevented us from doing that. It has been a very closely fought and tough weekend, which has been a pretty good start to the run of gravel events."
Citroen Abu Dhabi Racing WRT
Kris Meeke (7th)
"It was a good day for us: we did set-up tests for Portugal and it was informative. The feeling was very good in the car. Apart from that, and the frustration of not being able to bring home the result that we deserved, the main thing for me is that the upgrades introduced this weekend to the C3 WRC enabled us to be a lot more consistent. I felt confident throughout the weekend, even when fighting for the podium. I felt that I had the situation under control at all times and we need to keep going in this direction."
Khalid Al Qassimi (14th)
"Obviously, I'm disappointed for the team that we didn't manage to secure a result that would reflect our real performance level. Nevertheless, I'm pleased to see our C3 WRC make regular progress and I'm convinced that this will lead to some good results very shortly. On a more personal note, running first on the road didn't make life easy for me today, but I was happy to be back with the team and enjoy the atmosphere of the championship again."
Toyota Gazoo Racing WRT  
Esapekka Lappi (8th)
"I can take home some positives from my first Rally Argentina. My speed was actually better than I was expecting on my first time here. It helped that we seemed to have the best car here: Ott controlled the whole rally, congratulations to him. We had many issues with punctures during the weekend and we need to investigate what was causing them. Although we had many things that caused us to lose time, we managed to do all the stages and get the experience. This first part of the season was never going to be easy, with events I did not have enough experience on, but there have been positive moments and I will take this on to Portugal."
The next round is in Portugal, held from the 17th of 20th of May. I think we are set for an amazing mid season, with just twenty-eight points between first and third places. Also Mads makes his second start of the year with Citroen and they are bringing three cars to the party!
Thierry should be very happy with his result, bringing the gap down to Seb to just ten points. Hayden Paddon is re-joining the Hyundai team in Portugal as well and will want to do well.
Finally, Elfyn and Dan will want to get a good result there as well. They've not had the best start to their campaign.
2018 FIA World Rally Championship for Drivers' Standings 
After round 5
| | | |
| --- | --- | --- |
| 1 | S. Ogier | 100 |
| 2 | T. Neuville | 90 |
| 3 | O. Tanak | 72 |
| 4 | A. Mikkelsen | 54 |
| 5 | D. Sordo | 45 |
| 6 | K. Meeke | 43 |
| 7 | E. Lappi | 40 |
| 8 | J.M Latvala | 31 |
| 9 | E. Evans | 26 |
| 10 | C. Breen | 20 |
| 11 | S. Loeb | 15 |
| 12 | H. Paddon | 10 |
2018 FIA World Rally Championship for Manufacturers' Standings
After round 5
| | | |
| --- | --- | --- |
| 1 | Hyundai Shell Mobis World Rally Team | 144 |
| 2 | M-Sport Ford World Rally Team | 129 |
| 3 | Toyota Gazoo Racing World Rally Team | 124 |
| 4 | Citroën Total Abu Dhabi World Rally Team | 93 |