The Moto3 World Championship race at Jerez was set to take place under gorgeous Spanish sun, on the track bearing the name of Spanish motorcycle racing's original hero, Angel Nieto. It was expected that Jorge Martin and Fabio Di Giannantonio would dominate proceedings, after showing superior pace over the course of the weekend, but of course all of the Spanish riders were eager to impress and make a good result at the 'true' Spanish Grand Prix. The action, like in qualifying, was immediate, as John McPhee torpedoed down the inside of turn two on the first lap, colliding with Lorenzo Dalla Porta, who sat up and hit Dennis Foggia. The three went down and did not continue. McPhee looked fairly unamused with what had happened, and the same can be said for Dalla Porta. All three riders got away okay, and will be looking to get back towards the front end of the field in Le Mans.
In the first few laps, it looked as though there could be a group of eight breaking away at the front, but a mistake from Fabio Di Giannantonio at Dry Sack dropped him through the pack, and he knitted the groups back together, to have an eighteen bike leading group.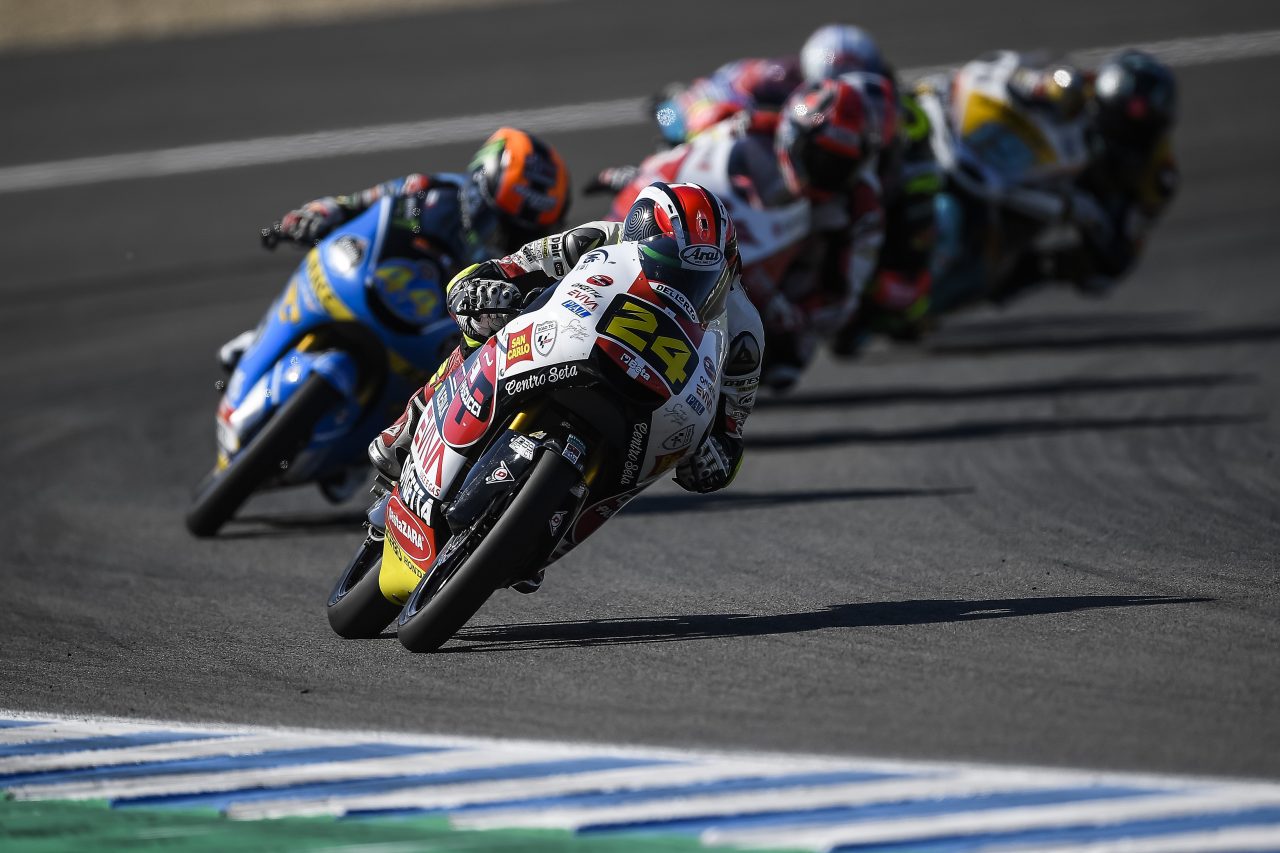 Eventually, there was a split. With about ten laps to go, six riders began to get away at the front, mostly due to the robust defending of Kaito Toba who had fought his way up to seventh in an impressive ride. The Japanese rider was unwilling to let track position go, and the hard battling cost him and the people behind him a lot of time to the leaders.
But, finally, this battle would prove to be the battle for the final podium spot, when Aron Canet lost control of the #44 Estrella Galicia Honda NSF250R into Dry Sack corner, clattered into title rival Jorge Martin, who – unintentionally – ran into Tony Arbolino and Enea Bastianini, meaning the front group of six was now just two.
After the race, Martin said that he became angrier when he realised it was Canet. He implied that his increased anger was fuelled by his compatriot's incident with Makar Yurchenko in Argentina, which Jorge claimed he believes was an intentional move by Canet. In fairness to Canet, after the race he seemed genuinely remorseful. He wanted to apologise to all the riders involved, but Martin would not let him apologise in person, or at least he would not accept Canet's apology. This is a shame because it follows the precedent set by Valentino Rossi in Argentina: Marc Marquez went to apologise, but Rossi wouldn't let him (despite himself going to apologise, famously, after taking out Casey Stoner at Jerez, 2011). In my opinion, Martin is following the example of Rossi, set in Argentina, when he (through Uccio) told Marquez to go away when Marc tried to apologise; this is the wrong example to follow. Martin should be using Rossi's approach in Jerez 2011, and allowed Canet to apologise, as Stoner did on that occasion – everyone should be allowed the opportunity to apologise.
The incident left him in the lead and Marco Bezzecchi, who was at the back of the front group when the incident happened, out front, but with a one-second-or-more gap between them with four laps to go. Bezzecchi started immediately closing on Oettl, but ultimately was unable to make a pass one the German for the win. So, it was Philipp Oettl who took his first Grand Prix victory ahead of Bezzecchi, the German joining his father in 'Grand Prix winner' status. Oettl has taken his time to get there, I remember when he was in the podium fight riding a Kalex KTM in 2013 at Aragon, in a year where, unless you were riding a full KTM, you had no chance. To put it into perspective, in 2013, Oettl's first year, Marc Marquez was a MotoGP rookie; the BBC were still broadcasting MotoGP; CRT was still a thing; Jonathan Rea was just 'a very good Honda rider' and Valentino Rossi was nearing the end of his career. A lot has changed since Oettl came onto the scene, and now it will be interesting to see whether he is able to build on this performance and result going forward into the rest of the 2018 season.
The second place of Marco Bezzecchi was very important, because thanks to the crashes of Martin, Canet and Bastianini, Bez is now the championship leader of the Moto3 World Championship. The media will continue to assert that Bezzcchi has lucked into his championship advantage, along with his podium today, but the fact remains that Bezzecchi is leading the championship and that is only the case, because he deserves to be. Had Martin have chosen a wet tyre in Argentina, he would probably be leading the championship. Will Bezzecchi be leading after Le Mans? Well, we know from last season and from Argentina that he likes the wet conditions, and we also know that Le Mans is not immune to some precipitation, but, realistically, it is only a matter of time before the likes of Canet, Bastianini and especially Martin begin to asset their authority on the championship.
The third-place battle that was left after Canet's error was a lively one, but an intriguing one. Almost all of the people who looked to be in the running for the final podium spot seemed to be unlikely ones: Jaume Masia, Kaito Toba, Alonso Lopez and Marcos Ramirez were all in there. Di Giannantonio was too, but the former four seemed the more likely. Finally, it was Lopez who crossed the line third. Unfortunately for the Spanish rookie, he was forced to give up a place due to a penalty being applied after the race for exceeding track limits on the final lap. This was pretty heart-breaking for Lopez, in his first ever Spanish Grand Prix, but the penalty meant that the true paddock local boy, Marcos Ramirez, got the podium for the Bester Capital Dubai KTM team – his first of 2018, a year in which he has struggled to get on with the new KTM.
Lopez' penalty dropped him to fourth place, which is still a stunning result considering that he was at one stage in the gravel on the outside of the Angel Nieto corner.  His first Moto 3 podium is surely not far away. Masia came across the line in fifth place, which again was a particularly stunning result considering he qualified down in 25th place. Tatsuki Suzuki took sixth on the SIC58 Squdra Corse, ahead of Di Giannantonio who will be disappointed with seventh place, Jakub Kornfeil in eighth, Toba who ended up ninth and Gabriel Rodrigo who had an anonymous race to round out the top ten.
Niccolo Antonelli looked strong early on, but in the end could only manage eleventh, ahead of Ayumu Sasaki who made good progress from a dismal qualifying, Andrea Migno who would have hoped for more in his team's home event but after his qualifying penalty which landed him 18th on the grid it was always going to be a difficult task for the Italian. Makar Yurchenko took fourteenth place, and it was the wildcard Ai Ogura who took his first Grand Prix point on debut in fifteenth.
Adam Norrodin came over the line in sixteenth place, ahead of Nicolo Bulega in seventeenth – which in a somewhat saddening way is an improvement for the Italian. Livio Loi was eighteenth, Nakarin Atiratphuvapat nineteenth and Kazuki Masaki was the twentieth and final finisher on the RBA KTM.
There were many retirements. On lap one, the aforementioned waywardness of John McPhee claimed the races of Dalla Porta and Foggia, and Jeremy Alcoba, the second wildcard, got caught up in that incident too. Albert Arenas retired nine laps from the flag, and five laps later Canet cleaned out Martin, Arbolino and Bastianini.
Next, the Moto3 World Championship heads to France, and Le Mans, for round four of the 2018 World Championship, and the championship favourites will be keen to bounce back from their pointless weekends in Jerez.