Ahead of the third round of the 2018 Moto2 World Championship, Alex Marquez was on pole, sharing the front row with the KTM of Sam Lowes and Mattia Pasini. Francesco Bagnaia headed up row two, as he looked to bounce back after a disappointing Argentinian round. Joan Mir was fifth on the grid, with Luca Marini sixth. Xavi Vierge, Marcel Schrotter and Fabio Quartararo were on row three. It had been a poor qualifying for the 'factory' KTMs, as the Red Bull Ajo bikes of Miguel Oliveira and Brad Binder were down in twelfth and sixteenth – in fact they were the lowest-placed KTMs on the grid ahead of the eighteen-lap race.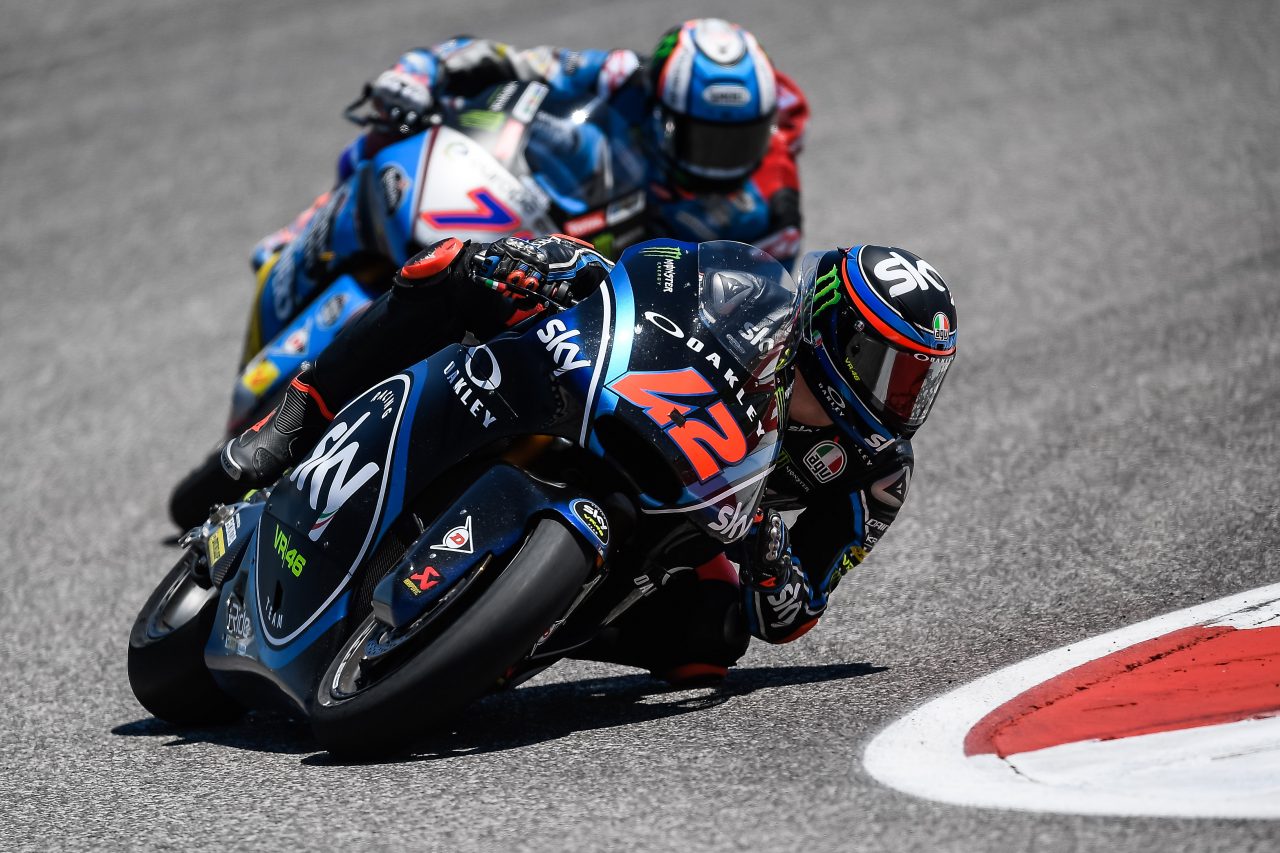 By far the favourite for the race win, it was Alex Marquez who made the holeshot and took the early lead. Sam Lowes had a poor getaway, and dropped back to fifth in the initial stages, with Pasini, Bagnaia and Vierge finding their way past the British rider early on.
Notably, Pasini had chosen the harder option rear tyre, whereas everyone else had gone with the softer option. This was clearly not working for him at the start but the hope for him was that after six or seven laps it might start to come in, and he could start to make his way back through the pack. But he could not hold back Bagnaia, who passed him on the first lap before pointing his crosshairs at the leader, Marquez, and began closing down the near-one-second gap that Marquez had created.
It took Bagnaia a few laps, but eventually he caught Marquez and with ten to go; the gap was essentially nothing. He waited a few laps, perhaps managing the tyre, but Bagnaia finally made his move with nine to go at turn eleven, but he ran wide, allowing Alex back through.
Whilst Pecco was waiting to try again, Oliveira passed Vierge for third with eight to go, but surely the five or six second gap that had appeared between Bagnaia in second and Vierge in third was too much for the Portuguese rider to close down with the limited time remaining in the race.
The next move from Bagnaia came at turn one with six laps to go, but there was a sublime response from the Spaniard at turn three just a few seconds later. Once more, Bagnaia came back, this time at turn eleven when Marquez ran wide. The #73 came back through with the slipstream down the main straight, but the Sky Racing Team VR46 Kalex moved back through on the brakes for turn twelve. After hanging on through the 'go-kart' section of the track, Pecco now had a chance to hold the lead, but Alex was not dropped yet.
By this point, with five laps to go, Oliveira was now with far superior pace compared to the front two, lapping nearly one second faster than the leaders. The only person who could match his pace in the final laps was Joan Mir, which is perhaps very telling.
An apparent mistake on lap fourteen from Bagnaia allowed Marquez to come back to him, but the next four laps from the Italian were just what was needed to hold on, and take the win. It was an important win, too, for Bagnaia, after his poor performance in Argentina: where he finished only ninth. It was a win which made him the first double winner of 2018 in Moto2, and also meant that there is still an Italian domination in the intermediate class thanks to Pasini's victory two weeks ago. In addition, first place in COTA allowed last year's 'Rookie of the Year' to return to the top of the championship, and this time with a ten-point lead which, with the incredible depth of field in Moto2 this season, could be about as big as anyone gets all season.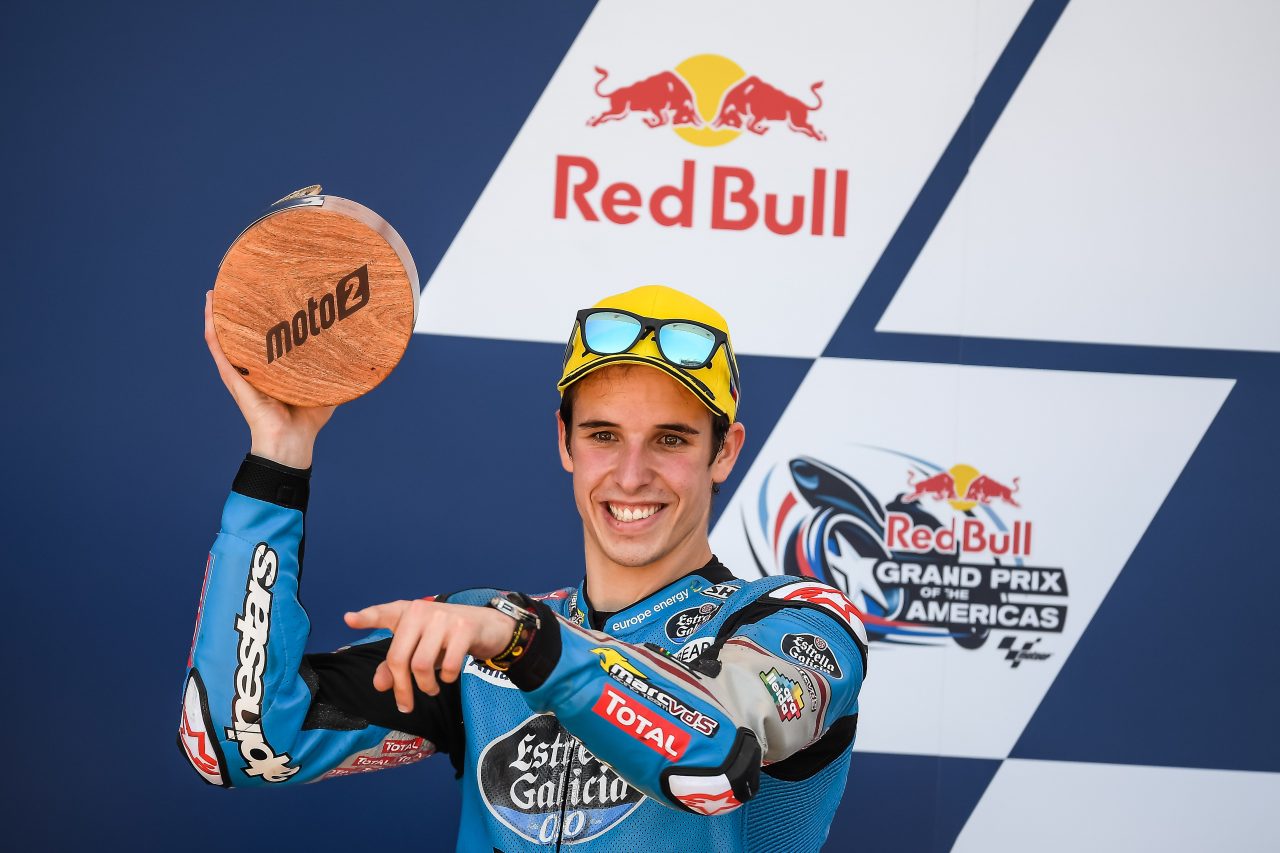 Alex Marquez held on well for second. For sure, he would have expected to win, but finally he did not have the endurance in the softer tyre that Bagnaia or Oliveira did. Fortunately for Marquez, he did manage to build a large gap whilst the likes of Vierge and Pasini were running at the front and not allowing Oliveira to show his ultimate pace. Perhaps the biggest positive for Marquez after this race is that, despite the difficulties he faced in the final laps, he did not make a mistake and throw it all away as he might have done in the past, and that could be crucial looking forward with respect to the championship.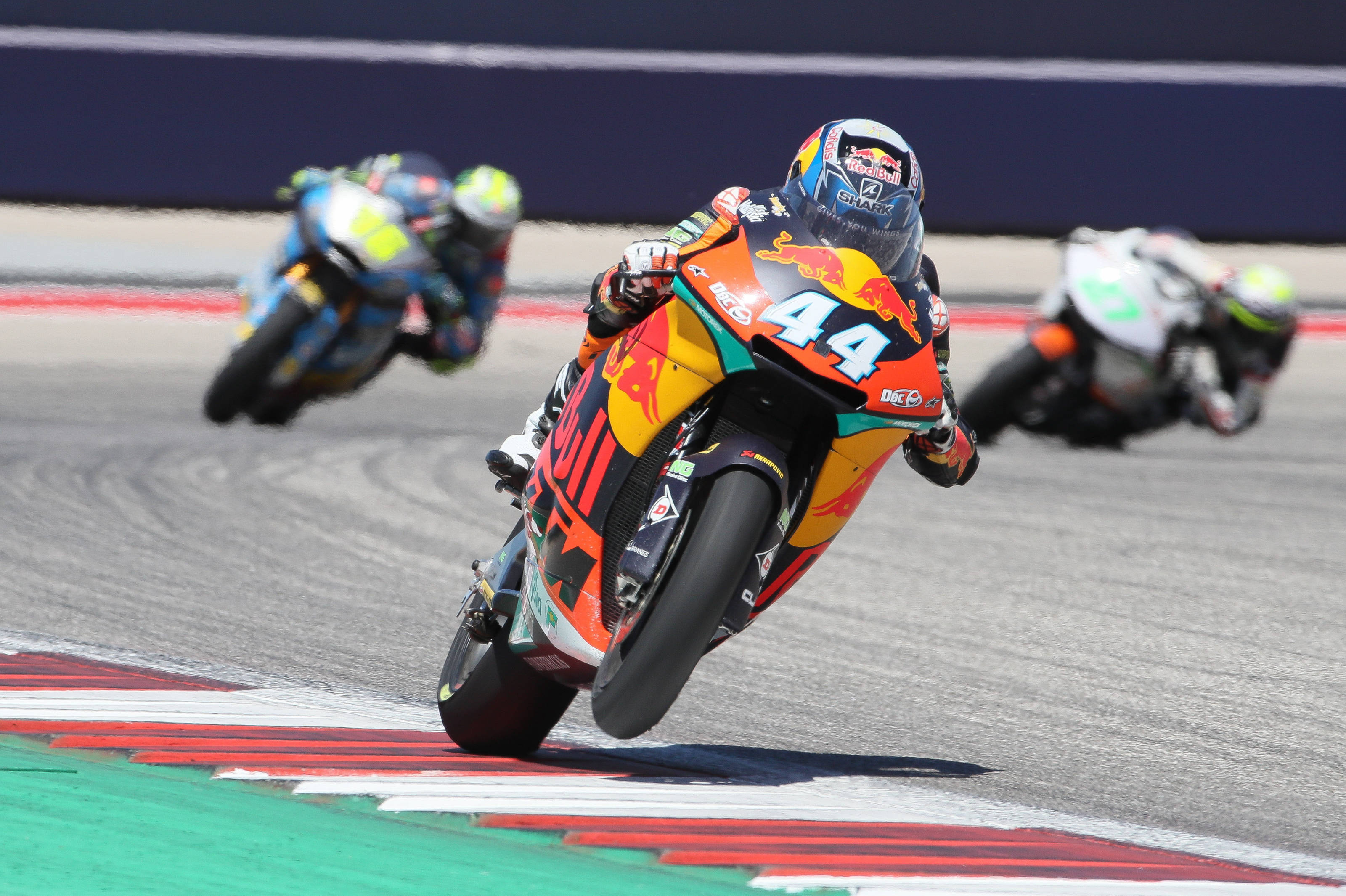 Fourth place went to Miguel Oliveira who will be ruing his poor qualifying. Without that, he could have won – he was the only rider who could run the mid-to-low elevens at the end of the race, with the possible exception of Joan Mir, and if he had started at the front we wouldn't have seen so much of him on the TV.
Joan Mir had another stunning ride for fourth place. He will be disappointed as his fifth-placed qualifying was his best in Moto2, and it gave him his best opportunity so far for a top result. However, an incident with Dominique Aegerter at turn one on the first lap shoved him to the back of the pack, and meant that he had to fight from the lower reaches of the top twenty to salvage his race. And salvage it he did, with sublime passes on riders, who are no mugs: riders with far superior experience to him. His fourth place probably did not match what he deserved. Furthermore, his pace in the end of the race was only matched by Oliveira, on the KTM which is famed for its gentle treatment to the tyres, and realistically if everything was 'how it should have been', if you like, Mir should have been fighting with Oliveira for the win in COTA, and it would be hard to bet against the Spaniard in such a fight. Either way, it was a brilliant performance from the 2017 Moto3 World Champion, and surely he is only going to get faster when the championship heads to Europe in just a couple of weeks.
Iker Lecuona took by far his best Grand Prix result with a fifth place for the eighteen-year-old. Like Mir, you would expect him to get stronger in Europe – he had never been to Austin before this weekend. Lecuona was followed in by Brad Binder, who, like his teammate, had to recover from a poor qualifying and finished sixth after quite a wild race for the South African with quite a few moments. Pasini was seventh, and suffered with his choice of the harder rear tyre. He might have had an advantage in the end of the race, but never had the free track to use it thanks to how tight the pack was behind the leaders. Eighth place went to Jorge Navarro, who beat home Domi Aegerter and Lorenzo Baldassarri who was tenth.
Isaac Vinales was eleventh, ahead of Simone Corsi who is seemingly really struggling in the Tasca Racing team. Luca Marini was thirteenth – and seemed quite good in the beginning of the race but could not keep up the pace towards the end, perhaps due to a shoulder that he dislocated at the MotoRanch last week. Andrea Locatelli was fourteenth and Fabio Quartararo rounded out the points in fifteenth.
Sixteenth went to Romano Fenati who is still looking for his first Moto2 points. Remy Gardner was seventeenth, ahead of Hector Barbera who is still struggling to adapt to Moto2 after eight seasons in MotoGP. The Japanese Tetsuta Nagashima was nineteenth, Bo Bendsneyder rounded out the top twenty, ahead of Steven Odendaal on the leading NTS chassis. Eric Granado was the only Suter to finish, and did so down in 22nd, ahead of sole home hero Joe Roberts.
Sam Lowes had an early crash at turn eighteen but got back on and finished 24th. Khairul Idham Pawi finished 25th, ahead of Jules Danilo, Zulfahmi Khairrudin and Federico Fuligni who was the 28th and final finisher.
There were four retirements: Xavi Vierge, Stefano Manzi, Marcel Schotter and Danny Kent.
Next, the Moto2 World Championship goes back to Europe, and to Jerez, the circuit where Bagnaia took his first Moto2 World Championship podium last season. With that in mind, is anyone going to be able to stop the current championship leader when the paddock arrives in Spain?