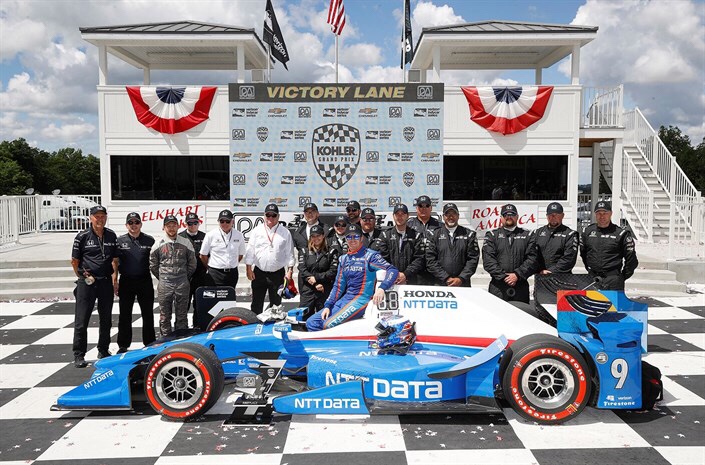 Indycar, Elkhart Lake, Wisconsin, Dixon, Kimball, Jones, Rahal, Chilton, Aleshin, , Action, Drivers
Following on from part one, here's a continued look at what's to be expected of the 2018 IndyCar season.
Schmidt Peterson Motorsports
Schmidt enjoyed a relatively good season in 2017 but it was all a bit odd when Mikhail Aleshin was first benched for Toronto and then removed from the team altogether before Pocono.
On the other side of the garage, James Hinchcliffe successfully completed another season without nearly killing himself (see Indy 500, 2015, if that is lost on you). He finally scored his first win since his Indy accident at Long Beach – for someone who was told he'd never walk -let alone race – again, he's come an awful long way.
Joining the Canadian is fellow compatriot Robert Wickens who has made the jump back over the pond after competing in GP3, Formula Renault 3.5 and more recently DTM. He'll be looking to learn all he can from Hinchcliffe in his rookie season, although ovals are going to be a new experience for him entirely.
Dale Coyne Racing
Having started so well, 2017 was clearly a disappointment for Dale Coyne – one qualifying run wrecked their season, just like that. Credit where credit is due to Jones for holding the team together in Bourdais' absence, the youngster didn't win rookie of the year for nothing.
It was all going so well, Bourdais won the first race, was second in the next and was leading the championship for the first three races before two bad races dropped him down the order. However, all that became insignificant during Q1 at the Indy 500 when Bourdais lost control of his car at 227 mph, he broke his pelvis on impact and unsurprisingly, didn't return until the third to last race. Clearly, the Indy 500 is going to be a hard one for Bourdais to return to but, like Hinchcliffe did in 2016, he'll just get on with it and try to not think about the previous year.
Coyne have lost a number of sponsors over the off-season so they ended up splitting the #19 drive to allow for more driver money to come in. Pietro Fittipaldi, grandson of Emerson, and Zachary Claman De Melo will share that drive with Fittipaldi doing seven races, including the Indy 500, and De Melo the other ten. Both drivers will need to learn fast, given they haven't got as much track time as other rookies but, with Bourdais in the other car, they've got a decent driver to learn from.
Ed Carpenter Racing (ECR)
ECR were about as anonymous as they always seem to be these days in 2017. JR Hildebrand had a very hit and miss season with two podiums but only one other top 10 finish while Carpenter and Spencer Pigot shared the other car, with neither finding much success.
For 2017, Hildebrand's out and Pigot has been moved up to the full-time #21 car while ex-F2 driver Jordan King will fill Pigot's space in the #20 alongside Carpenter. It's, other than Carpenter, a fairly inexperienced line up and the drive share in the #20 car never seems to do much good for anyone but that's the way it's been for the last few years.
A.J. Foyt Enterprises
Foyt really struggled in 2017 with neither Carlos Munoz nor Conor Daly able to get anything resembling a decent result out of the car. With that in mind, Foyt are attempting to tackle 2018 from a different angle and with a completely new driver line up.
After his fall-out with Chip Ganassi, Kannan has joined Foyt; the IndyCar veteran takes a clear number one status with the team as he is partnered alongside rookie Matheus Leist. 2018 will be a true test of Foyt's worth as a team with a driver of TK's calibre on board – we all know what TK can do and soon, we'll know if Foyt can live up to that.
Carlin
The first of the new teams for 2018 is Carlin; a well-known name in whatever European single-seaters series you look at, Carlin have made the jump over to America to put a top rung on their career ladder. F1 was never going to be a viable option for the British team so they've turned to IndyCar to provide their drivers with somewhere to go if they can't get into F1.
Chilton will be reunited with Carlin after spending a sizeable amount of his pre-F1 career with the team. The Brit is yet to have his breakthrough season in IndyCar so, with a team of Carlin's competence, 2018 might be just that.
Alongside Chilton will be his old Ganassi teammate Kimball. If there was trouble last year, Kimball always seemed to be in it – whether he found it or it found him, he got into a few too many incidents. Like Chilton, the American is yet to have his breakthrough season, if Carlin can pull it off, both drivers could get their wish.
Harding Racing
It's been a long time coming but Harding have finally made the upgrade from being a come-and-go Indy 500 and a few others kind of team to a full-time IndyCar team. After running three races, including Indy, last year, Harding are doing the full season with Gabby Chaves who himself makes his return to full-time IndyCar.
They are a small team but, having had a few seasons on the edge of IndyCar, Harding know their way around the paddock and Chaves has been in and around the series since 2015. The playing field has been somewhat levelled with the universal aero kit so it's a lot easier for new teams to come in however, that doesn't mean it isn't still going to be a struggle for all three new teams.
Juncos Racing
The third and final new team to IndyCar is Juncos who will field a shared car, driven by Rene Binder and their Indy Lights champion Kyle Kaiser. Juncos themselves make the jump up to IndyCar after multiple successful seasons in Indy Lights but, unlike Harding, they don't have any experience of one-off races to help them.
Binder will participate in four of the street races dotted throughout the season while Kaiser will do the rest, including the Indy 500. Both are young drivers with amazing potential so this will be a good opportunity for them to show what they're worth.
That concludes our team-by-team look at the season ahead. With the new universal aero kits coming in, the field should be closer than ever with more drivers and teams able to fight for wins and the championship. This should be a good one!
2018 IndyCar Calendar:
(O) – Oval, (R) – Road/Circuit
March 11 – St. Petersburg (R)
April 7 – Phoenix (O)
April 15 – Long Beach (R)
April 22 – Birmingham (R)
May 12 – Indianapolis (R)
May 27 – Indianapolis 500 (O)
June 2 – Detroit-Belle Isle (R)
June 3 – Detroit-Belle Isle (R)
June 9 – Texas (O)
June 24 – Road America (R)
July 8 – Iowa (O)
July 15 – Toronto (R)
July 29 – Mid-Ohio (R)
August 19 – Pocono (O)
August 25 – Gateway (O)
September 2 – Portland (R)
September 16 – Sonoma (R)
By Emily Inganni 20/02/18
Imagine courtesy of Honda Media Europe