Thierry Neuville's victory started with setting the fastest time on shakedown. Despite suffering with some gremlins during shakedown, he powered through the stages and emerged victorious for the fourth time this year. Here's the story of how it came together for him and Nicolas.
Despite rumours of rain affecting this event, Friday morning dawned bright and sunny.  The first day would feature a completely new stage called Sherwood. I received some very useful information about the stage from a member of the support staff. He's what he had to say about it.
"Sherwood is a real mix up.  It has characteristics of the fast-flowing Bakers Creek stage from last year as well as the typical forest stages.  It will be fast in the first half and then transitioning to a mix of technically demanding tracks and fast flowing forest runs."
He explained that all the stages were in very good condition and that the forest stages would be harder on the tyres, compared to the shire stages. He continued by saying that Nambucca was in the best condition he'd ever seen it in as well.
Stage one, Pilbara fell to the ever- fast Andreas, but it was Kris who was surprised by Seb's time despite running first on the road.  Thierry was fifth fastest, five seconds slower than his teammate. It was a good stage in general for the Hyundai team, with three cars in the top five.
Stage two, Eastwood saw a few changes in positions, but Andreas remained at the top of the time sheets. Kris ran him close though, just 1.7 seconds slower at the end of the 19km stage. Paddon, Ogier and Tanak fell down to sixth, seventh and eighth, with Neuville, Jari-Matti and Breen all moving ahead. Wales Rally GB winner, Elfyn was struggling for pace and was now 28 seconds from the lead.
Now it was the first run of Sherwood and the longest stage of the day at 26.68km. It didn't go well for Kris after he ran wide and had to stop, reverse and turn. Somehow, he still maintained second overall though, albeit 16 seconds down on Andreas, who was definitely in the zone. With Breen's third fastest time, he moved up to third overall. Ott also found some speed and moved ahead of Latvala, into fifth.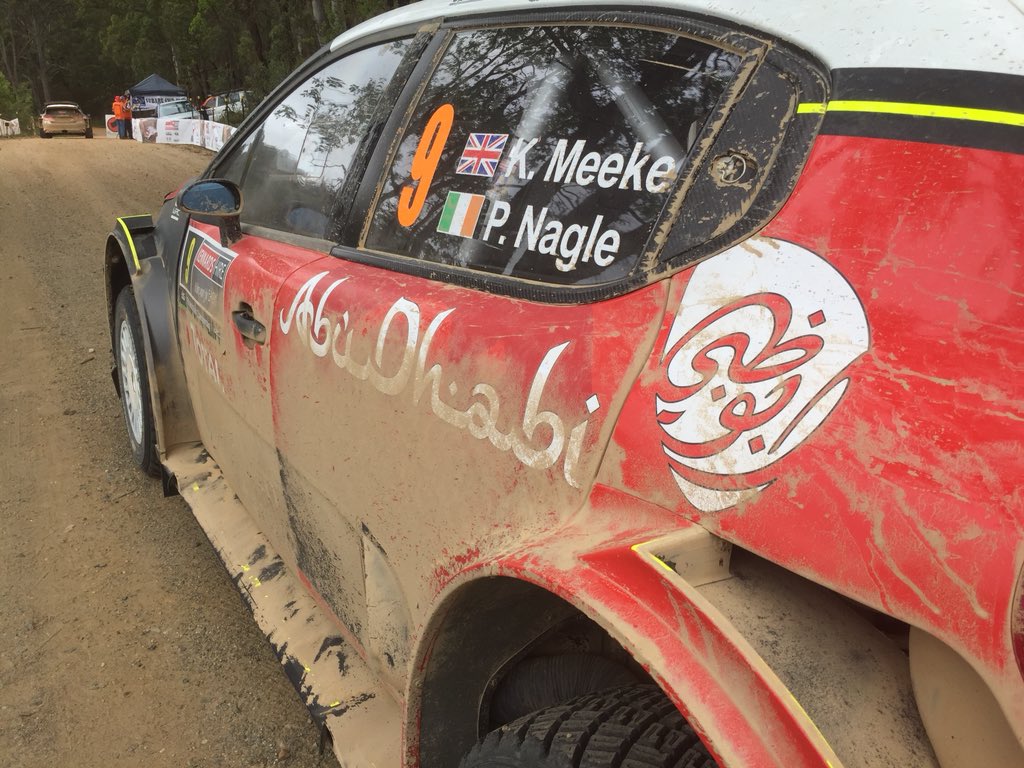 The crews headed back to Coffs Harbour for service at this point.
Stage 4, the rerun of Pilbara saw the top three of Andreas, Seb and Thierry less than a second apart! Really close times! Overall, the top three was still Andreas followed by Kris and Craig in their C3 WRC's. Thierry moved a little closer though to Craig after he suffered a deflation on his right-rear. However, he'd be okay, as he had a spare in the car.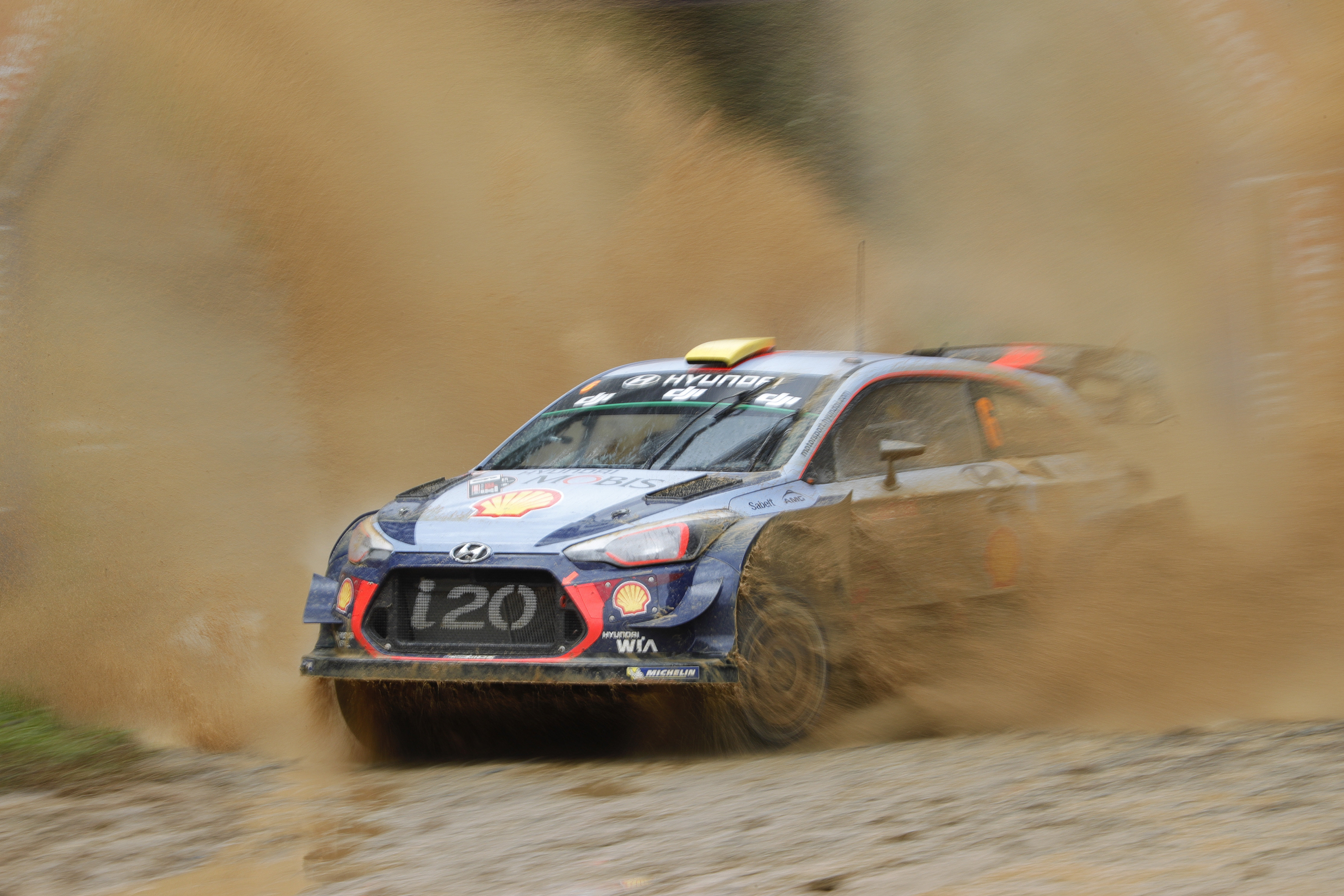 Thierry won stage 5, Eastwood rerun and with that moved into third overall at the expense of Craig. Hayden was also moving up the leaderboard having been faster than Jari-Matti by 1.7 seconds. Kris had a better run through this stage in the afternoon, consolidating second overall. However, his teammate, Craig, fell behind Jari-Matti after a messy stage that saw him hit a hay bale!
The two short 1.27km stages were won by Thierry and with those under his belt, he'd moved into second overall at the expense of Kris although after his day, he was happy to be third. Hyundai had definitely hit the ground running
End of day 1 (Friday):
1 Andreas Mikkelsen/Anders Jaeger (Hyundai i20 Coupe WRC) 57m51.9s
2 Thierry Neuville/Nicolas Gilsoul (Hyundai i20 Coupe WRC) +20.1s
3 Kris Meeke/Paul Nagle (Citroen C3 WRC): +20.8s
4 Jari-Matti Latvala/Miikka Anttila (Toyota Yaris WRC) +29.9s
5 Craig Breen/Scott Martin (Citroen C3 WRC): +30.8s
6 Ott Tanak/Martin Jarveoja (Ford Fiesta WRC) +33.0s
7 Hayden Paddon/Seb Marshall (Hyundai i20 Coupe WRC) +38.2s
8 Sebastien Ogier/Julien Ingrassia (Ford Fiesta WRC) +47.9s
9 Stephane Lefebvre/Gabin Moreau (Citroen C3 WRC): +57.3s
10 Elfyn Evans/Daniel Barritt (Ford Fiesta WRC) +1m13.8s
11 Esapekka Lappi/Janne Ferm (Toyota Yaris WRC) +3m27.6s
Let's hear from the drivers then.
Andreas Mikkelsen (1st) said:
"It has been a very good start to the rally, bringing back memories from our win last season. I have had a clean drive throughout the day with no mistakes and with an incredibly positive feeling from inside the car. It really felt like home! I have focused on increasing the lead wherever possible and 20 seconds is a nice gap. Our challengers will be closer to us on the road tomorrow, so we have had to make the most of our advantage today. Things really couldn't have gone any better. The weather forecast suggests we might have some rain this weekend, and there are some long stages on the itinerary for tomorrow. For now, though, I am happy with how things have started."
Thierry Neuville (2nd) said:
"We have had a promising first day. The conditions on the stages were quite tricky with lots of loose gravel, which meant a bit of cleaning for those earlier on the roads. All of the stages went pretty well from my point of view and I am generally satisfied with our position. We struggled a bit with the soft tyre in the longer afternoon stage (Sherwood II), which prevented us from pushing as much as we'd like, but we were still able to set decent pace. It's a very close battle for second with Kris, while Andreas is looking very strong out in front. For sure, we want to aim for victory ourselves this weekend. We are in a more favourable road position tomorrow so I am definitely up for the fight."
"I enjoyed it today, although I'm a bit frustrated to lose time with my little mistake on SS3. I had too much speed coming into a corner and we ran wide off the road and into bushes. I had to stop, reverse, turn and go again and lost a dozen seconds or so. Apart from that, everything went well and I felt very comfortable in the car. The second loop was interesting, because there was little to choose between us despite tyre choices varying considerably from one team to another. We'll have a good road position again tomorrow, and perhaps that's the most important thing!"
Jari-Matti Latvala (4th) said:
"It wasn't a perfect way to start for us on the rally here as my intercom broke on the first stage. When you're pushing hard, it definitely helps to be able to hear your co-driver! Then I also lost the front splitter, which obviously affected the handling of the car. But I'm pretty satisfied with our progress in the afternoon. It was important for us to get back up to fourth after the forest stages this afternoon, as this will give us a better road position tomorrow. To fight for a podium on this rally you have to be in the top five really: if you're out of the top five than it becomes too tricky with the road position."
Craig Breen (5th) said:
"It wasn't all plain sailing, but it was still a good day for my debut appearance here. This morning, I was really very happy and I felt totally at one with the C3 WRC. The afternoon was harder going, with several little problems that prevented me from making the most of the potential of the car. I'm back in my happy place in fifth, but I'm not too far off the podium!"
Ott Tänak (6th) said:
"It's not been the start to the rally that we were hoping for and it's not been easy with our road position. Obviously, Thierry [Neuville] has done a good job so we can't complain too much, but we had some damage to the aerodynamics early in both loops which made it even more difficult.
"Looking at the gaps, it's still really close and the podium isn't too far away. For sure it will be difficult with the cleaning tomorrow, but we have two very long days to come. If we can find a bit more performance and attack hard, anything is possible."
Hayden Paddon (7th) said:
"It's not been the start that we had wanted to this final event of the season. So far, things haven't quite clicked. There is no apparent reason; we just haven't been able to get into the all-important rhythm. We will look through the data this evening to see if there's anything we can find to improve for tomorrow's stages. This is an event where I feel very comfortable usually, so we will keep pushing. It is fantastic to have such support from the crowds. There are plenty of Kiwis here and it makes for a great atmosphere. There's a lot more to come, I'm sure."
Sébastien Ogier (8th) said:
"It's not been the optimum start to the rally, but we knew that we would be at a disadvantage this weekend. We had a gear selection issue throughout the day which didn't help, and on the second two stages in particular you could see the road getting better and better with every car.
"Of course, this means that we don't have a great road position for tomorrow – when we expect the road cleaning to be even worse – but we will still try to enjoy. We're far from a strong result at the moment and it won't be easy for us tomorrow, but there's still a long way to go and we will keep pushing."
Stéphane Lefebvre (9th) said:
"It wasn't quite the day I was hoping for. My two punctures – that I don't entirely understand – lost me close to half a minute. I can take nevertheless some positives from today's leg. When everything is going well, my times are similar to those of Craig and I'm managing to get into the top five. I hope to have a bit more luck tomorrow!"
Elfyn Evans (10th) said:
"We knew the conditions were unlikely to suit us this weekend. It's all been about getting the experience and getting the notes fully up to date. This afternoon was a bit better, but we're still just focused on the job in hand – on getting through the stages and taking the maximum, we can away from this weekend."
Saturday morning dawned bright and sunny. The rain had still not arrived having got stuck on the dividing range beyond the stages. The first stage of the day would be the longest stage of the entire event- Nambucca!
Thierry won the stage, averaging 109kph and eating four and a half seconds out of Andreas' lead. Citroen driver, Lefebvre spun in the stage losing a lot of time after taking a bit longer to restart the car. Kris lost a lot of time and dropped behind Jari-Matti. In fact, this stage was not kind to any of the Citroen drivers with Craig also dropping behind Ott Tanak into sixth place.
The next stage, Newry saw Andreas dramatically exit the event, after sustaining a double puncture! Jari-Matti won the stage from Tanak with new overall leader Thierry third. Kris climbed back into third place overall, but Ott Tanak was just half a dozen seconds behind him.
The short Raceway stage 11 followed and it was won by Ott Tanak followed closely by Ogier and Neuville. The overall top three was, Thierry, Jari-Matti and Kris with just 22 seconds between them.
A very early service for the day at just before 11am followed this and then there would be three normal stages followed by two runs in Raceway to complete Saturday's action.
Stage 12, Welshs Creek went well for Thierry who won the stage and therefore increased his lead over Jari-Matti by almost ten seconds. Kris touched a bridge near the start of the stage and broke his suspension. The team asked him to retire the car on the road section before stage 13.
Stage 13 saw Thierry again at the top and now his lead was almost 20 seconds over second placed Jari-Matti. Kris' teammates had different problems though. Craig ended up with a butterfly in the car, definitely not ideal at all, whilst Lefebvre ended up with his tyres completely running out of grip and he was struggling with understeer!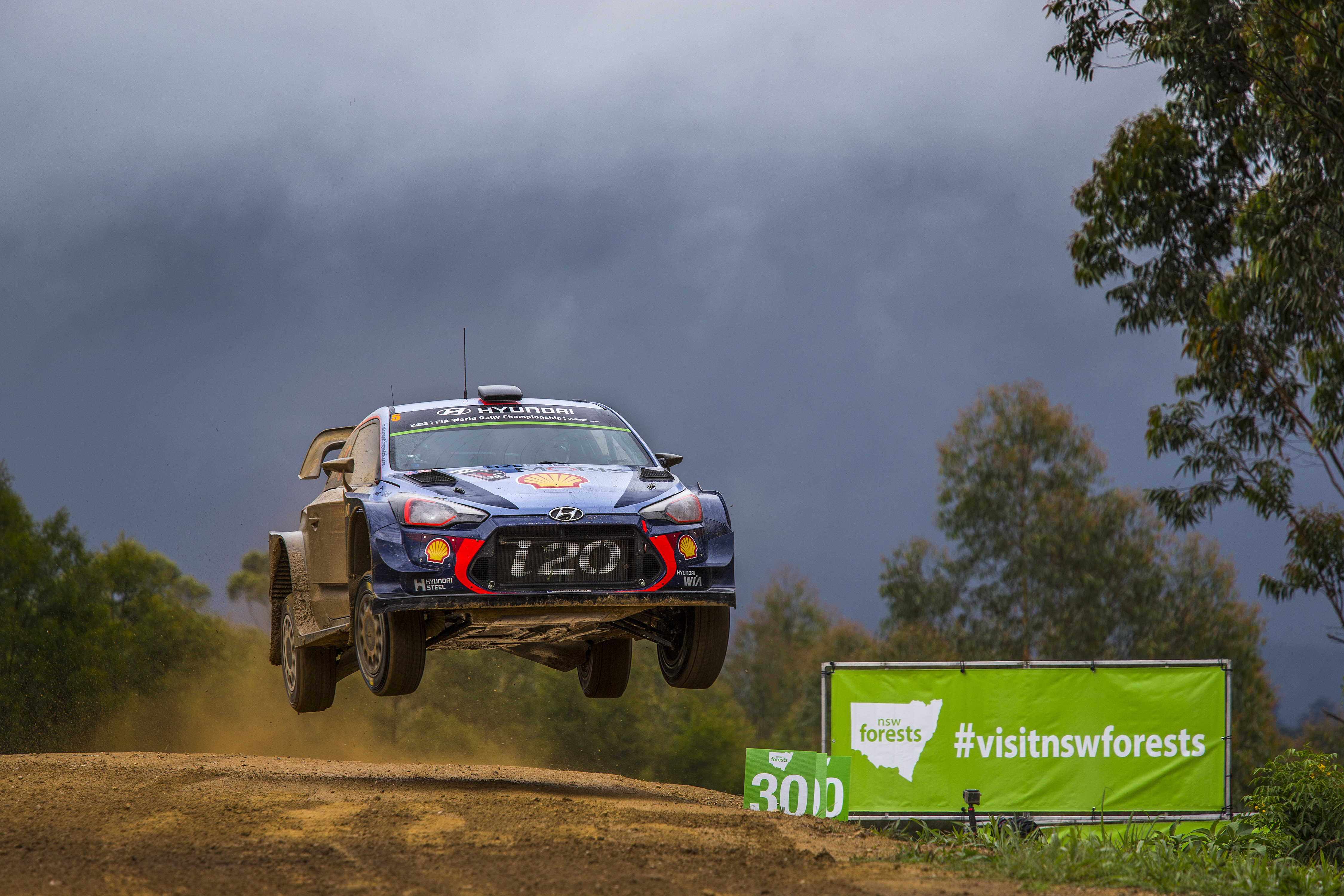 Stage 14 the rerun of Newry was cancelled as there was damage to a bridge. It was made of old railway sleepers and one became detached, thus falling into a river whilst two others had damage from termites meaning that they'd only got worse with the cars running over them.
Stage 15 and 16 were won first by Craig and then Ott took the second running of it. All of this meant that our top three was unchanged with Thierry ahead of Jari-Matti and Ott Tanak in third after two days of punishing action.
Top ten following Saturday's stages
1 Thierry Neuville/Nicolas Gilsoul (Hyundai i20 Coupe WRC) 2h05m11.6s
2 Jari-Matti Latvala/Miikka Anttila (Toyota Yaris WRC) +20.1s
3 Ott Tanak/Martin Jarveoja (Ford Fiesta WRC) +40.6s
4 Craig Breen/Scott Martin (Citroen C3 WRC): +1m05.2s
5 Hayden Paddon/Seb Marshall (Hyundai i20 Coupe WRC) +1m21.1s
6 Sebastien Ogier/Julien Ingrassia (Ford Fiesta WRC) +1m48.2s
7 Stephane Lefebvre/Gabin Moreau (Citroen C3 WRC): +3m00.2s
8 Elfyn Evans/Daniel Barritt (Ford Fiesta WRC) +3m25.3s
9 Esapekka Lappi/Janne Ferm (Toyota Yaris WRC) +4m20.3s
10 Nathan Quinn/Ben Searcy (Mitsubishi Lancer Evo IX) +17m35.2s
Thought's then from the drivers-
Thierry Neuville (1st) said:
"It's a good feeling to be leading the rally heading into the final day. Of course, the event is far from over but I have been very pleased with our approach to today's tricky stages. Our pace has been good overall, and we've added more stage wins. At the same time, there is a sense of disappointment that we weren't able to have more of a fight with Andreas following his retirement this morning. It has not been a completely trouble-free day for us either. We made a mistake in the Newry stage, going straight on at a junction, but thankfully we didn't lose too much time. Something broke in the gearbox, as a result of us rectifying the error, which required a fix at lunchtime service. The afternoon then went more to plan and we could build up a reasonably good gap. There is no such thing as a comfortable lead, though, and with the weather still looking like it could play a part, we will have a challenge on our hands on the final morning."
Jari-Matti Latvala (2nd) said:
"It was damp and even wet in some places this morning, so the soft tyre was definitely the correct choice. In the afternoon it was drying out, but just before leaving service we had some information that there were some showers as. Our plan was to go with full hard tyres, but as a result of this new information we decided to swap and take two softs. That information was absolutely correct: it was damp at the beginning and end of the long stage. I don't think I quite got the right feeling with the balance of the car, but it was still a good day and we're looking forward to tomorrow. My only regret is that we had one stage cancelled because of a damaged bridge, as I think that stage could have suited us."
Ott Tänak (3rd) said:
"Overall I think it's been a much more positive day than yesterday. We've had a much better feeling in the car and managed to improve the confidence and the driving. We had a big push in the afternoon, and to be back on the podium is a good thing.
"There are some more tricky stages tomorrow so we need to keep focused, but hopefully we can finish the year with another top-three result for the team."
Craig Breen (4th) said:
"We've had another good day. This morning, I found the Nambucca stage particularly difficult. But considering it was our first time on the stage, we didn't do too badly up against the more experienced drivers. The afternoon loop was better, with drier conditions. We have moved up the standings due the misfortune of the others, but that's part and parcel of racing. I'll be ready to grab any opportunities to get onto the podium."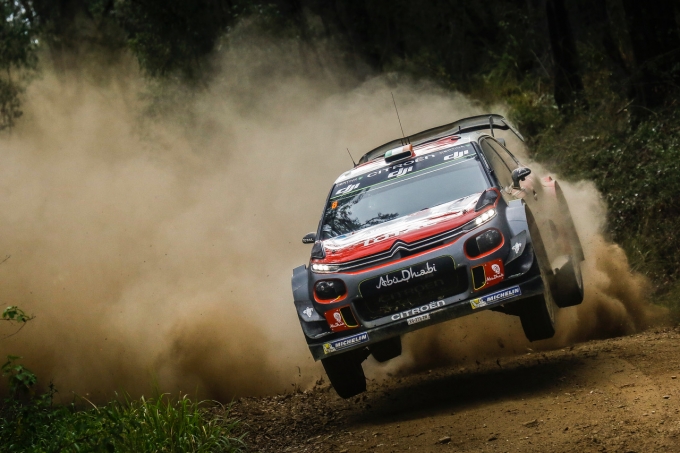 Hayden Paddon (5th) said:
"The Australian weather has thrown us a real curveball this year. Some stages were like two totally different rallies with some parts wet and others completely dry. It made for a complicated tyre choice with neither compound perfectly suiting the conditions. Nambucca was a case in point; the first 10 or 15km was wet and muddy but then 100% dry; it caught us out a little bit. We have been trying a few different things today to try and improve our feeling in the car. We found some improvement on the diff mapping for the afternoon, which helped give more confidence and made the driving more natural. We need to continue in this direction tomorrow and secure our top-five position."
Sébastien Ogier (6th) said:
"This has not really been our rally but I suppose it's better to deal with all these issues in one weekend than to deal with them separately over the season!
"We were hoping to try for some strong times through this afternoon's loop but immediately after service we heard a noise on the rear. There was some damage and that altered the balance of the car. The end of the stage [SS12] was really slippery and in a fast, down-hill corner we had some massive understeer, hit a bank and spun.
"It's just been about getting though the stages this afternoon, but tomorrow could be interesting with the weather. There are some really tricky stages and, if it's wet, you never know. The rally isn't over until it's over so we have to keep going."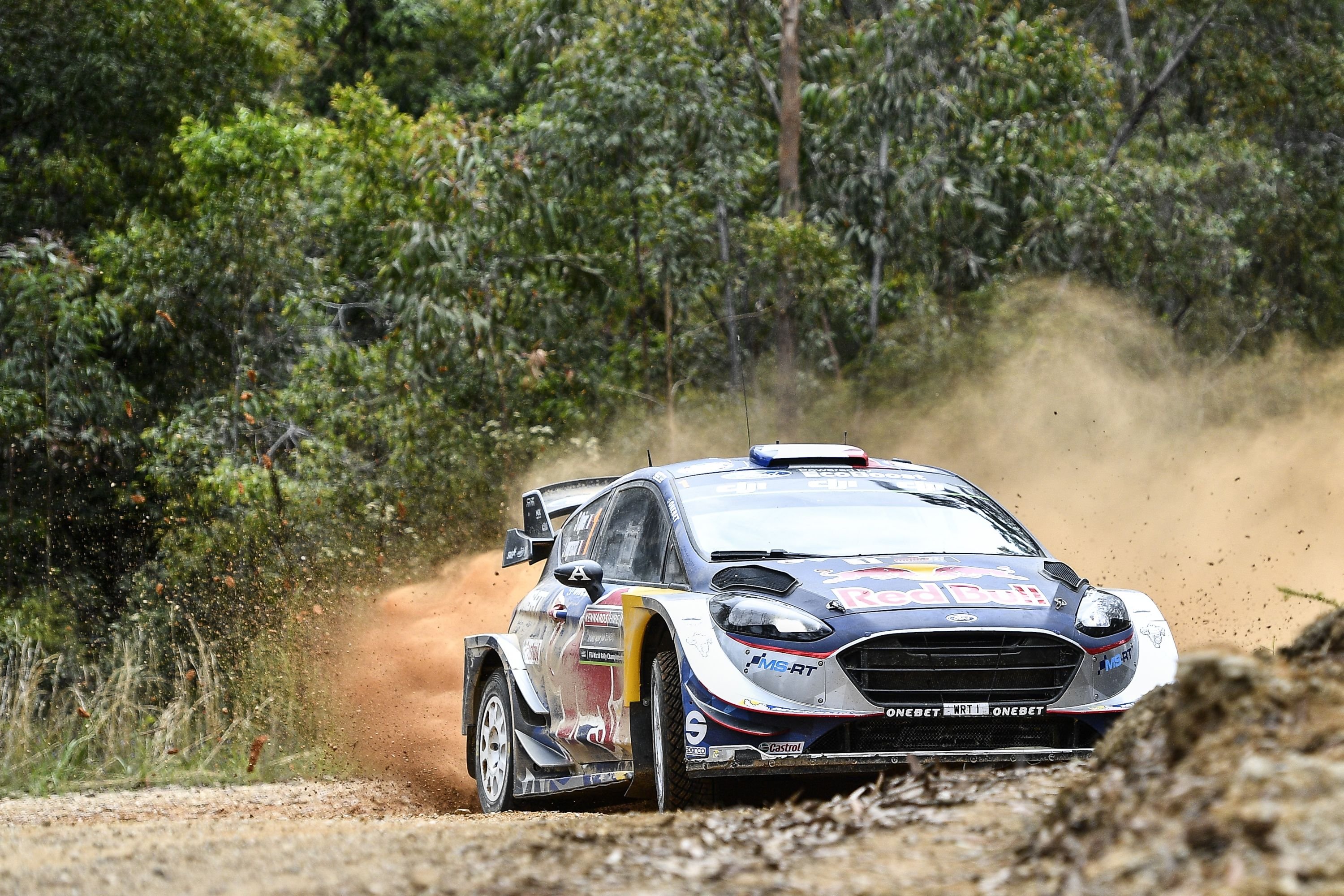 Stéphane Lefebvre (7th) said:
"The start of the day was tricky, in the rain. On Nambucca, I stalled after a spin and then it took some time to restart. After that, I completely lost the rhythm and I struggled until the end of the stage. Running third on the road was a real handicap and that's what led to me taking a gamble with the soft tyres for the afternoon stages. It wasn't a particularly astute choice in the end, because the tyres lost their efficiency as we went further through the loop."
Elfyn Evans (8th) said:
"We knew that we would struggle coming to this one, and we faced another tough day today. I really enjoy these stages, but we just didn't have the traction to attack and enjoy them to the fullest. That said, we've made it through all of the stages and perfected the notes which will be valuable for the future."
Esapekka Lappi (9th)
"Today's been a tricky day with being first on the road: it's been really difficult to judge the grip, with the grip levels always changing. Getting the tyre choice right was one of the most crucial things today: we were definitely on the wrong tyres most of the time but there was a good reason for that as we didn't have any soft tyres left and I want to save the new ones for the Power Stage tomorrow. So that was a tactical decision and also a good learning experience, as we need to concentrate now on gaining as much experience as possible."
Andreas Mikkelsen (retired) said:
"I am very disappointed. It would have been really fantastic to end the season with a victory but that chance has now gone because of a mistake on my part. About two kilometres after the start of the Newry stage, on a right-hander over a crest, I went wide and touched the bank quite hard. I thought I had only a rear puncture but it became quickly apparent that we had one at the front too. With only one spare in the car, it was game over. Nine times out of ten we would have been OK, but luck was not on our side today. Still, it is great to see Thierry take over the rally lead and we will be keeping our fingers crossed for him as he carries the honours for the team."
Kris Meeke (retired) said:
"After a fast bend, there was a narrow bridge and we just touched it with the rear wheel. A few kilometres later, I felt that something wasn't right. We stopped after the time control to try and repair the suspension. I wanted to keep going, but the team asked me to stop. It's frustrating because in the end, the final long stage of the loop was cancelled. We've missed out on a good result."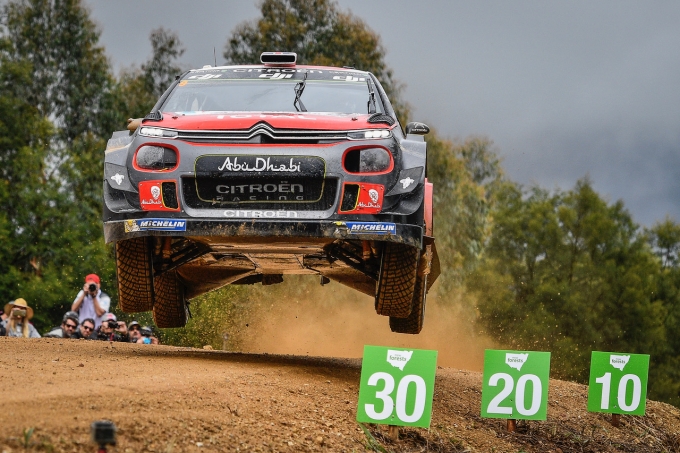 Sunday morning and the rain that we had expected finally turned up during stage 17 which was a rerun of Pilbara, but in the opposite direction from Friday. Sadly, Lefebvre retired after running wide and breaking his suspension on the rear after hitting a tree stump. Elfyn at last delivered a quick time and won the stage from Lappi and Ogier. Kris commented on the heavy rain saying "Massive rain in the middle of the stage. I couldn't even see the road though the wipers. For us it was a monsoon."
Stage 18 was another bad one for Citroen, as Craig Breen rolled out! Approaching a down-hill right-hander, the car took off as Craig didn't know the car would take off. When the car landed, it slid wide and the rear caught the bank on the left spinning it and the car then rolled end over end a few times, before coming to rest further down the road. Kris had restarted the rally under Rally2 regs and explained that it was like driving on ice through the stage! Hayden won the stage though, with Lappi and Evans in second and third. In the fight for the win, Jari-Matti cut the gap to Thierry from 19 seconds to 9.9 seconds.
Stage 19, Wedding Bells and this stage would be run later as the power stage. Thierry increased his lead over Latvala to 14.7 seconds after winning the stage, whilst Andreas would take second fastest with Ott third in the stage and maintaining third overall.
Sadly stage 20 was cancelled and not even because the stage was bad. All the access roads had become flooded and the cars couldn't get to the start.
It was time for the final stage of Rally Australia and in fact the year! Ogier won the stage and with it the maximum points whilst Ott was second. The big drama was that Jari-Matti lost control of his car and crashed out of second overall. Behind the two Fiesta's was Lappi's Yaris, Andreas in the i20 and Kris got the final power-stage point with fifth fastest.
After all that drama, Thierry was in control and took his fourth victory of the year, two more than anyone else, whilst the demise of Latvala meant that Ott Tanak finished second and a surprised Hayden rounded out his frustrating season third, much to the delight of his fans.
FINAL RESULT, RALLY AUSTRALIA 2017
1 Thierry Neuville/Nicolas Gilsoul (Hyundai i20 Coupe WRC) 2h35m44.8s
2 Ott Tänak/Martin Jarveoja (Ford Fiesta WRC) +22.5s
3 Hayden Paddon/Seb Marshall (Hyundai i20 Coupe WRC) +59.1s
4 Sebastien Ogier/Julien Ingrassia (Ford Fiesta WRC) +2m27.7s
5 Elfyn Evans/Daniel Barritt (Ford Fiesta WRC) +3m05.6s
6 Esapekka Lappi/Janne Ferm (Toyota Yaris WRC) +3m49.5s
7 Kris Meeke/Paul Nagle (Citroen C3 WRC): +22m58.4s
8 Richie Dalton/John Allen (Skoda Fabia R5) +24m39.6s
9 Nathan Quinn/Ben Searcy (Mitsubishi Lancer Evo IX) +25m03.4s
10 Dean Herridge/Sam Hill (Subaru Impreza WRX STi) +29m52.3s
Here's the thoughts then of all the drivers after this dramatic event!
Thierry Neuville (1st) said:
"This is a very special victory, and I dedicate it to the whole team. They have been working hard all-season long. It hasn't always been easy but they have never given up, so it's a big thank you on a job well done by everyone – not only those at the rallies but everyone at the factory. We obviously missed out on the championship, but we secured second place today and it gives us a massive motivation for next season. It was a tricky final morning and we didn't want to take too many risks, so to take our fourth win of the year is fantastic. It's really the ideal way to end the season. Now, we can enjoy this moment before turning our attention to next year."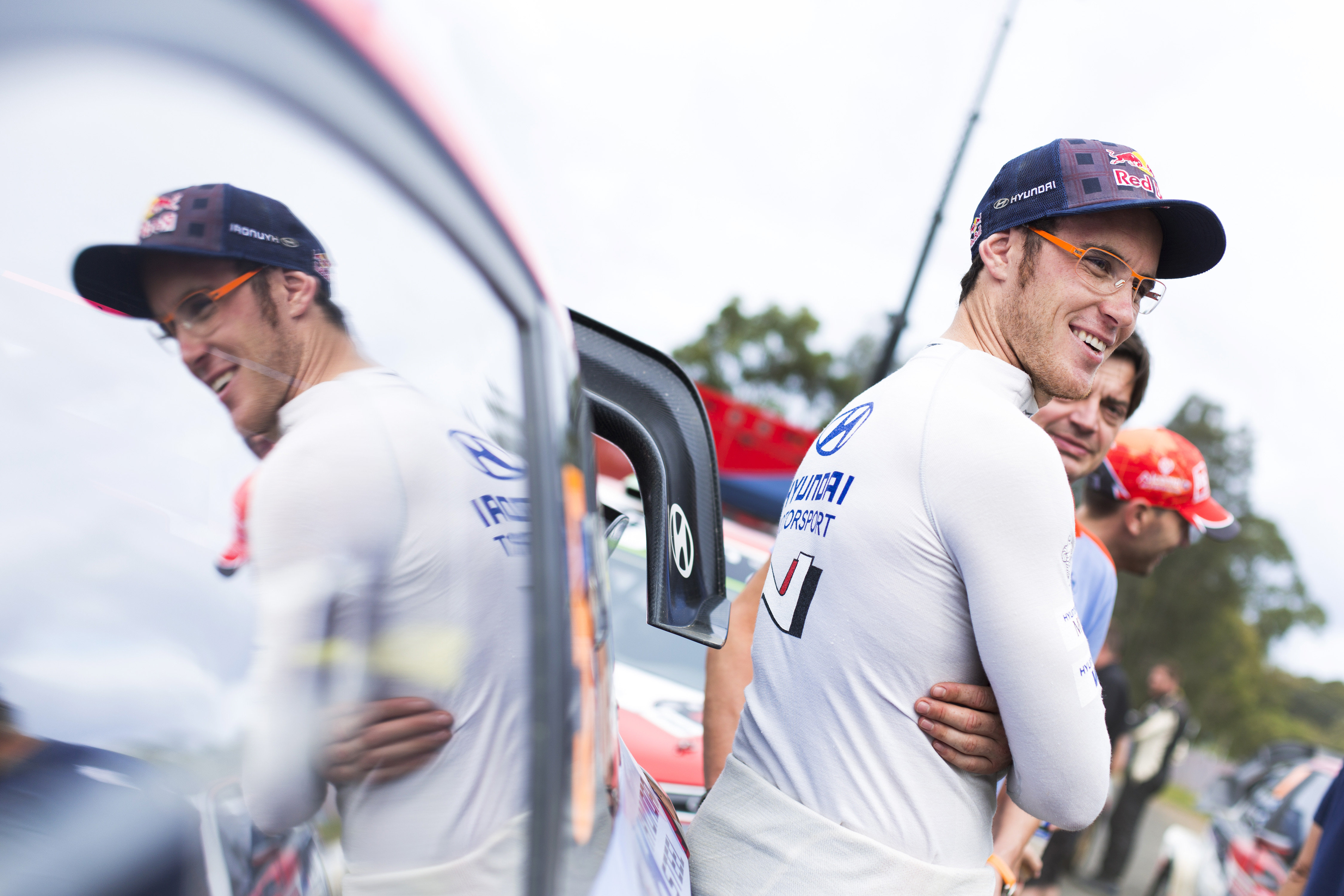 Ott Tänak (2nd) said:
"It was important to finish the season like this, and to finish our time with the M-Sport family in such a positive way. On Friday we were struggling a bit with the pace and losing the rear diffuser didn't help with the balance. But after this we managed to find a good average speed and had the pace to achieve a podium.
"To be honest, I didn't think too much about this being our last rally with Malcolm and the team until the last road section when Martin started to play some sad songs! It's been a long journey together and it's never easy to leave a family. It feels quite hard actually, but the whole championship is also a family so this isn't goodbye, it's just see you later."
Hayden Paddon (3rd) said:
"It has been a difficult season for me. At least we have been able to bring the year to an end with a more representative result. We never want to score a podium through someone else's misfortune, and it's a shame for Jari-Matti, but it's a nice result for us after a tough year. There is some light at the end of the tunnel in terms of finding our feeling with the car. We have found some answers this weekend, which has been the main objective. We were quite lucky with the weather this morning, as we seemed to avoid the worst of the rain in Bucca and could take a stage win. Overall, the car felt better after we made another big change with the diff mapping overnight. We've just been gathering information for the future and were set on bringing the car home safely in third and our second podium of the season."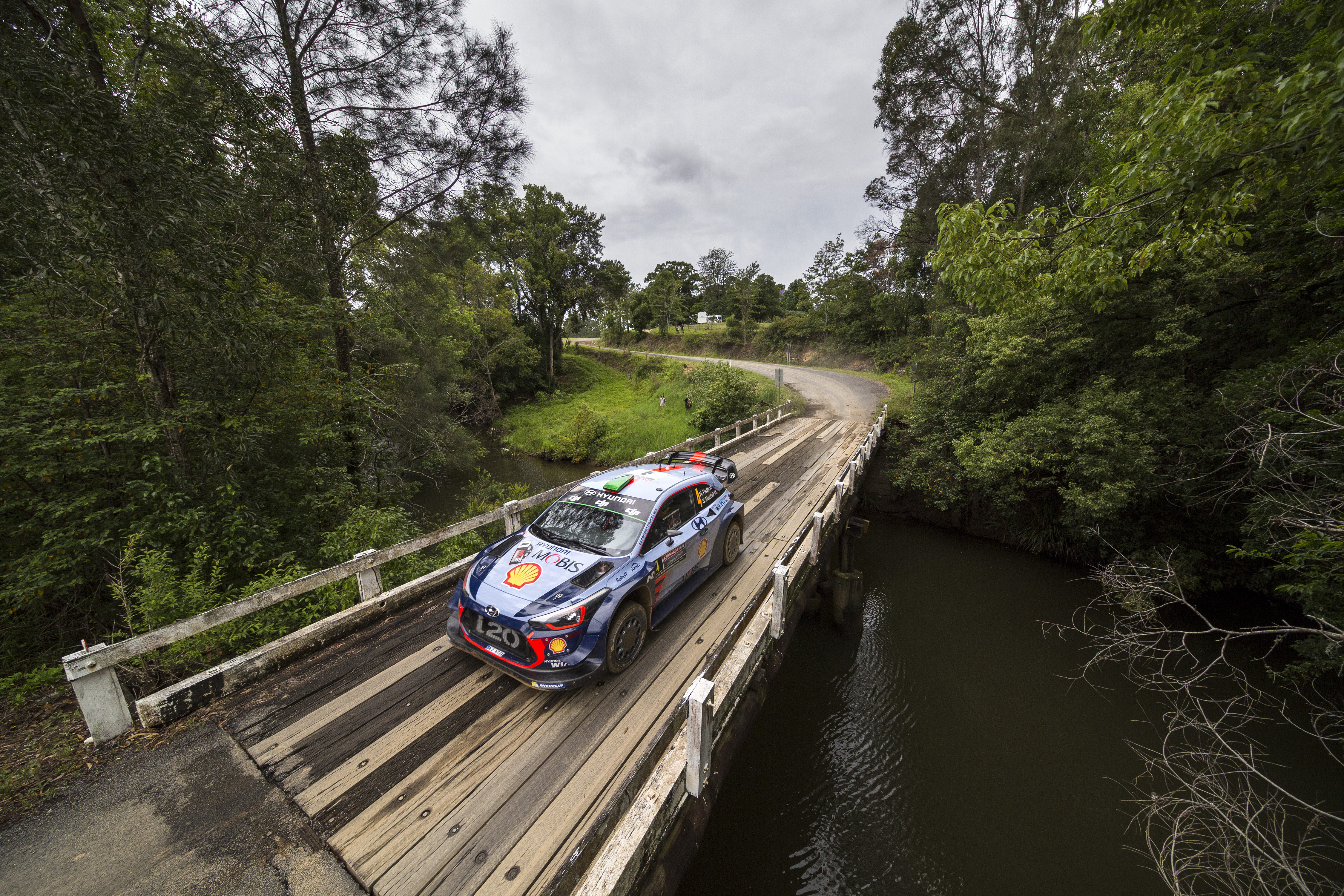 Sébastien Ogier (4th) said:
"It's not been the smoothest of rallies for us, but at least we finished on a small positive with victory in the Power Stage. To be honest, it was more or less the only stage of the rally where everything was working for us.
"We had a lot to contend with this weekend – with the technical issues and also with our starting position through the opening stages. We just tried to stay focused and in the end that strategy paid off as fourth place was pretty unexpected.
"But regardless of this weekend, it really has been a fantastic season. A big thanks to Malcolm and the whole team. What we have achieved together this year really is incredible."
Elfyn Evans (5th) said:
"We knew that we would struggle this weekend, but with the rain today we had an opportunity to use the soft tyre. It was a more enjoyable day for sure and it was nice to secure a stage win. It was unfortunate that we encountered a few little niggles after that, but all in all not a bad way to finish off the weekend.
"The season as a whole has been amazing for the team. We've worked with some great people this year who really deserve this success – a big thanks to all of them."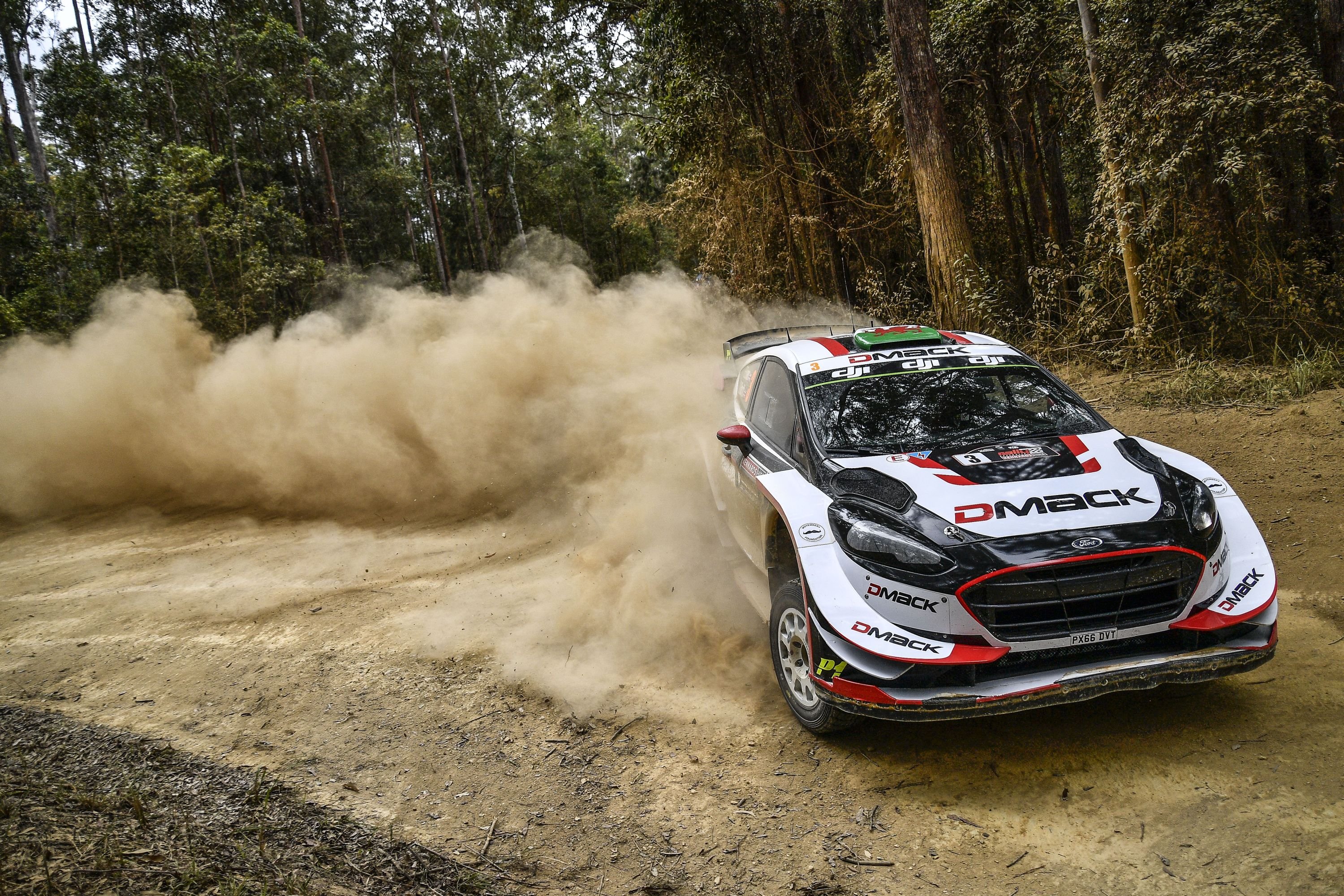 Esapekka Lappi (6th) said:
"It was a tough day: a lot of standing water as the rain suddenly came on the stage before the Power Stage. There were a few surprises for us, as we were first on the road again. I wasn't controlling the car – it was just like a boat – but we're still here! Yesterday we were first on the road and we were struggling with tyre choice: today the roads were cleaning less so it was a bit easier. The tyre choice was actually good today as we kept some new tyres back, so we had a good feeling. The main thing is that we gained plenty of experience on this event, to try to understand the best way to drive here. Looking at the season as a whole I'm happy with our speed, but I know I've got plenty to learn to iron out the ups and downs we had. I'm already looking forward to next year."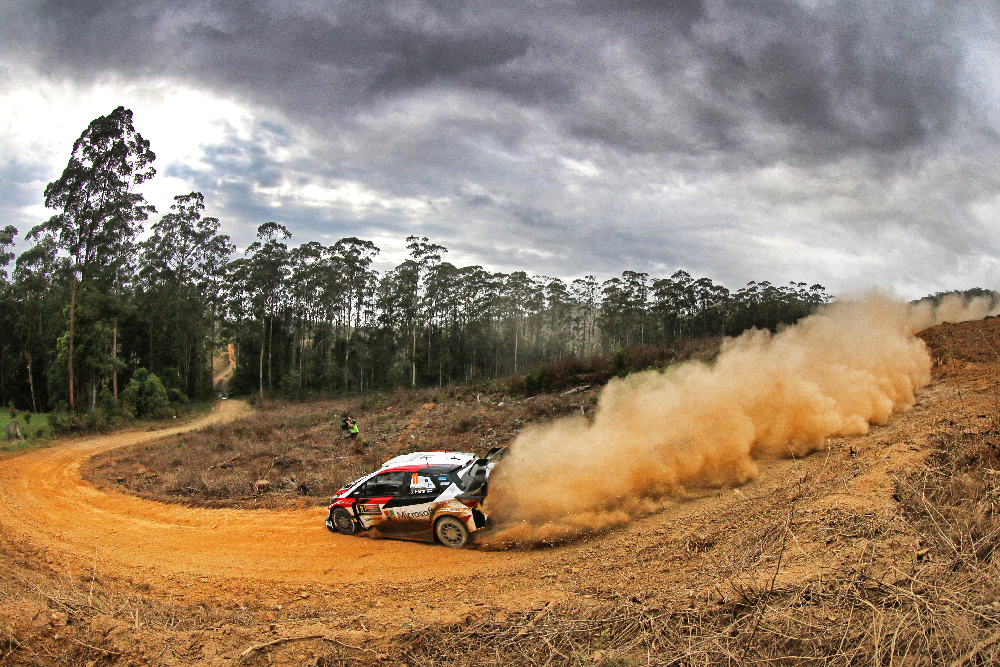 Kris Meeke (7th) said:
"The idea today was to prepare for 2018. From that perspective, it was pretty handy that it started raining because we could work in conditions where we have quite a lot of room for improvement. It wasn't easy for me to push when I had nothing to gain, but what we have learned this morning will undoubtedly prove useful in the future."
Andreas Mikkelsen said:
"It was disappointing that we were forced to retire from the lead of this rally on Saturday morning. Having said that, looking at the conditions we had to face this morning, it would have been a challenge to defend that. We were unlucky with the rain in the earlier stages. Even with the wipers on maximum, we couldn't see anything. Still, at least we had a clean finish in the Power Stage and could bring the car home. Whatever the result this weekend, we have shown good pace. It has been a very valuable experience over these past three rallies with Hyundai Motorsport. I know I am in the right place for next season; the car is awesome and the team is fantastic. Let's keep our fingers crossed for a strong championship challenge together next year."
Jari-Matti Latvala (retired)
"Obviously this is not the way that I wanted to end the year but this is rallying and you have to take the most and learn from every experience, even if it doesn't feel like a positive one at the time. We were pushing hard on the Power Stage to try and maximise our chances of doing something special and when you are pushing hard these things can happen. Up until then it had been a good rally for us and we managed to get very close to the front, especially after the first stage this morning. I'd like to apologise for my mistake today after a huge effort from everyone here, and most of all say a big 'thank you' to the whole team for delivering a year that went beyond all my expectations."
Craig Breen (retired)
"It was a big off. I've not had one like that for a long time. Fortunately, the C3 WRC is a solid car and the safety features did their job perfectly. We weren't sure of finishing in fourth place and I knew I had to push to counter a return from Paddon, who had slightly better road conditions than we did. I didn't want to end the season with another fifth place without making a fight of it."
Stéphane Lefebvre (retired)
"Obviously, it's not the best way of ending the season. I just made a mistake on the first stage, a long right-hander. The conditions were awful, with a lot of water, which made the ground as slippery as ice in places. I got caught out by a slippery patch of mud. The car understeered, ran slightly wide and we hit a big tree stump. It's a shame and I'm sorry for everyone in the team."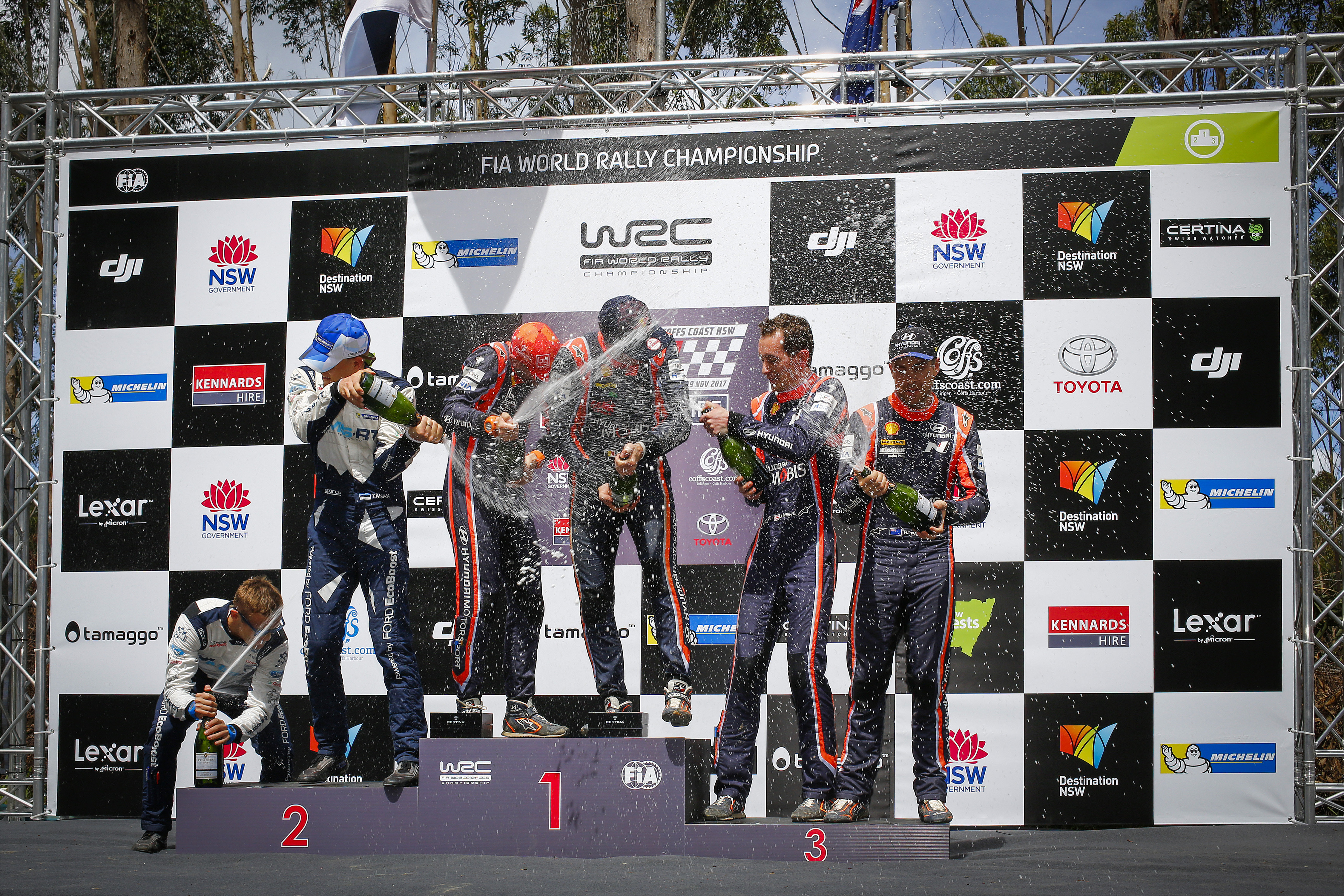 Well, what an amazing rally, to top off a brilliant season! Thierry will take a lot of confidence from this victory down-under. Ott rounded out his brilliant season with another podium and Hayden will take heart from his second podium of the year, after a torrid time.
Ogier once again showed why he is the best driver in the world, with the ability to get the results he needs, and able to deliver wins when others wouldn't. We're still waiting to find out if he'll be returning next year, but get the feeling that an announcement is just around the corner.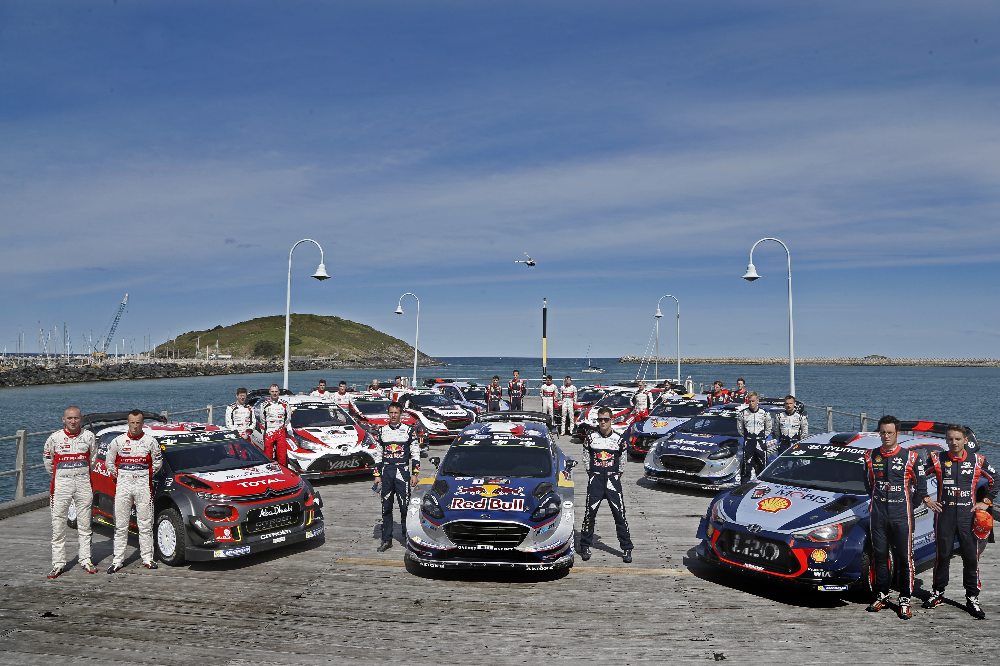 Thanks for reading my reports this year. I'll be doing a season review soon, so do look out for that.
Warren Nel